This post may contain affiliate links to tours and hotels. These help us earn a small commission at no additional charge to you.
East London always feels a little more edgier and inspiring than the usual sepia soaked London that most tourists seek out.
Although not always high on traveller's to do lists when exploring the capital, East London is the epicentre of an epic street art scene and glorious green spaces and deserves to be enjoyed by more than just the locals. There are just so many things to do in East London.
From the striking street art in Shoreditch to the historic hidden gems like Abney Park Cemetery or even London's only cable car, here is our guide to all the things to do in East London.
Things to do in East London
1. East London Street Art
The best street art in the capital is to be discovered in East London, where the back streets are awash with incredible artistry.
East London street art is all around, whether you accidentally stumble across it or purposefully go looking for it.
We'd recommend you start your East London street art tour in Shoreditch and explore all the nooks and crannies near to Shoreditch Overground station, or around Hackney / Hackney Wick.
Check out our guide to Shoreditch street art in London blog post >
YOU MIGHT LIKE: Shoreditch Street Art Tour in London >
---
2. Canary Wharf
The financial heart of London, Canary Wharf's sleek and shiny skyscrapers reflect the money made (and lost) here with several banks having their European and international headquarters here.
Aside from the wealth, there are lots of waterside bars and restaurants to indulge in, with some good shopping options in the malls.
Canary Wharf in East London also has an abundance of free public art with over 100 outdoor art installations and pop-ups, making it the biggest free outdoor art gallery in London.
In addition, there are some serious street food markets and food courts here to explore.
Read more in our guide to Canary Wharf >
---
3. Shoreditch BoxPark
Container shopping malls and pop-up dining experiences are ten a penny now but Shoreditch BoxPark was the daddy of them all, first appearing in East London in 2011 and billed as the world's first pop-up mall (although it is still here today so not that pop-up).
Boasting heaps of street food kiosks plus lots of arts and crafts shops on the outside, the roster of retail at Shoreditch BoxPark changes often so it is always worth a look.
Read more about Shoreditch in our things to do in Shoreditch guide >
---
4. Columbia Road Flower Market
Columbia Road is a cute hotchpotch of cafes, bakeries and craft shops during the week, but on Sundays, it bursts into flower (literally) with a massive ensemble of plant and flower stalls.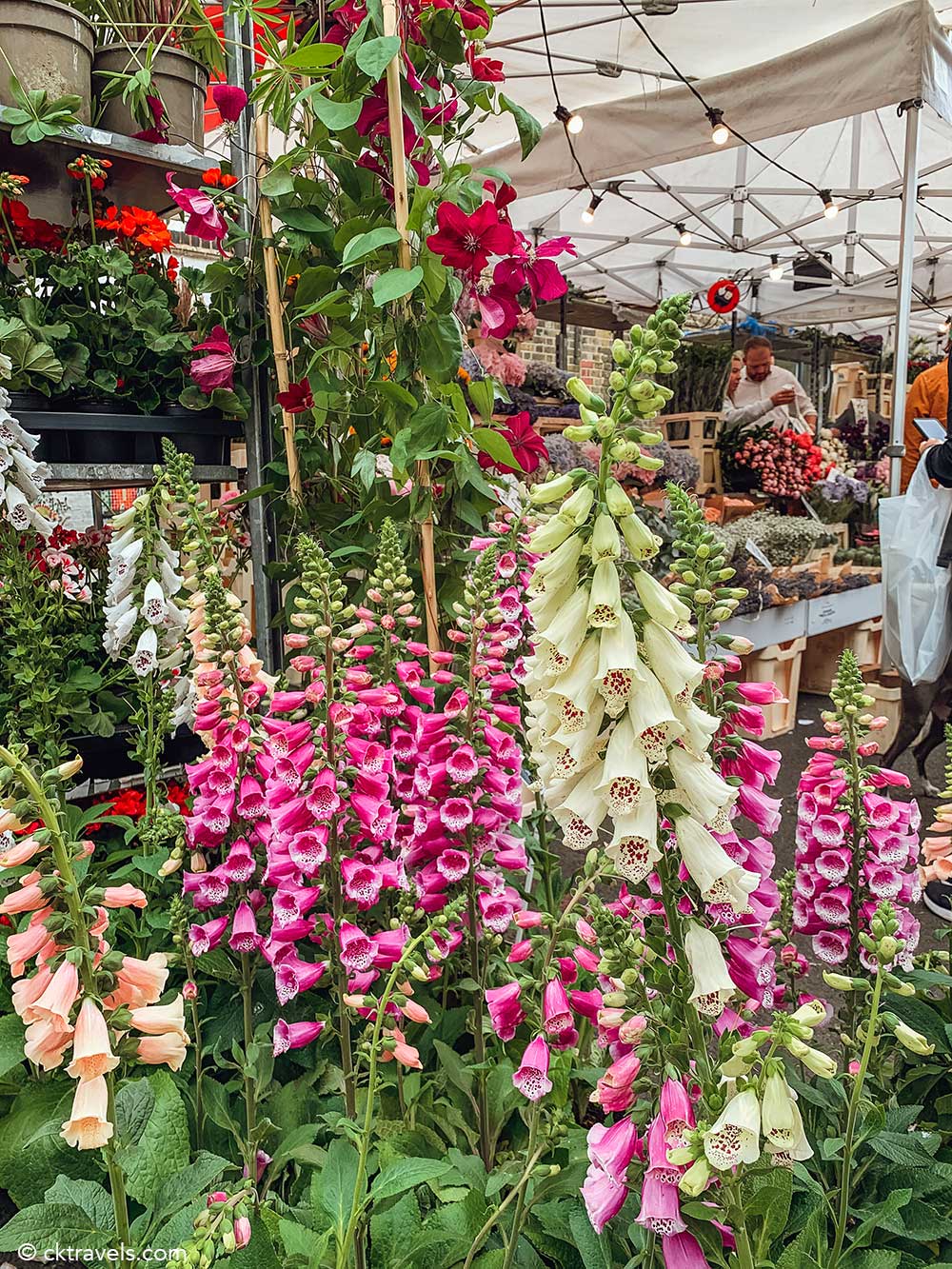 Located between Bethnal Green and Shoreditch, London's largest public flower market is open between 8am and 3pm every Sunday and is your best bet for bags of bargains and garden giveaways. The choice is immense and prices at Columbia Road Market are generally good value.
And even if you just want to people watch or enjoy the atmosphere, Columbia Road Flower Market on a Sunday is an essential thing to do in East London.
Read our complete guide to Columbia Road flower market here >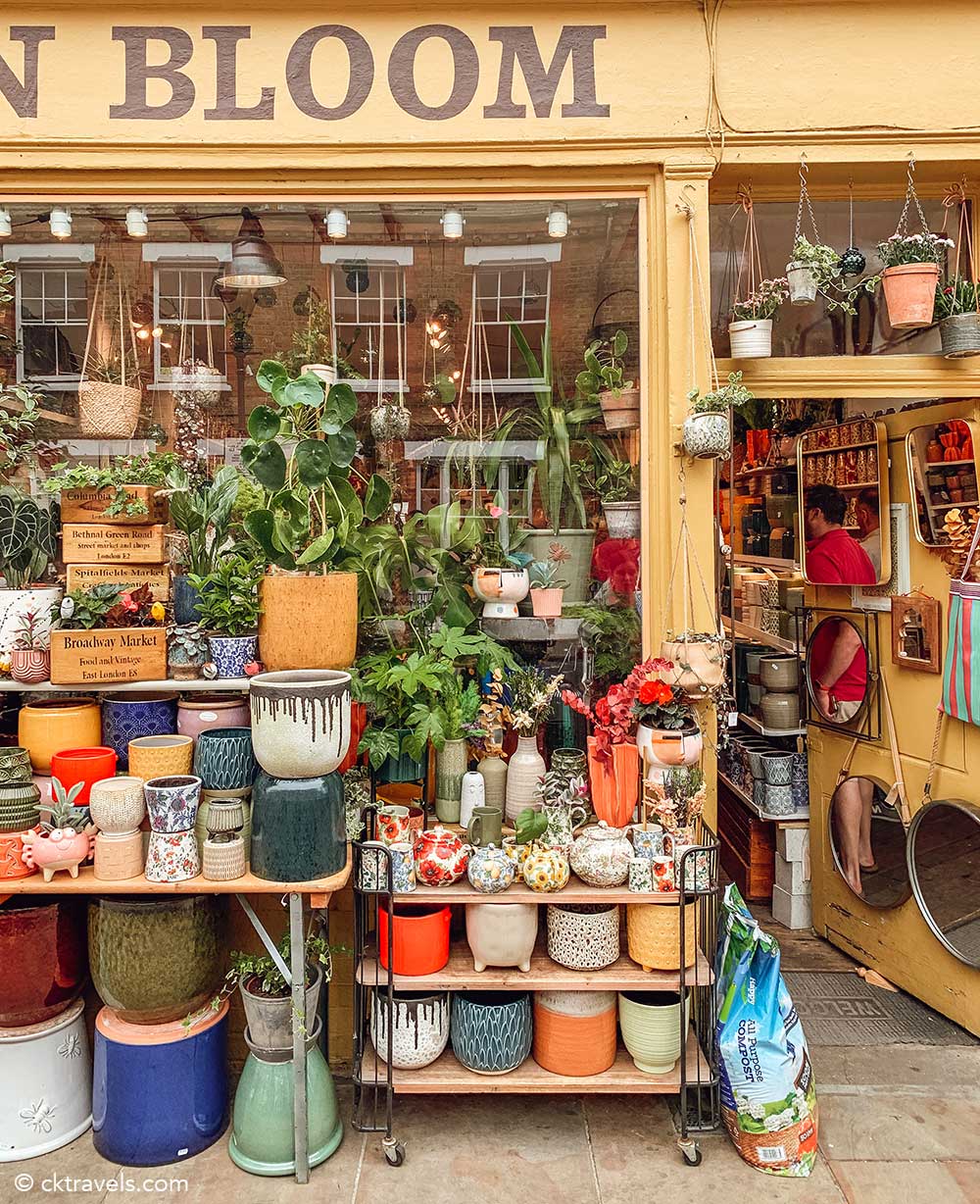 ---
YOU MIGHT LIKE: The best Sunday markets in London >
---
5. Old Spitalfields Market
One of London's oldest public markets, Old Spitalfields is open seven days a week (and located indoors too in case you want to avoid the rain).
It offers a variety of delicious street food from around the world, arts and crafts stalls plus lots of bars and restaurants around its perimeter.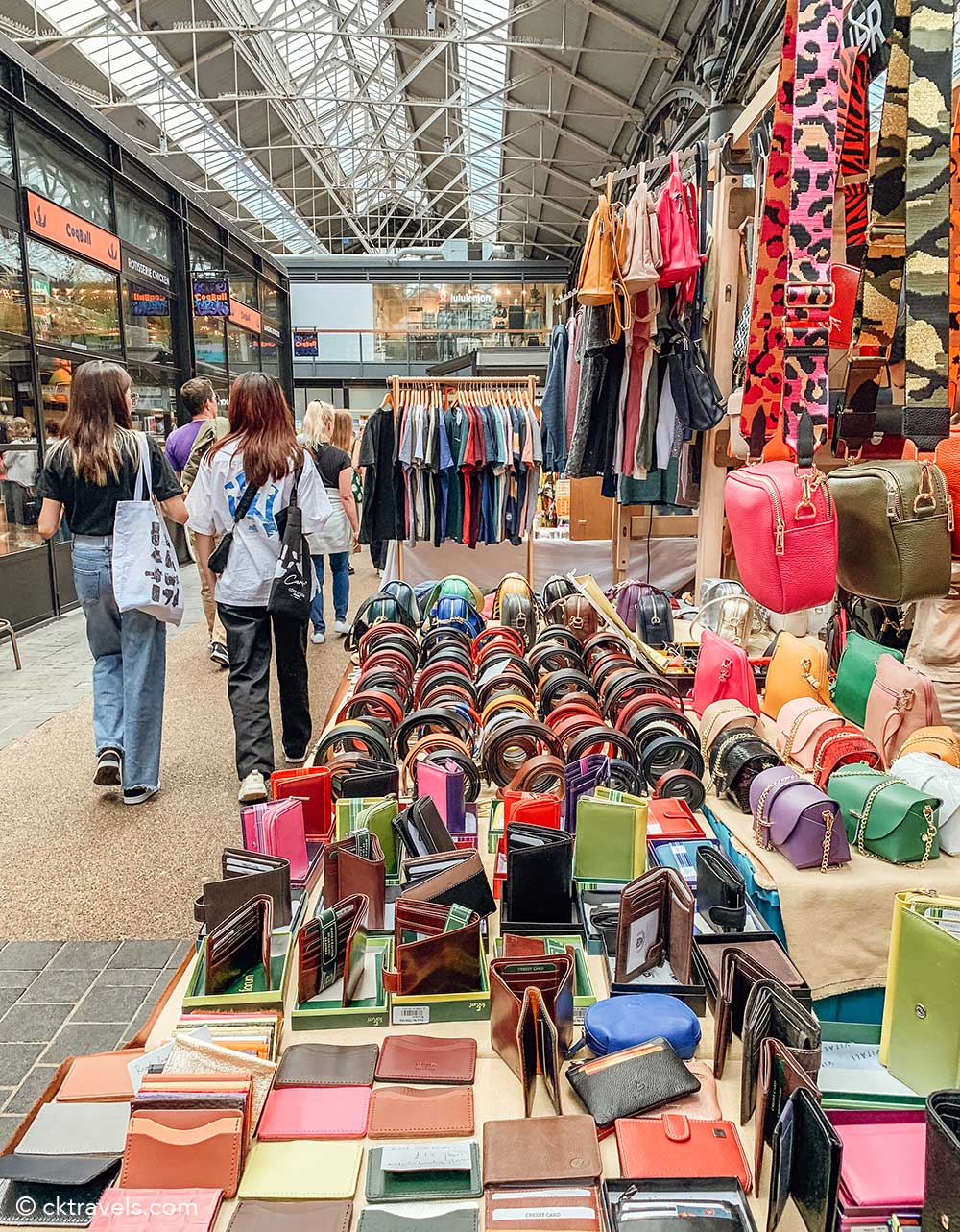 Different types of market operate on various days of the week, from record fairs to vintage clothing – located near to Liverpool Street station, this is a fun and fashionable way to shop in east London.
Read our full guide to Old Spitalfields Market here >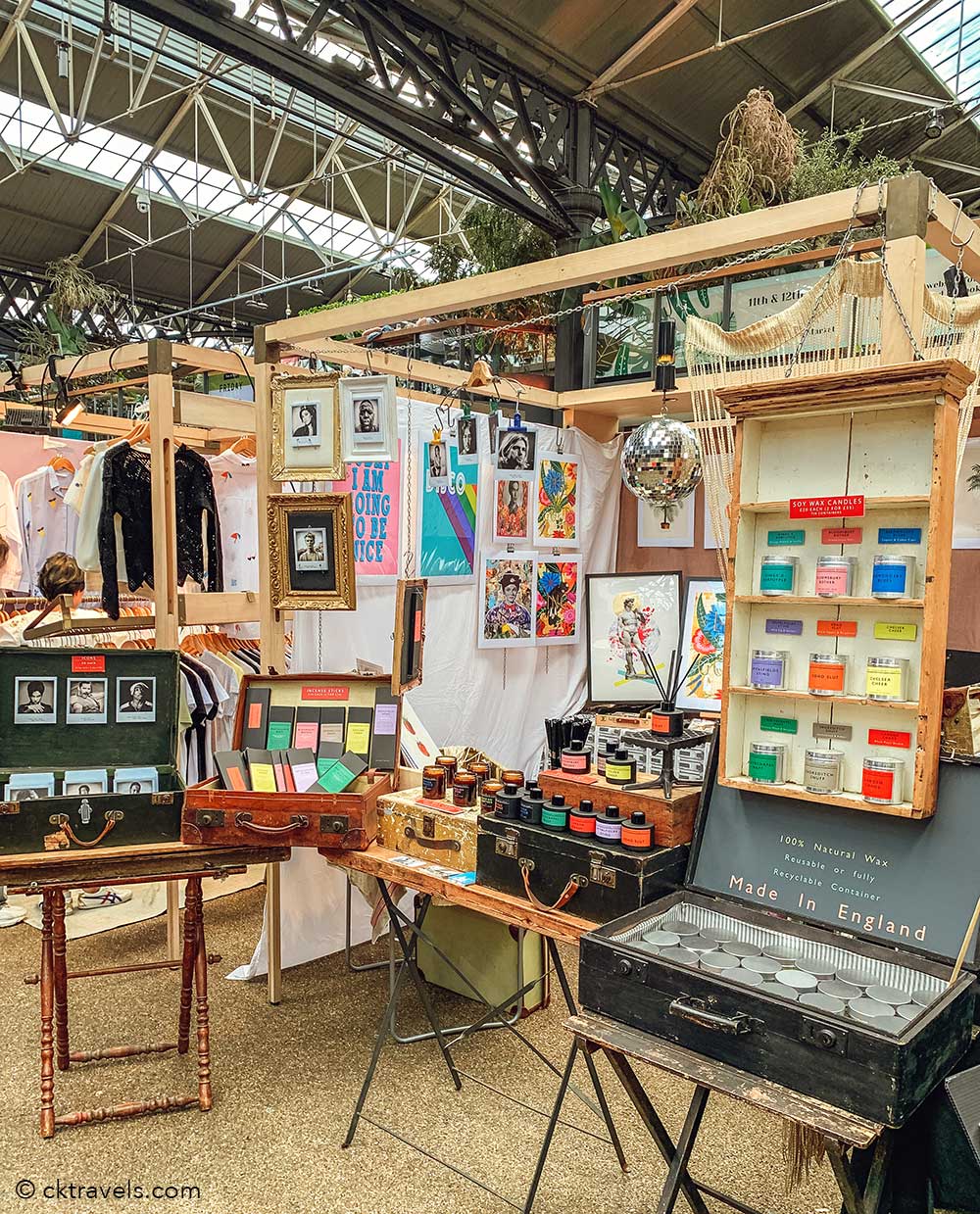 ---
6. Brick Lane, East London
Bohemia, the best bagels in London and bags of street art all on the same street. No trip to East London is complete without a walk down Brick Lane, a gorgeous mix of grunge and gentrification.
From the 24 hour bagel shops serving salt-beef or rainbow bagels (prepare to queue), to the weekend street food markets, Brick Lane is like how Camden used to be, before Camden became a tacky tourist trap.
It is also renowned for its assortment of curry and international food restaurants, known as London's curry mile. Make sure you also pop into the Old Truman Brewery for the weekend food stalls and retro / vintage clothing stores (open all week).
YOU MIGHT LIKE: The Jack The Ripper Walking Tour in London >
---
7. Stratford Queen Elizabeth Olympic Park
The former flagship site of the 2012 London Olympics (it houses the Olympic Swimming Centre as well as the London Lee Valley Velodrome centre) Queen Elizabeth Olympic Park is a fun thing to do in east London with lots going on especially in the summer months.
The park now has riverside walks and is popular with cyclists (we feature it in our best London cycle routes) and is also the start (or end) of the London Line Sculpture Trail.
The former Olympic Stadium in east London has now been repurposed (and renamed to the London Stadium) to become a state-of-the-art events and sports arenas as well as West Ham United's football ground for home fixtures.
Arguably the best way to enjoy Stratford's London Stadium in east London is to visit on a match day when the 'Hammers' (West Ham's nickname) are playing.
The UK Premier League season usually runs August to the following May each year – or join one of the West Ham stadium / London Stadium tours (£20 per person as at 2023). A club shop also sells West Ham merchandise and is open all year round.
Shopping fans will enjoy spending their money at Westfield Stratford Centre, located next to the QE Olympic Park and the UK's fourth largest shopping centre with over 270 shops and 70 restaurants.
Read more in our guide to Queen Elizabeth Olympic Park or our guide to Stratford >
---
YOU MIGHT LIKE: The best sport stadium tours and museums in London >
---
8. Hackney Wick, East London
Once a mainly industrial area, Hackney Wick is one of our favourite weekend spots, with its waterside bars, top food joints, incredible street art all combining to create some pretty cool canalside culture.
Best of all, Hackney Wick is bursting with some of London's best breweries including Howling Hops Brewery, the UK's first tank bar, The Merchant's Tap and Old Street Brewery. Try these Hackney Wick Bars and Breweries for a drink >
Read our full area guide for hanging out in Hackney Wick >
---
9. Victoria Park
One of London's best public parks, Victoria Park boasts a beautiful boating lake and two charming cafes as well as it's very own Chinese pagoda, which moved here from Hyde Park after the famous Chinese Exhibition in the 1840s.
As well as being near to lots of picture perfect pubs in nearby Victoria Park Village, if you visit on a Sunday, you'll find the Victoria Park Farmer's Market, selling all kinds of fine food fare like seasonal fruit and veg, sweet treats and street food stalls.
Check out our detailed guide to Victoria Park Village and park >
---
10. IFS Cloud Cable Car Royal Docks (formerly Emirates Air Line)
Recently renamed as the IFS Cloud Royal Docks (catchy eh!), the former Emirates Air Line is London's only cable car.
A bit of a transport oddity in London (thanks Boris), the IFS Cloud Cable Car Royal Docks opened in 2010, ready for the 2012 London Olympics to transport punters between the Greenwich Peninsula and Royal Docks over the River Thames.
The IFS Cloud Royal Docks is also the closest thing we have to a funicular or cable car in London. Whilst it is fun, it is also not the cheapest mode of transport in London.
A round trip journey on the IFS Cable Car / (former Emirates Air Line) costs £12 per person (or £6 one way) as of 2023.
---
11. God's Own Junkyard, Walthamstow
It is rare to say in East London that a place is '…like no other', but in this instance, it is fair to say that not only is God's Own Junkyard the most Instagrammable and incredible place in Walthamstow, but possibly in the whole of East London.
Located on an unassuming east London industrial estate, this may not initially sound like the most promising of locations but God's Own Junkyard is an Aladdin's cave of quirky, cute and often subversive neon lights and sculptures.
An explosion of neon, like Soho has relocated to Walthamstow, God's Own Junkyard is a warehouse packed to the rafters with all manner of neon signs and art works (as featured in countless movies like Batman and Eyes Wide Shut).
From religious statues holding guns to go-go dancers and strip joint signs, God's Own Junkyard is an epic East London spot
Read more in our guide to God's Own Junkyard >
---
12. Abney Park Cemetery Walk
One of London's hidden gems and potentially most 'spirited' walks, Abney Park Cemetery is one of London's 'magnificent' seven' garden cemeteries.
A woodland memorial, it is eerily beautiful walking amongst some of the most grandiose gravestones you'll ever encounter.
Established in 1840 and with no new burials since the 1970s, you'll also discover a central Gothic chapel in the undergrowth – quite the spooky setting. More recently, the music video for the late great Amy Winehouse's 'Back to Black' was filmed in Abney Park.
---
13. Stoke Newington, East London
The best cafe culture in East London, Stoke Newington boasts a high street with mainly independent or small chain stores such as Ginger Pig butchers or Mother Kelly's Bottle shop, and ample coffee shops to choose from (no Pret A Mangers or Costa Coffees here thank goodness).
Two of the most popular spots are The Good Egg, a Jewish deli-style cafe serving Middle Eastern and New York inspired dishes (incredibly busy at breakfast) and The Spence Bakery (you'll find it easily enough – just look for a bright orange bakery on the corner with a huge queue of people!).
Read our best things to do in Stoke Newington guide here >
---
14. Walthamstow Wetlands
Incredibly, Walthamstow Wetlands is Europe's largest urban wetlands and only a short walk from the Victoria Line (alight at Tottenham Hale tube).
Situated over a massive 200+ hectare site, this birdwatcher's paradise comprises ten reservoirs and still provides much of London's drinking water to this day.
As well as wetland walks, you can enjoy breakfast and lunch at the Larder Cafe in the old Victorian Engine House Building or take part in one of their free wildlife activities.
This is one of our personal most favourite things to do in East London – check out our Walthamstow Wetlands guide >
---
15. Trinity Buoy Wharf
Billed as 'Docklands most exciting arts quarter', the entrance to Trinity Buoy Wharf is barely recognisable these days as it becomes East London's next property hot-spot.
That said, it is still a fun place to visit with a couple of quirky cafes (including Fat Boy's Diner) and numerous art-installations and container based exhibits.
The Longplayer project is located in an old lighthouse and is a musical composition that plays without repetition for over 1,000 years – beat that, Spotify shuffle!
The views of the Thames here are spectacular, especially looking towards Greenwich Peninsula and the Millennium Dome / O2 arena.
Read more in our guide to Trinity Buoy Wharf blog post >
---
16. Broadway Market and London Fields
Broadway Market is great to visit any day of the week (especially the legendary Cat and Mutton pub for a cheeky pint).
However, try to coincide your visit with the Saturday Broadway Market, as the high street lines with over 100 different stalls, most of which sell superb street food from all over the world.
Once you've got your gourmet goodness and super snacks from the stalls, retire to London Fields and enjoy your posh picnic.
---
YOU MIGHT LIKE: The best Saturday markets in London >
---
17. Blackhorse Beer Mile
As of 2023, the Blackhorse Beer Mile near Blackhorse Road station, currently comprises of seven breweries and taprooms (with more likely planned)!
Plus if you visit all of the magnificent seven, you get to keep a special 'Blackhorse Beer Mile' pint glass – cheers to that!
The Blackhorse Beer Mile 2023 runs between the Lockwood Industrial Estate (Wildcard Brewery and Hackney Brewery High Hill Taproom) and Uplands Business Park (Signature Brew, Big Penny Social, Beerblefish Brewing, Exale Brewing and now Pretty Decent Beer Co).
Seven brewery heaven! This is one epic east London brewery crawl!
All seven of these Blackhorse Beer Mile breweries can be done in a day (all are open on weekends) so why not make a day of it and explore Walthamstow Village or Walthamstow Wetlands before you embark on your beery adventure?
Here is our full guide to the Blackhorse Beer Mile as at 2023, including a Blackhorse Beer Mile map of all the breweries >
YOU MIGHT LIKE: UK Brewery Tours run a guided beer tasting tour along the Blackhorse Beer Mile. Check out their tour here >
---
18. Eat East London's best fry up
An East End dining legend and possibly the most famous place to eat in east London, E Pellicci is family run greasy spoon cafe / Italian restaurant in Bethnal Green serving hearty fare to all manner of customers since the 1900.
The walls of E Pellicci are also adorned with historic pictures plus autographed pictures of celebrities who have eaten here (half the cast of EastEnders seem to have dined at E Pellicci based on the number of signed pics inside).
E Pellicci cafe also was a regular haunt of the notorious east London Kray Twins (and other East End gangsters) back in the day and is often used as a film location given its incredible interior and history.
Portion sizes are huge at E Pellicci and prices around £9. Part of E Pellici's charm is its character and staff; highly rated. Get there early if you want an indoor spot. Definitely one of the best things to do in Bethnal Green (and eat!).
---
19. Eat on on an old Tube train – Walthamstow supperclub.tube
Eating food on the London Underground is normally frowned upon but not in east London! Well specifically at Walthamstow's Supperclub.tube – an epicurean experience like no other in east London.
Taking you on a literal fine foodie journey and immersive 'underground' experience, the supperclub tube takes place on a disused Victoria Tube carriage, transporting the best of Latin inspired cuisine to the Walthamstow Pumphouse Museum.
Or several courses (which change seasonally), Walthamstow's Tube tasting experience is brought to life with Latin American love, curated by Nick Atkins and Colombian born Head Chef Bea Maldonado (who comes aboard the Tube to welcome you on your culinary journey).
Read about our tasty Tube journey aboard the Walthamstow Tube Supper Club >
---
20. Bethnal Green
A rich mix of east end history, hipster hangouts and close communities, east London's Bethnal Green still retains a neighbourhood feel. Bethnal Green is a magnificent melting pot of markets, museums and dive bars, coupled with the cream of culinary and cultural destinations.
From a raft of railway arch brewery taprooms to the soon to be transformed V&A Young museum, there is much to uncover in Bethnal Green.
Read our guide to the best things to do in Bethnal Green, east London >
---
21. ArcelorMittal Orbit / The Slide
Located in east London's Queen Elizabeth Olympic Park, the iconic ArcelorMittal Orbit. The UK's tallest sculpture (bright red so you can't miss it) was designed for the London Olympics by Anish Kapoor and Cecil Balmond.
Sitting 115 metres tall and offering incredible panoramic views of the city of London and Olympic Park, you can also walk down the 455 steps immersed in a collection of 'London sounds'.
Alternatively at the ArcelorMittal Orbit, you can take a more adventurous descent, either abseiling off the side or taking The 'Slide' down, the world's tallest and longest tunnel slide with 12 loops.
---
22. Whitechapel Road Market
Fancy visiting a proper east London market? The famous Whitechapel Market, which has been operating in East London since 1904 and well loved by locals.
Selling all manner of fresh fruit, fish, meat as well as spices, herbs and linens, Whitechapel Market is also an ideal place to pick up good looking lunches with several stalls selling curries, roti and hot sandwiches for cheap as chips prices.
Whitechapel Road Market is open daily from 8am to around 4pm (approx – closed Sundays).
Check out the best markets in East London here >
---
23. Leytonstone Beer Mile
There is a lot to like about Leytonstone, including its burgeoning craft beer scene. This East London neighbourhood has always been high on our go to places for a pint – there are lots of good Leytonstone pubs to choose from
Now, you can also undertake the Leytonstone Beer Mile, comprising nine breweries, bars, pubs and taprooms located in close proximity (ish) to each other.
If you are ready for this east London geographic-ale challenge, read our dedicated Leytonstone Beer Mile guide here >
---
YOU MIGHT LIKE: Guide to the Bermondsey Beer Mile in South London >
---
24. Roof East, Stratford
East London's newest rooftop bar sitting atop Stratford Shopping Centre and multi-story carpark (not to be confused with Westfield Stratford City), this alfresco street food and bar set-up is reminiscent of Franks Cafe, also atop a carpark in Peckham.
With views of east London and the city, this is a sublime space to soak up the sunshine and easily one of the best summer things to do in east London.
During the summer months, Roof East also has a rooftop cinema and eclectic events schedule.
---
YOU MIGHT LIKE: Top things to do in Stratford, East London >
---
25. Clissold Park / Deer Park, Stoke Newington
Clissold Park in Stoke Newington is a popular east London hangout in Hackney, a gorgeous green space with 55 acres of park land, lawns and lakes, not to mention a deer park (yes, you read that right – there is a deer park in east London!).
Popular with picnicking families, joggers and cyclists, there is plenty to do in Clissold Park in east London. As well as the deer enclosure, there is an aviary and an area with goats (free to visit), plus the beautiful grade II listed Clissold House.
There is a late 18th century mansion in the centre of Clissold Park that now also houses a very popular cafe.
---
YOU MIGHT LIKE: Things to do Stoke Newington, east London >
---
26. Hijingo Bingo
If we had to describe Hijingo in two words, it would have to be 'beautifully bonkers'. Hijingo in essence is Japanese inspired bingo, a neon nirvana of bright lights and an attack on the senses. Jeez, Hijingo is just unadulterated fun, like Gala bingo on acid.
With prices starting at £16pp for two games, this is one of the most futuristic and fun things to do in east London. Popular with work crowds, Hijingo is a modern bingo hall with state-of-the-art video screens, neon lights and a huge stage.
Each Hijingo session consists of three games and prizes up for grabs on our night including a retro games console, mini drone plus the chance to win £250 cash or a European city break; swish! Nearest stations to Hijingo bingo in east London are Shoreditch High Street station and Liverpool Street Station.
Check out our Hijingo Instagram video below:
---
27. Young V&A / Museum of Childhood (Closed for renovation)
At the eastern end of Bethnal Green road, you'll find the Young V&A (formerly known as the V&A Museum of Childhood) – the nation's National Collection of Childhood and a fantastic museum and day out in itself for families.
With free admission and an ever changing events schedule, there is a permanent collection showcasing various childhood toys over the ages (from dainty Victorian dollhouses through to Transformers and Teenage Mutant Turtles) plus exhibitions that change regularly, all based around play, design and imagination.
Note that as at early 2023, the V&A Young is currently closed until at least the summer (2023) for an epic transformation and renovations so we'll be updating this blog with the new space and exhibitions once it opens.
---
YOU MIGHT LIKE: Best free things to do in London >
---
28. G Kelly Pie and Mash
If you are a Londoner, you'll undoubtedly already know what pie and mash is. If not, this is a traditional English dish of pie (usually meat), mashed potato and liquor (jellied eels with parsley – not alcoholic!).
They are a staple of London history and you must try one, particularly when visiting the East End of London – that said, it is quite an acquired taste and whilst we love pie and mash, we still aren't convinced by the liquor.
London Travel Planning Facebook Group by CK Travels
Need help with your London travel itinerary or have any questions about your upcoming trip? Join our brand new online community! Click here to join our London Travel Planning and Tips Facebook group
29. Elder Street
We'd say a visit to Elder Street is one of the most elegant things to do in East London.
A stone's throw away from the shiny and sleek buildings dotted around Liverpool Street Station and Shoreditch, Elder Street is one of London's finest preserved Georgian streets.
We've walked along Elder Street on multiple occasions and can't believe such a historic street still exists in this way near to Shoreditch, especially in an area so full of new buildings.
The houses along Elder Street are all listed which means they won't get swallowed up by all the development that is transforming Shoreditch.
---
YOU MIGHT LIKE: Things to do in Shoreditch, East London >
---
30. Hoxton Square
Hoxton Square in Shoreditch is a hip and verdant hang out with several bars and restaurants dotted around a small park. Recommended bars around Hoxton Square include Nikki's Bar Shoreditch (the queen of cocktails), Happiness Forgets and Ever After (small plates and fine wine).
Hoxton Square is one of the oldest squares in London and dates all the way back to the 1680s – so how about a little history with your highball?
---
31. The Old Truman Brewery
The Old Truman Brewery was once home to London's largest brewery, but nowadays the building and surrounding areas just off Brick Lane are home to a hive of creative businesses.
You'll find arty independent shops, galleries, markets, bars and restaurants, plus Sunday UPMARKET – which has more than 140 creative traders selling everything from fashion, accessories, art, interiors, music and loads of Asian/south American street food traders.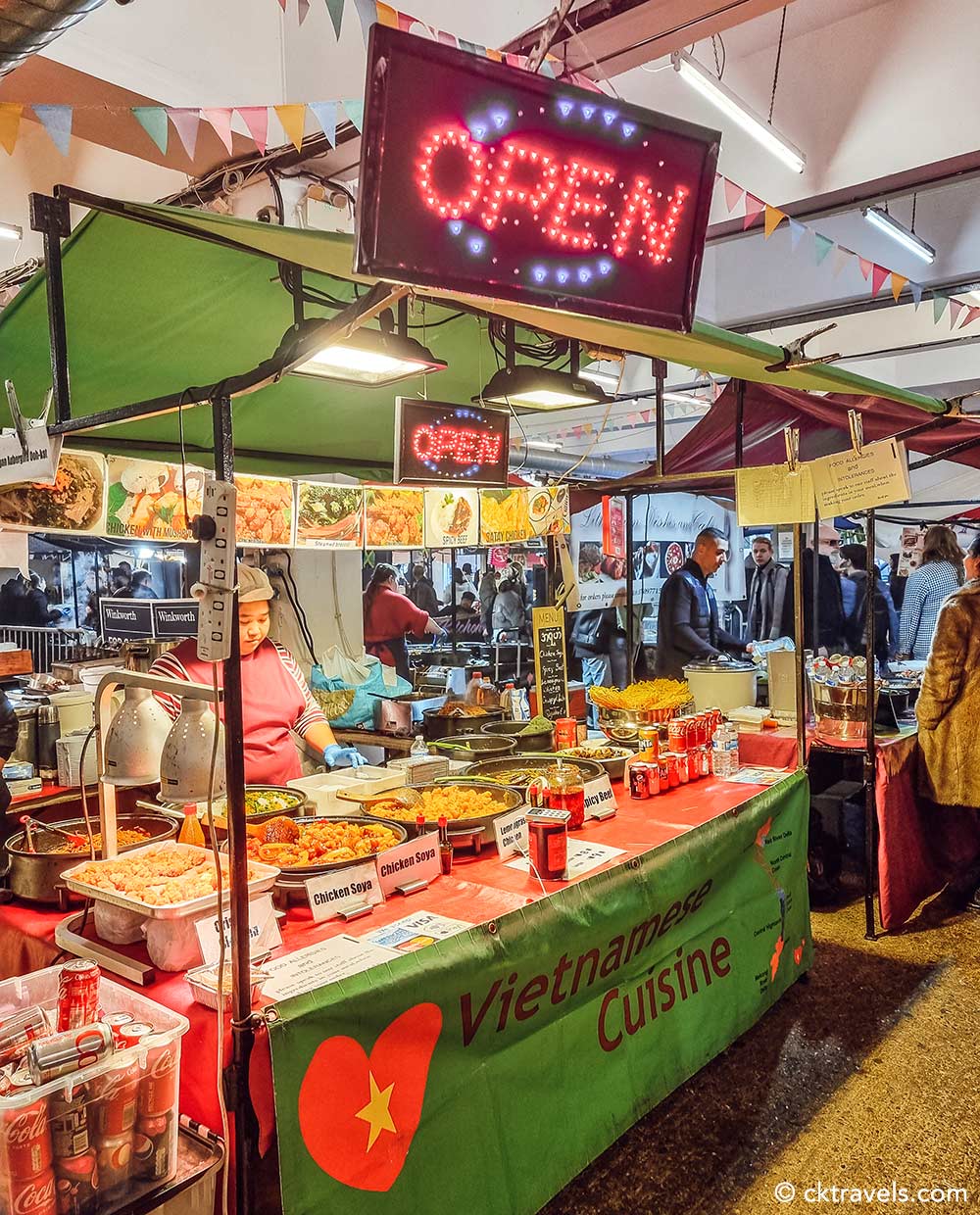 Just outside the Old Truman Brewery is Ely's Yard which is also great for street food – we recommend the Nepalese Momos from Tibet Kitchen, the dumplings are amazing!
The Truman Brewery also hosts regular pop-up events such as beer festivals, fashions shows and vintage clothing sales.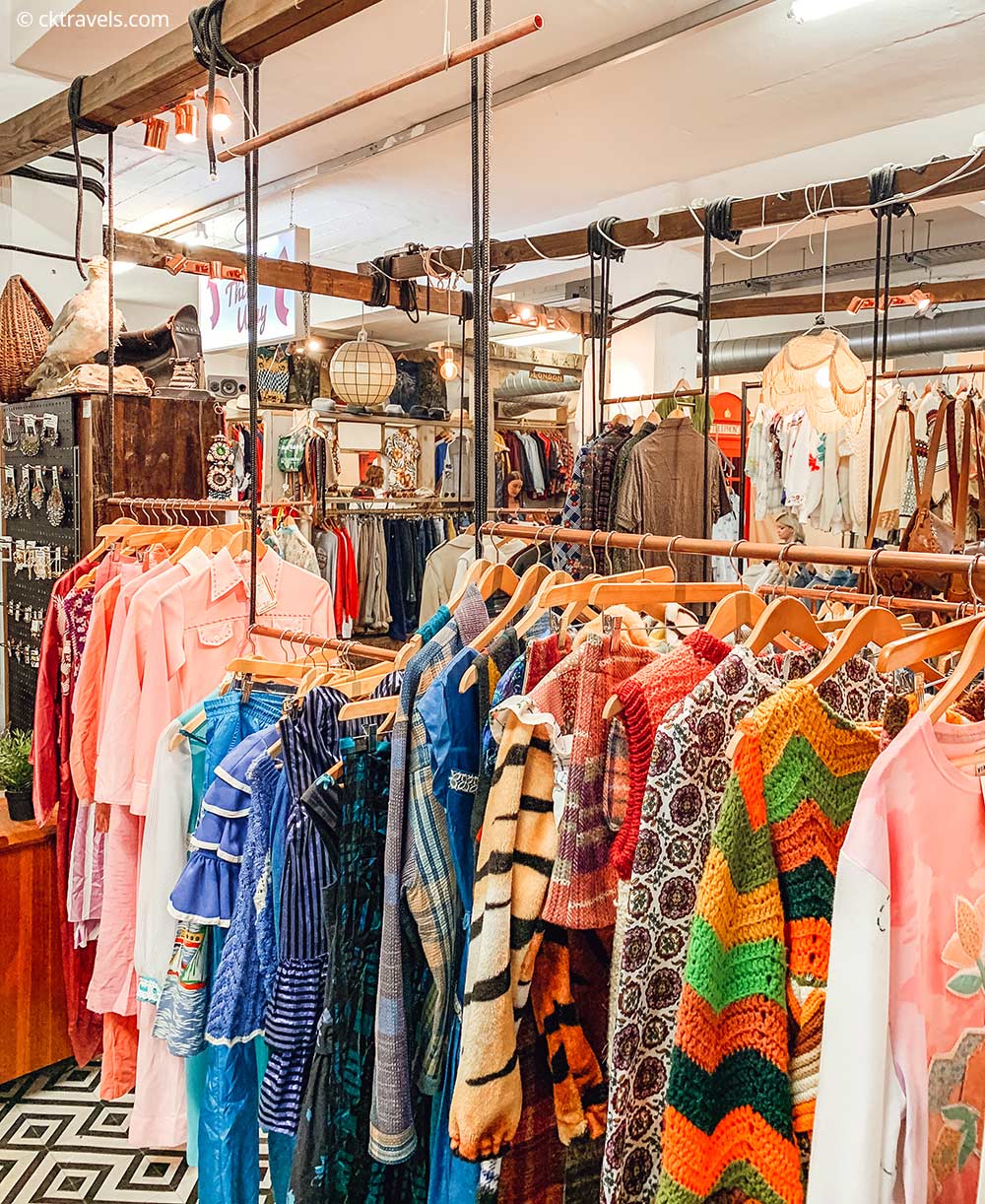 ---
YOU MIGHT LIKE: Best London Crazy Golf / Mini Golf Courses >
---
32. Eat a Bagel at Bagel bake
Founded in 1974, this famous and iconic 24-hour East London bakery is known for cheap traditional Jewish-style filled bagels such as salt beef and smoked salmon/cream cheese.
The bagels are boiled before being baked which gives it its crispy crust and moist chewy interior. Expect to see long queues snaking out of the door, especially late at night when the nearby bars and nightclubs are closing.
---
33. Hackney City Farm
Have you 'herd' about the free animal farms in Shoreditch? A little bit of the country in East London, Hackney City Farm is free to visit and has all manner of farm animals including goats, sheep, horses and chickens.
As well as a paddock to watch the farm animals graze in, there are several stable buildings and coops to visit at Hackney City Farm, plus there a cafe and a small shop selling organic produce.
YOU MIGHT LIKE: Free Animal Farms in and around London >
---
34. Shoreditch Pho Mile
Dubbed the Pho Mile by many locals, Kingsland Road which runs between Shoreditch High Street station and Hoxton has several cheap and authentic Vietnamese restaurants (many of which are bring your own booze).
Check out the highly rated Bunbunbun and Mien Tay.
---
YOU MIGHT LIKE: Things to do in Shoreditch Guide >
---
35. Netil Market, Hackney
An awesome and artisanal array of artist studios and food stalls tucked away in the corner of London Fields, this is a cute courtyard with a handful of carefully curated stalls (plus a few more pop-up ones on Saturdays).
Top draws include Bao Bar (tasty Taiwanese fare) and Oli Baba, supposed creator of London's halloumi fries frenzy. Sounds yum – back of the net(il)!
---
YOU MIGHT LIKE: things to do in London Fields >
---
36. ABBA Voyage at the ABBA Arena
Gimme, gimme, gimme another ticket to see ABBA Voyage! Opening to rave reviews and daily sell-out performances (twice a day at the weekends), ABBA Voyage in Stratford is quite like nothing else we've ever done in London before – and only a very short stroll from Queen Elizabeth Olympic Park.
If you told us a 'virtual' performance by ABBA could have been so uplifting, emotive and such a fun night out, we wouldn't have believed you – but this truly delivers and we urge you to go and see it with your own eyes.
---
37. London Olympic Park Boat Tours, Guided Tours and Swan Pedalos
If you'd rather explore the Olympic Park on water as opposed to by foot, there are daily boat tours lasting 45 minutes that take you up and down the River Lea and Stort (departing just adjacent to the London Aquatics Centre).
Or if you fancy something a little more surreal but serene, you can also hire swan pedalos.
---
38. Museum of London Docklands
Many people visit the main Museum of London in the city centre (now closed until 2026 for a makeover), but they also have a smaller outpost in East London Docklands which has free admission and is open seven days a week.
Focusing on the River Thames and the development of the docks and local area, the Museum of London Docklands is suitably located in a former port warehouse. It opened to much fanfare in 2003, featuring artifacts from the main museum as well as the Port of London Authority archives.
---
39. Wanstead Grotto
One our Wanstead Park highlights is the (slightly) magical and mystical Grotto, an 18th century ruin that currently has some restoration work underway.
Wanstead Park Grotto was constructed in the 1760s and used by a former Earl as a boathouse until it fell into disrepair before being rebuilt over the years.
The Wanstead Grotto's lookout changes over the seasons – visit in the winter and you'll see its mirror reflections on a lake but visit in the summer and you'll see a glade of purple petals all springing up with no water in sight.
---
40. Hackney Marshes
Popular with the locals as both a place for sporting activities or a casual stroll, Hackney Marshes is one of the largest common plots of land in London and holds a Green Flag award, identifying it as a good green space to explore with over almost 340 acres of protected land, running along the environs of Queen Elizabeth Olympic Park.
Away from the football pitches, our preferred Hackney Marshes walk starts at the Middlesex Filter Beds Nature Reserve, a haven for wildlife and takes in the track that runs alongside the old river Lea through a wooded forest path before finally coming out at the very start of Olympic Park.
---
YOU MIGHT LIKE: Hackney Wick Restaurants guide >
---
41. The Greenway
Covering just over 4.3 miles between Beckton and Fish Island via Olympic Park, this is a flat, path and cycle way that boasts historic buildings such as the Abbey Mills Pump House (a Victorian architectural jewel gem).
What sets this apart is that some of the city views are spectacular, including overlooking the Docklands area and Canary Wharf (one option is to get off the Greenway at the halfway point and finish in Docklands).
Randomly, it is said that part of this route was Gandhi's daily meditation walk, when he visited London in the 1930s.
---
YOU MIGHT LIKE: The best cycling routes in London >
---
42. Dalston
Whilst not as well known as some other east London areas, Dalston more than makes up for it with its rich mix of awesome Asian restaurants (Vietnamese in particular), pop up-bars and breweries (40FT Brewery is the most well known).
It is also renowned for local cultural institutions like Rio Cinema and Arcola Theatre – we once visited the latter to see a show in the round in a huge pop-up marquee, you'd never get to do that in central London!
Dalston has also been home to the Ridley Road Market since the 1880s, a neighbourhood favourite selling everything from handbags to halibut (also the cheapest place in East London to buy gozleme – fact!).
---
43. Wanstead Village
You could be forgiven for thinking you'd left east London when you step off the Tube station at Wanstead Village – a charming, neighbourhood strip of shops, bars and restaurants, many of which are independently run.
On a warm summer's day, the Wanstead village high street is thronging with people eating or drinking outside the various cafes and bars.
There are so many bars and pubs to enjoy in Wanstead Village too, many with beer gardens – find out more in our things to do in Wanstead guide >
---
44. Stratford City Westfield shopping centre
Shopping – love it or loathe it, there is no denying that this is an impressive retail mall, one of Europe's largest shopping centres (over 250 outlets).
East London's biggest shopping centre has loads to do. If retail therapy isn't for you, Westfield Stratford City, also has oodles of outdoor bars and restaurants as well as a cinema and several themed food courts so this might be a suitable place for respite after a day of exploring the nearby parks.
---
45. Wanstead Park
Wanstead Park is one of our favourite parks in east London. This is a gorgeous green gem comprising 140 acres of parkland to peruse and potter around, with several ponds and ornamental waterways to explore.
Wanstead Park is grade II listed and has waterways and lakes including the Heronry Pond, the Shoulder of Mutton and the most beautiful of them all, the Perch Pond (mirror-like on calm days).
Popular with fishermen, there are lots of wildfowl and birds who reside here; be careful of the swans – they can be vicious!
---
46. Bow
A largely residential east London area and neighbourhood, Bow has one of the best markets in East London.
Roman Road Market, which has been taking place for over 100 years, is one of London's most enduring and oldest street markets and is open on Tuesdays, Thursdays and Saturdays.
Whilst exploring Roman Road, head to G Kelly's pie shop to try some traditional pie and mash and liquor (a London culinary rite of passage, up there with E Pellici in Bethnal Green).
---
47. Leytonstone
Leytonstone's once less salubrious side has now given way to a heady mix of bars, restaurants and cafes.
Our own highlights in Leytonstone include Singburi, possibly the best Thai food in London (for our money), and the Leytonstone Beer Mile which includes a wonderful brewery called Mammoth Tap, plus the Filly Brook pub which has an incredible and regularly changing food menu.
Stone Mini Mart is also one to watch and a recent Time Out award winner for most popular independent shop in London.
Leytonstone also is famous as the birthplace of revered British film-maker Alfred Hitchcock, and Leytonstone Tube station has a series of beautifully tiled mosaics depicting the 'master of suspense' at work.
---
YOU MIGHT LIKE: Best East London neighbourhoods guide >
---
Our final thing to do in East London…
48. Tayyabs
Our final thing to do in east London is to visit the legendary London Punjabi restaurant in Whitechapel in east London.
Seriously, the amount of nights we've spent here – Tayyabs is a London culinary icon known for its traditional Punjabi cuisine – both the lamb chops and chicken tikka are a must try.
Tayyabs has been serving up delicious and very affordable dining since the early 1970s.
Better yet, it is also one of the few BYO (Bring Your Own) restaurants in London, meaning you can bring your own food and wine with no corkage fee either.
---
Other London posts you might like
---
Did you enjoy our things to do in east London blog post? Let us know in the comments or by sharing it on social media.
You can follow CK Travels on:
Instagram
Facebook
TikTok
YouTube!
---
Things to do in East London – add to Pinterest!