This post may contain affiliate links to tours and hotels. These help us earn a small commission at no additional charge to you.
Located in Krabi and the gateway to hundreds of Thai islands, Ao Nang is a popular place to stay and play with a long sandy beach and numerous dining spots. As you'd expect, Ao Nang beach has a bounty of beachside brunch and breakfast cafes and restaurants, the perfect start to your morning before relaxing on the sand, swimming in the warm sea or jumping on a long-tail boat to the islands.
After several weeks based in the area and eating our way along the beach, these are our 8 best brunch and breakfast places in Ao-Nang, Krabi:
---
YOU MIGHT LIKE: things to do in Ao Nang Beach >
---
Best breakfast and brunch restaurants in Ao Nang, Krabi
1. REEVE Beach Club Krabi
We went to a lot of breakfast and brunch restaurants during our time in Krabi (all in the name of 'research' obviously) and for us, the best breakfast and brunch spot in Ao Nang has to be The Reeve Beach Club, when you take into account both food quality and the location / setting.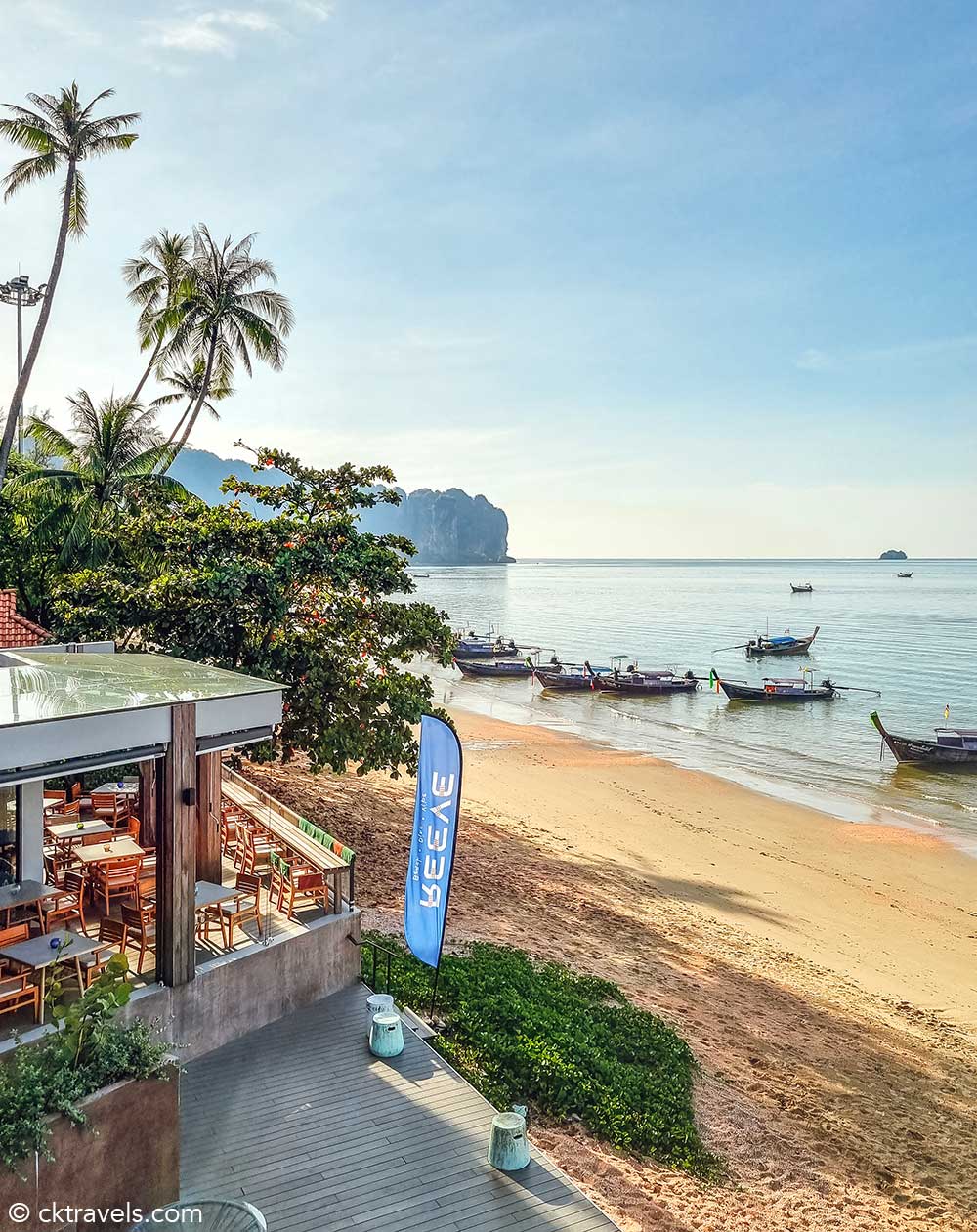 Reeve Beach club directly overlooks the beach (with steps onto the sand) and boasts stunning sunset views. For us, this was a marvellous morning setting, allowing us to enjoy our breakfast whilst watching the long-tail boats come and go from the various Thai islands dotted around Ao Nang.
The Reeve Beach Club itself is based over several levels and decks all facing the ocean. When we visited for breakfast, only the main section / bar was open but could freely explore the whole place to take pictures and enjoy the views.
The food is delicious at Reeve Beach Club Krabi – we had French toast with bacon, fried egg and waffle bits (280 THB) and Avocado with corn and salsa (220 THB), plus some good coffee and a moorish coconut smoothie* (150 THB).
The smoothie was a little more expensive that some but the quality was much better.
Service at The Reeve Beach Club was prompt and super-friendly, but it was a little 'touty' in terms of getting us in.
The unparalleled beach views here certainly make the whole experience though. To note we only had breakfast at Reeve Beach Club so can't vouch for lunch or dinner here.
Reeve Beach club is ran by the owners of Panan Krabi Resort – read our honest review of Panan Resort in Ao Nang here >
*Random Ao Nang aside – incidentally, we tried a LOT of smoothies in Ao Nang, Krabi and the best two by far were at 888 Drinks Ao Nang (40 THB) and at Thai Food Sawsadee (90 THB).
---
2. Cafe 8.98 Ao Nang
The busiest brunch and breakfast spot by far on the main Ao Nang bar and restaurant strip, cafe 8.98 Ao Nang is incredibly popular with tourists and for good reason – the breakfast and brunch menu here is very creative with even traditional dishes like omelettes reinvented.
Open all day but busiest in the morning, Cafe 8.98 has both an indoor (air conditioned) area plus an outside deck overlooking the main road. We visited one Sunday morning around 10am and the place was packed out.
As well as a Thai food menu, there was an extensive breakfast menu at Cafe 8.98 , which included gluten free and vegan options.
All the food here looked really good and after much consideration, we opted for an open spanish style omelette.
There are several varieties including a salmon and avocado omelette but we went for a salami, potatoes, rockets, olives, cheese and tomatoes (220 baht) plus a side of toast (4 slices for 30 baht with Australian butter).
We also had a vegan breakfast (250 baht) which consisted of avocado, quinoa, beetroot hummus, mushrooms, tomatoes and seeds – delicious.
The coffee and smoothie menu is equally extensive as well, plus free WIFI is available. The only downside was that their playlist included Take That and Jack Johnson (crimes against music!) but we can forgive them given the breakfast was so nice.
Cafe 8.98 also operate Cru Kitchen and Bar down the road. At the time of writing (December 2022), Cafe 8.98 has two Ao Nang locations but the newer / smaller Cafe 8.98 on Klong Hang Road near to Pakasai Resort appears to be closed (possibly permanently).
---
YOU MIGHT LIKE: Ao Nang beach resorts, Krabi – the best affordable hotels
---
3. Tan Hostel x Cafe
A Hip hostel hangout with its own incredibly popular cafe, Tan Hostel x Cafe is a little further off the beaten track than most of these 'best brunch and breakfasts in Ao Nang' places, around 10 minutes up the hill from Ao Nang Beach.
The trek is worth it though as Tan Hostel x Cafe know their coffee, with an epic menu both in terms of drinks and food options.
We visited early one morning and it was already very busy, seemingly a mix of people staying in the hostel and those walking in off the street.
The Tan Hostel Cafe interiors are really quite something with bright murals adorning the walls and bean bags a plenty.
Whilst Tan Hostel x Cafe have a standard coffee menu (espresso, mocha etc), they also have a special menu packed with cool as beans creations like 'Cloud and Earth' – which is a coconut frappe from the cloud topped with a shot of espresso from the earth (120 baht), and 'Cheesy Latte' – an iced latte topped with cream cheese, crumble and caramel (145 baht).
All day brunch is available at Tan Hostel x Cafe (well until 5pm when it closes). Dishes include a chorizo egg skillet (190 baht), avocado omelette (210 baht) and pesto mozzarella toast (190 baht).
This is also one of the best places in Krabi for vegan breakfasts / brunches with several dishes available including vegan tacos, vegan buddha bowls plus heaps of fruit smoothies.
Thanks for checking out our blog!
As of Autumn 2023 we are currently digital nomading / travelling around Asia (Thailand, Malaysia, Singapore and South Korea). Check out our daily travel diaries on Instagram @.c.k.travels >
4. TAN Tribe Cafe
New for 2023 and another cool Ao-Nang brunch cafe from the peeps behind Tan Hostel, the TAN Tribe Cafe is just a short walk from Ao Nang Beach and has a huge outdoor terrace.
It is a prime people watching spot and return from the beach retreat plus the all day brunch here is spot on.
We like the new Tan Cafe as the service is good and the interiors are bright and breezy. The decor is under the sea-themed so the walls are painted like coral, soft star-fish hang from the ceiling and even the cushions are shaped like huge fish.
Given the interior, it felt appropriate then to try the seabass burger and fries (290 THB) at TAN Tribe Ao Nang cafe, which was delicious (the fish burger was huge – almost the size of my head!)
We also tried the chilli, bacon and garlic pasta with poached egg (nice) plus a massive mango smoothie. All day brunch options at TAN Tribe Cafe include smoothie bowls, avocado omelette, sweet potato and chorizo egg skillet (all priced between 225 THB and 285 THB).
---
You might like – Things to do in Bangkok at night >
---
5. CRU Kitchen and Bar
In case you were wondering, CRU stands for 'Contemporary. Relaxing, Unique' – but please don't let the name put you off. Anywhere where the wifi password is 'chardonnay' is alright by us!
A popular late night bar and restaurant that hosts live music until the wee small hours, CRU Kitchen and Bar also opens its doors from 11am offering western dishes, with a brunch special menu that runs until 2pm.
All dishes include a free coffee or tea with most dishes around the 220 to 320 baht mark.
The dining area at CRU kitchen and bar is really pleasant with an island bar in the middle, and a choice of seating indoors or outside on the terrace. It is also a nice way to people-watch as they go to and from Ao Nang beach (with varying degrees of sunburn).
The service at CRU kitchen was bright and breezy and the staff were really friendly and chatty which we really liked.
For brunch, we had pork belly with scrambled egg, mushrooms, toast and romesco sauce (delicious!), plus a nduja omelette complete with olives, peppers, rocket and potato – both dishes were each 240 baht including a free iced latte.
---
You might like – things to do in Pattaya, Thailand >
---
6. Brightside Bistro
Tucked away down a little side-street just a stone's throw from Ao Nang main beach, The Brightside bistro is a breath of fresh air in terms of Ao Nang's sometimes same-same restaurants and cafes (it is quite new, having opened in spring 2022).
With bright white interiors, a huge neon sign and modern clean interiors, The Brightside Bistro certainly gets your attention. We discovered Brightside Bistro purely by chance and couldn't get in on our first two attempts as it was so busy – we then returned at opening one morning (8.30am) and were rewarded with a prime table inside.
The staff at Brightside Bistro in Krabi / Aio Nang are very friendly and all too eager to take you through the menu, enthusiastically telling us how all the sourdough bread / toast here is home-made.
The awesome aesthetics continue with a nicely designed menu (pictures of all dishes are included) making it a hard decision on what to eat.
We opted for the bacon, cheese and egg toasted sandwich with a sriracha mayo (220 baht), plus bacon and eggs (of your choice) with sourdough toast (200 baht). We were also given extra free toast which was appreciated.
The coffee menu at The Brightside Bistro is extensive and they take their caffeine seriously with a separate menu (complete with illustrations). One of the best breakfasts in Ao Nang, the Brightside Bistro was a bright start to our day in Krabi.
Brightside Bistro also serve amazing home-made pasta dishes, so we would also recommend this restaurant as a place to eat at for lunch or dinner.
---
YOU MIGHT LIKE: How to get from Ao Nang beach to Railay Beach by long-tail boat
---
7. The Coffee Club, Ao Nang Beach
The famous Australian cafe chain and franchise comes to Thailand, with around 60 locations dotted all around the country.
Specialising in all day brunch, The Coffee Club in Ao Nang beach has a massive breakfast menu, although it is fair to say it is expensive compared to most other Ao Nang beach breakfast and brunch menus.
Their big breakfast is around the 400 baht and a croissant with egg, parma ham and avocado is 320 baht (plus service and tax are on top).
We opted for a healthy blueberry and banana smoothie bowl (150 baht) and a mango/yoghurt shake (120 baht) – both of which were a little too icy for our liking.
We actually wanted to order some of the hot big breakfast dishes but most of them were sold out when we visited around 10am so our recommendation would be to visit early.
The great thing about the Coffee Club on Ao Nang beach is that is such a clean and welcoming restaurant plus the outside area (quite small – 3 or 4 tables) directly overlooks the beach.
Also, if you don't want a large breakfast, there is a pastry and savoury treat section inside with most items below the 100 baht mark.
Note there are two Coffee Club branches in Ao Nang and we ate at the one overlooking the beach which seems to be a lot busier and open longer hours than the one on the main bar and restaurant strip.
---
YOU MIGHT LIKE: Things to do at Railay Beach and Phra Nang Cave Beach
---
8. Poda Beachfront Dining at Vacation Village Phra Nang Inn
Location, location, location. Poda Beachfront cafe is located smack back on the beach at Ao Nang, with views of the long-tail boats and sandy beaches.
It is also right next to the main long-tail boat service to Railay Beach and Phra Nang Cave Beach meaning it is a good spot to 'fuel up' before jumping on a long-tail boat for the day.
Whilst we aren't saying this is the best brunch and breakfast in Ao Nang in terms of culinary delights, the location is incredible and at 250 baht per person (including tax / service) for the full buffet including drinks, freshly made omelettes and fried eggs, pancakes plus cereal, fruit and hot noodle and rice dishes, it is VERY good value.
We should say here that whilst we really enjoyed the breakfast at Poda Beachfront Dining / Vacation Village Phra Nang Inn as all the food we ate was nice, we have seen some bad reviews for their lunch and dinner service (buyer beware). So stick to breakfast here.
It also gets quite busy as this is where all the Vacation Village Phra Nang Inn get their included breakfasts too. Overall a food breakfast at a good value with nice beachfront views.
---
Try this – Ya's Thai Cookery School Class in Krabi >
---
9. Mañana Mexican Food Aonang 1
A little bit of Mexico in Krabi, if you are looking for good food in Ao Nang, we'd rate Manana Mexican Food Aonang 1 as one of the best restaurants in Ao Nang.
Tucked down a little side-street near the RCA Entertainment street, this magic Mexican cantina style restaurant is warm and welcoming, hosted by restaurant proprietor Big Momma.
We've only ever eaten at Mañana Mexican in the evenings, but this restaurant opens at 9am and has a small selection of breakfast dishes including huevos ranchos, Mexican scrambled eggs and chorizo tostadas, plus some great fruit smoothies.
---
You might like – Krabi Jungle Tour (Hot Spring Water, Emerald Pool, Tiger Cave Temple) >
---
Hotel Breakfast Buffets in Ao Nang
We stayed in Ao Nang for three weeks as a base to explore Krabi and in that time, stayed in several hotels all of which had hotel buffets.
We enjoyed the hotel buffet breakfasts at the Pavilons Anana Krabi Resort, Pakasai Resort and Panan Resort. Panan Resort also offer a floating breakfast for guests staying in the resort with rooms that have private pool access – definitely one of the more unique breakfast experiences in Krabi!
Other Krabi posts you might like
Other Thailand posts you might like
Did you enjoy our best breakfast & brunch restaurants in Ao Nang, Krabi blog post? Let us know in the comments or by sharing it on social media.
You can follow CK Travels on:
Instagram
Facebook
TikTok
YouTube
Pinterest