This post may contain affiliate links to tours and hotels. These help us earn a small commission at no additional charge to you.
Think of Thailand and you'll likely instantly recall tuk-tuks, temples and… 7-Eleven toasties. That's right – literally every backpacker or tourist who has taken time to visit Thailand has tried the tasty, toasted sandwich delights from 7-Eleven.
Whether its due to a micro-travel budget, an occasional craving for non Thai / Western food or the simple fact you have a massive Chang-over, tourists love the taste of Thailand toasties from 7 11 (and we've heard more tales of 7-Eleven toasties in hostel kitchens than we care to remember).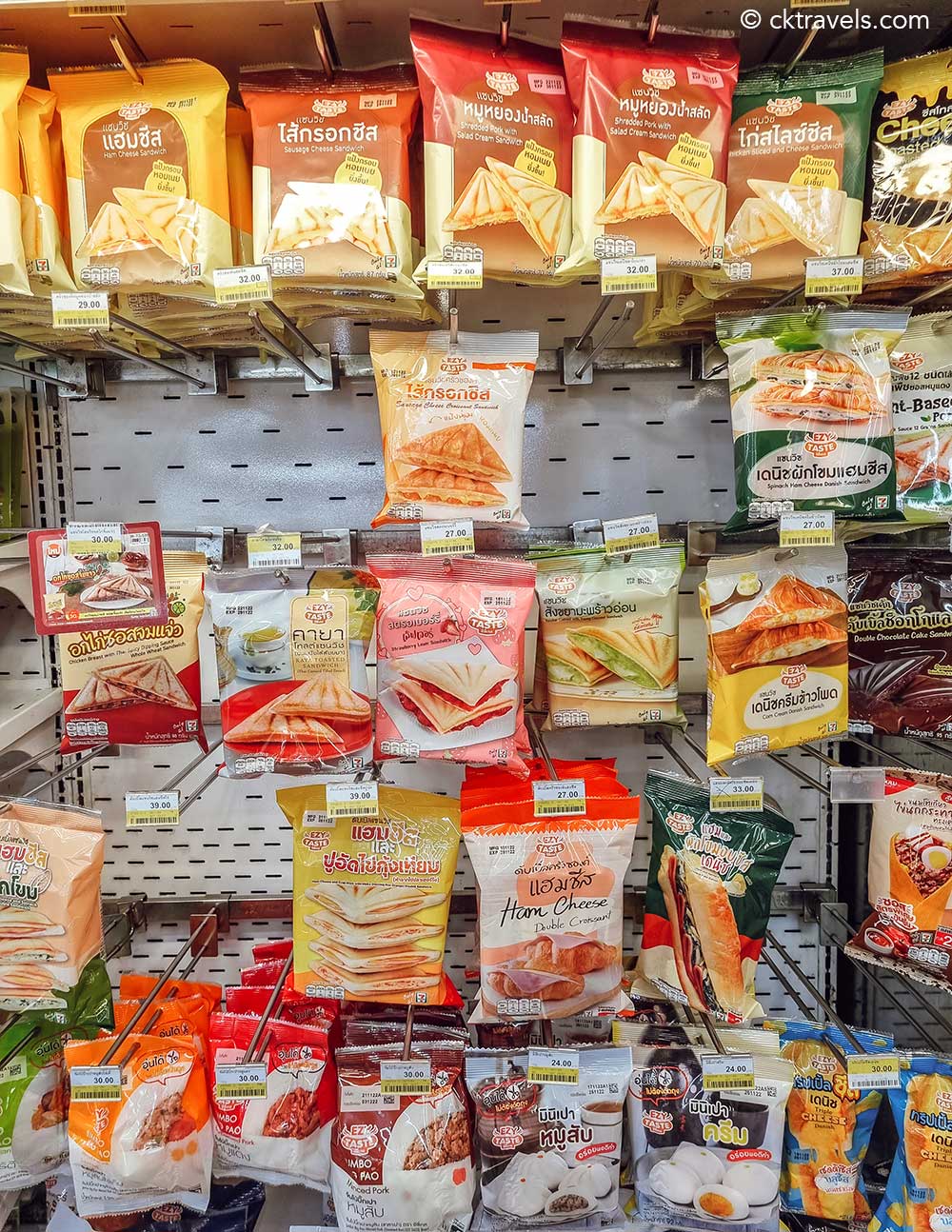 Fact: 7-Eleven toasties are a backpacker rite of passage and with over 13,000 7-Eleven stores in Thailand as at 2021, that means tonnes of toasties are sold every day in the Land of Smiles.
And new 7-Eleven toastie flavours are popping up all the time in Thailand including fake meat toasties and dessert toasties.
Here is our 2023 guide (updated June 2023) to the top toasties in Thailand available in 7-Eleven stores, from delicious dessert toasties to choice croissant toasties.
Note that some of these 7-Eleven toasted sandwiches are limited edition so it is unlikely all of these will be available in Thailand 7-Eleven when / if you visit Thailand.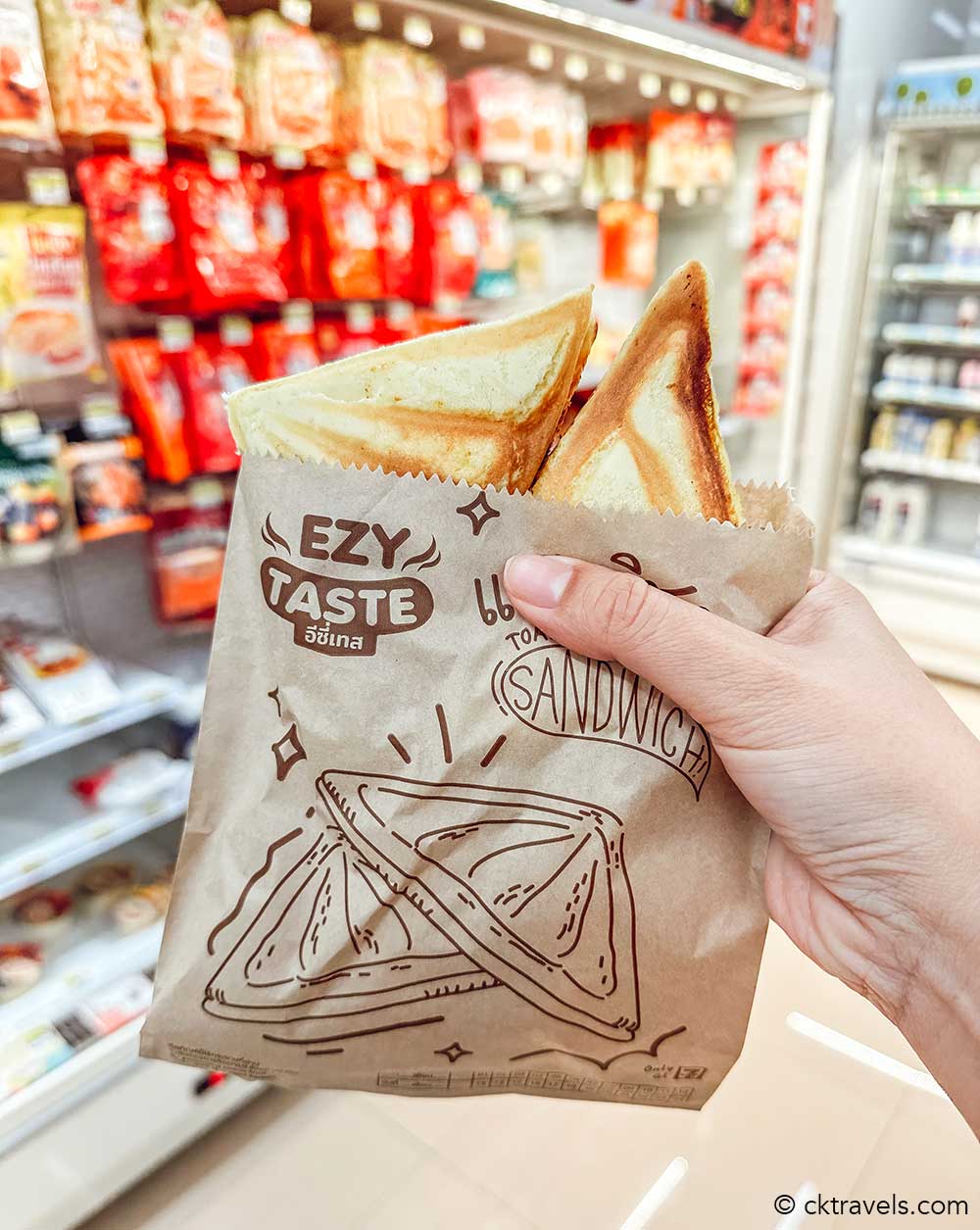 Our Thailand 7-Eleven Toasties video
Thailand 7-Eleven Toasties
1. Carbonara Danish Sandwich
One of the croissant style 7-Eleven toasties, this contains flaky pastry filled with a bechamel style sauce, chunks of ham and pieces of carbonara. It tastes much better than it sounds and this is our go-to 7-Eleven toastie.
---
2. Tuna Salmon Croissant Sandwich
Definitely an acquired taste and a frankly quite fishy 7-Eleven toastie – the tuna and salmon croissant toastie is an interesting choice. Given the smell of this toasted croissant when hot, this one might be best to eat on the beach!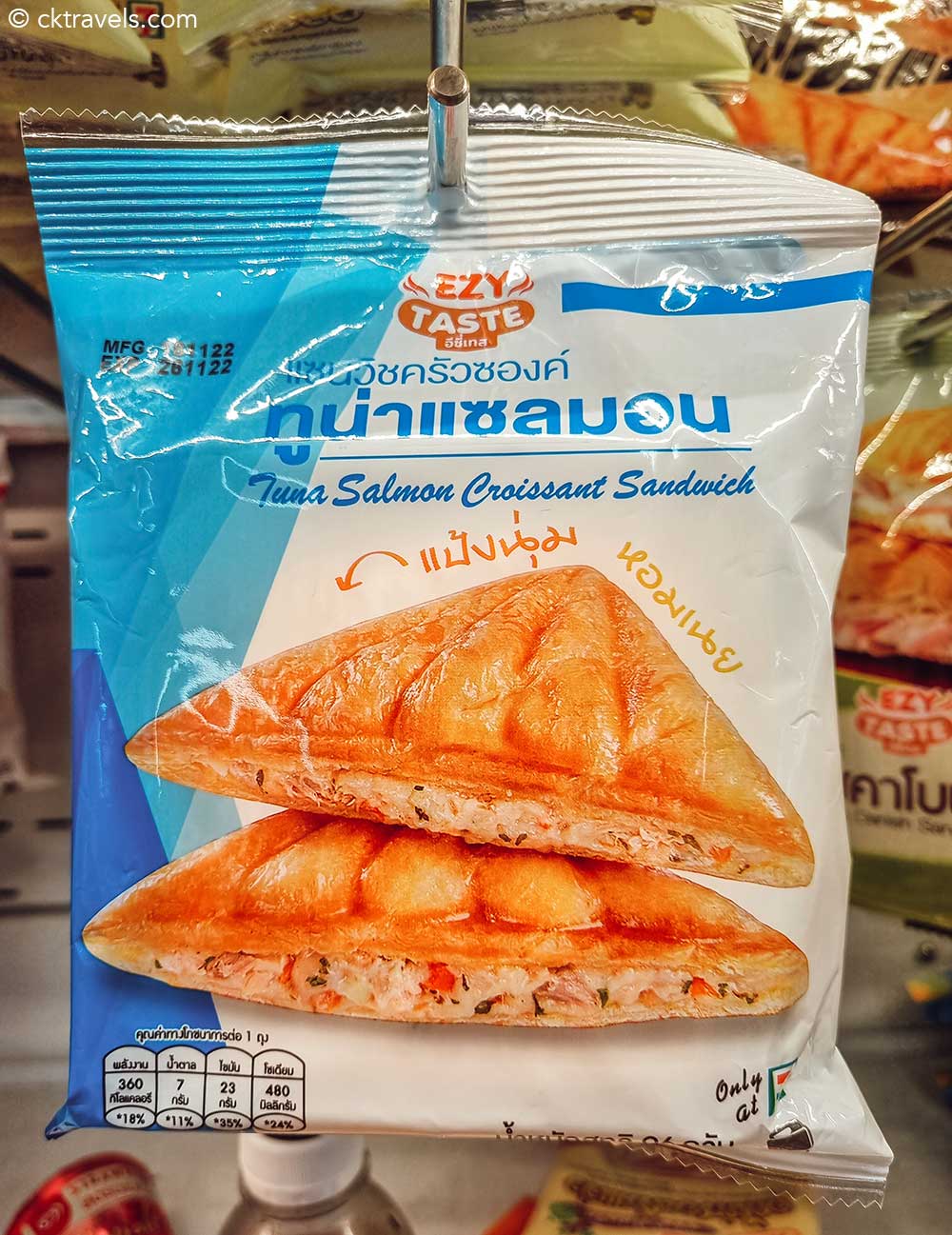 ---
3. Ham, Cheese and Crab Stick with Ebiko (Herring Roe Orange) toasty
To be honest, we yet to try this one (too many toasties, not enough time…). This one is only available as a double sandwich pack so for those with a big appetite.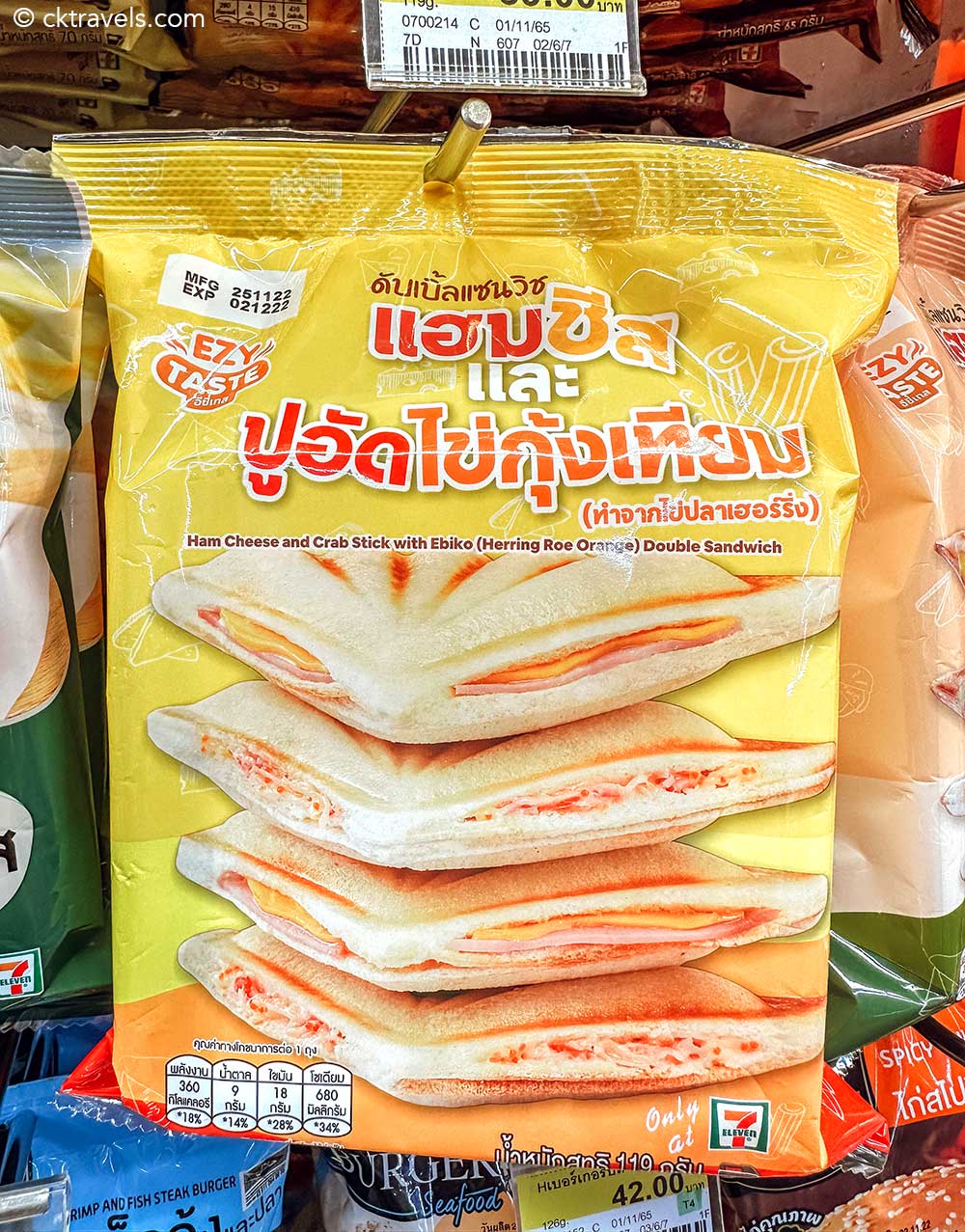 ---
4. Chicken Breast with Thai Spicy Dipping Sauce Whole Wheat Toasty
One of the few 7-Eleven Thailand toasties that has a five chilli rating on the side (this is 4 out of 5 chillies so one of the hotter toasties). Dip, dip, dip away! Rare to see a whole wheat toasty in 7-Eleven too so a must try.
---
5. Sausage Cheese Toastie
Traditional toastie flavours, this 7-Eleven toastie flavour is popular although the cheese is a little on the plastic side. As traditional toastie flavours go, this is comparatively plain – although this is one of the more commonly available and popular 7-Eleven toastie flavours, we found the whole thing a little 'plastic' (especially these cheese).
---
6. Shredded Pork with Salad Cream Toasty
Shredded pork yes but salad cream as opposed to mayonnaise? We aren't sure about this toasty. We aren't sure about this toasty but it has the word 'salad' in it so it must be good for you 😉
---
7. Ham, Cheese and Spinach Double Sandwich Toastie
Our favourite 'double' toastie package at 7-Eleven in Thailand, this retails for 39 Baht and contains four toasties (two ham and cheese and two spinach and cheese). The latter is quite sweet but you soon get used to it.
---
8. Plant Based Pork with Red Pork Sauce 12 Grain Sandwich Toastie
We think this is one of the newest 7-Eleven Thailand toastie flavours and so far, we've only seen it in 7-Elevens in Krabi (but it will likely be available in selected Bangkok 7-Elevens too).
It is great to finally see plant based / vegetarian 7-Eleven toasties in Thailand (although we can't say for sure if it is 100% vegetarian given the pork sauce description). However we loved the taste of the rich and fruity sauce that accompanied the fake meat mince so would recommend this one.
---
YOU MIGHT LIKE: Weird Lay's Potato Chip Flavours in Thailand 7-Elevens >
---
9. Corn Cheese Danish Sandwich
Another croissant style 7-Eleven Thai toasty, this is sweetcorn pieces in a thick cheese sauce, surrounded by flaky and sweet croissant pastry – oh yes!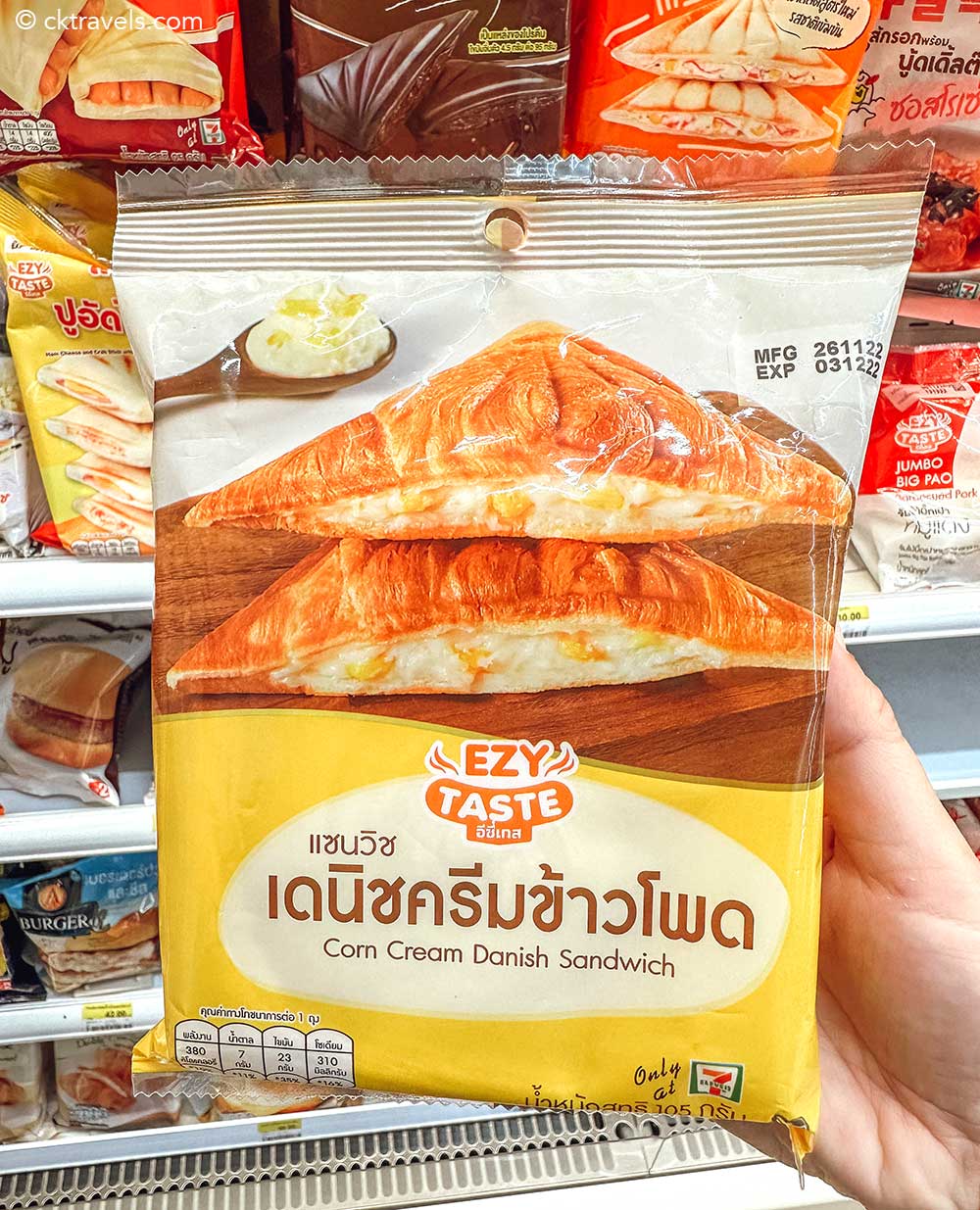 ---
10. Pandan Custard with Young Coconut Toastie
Classic pandan pudding flavours come to this dessert toastie. You'll find pandan sauce available with loads of sweet dishes in Thailand so it is no wonder it also comes in 7-Eleven toastie form too. We really enjoyed this toastie – one of our favourite dessert toasties!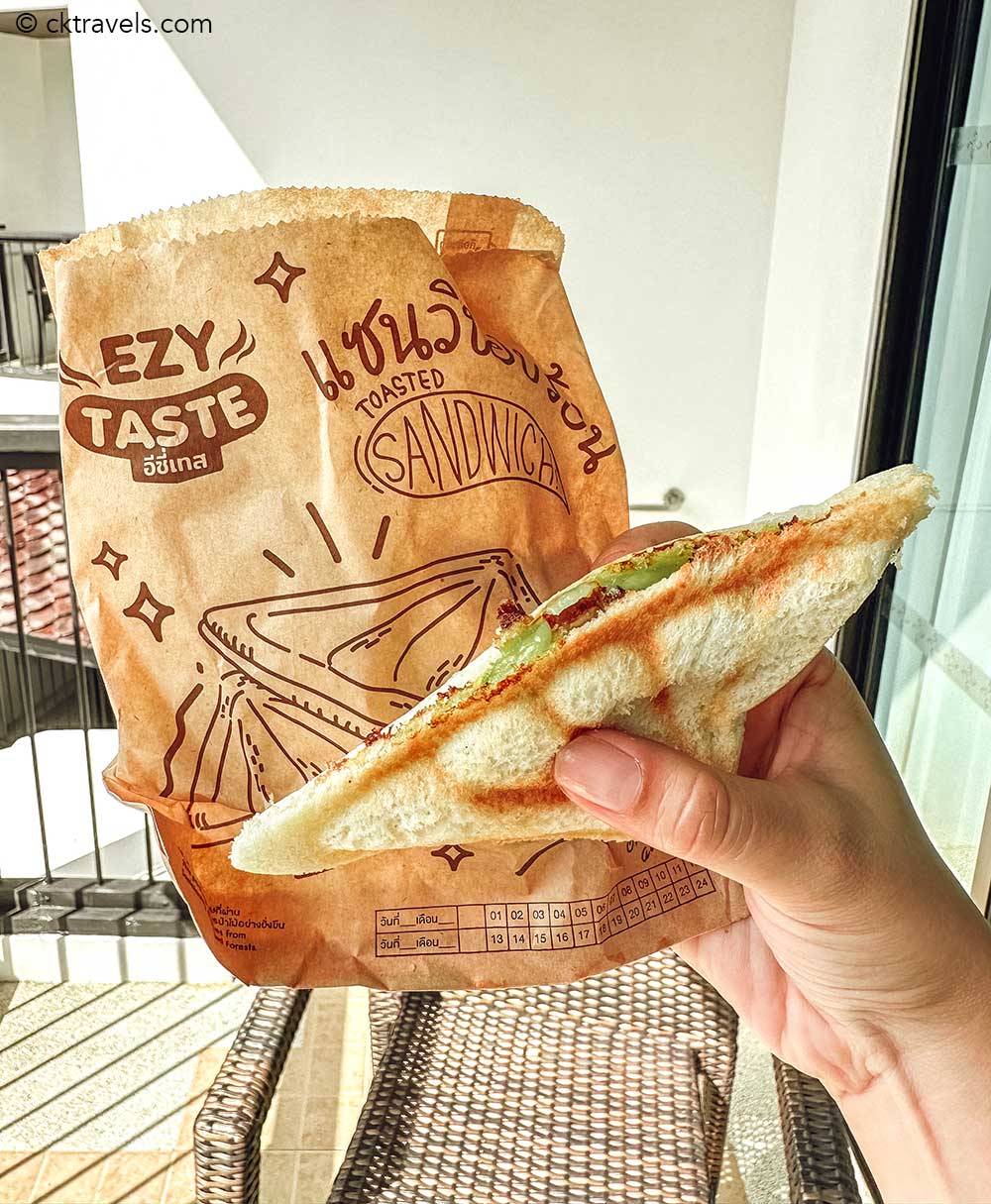 ---
11. Strawberry Lover Sandwich Tasty
Everyone loves (probably) jam sandwiches (just ask Paddington Bear) so this is the Thai 7-Eleven toastie version – dessert strawberry lover sandwiches!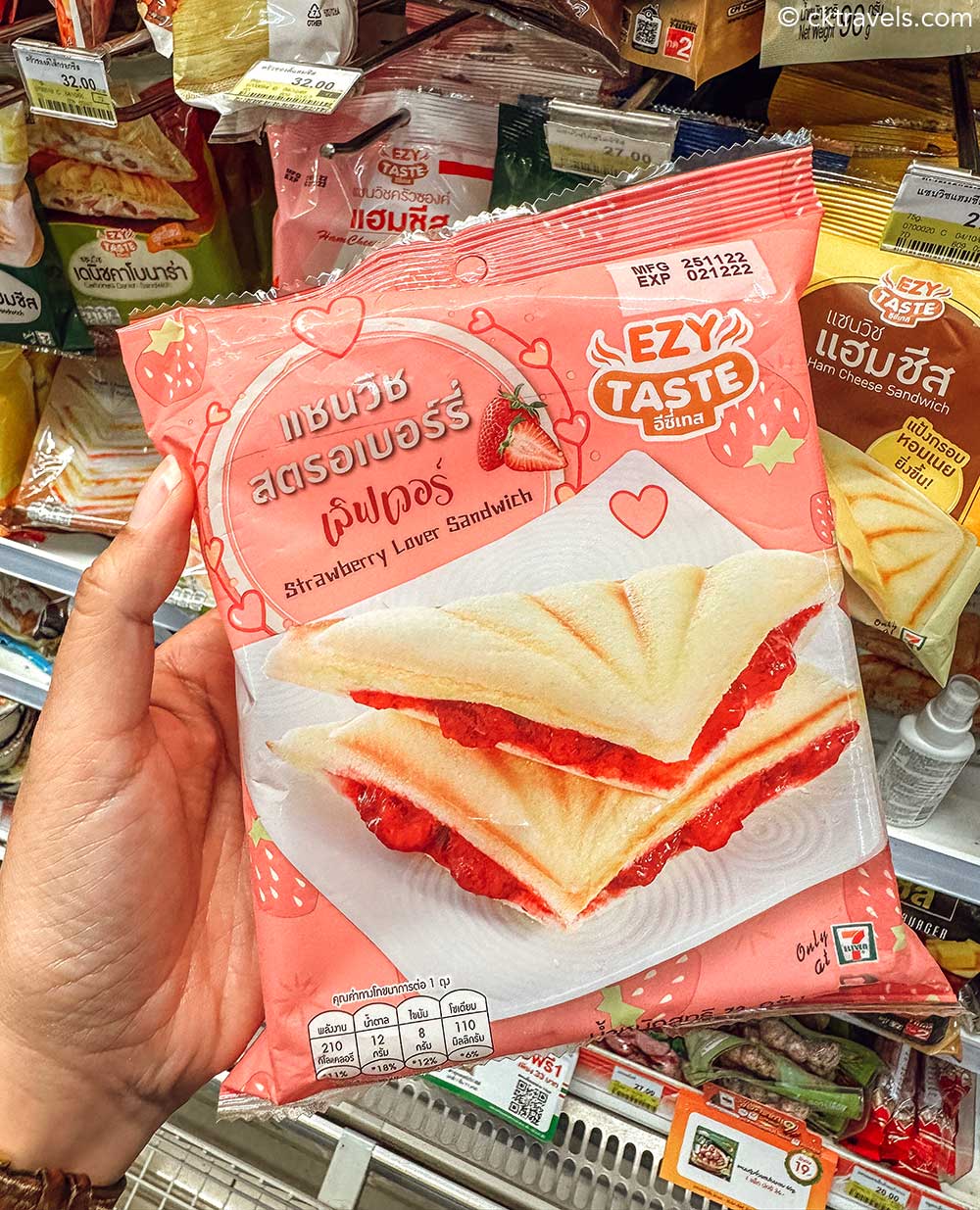 ---
12. Kaya Toasted Sandwich
Thailand Custard filled toasties are now available at 7-Eleven – get to your nearest toastie section now!
---
YOU MIGHT LIKE: Things you can buy in Thailand's 7-Eleven stores
---
13. Custard Chocolate Cake Toasted Sandwich
More dessert goodness with this creamy and chocolatey dream duo.
14. Tuna, salmon and burnt cheese toasted sandwich
Although surprisingly not as fishy as we expected, this is kinda of a 'marmite' toasty (not literally – you will either love it or loathe it). Also, the 7 Eleven employee 'heating' it up for us clearly didn't like the smell as she kept it wafting it as it cooked so clearly not for everyone. More tuna than salmon, the burnt cheese flavour is actually a sauce coating on the outside of the toasty.
15. Double Taro Sandwich
Taro is a root vegetable (a bit like a potato) commonly found in Thailand and now part of the 7-Eleven toasty range, available in a double helping and actually quite sweet (a dessert toasty). We haven't seen this one widely available either so it might be regional / limited edition.
---
YOU MIGHT LIKE: The World's Biggest 7-Eleven – Pattaya, Thailand
---
16. Custard Cake Sandwich
Custard toasties eh – the most yellow toasty you'll ever see. Custard Cake sandwiches is our least favourite 7 -Eleven dessert toastie – just kind of plain and nothing special. Meh.
17. Tortilla Chicken Sliced Spinach Cheese
Get in my belly! Chicken slices with sweet creamy spinach in a tortilla style bread – this savoury let slightly sweet Thai toastie from 7-Eleven is a welcome addition to the range and often sells out as it is quite different compared to most of the ham/ cheese/ sausage variation core range.
18. Crabstick and Corn Sandwich
Fittingly, we first discovered this 'crabby' toasty in Krabi of all places – a seafood sandwich toastie available from 7-Eleven with some corn inside; this makes it healthy right? Probably.
---
YOU MIGHT LIKE: Best themed 7-Eleven stores in Taipei, Taiwan
---
19. Ham, Cheese and scrambled egg sandwich
What is best than a ham cheese and scrambled egg sandwich? A DOUBLE ham, cheese and scrambled egg sandwich. This all day breakfast themed toasty can be a little on the messy side so definitely grab a napkin as you leave 7 Eleven.
20. Spinach Sausage Cheese Danish Sandwich
New for 2023 and a seasonal addition to 7-Eleven's Thai toastie range, this is quite high on the calorific range but also high on the toasty tasty scale – possibly one croissant style toastie to have as an occasional treat?
21. Carbonara Garlic Butter Sandwich
Another new toastie in 7-11 Thailand for 2023 (possibly limited edition), the novelty of this toastie is that carbonara is usually only available as a Danish sandwich. With lashings of garlic butter to boot, this is one interesting Italian style dish.
22. Strawberry and Blueberry 4-Pack Double Sandwich
Double fruit alert. This fantastic fruity toastie consists of not two but four slices of bread but don't be fooled by the title – the strawberry and blueberry fillings aren't combined but kept separate. Maybe this counts as 2 of your 5 fruit a day? Nah, probably not.
23. Ham, Cheese with Sour Cream and Onion Toastie
This is a fairly new toasty in Thailand's 7 Elevens which we tried in Bangkok in February 2023. We only saw it in a few 7 Elevens which is a shame as this is one of the best 7 11 toasted sandwiches we've eaten as the tastes balance so well – so good when the sour cream filling oozes out when you chomp on it.
24. Chicken and Mushroom Cheese Sauce Danish Toastie
Wow, there are so many new 7-Eleven toasted sandwich flavours in 2023. Our latest turn up for the toastie books at 7-Eleven Thailand is Chicken and Mushroom Cheese Sauce Danish Toastie.
Whilst it does taste nice (and not too sweet like other 7-11 supposed savoury toasties), weirdly it doesn't taste that much of either chicken or mushroom – it is also the closest toastie to a traditional pie filling at 7.Eleven.
25. Fried Egg, Ham and Cheese Toastie
The one that got away. Incredibly, we discovered this (rare?) 7 Eleven toastie at an Ao Nang Beach 7 Eleven store, wolved it down as it was so delicious and in the process, totally forgot to get a picture of it.
And since that one occasion, we've never seen the fried egg, ham and cheese toastie at 7-11 Eleven again. Very much the Keyser Söze or Bigfoot of toasties, we hope to see this toasted sandwich again as it was easily in the top 5 of our 7-Eleven toasties!
26. Tortilla Chuka Wakame and Crab Stick Salad Toasted Sandwich
Ooooh, posh packaging! Possibly the most premium looking toastie (from the outside at least), a new top toastie flavour at 7-Eleven (possibly limited edition) for spring 2023 is the tortilla chuka wakame and crab stick salad toastie.
Chuka Wakame is a Japanese seaweed salad so combined with crab sticks, this is one of the more unusual 7-Eleven toasties – 'crab' them whilst you can.
27. Bologna and Shredded Pork with Chilli Paste Toasted Sandwich
A little bit of Italy comes to Thailand in the form of this mighty meaty toasted sandwich. The bologna and shredded pork with chilli paste concoction has a little bit of a kick to it – 7-Eleven have done it again! Good pork…sorry we meant good work.
28. Spinach and Omelette Toasted Sandwich
Om nom nom nom. Following on from fried egg toasties and scrambled egg sarnies, 7-Eleven now offer omelette and Spinach toasted sandwiches. One of very few vegetarian options, we quite like this but the sweet spinach taste was a little unexpected.
29. Ham, Triple Cheese Sandwich Toastie
"Just ham and cheese isn't enough" is clearly how the latest toastie meeting went at 7-Eleven Head Office in Thailand. Why do double cheese when we can do triple cheese!? etc etc.
Is this the ultimate cheese toastie at 7-Eleven? When it will quadruple cheese be a thing? This is a new 7 Eleven toastie for 2023.
30. Carbonara Croffle
Yes, you read that right – we end our 'Thailand 7-Eleven Toasties guide' with a Carbonara Croffle; depending on your tastes, this might either be a toastie too far or a welcome addition to your appetite.
A 'croffle' is a combination of a croissant and waffle, with an injection of classic cabonara filling. Could this be a new morning breakfast routine – a carbonara croffle and coffee certainly has a catchy ring to it!
31. Fried Egg and Shredded Pork with Chilli Paste Purple Sweet Potato Toasted Sandwich
AKA the longest named 7-Eleven toastie title EVER! New for summer 2023 in Thailand, we thought at first glance this was a new toastie to coincide with Pride. It is in fact part of 7 Eleven's limited edition rainbow menu which consists of four brightly coloured snacks.
We've always been a fan of toasted sandwiches with fried eggs in them (there aren't enough in our opinion) so this and some sweet SWEET potato action – get it whilst you can!
32. Sausage and Minced Pork Toasted Sandwich
Possibly the porkiest 7-Eleven toastie of them all, this savoury sarnie on white bread contains both sausage and minced pork.
The design of the packaging is also quite unique as 7-Eleven sandwiches go as the font feels very Disney and they've included a cartoon piggy (very 'Babe the PIg' on the front (interesting design choice)!
33. Custard with Golden Threads Cake Sandwich
Could they make this packaging any more yellow? A new sweet treat toasted sandwich in 7-Eleven for 2023, this packs a very sugary punch – a custard cake combo sandwich.
Make sure to let this hot toasted sandwich cool down first as red hot custard is not always your friend. Dessert toasted sandwiches is a nice way to finish after a day of hot Thai food and mucho Changs.
34. Shrimp Cream Sauce with Cheese Toasted Sandwich
Another summer 2023 7-Eleven Thailand toastie, this is one of those all too rare sarnies that actually has an external cheese coating. This means you can smell the melting cheese emanating through the 7-Eleven store when someone is having one heated up. G
iven it is combined with shrimp cream, this is one smelly toasted sandwich but the taste is worth it.
35. Roti Egg and Cheese toasted sandwich
Everybody knows Thailand is famous for its street food roti stall – so it is no small wonder that 7-Eleven Thailand have released a roti style toasted sandwich in 2023.
Described as a Roti Egg and Cheese toasted sandwich, the slightly different than normal sandwich texture is achieved using something akin to tortilla chips. It also presumably isn't as 'soggy' looking (!) as it appears on the packaging.
Have we missed any of your favourite 7 Eleven toastie flavours? If so, hit us up in the comments
How much do 7-Eleven toasties cost in Thailand?
Typically toasties in Thailand from 7-Eleven cost around 29 baht (75p per toastie pack, which typically consists of two toasted sandwiches.
You can also get double packs of 7-Eleven toasties for just 10 baht extra, around 39 baht although the choice of flavours for these better value double packs is quite limited, with generally standard flavours like cheese and ham paired with cheese and spinach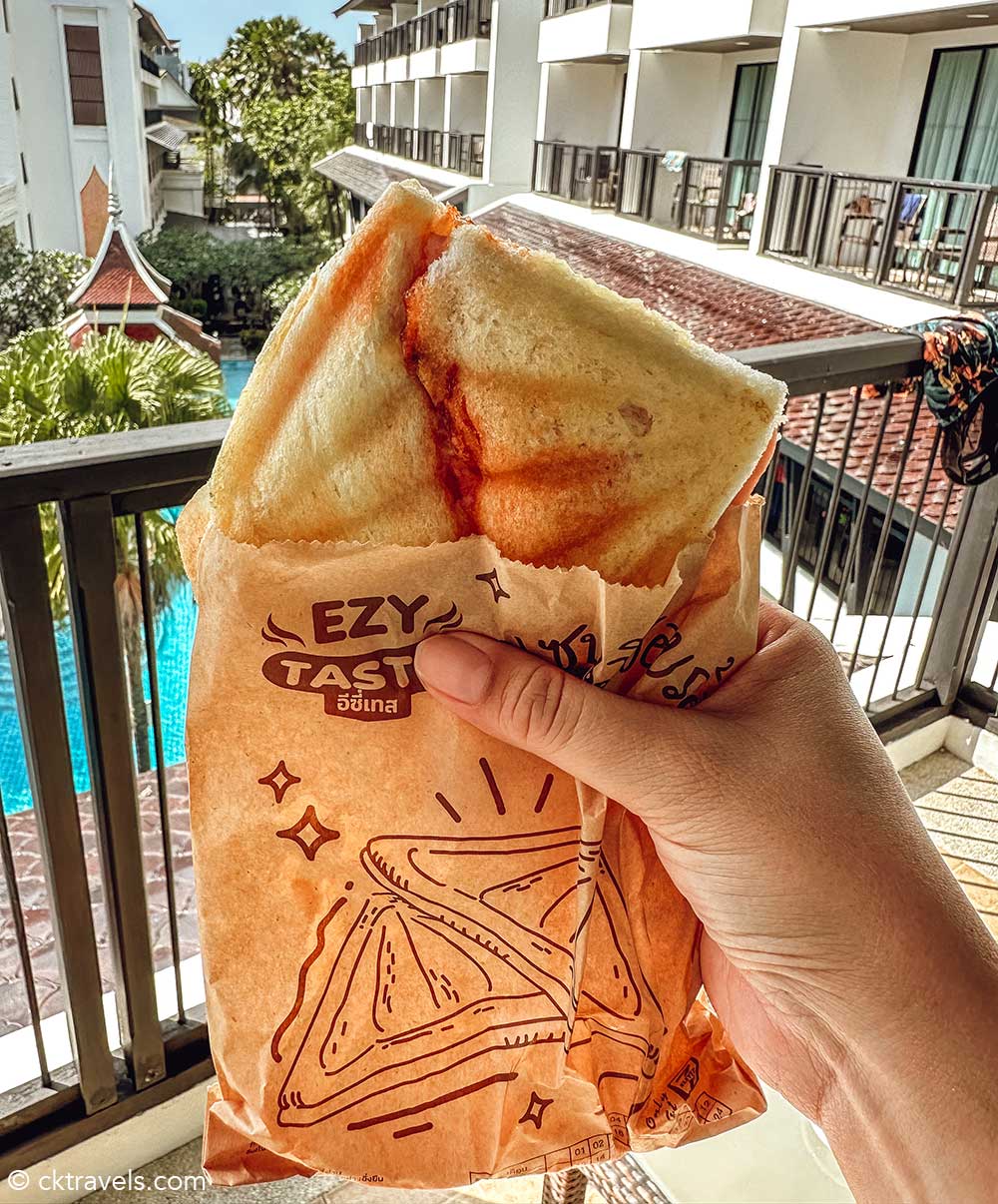 ---
YOU MIGHT LIKE: Taiwan 7-Eleven Toasted Sandwiches – A Complete Guide
---
Do 7-Eleven 'toast' your toasties in Thailand?
Yes, upon purchasing a toastie, just ask the member of staff to heat it – it usually takes a couple of minutes (any longer than that and usually the cheese is like molten lava).
To note 'peak toastie' time in Thailand seems to be the lunch rush around 1pm to 2pm where tourists and backpackers fancy a cheap, quick lunch so you may need to wait in the 7-Eleven toastie toasting queue for a while.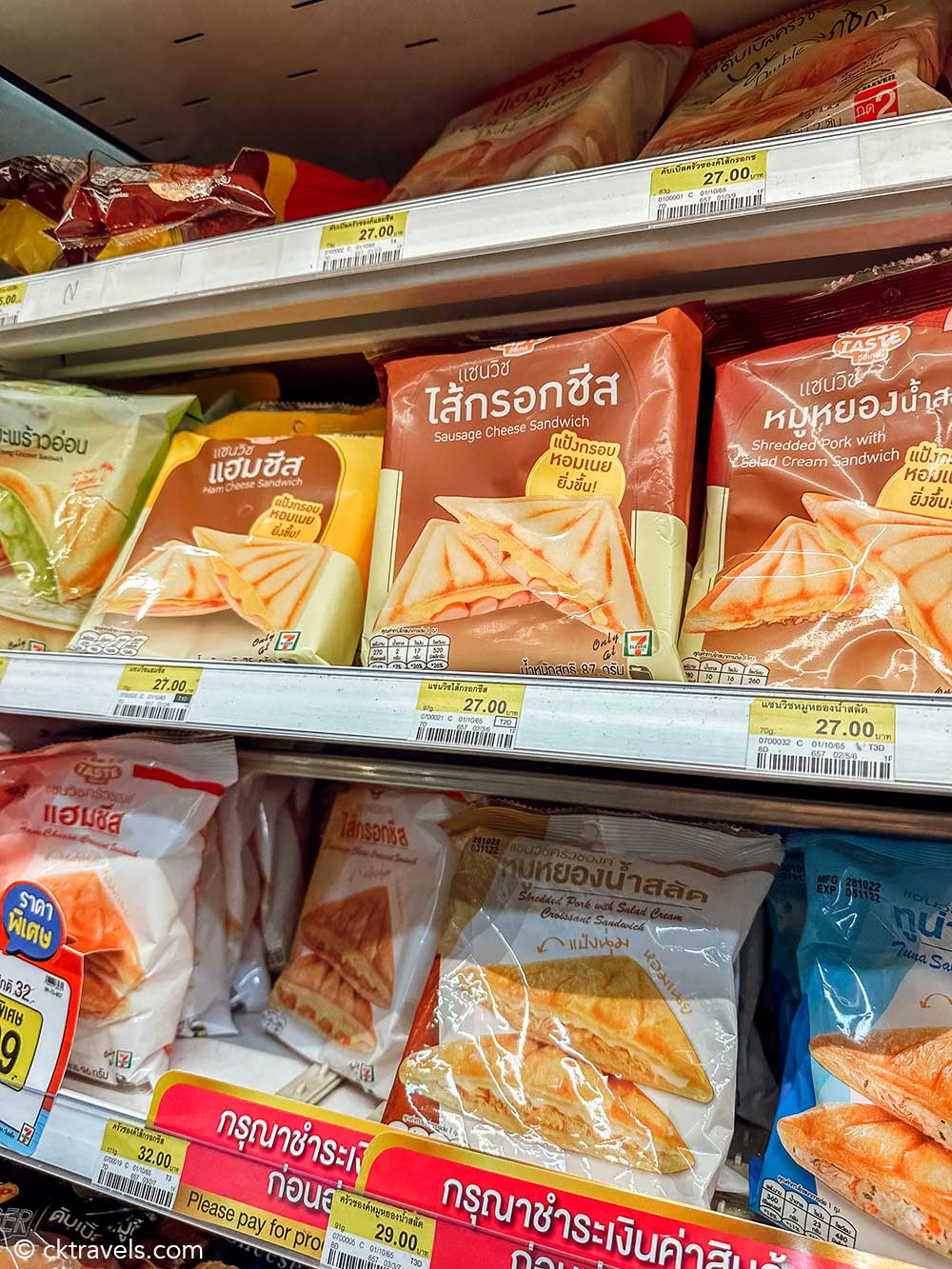 Bread toasties vs croissant 7-Eleven toasties
So 7-Eleven in Thailand have standard bread toasties but also sweet, buttery croissant toasties – which is better?
Well obviously it depends on personal preference – the croissant toasties in 7-Eleven tend to be very sweet so if savoury is your bag, best to stick to the traditional bread ones. That said, the 7-Eleven spaghetti carbonara croissant toastie is a work of genius and a food of the Gods – probably. It really is that good and even slightly addictive.
Other Thailand posts you might like
Did you enjoy our Thailand 7-Eleven Toastie blog post? Let us know in the comments or by sharing it on social media.
You can follow CK Travels on:
Instagram
Facebook
TikTok
YouTube