This post may contain affiliate links to tours and hotels. These help us earn a small commission at no additional charge to you.
Have you 'bean' to the world's tallest Starbucks, located in Busan, South Korea? A superb Starbucks in the sky, this is the ultimate brew with a view coffee shop at over 400 metres high!
Busan X The Sky (overlooking Haeundae Beach) opened in 2020 – as well as being the tallest building in Busan, it is the second tallest building in South Korea (after the Lotte World Tower in Seoul).
Featuring many attractions like glass skywalks and outdoor observation decks, one of the best things to do here is visit the world's tallest Starbucks coffee shop, located on the 99th floor of Busan X The Sky.
From panoramic views of Busan (the perfect accompaniment to your coffee) to the store layout and Starbucks merchandise and menu available, here is our guide to visiting the world's tallest Starbucks at Haeundae X The Sky in Busan, South Korea.
---
You might like – Things to do in Busan, South Korea >
---
How to get to Busan X The Sky and Starbucks
The easiest way to get to Busan X The Sky Starbucks is via the Busan Metro system to Haeundae Station (take line 2). The closest Metro exits to Busan X The Sky itself are exits 3 or 5.
There is also a comprehensive bus network in Busan but based on our experience, if you are coming from downtown Busan or Busan Station, the journey takes longer.
You can use money to buy your bus tickets to Starbucks Busan X The Sky but we'd recommend getting a T Money card from a station or convenience store and topping it up.
T Money cards initially cost 5,000 Korean Won but last indefinitely and are very convenient to hop on and off public transport in Busan and South Korea.
Once at Busan X The Sky, pay your admission fee and take the super speedy lift to the 100th floor – the world's tallest Starbucks is located on the 99th floor, one level below.
---
You might like – Things to do in Haeundae Beach, Busan >
---
Is the world's tallest Starbucks Coffee at Busan X the Sky free to visit?
To gain entry to the tallest Starbucks on the 99th floor of this Haeundae tower, you will need to purchase an admission ticket to Busan X The Sky.
Admission price starts from 27,000 KRW to the building as of November 2023. You cannot access Starbucks without first buying an admission ticket to Busan X The Sky.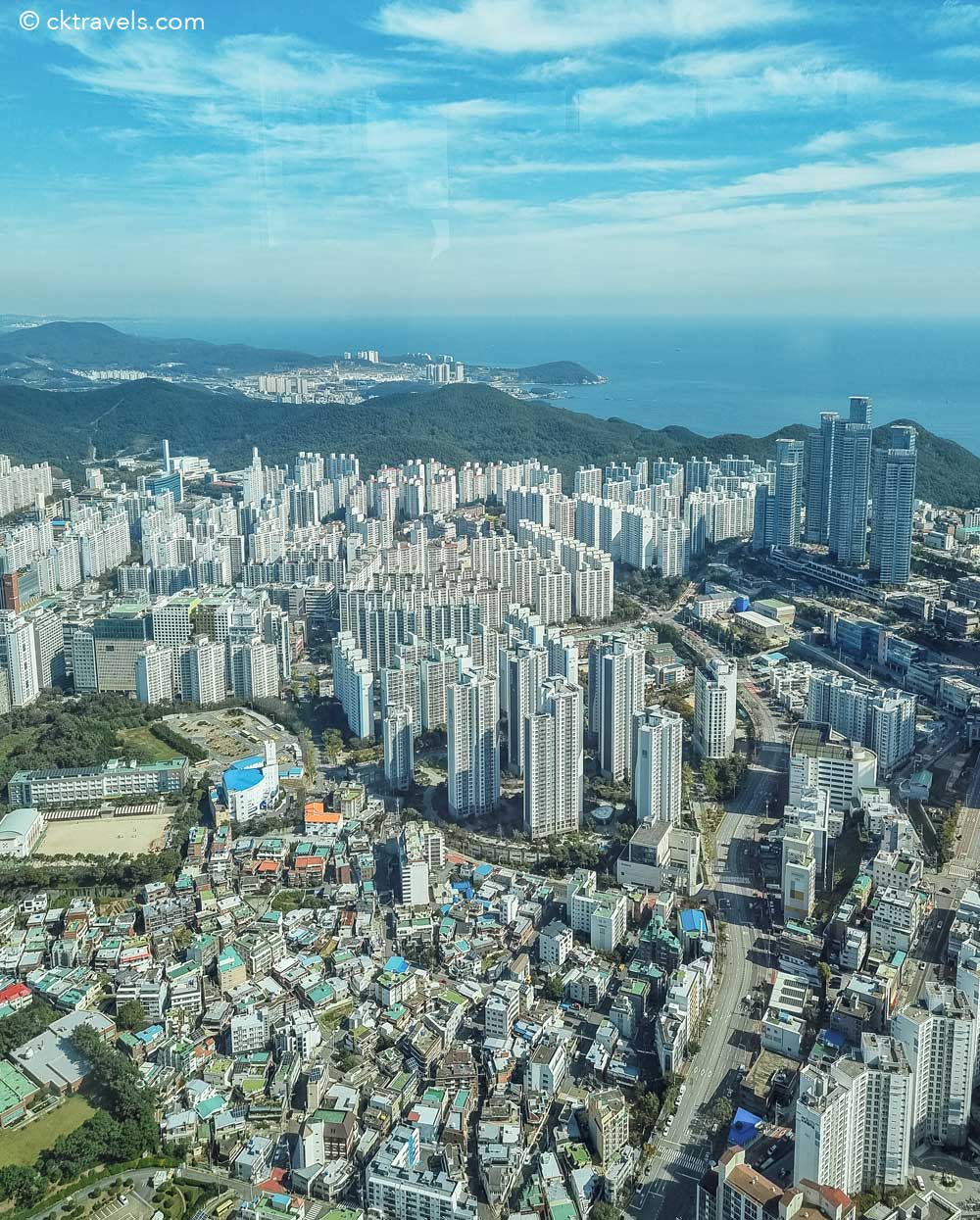 Ck Travels Tip – Buy your discounted Busan X the Sky admission tickets in advance from Klook or as part of the Visit Busan Pass.
We visited Starbucks Busan X The Sky for 'free' using our Visit Busan Pass where 30+ Busan attractions are included for one low price – read our review here >
How tall is Busan X The Sky?
Busan X the Sky comprises over 101 levels and is around 411 metres tall, with around 5 underground levels.
As of November 2023, it is the 39th tallest tower / skyscraper in the world.
---
You might like – the 5 best beaches in Busan >
---
Visiting the world's highest Starbucks in South Korea
The Starbucks at Busan X The Sky has incredible views of Busan's coast and surrounding islands – it is certainly the best way to get an aerial view of Haeundae Beach with an awesome hot coffee or tea.
As you arrive, there is an official looking sign declaring this to be the Starbucks store…'located on the highest floor'… on the 99th floor of Haeundae X The Sky.
There are two seating areas within the Busan X The Sky Starbucks – one inside by the serving counter with views looking out towards Haeundae's Blueline train and the northern coast and one seating area on the mezzanine outside.
This looks out over the sandy shores and turquoise waters of Haeundae Beach and towards Gwangalli Beach – plus you can see the observation deck below.
You make your Starbucks order when you first arrive and are then given a buzzer whilst your drinks are being made.
We visited the world's tallest Starbucks in Busan around 11am on a weekday, about an hour after Busan X the Sky opened and found it to be relatively quiet when we first arrived but a lot busier when we left at midday.
The seating area had around 20 or so tables and counters and a small serving counter – get there early if you want to guarantee a window seat.
---
You might like – Guide to Gamcheon Cultural Village in Busan >
---
South Korea Starbucks food menu at Busan X The Sky
Food is available to buy at this South Korea Starbucks with a large menu behind the counter – bakery products, sandwiches (hot and cold), wraps and cakes seemed to be the order of the day.
Sweet treats included Red Velvet Cheesecake (5,500 KRW), 7 Layer Ganache cake (5,700 KRW) and unique to Starbucks Korea, a Disney Mickey Mouse shaped tiramisu (9.800 KRW).
Starbucks sandwiches included egg sandwiches (4,400 KRW), barbeque chicken cheese ciabattas (5.800 KRW) and bacon cheese toast (4,900 KRW).
---
You might like – Things to do in Seomyeon, Busan's hip entertainment district >
---
Unique South Korea Starbucks merchandise for Busan, South Korea
As with many international Starbucks all over the world, this Busan branch of Starbucks also had a unique Starbucks Busan coffee mug depicting Busan Gwangan / Diamond bridge and Gwangalli Beach.
Alas we couldn't see a special Starbucks mug to commemorate this being the world's tallest Starbucks buy hopefully they will rectify that!
---
You might like – Guide to visiting Busan Lotte Adventure World >
---
Starbucks coffee price in South Korea
When we visited Starbucks Coffee in Busan X The Sky, the coffee prices were normal for Starbucks South Korea and not at a premium.
Example South Korea Starbucks coffee prices at the Busan X the Sky branch were:
Starbucks Caffe Latte – 5000 Korean won for tall (around £3.10 / $3.78 USD) or 5,500 KRW for grande
Starbucks Cold Brew – 4,900 KRW for tall, 5,400 KRW for grande cold brew
Chai Tea Latte – 5,500 KRW for tall, 6,000 for grande
Matcha Tea Latte with Jeju Island tea – 6,100 KRW for tall, 6,500 KRW grande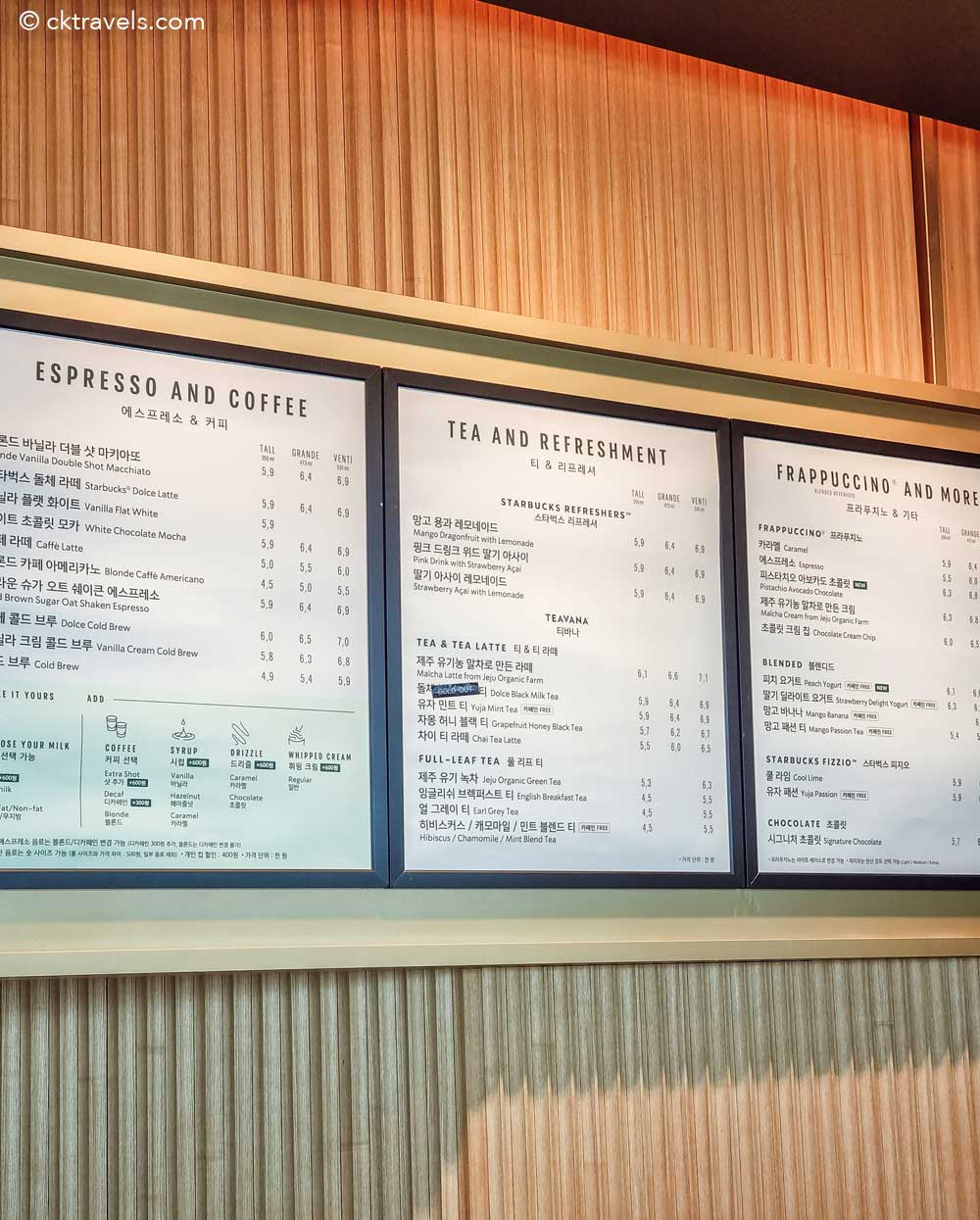 ---
You might like – Guide to to the 30+ HBAF almond flavours in South Korea >
---
Unique drinks at Busan X The Sky Starbucks South Korea
This branch of Starbucks had several drink and tea types unique to Starbucks South Korea including:
Jeju Island Organic Green Tea
Malcha Cream Frappuccino from an Jeju organic farm
Yuja passion Starbucks Fizzio (yuja is like a Korean version of the yuzu fruit)
Yuja Mint Tea
Join our Facebook South Korea Travel Planning and Tips Group! (New for November 2023)
Need help with your itinerary or have any South Korea related questions? Head on over to our Facebook group!
Click here to join our group >
Other things to buy in South Korea Starbucks
We spotted lots of Korean Starbucks merchandise which we hadn't seen before like Starbucks Lucky Siren Fork Set (a good luck gift) plus a teddy bear shaped clear plastic bottle complete with a green Starbucks hat.
Coffee and tea sets were also available as well as multiple drinks containers and Starbucks coffee cups including a Busan branded Starbucks cup.
At the time of our visit (October 2023), Disney had a promotion that was unique to Starbucks Korea where you could buy lots of Disney / Starbucks merchandise like Disney Starbucks mugs and plushies to create '…joyful memories together'.
They also had random co-branded snacks like Chip n Dale Starbucks granola balls – wow! We just stuck to the coffee!
---
You might like – best craft beer bars and breweries in Busan >
---
Busan at night – evening Starbucks coffee
As the Haeundae X The Tower is open until 9pm most evenings, this is also an excellent place to grab a Starbucks coffee at night and look out at Haeundae Beach, all lit up at night.
You might even bag some half price food as they sometimes have 50% off some food towards closing time.
---
You might like – best things to do in Busan at night >
---
Other things to know about the world's tallest Starbucks at Busan X The Sky
Free wifi is available onsite at Busan X The Sky
Starbucks in the Sky at Haeundae X The Tower doesn't have its own toilets but you can use the ones downstairs and they have stunning views of the beach as you 'use' them (well, the men's urinals do!)
There are several other Starbucks branches in Haeundae Beach if you can't get your caffeine fix here
---
You might like – Guide to going to the baseball in Seoul or a K-League football game
---
What else can you do at Busan X The Sky, other than visit Starbucks?
As well as the incredible views of Haeundae Beach and the whole of Busan, there is an indoor glass walkway called the Shocking Bridge, where you can see Haeundae Beach directly below your feet (if you dare look down!).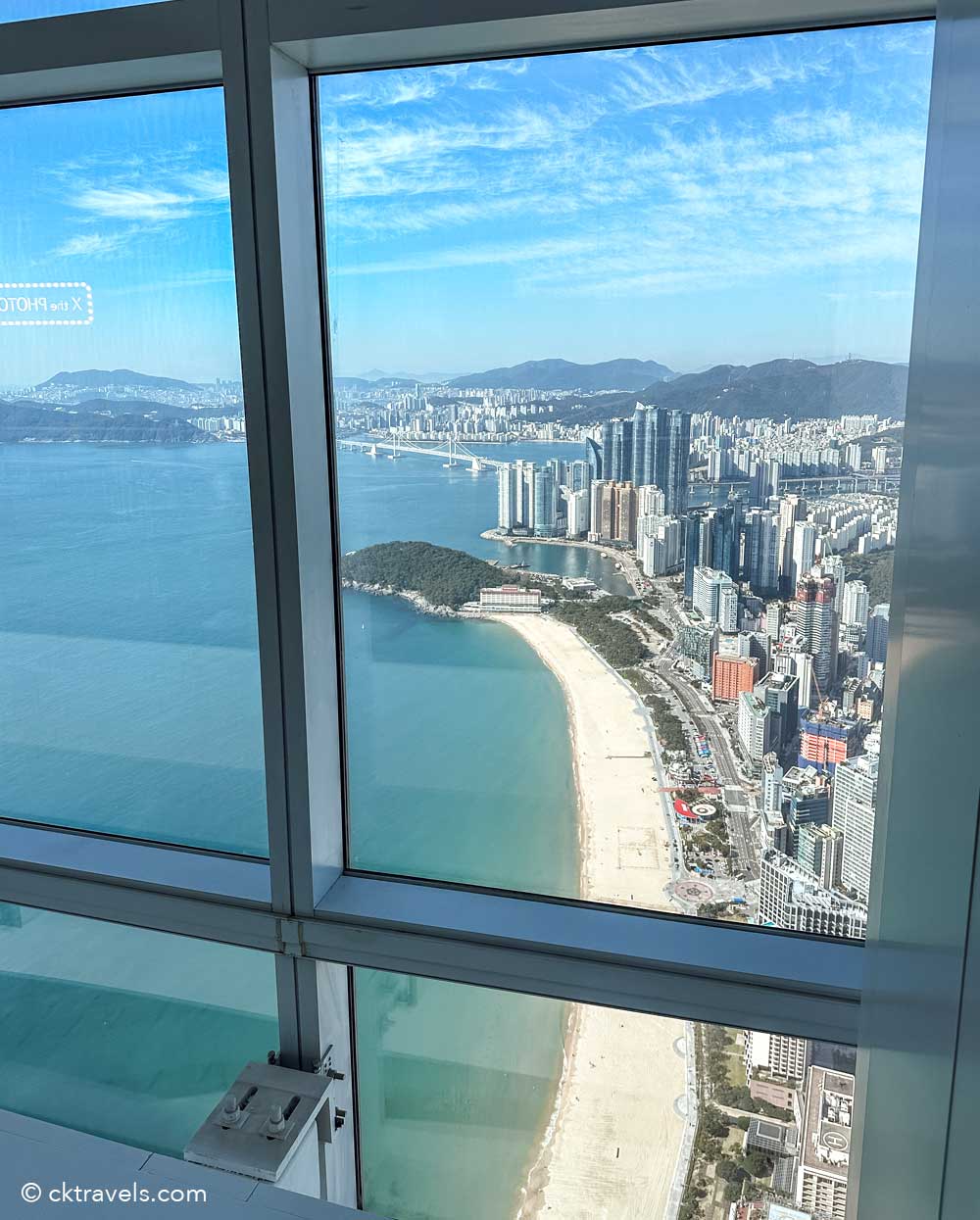 The Sky Cruize lift to the top floor is also quite the spectacle with OTT graphics and countdown timer.
As well as the observation deck, you'll find art installations and restaurants at the top of BUSAN X the Sky plus a Baby Shark kid's trail.
---
You might like – Things to do in Seoul, South Korea >
---
Starbucks Haeundae / Busan X The Sky opening hours
The world's tallest Starbucks at Busan the X is open daily from 10am until 9pm with a Busan X The Sky admission ticket
---
You might like – Things to do on Jeju Island, South Korea >
---
World's tallest Starbucks address in Busan, South Korea
Starbucks Busan X The Sky, level 99, Haeundae LCT The Sharp Landmark Tower, 30 Dalmaji-gil, Haeundae-gu, Busan
Other South Korea posts you might like
Did you like our Visiting The World's Tallest Starbucks at Busan X The Sky, South Korea blog? Let us know in the comments below:
You can follow CK Travels on:
Instagram
Facebook
TikTok
YouTube
Pinterest