This post may contain affiliate links to tours and hotels. These help us earn a small commission at no additional charge to you.
One of Kuala Lumpur's newest attractions, the 'River of Life KL' is free to visit and located very close to Merdeka Square and KL Chinatown.
An attempt to regenerate the area with colourful street art and light shows, it is very easy to spot the River of Life in KL – look for the mist emanating from the water or incredible illustrations on the surrounding building walls.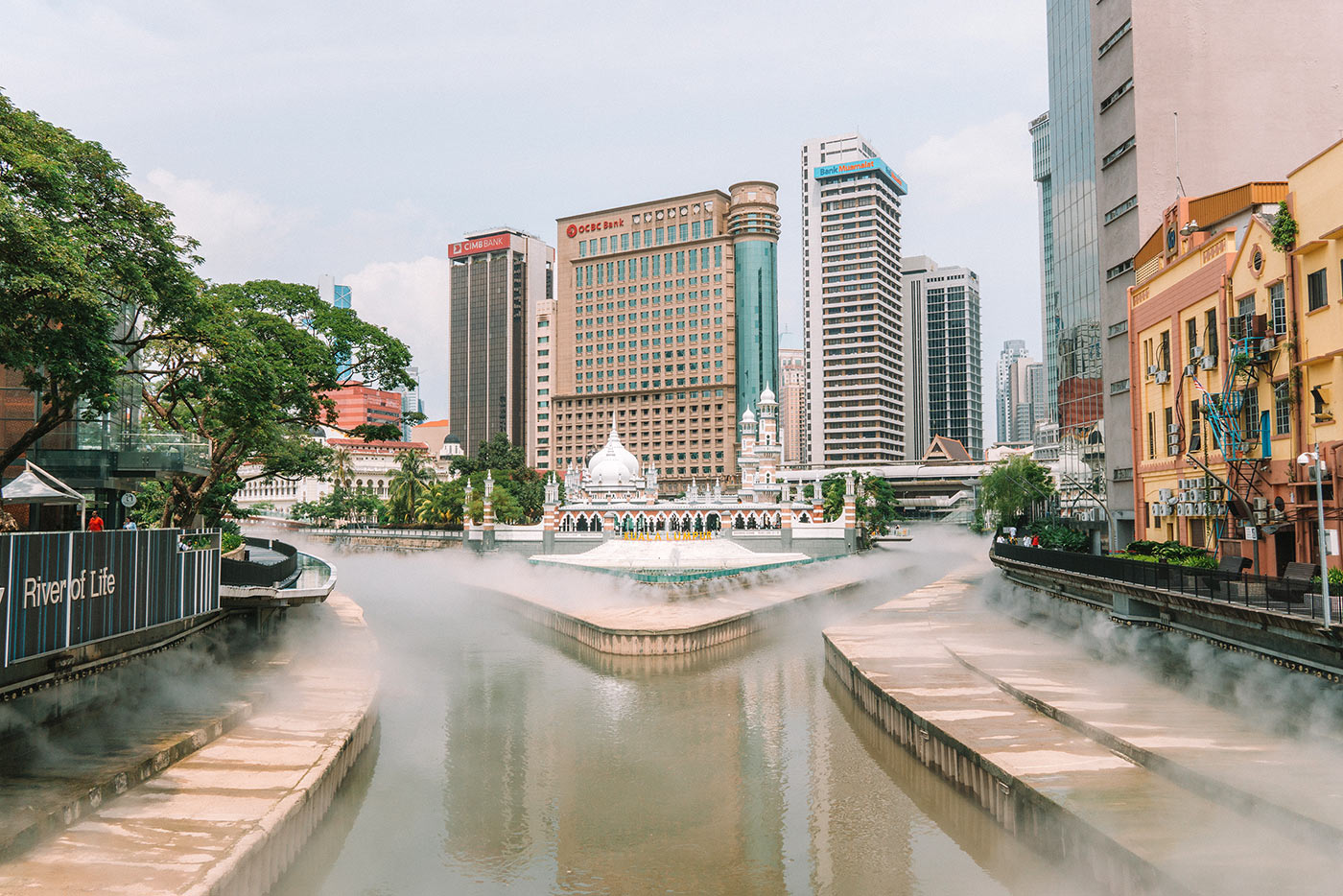 Where is the River of Life KL?
The River of Life project KL centres around the convergence point of the Gombak and Klang rivers, against the backdrop of Masjid Sultan Abdul Samad mosque, the oldest mosque in Kuala Lumpur.
The River of Life KL is a meeting point for two Kuala Lumpur rivers: the Gombak River and the Klang River and the Gombak River. The Klang River runs through the heart of KL and eventually emerges into the sea via Malacca.
The History of the River of LIfe KL
The River of Life KL project was first established in 2011 and took several years to complete – it was once listed as one of the 10 best waterways in the world by the Independent newspaper in London.
---
You might like – things to do in Langkawi, Malaysia >
---
What is the River of Life KL?
The River of LIfe KL is best described as a river regeneration and restoration project which includes new fountains, riverside cafes, long bicycle paths and night-time light shows which turn the water a stunningly bright blue.
The mists that envelop the river are great to see, with various jets and fountains strategically place all around the river banks, to create large clouds of mist, that ebb and flow and mimic the river (well, that was our interpretation of it as we watched it).
In the evenings, the River of Life Kuala Lumpur comes to life with epic illuminations and an impressive soundscape – it is one of the best things to do in Kuala Lumpur at night.
River of Life Street Art
Kuala Lumpur has an impressive street art scene from Chinatown's Kwai Chai Hong street to the Graffiti Alley near Changkat Bukit Bintang – the River of Life in Kuala Lumpur can now be added to this list, with one of the largest street art murals and illustrations in Kuala Lumpur.
A little after the river development opened, a brand New 'River Of Life' mural was painted at Masjid Jamek along the River of Life, highlighting the river's role in Kuala Lumpur in historic times.
The colourful River of Life street-art shows fishermen hard at work on their boats and catching wish in the water, surrounded by mangroves and green trees.
A second large mural shows traders and merchants hard at work in the olden days on one of the Klang River's quaysides.
---
You might like – things to do in Georgetown, Penang >
---
The Best Place to View the River of Life – New Observation Deck
On a recent revisit to the River of Life in KL in October 2023, we were please to see a new observation deck ('anjung tinjau' in Malay) has opened directly overlooking the river and the Sultan Abdul Samad Building.
The new riverside observation deck is also a great place to view the new KL River of Life street art from.
The observation deck iat KL River of Life is free to visit and a short walk up to flights of stairs – there is also a lift. The observation deck usually has security guards who will happily help if you any enquiries or need further assistance.
Thanks for checking out our blog!
We are currently digital nomading / travelling for the next few months around London and Asia (Thailand, Malaysia and Taiwan). Check out our travel diaries on Instagram @.c.k.travels, Tik Tok @cktravels and on Facebook.
Kuala Lumpur River of Life Restaurants and Cafes
A new cafe has opened next to the Klang River overlooking the River of Life attraction and mist / lightshow.
The Makan.Buzz cafe is a 'buzzing' and busy little eating and drinking spot by the river serving hot and cold snacks, tea and coffee plus has several tables and chairs on a gorgeous outside terrace.
Makan Buzz Cafe is also an excellent place to cool down, with shade from nearby riverside trees plus a gelato ice-cream cart serving up n-'ice', cooling gelato from Jersey Jack.
Other things to see near the River of Life
Sultan Abdul Samad Building
As you walk along the River of LIfe on the left hand river bank by the observation deck and Makan Buzz, the last building you'll pass before hitting Merdeka Square is the Sultan Abdul Samad Building.
This is a former Government building built in the 1890s, once home to the British colonial administration.
Look up at the majestic clock-tower at the Sultan Abdul Samad Building – the 40 metre clock tower rang out for the first ever time to mark Queen Victoria's Jubilee Parade 1897 and continues to regularly chime to this day.
Merdeka Square
Merdeka Square is a famous KL landmark where Malaysia's independence was announced in the 1950s (meaning it is also known as Independence Square).
Full of colonial charm including black and white tudor style buildings plus a cricket green, it also has a huge flagpole (check out how big the Malaysia national flag is here!).
Merdeka Square is often used as an events space and meeting place, such as the main venue for the annual KL running marathon.
I heart KL sign / Kuala Lumpur City Gallery
Yes, it might be a bit of a tourist cliche, but there is a huge (and fun) 'I heart KL' sign next to the KL City Gallery – one of KL's most popular photo spots, expect to queue to pose with the sign during busy periods.
If silly signs aren't your thing, check out the free displays in Kuala Lumpur City Gallery including a miniature version of KL's city and iconic landmarks or enjoy sweet treats at the award winning ARCH Cafe inside (their stained glass windows and KL lightbulb sign on the ceiling are superb too).
Final Thoughts
We are so pleased to see the River of Life KL come to fruition as the last time we stayed for a weekend in Kuala Lumpur, we were based at the former Geo Hotel (now a brand new Travelodge) and we had commented on how dirty and unclean the river area was whilst walking along it, not befitting of the world class city that Kuala Lumpur truly is.
With so many vibrant river areas elsewhere in Asia (our current favourites are Singapore and the area around Love River in Kaohsiung, Taiwan), this is a positive and welcome step for the Malaysian capital.
---
You might like – The perfect 2 week Malaysia itinerary and travel guide >
---
How much does the the River of Life cost to visit?
It is free to visit the KL River of Life – you do not need to book in advance.
What time is the River of Life KL open?
The River of LIfe KL is open 24 hours but the nightly light show usually runs between 9pm to 10pm (it runs several times).
KL River of Life rules
There are several signs and notices dotted around the River of Life which state you must stay out of the green areas, must not skateboard or motorcycle on the river banks – 'indecent behaviour' (their words) at the River of Life is also prohibited!
KL River of Life Address
KL River of Life, Precinct Brickfields, 50470 Kuala Lumpur, Federal Territory of Kuala Lumpur, Malaysia
---
Travelling around Malaysia?
Check out our blog posts for travel tips on Langkawi, Penang, Kuala Lumpur, Melaka and Cameron Highlands.
---
SIM cards and pocket WIFI
Having data on your phone whilst travelling is almost essential these days – from planning your route around the city, booking a Grab taxi or for staying connected with friends and family back home.
SIM cards are pretty cheap in Malaysia with generous data allowances and are available to purchase from airports, malls and convenience stores (bring your passport along for identification purposes).
You can also prepay online and collect a SIM from KLIA2 airport. Just remember to make sure your phone is not locked to your local network provider before purchasing one.
Alternatively if you do not want to change your sim card then renting a pocket WIFI device might be for you. We've used them multiple times and love that we can both connect our devices to it. Pre-order one online with Klook for collection when you arrive at either KLIA or KLIA2 airport in Kuala Lumpur.
---
Other Malaysia blog posts you might like
---
Kuala Lumpur accommodation
Here are some highly rated Kuala Lumpur accommodation options for all types of budget:
Backpacker
Some other hostel accommodations that come highly rated include:
Sunshine Bedz KL
Small and friendly hostel with with free breakfast, bar, pub quizzes and organised pub crawls. Check out prices and availability for Sunshine Bedz KL
Mingle Hostel KL
Chinatown hostel located in a renovated 1920s clubhouse with with up-cycled furniture, free breakfast, rooftop bar and on-site café. Check out prices and availability for Mingle Hostel KL
Mid range
If you are looking for something mid range then these hotels are comfy and have great reviews:
THE FACE Suites
Spacious and modern apartments with infinity pool, fitness centre, bars and restaurants. Check out prices and availability for The FACE Suites
Aloft Kuala Lumpur Sentral
Stylish hotel connected to Kuala Lumpur Sentral Station via a link bridge with a gym, 4 dining options and a spacious outdoor pool. Check out prices and availability for Aloft Kuala Lumpur Sentral
Treat yourself
Alternatively if you are looking for something more special then treat yourself to a stay at one of these beautiful hotels in Kuala Lumpur:
Grand Hyatt Kuala Lumpur
Luxurious 5-star hotel with outdoor swimming pool, 3 on-site restaurants and bar overlooking the Petronas Twin Towers. Check out prices and availability for Grand Hyatt
Mandarin Oriental, Kuala Lumpur
Stylish suites and serviced apartments overlooking the city skyline and KLCC Park with infinity outdoor pool, 10 award-winning restaurants and spa. Check out prices and availability for Mandarin Oriental
Shangri-La Hotel Kuala Lumpur
Stylish hotel connected to Kuala Lumpur Sentral Station via a link bridge with a gym, 4 dining options and a spacious outdoor pool. Check out prices and availability for Shangri-La Hotel
---
Did you enjoy our Kuala Lumpur River of Life blog post? Let us know in the comments or by sharing it on social media.
You can follow CK Travels on:
Instagram
Facebook
TikTok
YouTube
Pinterest