This post may contain affiliate links to tours and hotels. These help us earn a small commission at no additional charge to you.
Rather grandly titled, we discovered Kuala Lumpur's latest attraction the 'River of Life' (as at Jan 2019) quite by chance whilst walking around the Malaysian capital in the New Year. We were making our way to Merdeka Square from Chinatown when we noticed large clouds of 'mist' blowing over the river area.
Recently listed as one of the best 10 best waterways in the world by the Independent newspaper in London no less, the River of Life project centres around the convergence point of the Gombak and Klang rivers, against the backdrop of Masjid Sultan Abdul Samad mosque, the oldest mosque in Kuala Lumpur.
It is best described as a river regeneration and restoration project which includes new fountains, riverside cafes, long bicycle paths and night-time light shows which turn the water a stunningly bright blue (we only got to see this happening by chance in the daytime so we didn't encounter the evening display). The mists that envelop the river are great to see, with various jets and fountains strategically place all around the river banks, to create large clouds of mist, that ebb and flow and mimc the river (well, that was our interpretation of it as we watched it).
We are so pleased to see this happening as the last time we stayed for a weekend in Kuala Lumpur, we were based at the former Geo Hotel (now a brand new Travelodge) and we had commented on how dirty and unclean the river area was whilst walking along it, not befitting of the world class city that it truly is. With so many vibrant river areas elsewhere in Asia (our current favourites are Singapore and the area around Love River in Kaohsiung, Taiwan), this is a positive and welcome step for the Malaysian capital.
The project was launched by the former Government in 2012 and still has a way to go until it is completed so we will definitely look to revisit the site when we return to Malaysia, and as we love Kuala Lumpur so much, we think it won't be too long before we check it out again.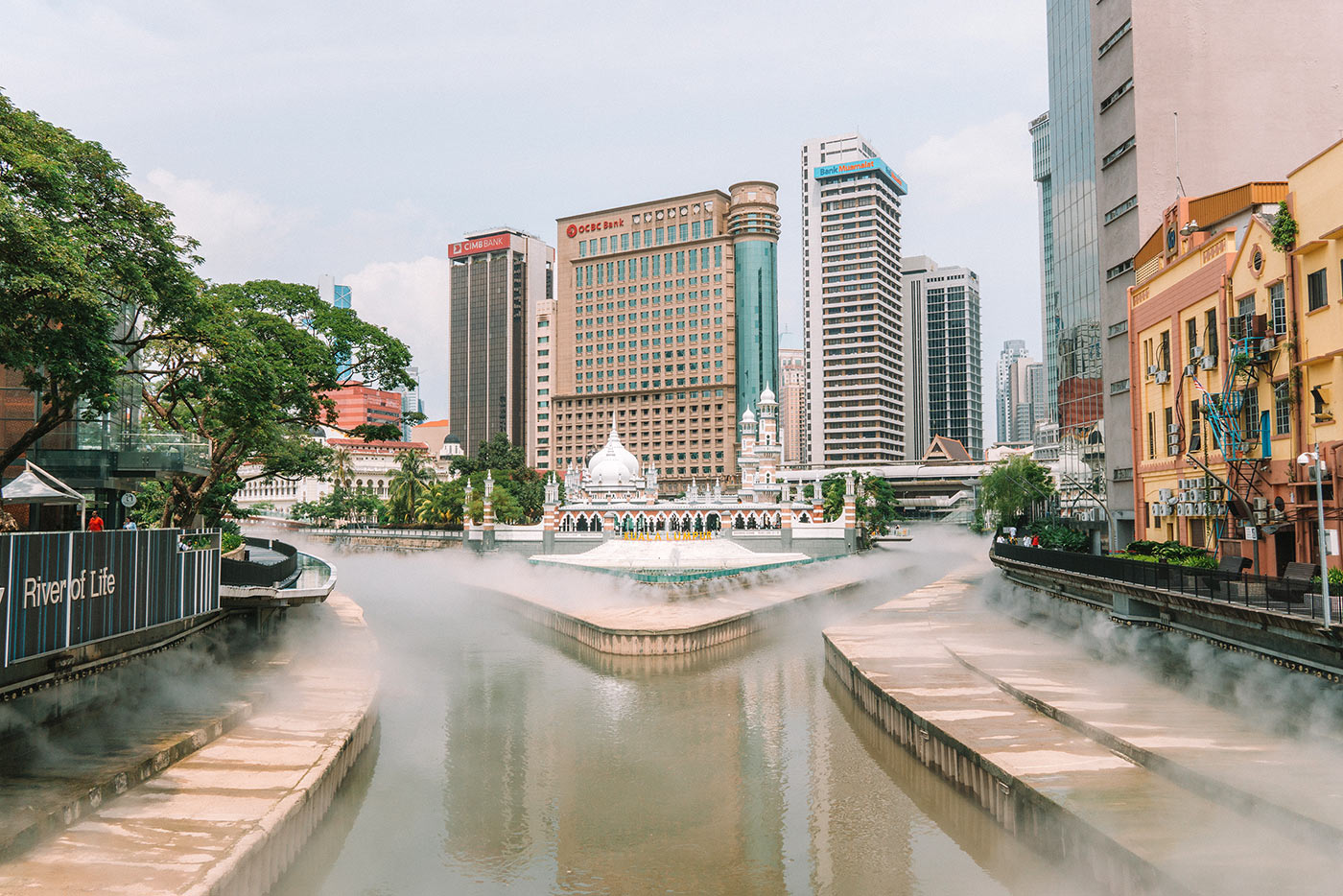 ---
Travelling around Malaysia?
Check out our blog posts for travel tips on Langkawi, Penang, Kuala Lumpur, Melaka and Cameron Highlands.
---
Download the Grab app
Grab taxis are widely used by both tourists and locals, and the fares are really cheap! Download the Grab app here and use the code GRABCKTRAVELS to earn a free ride when you sign up.
---
Sim cards and pocket WIFI
Having data on your phone whilst travelling is almost essential these days – from planning your route around the city, booking a Grab taxi or for staying connected with friends and family back home. SIM cards are pretty cheap in Malaysia with generous data allowances and are available to purchase from airports, malls and convenience stores (bring your passport along for identification purposes).
You can also prepay online and collect a SIM from KLIA2 airport. Just remember to make sure your phone is not locked to your local network provider before purchasing one.
Alternatively if you do not want to change your sim card then renting a pocket WIFI device might be for you. We've used them multiple times and love that we can both connect our devices to it, however the downside to the Malaysian ones is that there is a data allowance of 1GB per day. Pre-order one online with Klook for collection when you arrive at either KLIA or KLIA2 airport in Kuala Lumpur.
---
Other Malaysia blog posts
---
Kuala Lumpur accommodation
Here are some highly rated Kuala Lumpur accommodation options for all types of budget:
Backpacker
Some other hostel accommodations that come highly rated include:
Sunshine Bedz KL
Small and friendly hostel with with free breakfast, bar, pub quizzes and organised pub crawls. Check out prices and availability for Sunshine Bedz KL
Mingle Hostel KL
Chinatown hostel located in a renovated 1920s clubhouse with with up-cycled furniture, free breakfast, rooftop bar and on-site café. Check out prices and availability for Mingle Hostel KL
Step-Inn Too Guesthouse
Social hostel located in the Golden Triangle neighbourhood with high-speed Wi-Fi. Check out prices and availability for Step-Inn Too Guesthouse
Mid range
If you are looking for something mid range then these hotels are comfy and have great reviews:
THE FACE Suites
Spacious and modern apartments with infinity pool, fitness centre, bars and restaurants. Check out prices and availability for The FACE Suites
Somerset Ampang Kuala Lumpur
Self-catering apartments with restaurant, fitness facilities and a rooftop pool with city skyline views Check out prices and availability for Somerset Ampang
Aloft Kuala Lumpur Sentral
Stylish hotel connected to Kuala Lumpur Sentral Station via a link bridge with a gym, 4 dining options and a spacious outdoor pool. Check out prices and availability for Aloft Kuala Lumpur Sentral
Treat yourself
Alternatively if you are looking for something more special then treat yourself to a stay at one of these beautiful hotels in Kuala Lumpur:
Grand Hyatt Kuala Lumpur
Luxurious 5-star hotel with outdoor swimming pool, 3 on-site restaurants and bar overlooking the Petronas Twin Towers. Check out prices and availability for Grand Hyatt
Mandarin Oriental, Kuala Lumpur
Stylish suites and serviced apartments overlooking the city skyline and KLCC Park with infinity outdoor pool, 10 award-winning restaurants and spa. Check out prices and availability for Mandarin Oriental
Shangri-La Hotel Kuala Lumpur
Stylish hotel connected to Kuala Lumpur Sentral Station via a link bridge with a gym, 4 dining options and a spacious outdoor pool. Check out prices and availability for Shangri-La Hotel
---
Did you enjoy our Kuala Lumpur River of Life blog post? Let us know in the comments or by sharing it on social media. You can follow CK Travels on Facebook, Instagram, Twitter and YouTube!
Sign up to our newsletter!
Sign up and receive the latest tips via email.