This post may contain affiliate links to tours and hotels. These help us earn a small commission at no additional charge to you.
One of central London's busiest train stations and transport hubs, there are plenty of things to do around Waterloo Station in London. Its close proximity to South Bank and riverside walks along with numerous arts and heritage attractions make Waterloo a wonderful destination in its own right and stepping stone to the sights and sounds of central London.
From subterranean street art to sublime street food markets, here are the best things to do around Waterloo Station, London:
Things to do near Waterloo Station
1. Leake Street Arches graffiti tunnel / street art
London's best subterranean street art can be found a short walk away from Waterloo Train Station in the form of Leake Street Arches.
The longest legal street art area in the capital, Leake Street Arches is an awesome, creative area where burgeoning and exstablished street artists can spray to their heart's content. This also means the street art changes regularly so there is something new to see every time you return.
On most occasions we've visited (particularly at weekends), you'll see graffiti artists and spray painters at work. Plus there are also classes you can book and take part in.
Remember, look up! Some of the best street art in Leake Street can be found on the roof space (just watch out for the skateboarders). Leake Street arches is also home to several bars, clubs and cafes too.
---
2. The London Eye
'Eye' have another 'Waterloo station things to do' recommendation! Originally built as a temporary visitor attraction that ushered in the year 2000 (it used to be also known as the 'Millenium Wheel'), the London Eye is now one of London's most popular tourist attractions and Europe's largest observation deck wheel.
Amazing views of London come as standard – in fact, the vista over the capital is terrific (the Royal Parks and River Thames look particularly wonderful) and there are 32 observation pods in total, with a complete rotation taking around half an hour.
The London Eye also occasionally do special events or pop-ups in the capsules (at an extra cost). We've been to see a comedy gig in a London Eye capsule previously and other experiences include gin tasting or yoga sessions.
CK Travels Waterloo Tip – book your timed London Eye tickets in advance to avoid queuing for walk-up tickets. You may still encounter a small queue (especially in the summer) but it'll be a lot less than the general admission line.
BOOK IT: The London Eye Ticket with Fast-Track Option >
---
3. The Vaulty Towers Pub
Nothing whatsoever to do with the British sitcom of a similar name (Fawlty Towers in case you were wondering), this punnily titled pub is just across the road from the Waterloo Vaults hence the title.
Located on Lower Marsh Street, you cannot miss this pub as you walk along the road due to its incredible bright colours and paint job – viewer discretion is advised (as are sunglasses). With a bar chock full of craft beers, cocktails accompanied with hearty food and live DJ sessions, this is one of Waterloo's best pubs 'bar' none.
---
4. Southbank Centre Food Market
Located a stone's throw from the river Thames and all manner of the capital's iconic arts institutions, the Southbank Centre food market is open most weekends from Friday to Sunday inclusive. We rate it as one of the best Saturday markets in London.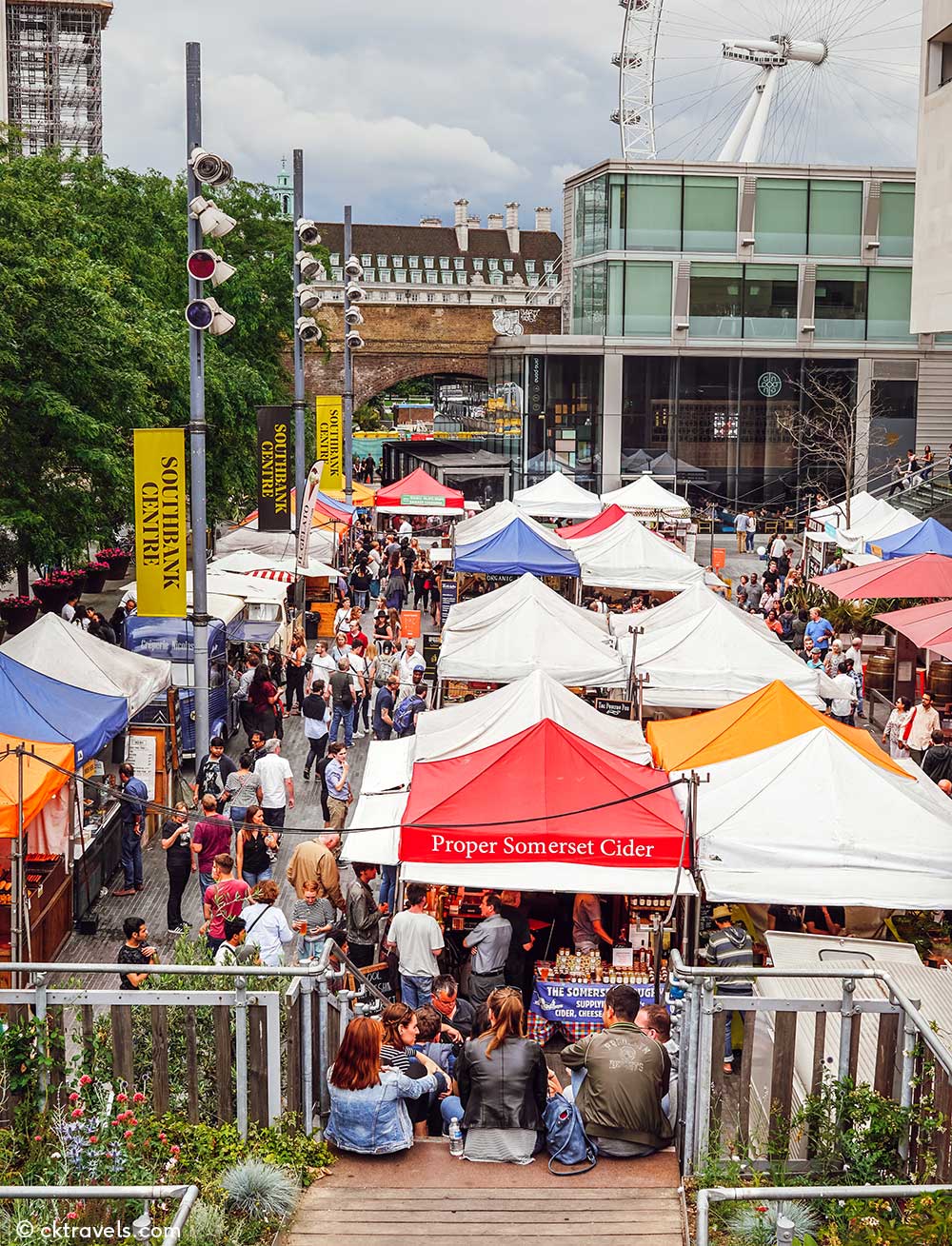 The Southbank Food Market is home to street food from all over the world, plus the very best of traditional British foods like scotch eggs or organic sausage sandwiches. The line-up of stalls seems to alter every time we visit so you are guaranteed to find a budget bite or cheap eat that is right for you.
There are a couple of craft beer stalls as well – tuck into some grub, purchase a pint to go and then go for a stroll along South Bank towards Southwark.
---
YOU MIGHT LIKE: The best Saturday markets in London
---
5. Jubilee Park and Gardens
Talk about million dollar views – Jubilee Park on London's Southbank is a lush and landscaped stretch of green park and lawns with one of the best outlooks in London.
A great picnic spot or place to relax after a long train journey to Waterloo Station, Jubilee Park and Gardens look out onto the River Thames and it is a great spot to watch the London Eye (slowly) go round. The sun also sets over the north bank so it is one of the best sunset views in London, as most of the capital is lit up in the evening.
Free to visit, you can often also find food trucks and ice-cream vans just in front of Jubilee Park if you fancy an alfresco bite by the River Thames but can't be bothered with packing a picnic.
---
6. Lower Marsh Market
Located on Marsh Street just adjacent to Waterloo Station (so less than 5 mins walk away), Lower Marsh Market is one of London's oldest and most enduring markets, selling vintage and retro crafts as well as all manner of food-stuffs, from homemade jam to jerk chicken.
On our last visit to Lower Marsh Market in January 2022, it was mainly food-stalls with a couple of craft stalls thrown into the mix.
Lower Marsh Market runs 6 days a week (closed Sundays) from 10am to 3pm and during the summer months, you'll find a range of pop-ups too like live music, deck chairs and special events. Some form of market has operated in this area since at least the 1800s although it has decreased in size over recent years.
---
7. Southbank Centre and Royal Festival Hall
A short walk from Waterloo station brings you to the Southbank Centre and Royal Festival Hall, two of London's foremost performance venues.
Often, there will be free festivals and pop-up performances taking place outside the Southbank Centre, whilst children frolic in the rooftop water fountains.
During the summer months, there is a rather nice roof garden – the Queen Elizabeth Hall Roof Garden and Cafe / Bar (just look for the brightly coloured luminous yellow concrete steps going up – quite the handy signpost).
More visual entertainment or Instagram fun comes in the form of Southbank Skate Space, a world-famous skate park bedecked in bright street art and graffiti.
---
8. Odeon BFI IMAX Waterloo
A huge cinema screen, in this case, BFI does not stand for 'Big F*cking Images but instead, The British Film Institute. The biggest cinema screen in the UK no less, many premieres and special screens attended by the cast and crew are often held here.
We saw the Marvel fan screening of 'Shang Chi and the Ten Dragons' here and the massive screen really brought it to life, particularly those dragons!
If of interest to film geeks, the IMAX Waterloo screen is 20m high by 26m wide (basically, epic and enormous) and you can also grab a drink in the daytime here at the Costa Coffee branch in the foyer.
---
YOU MIGHT LIKE: South Bank walk – a complete guide
---
9. Waterloo Millenium Green
The closest green space and park to Waterloo Station, Waterloo Millenium Green is a 1 minute walk away from the rear station entrance so a perfect spot to catch some rays or take your food from the station, if you are waiting for a later or specific train.
What is particularly appealing about Waterloo Millenium Green is not only the fact it is a peaceful park in what is otherwise quite a busy area, but also because it has some wonderful permanent statues (check out the huge beetle sculpture and other animals – very 'Honey I Shrunk the Kids).
It also often houses temporary installations – for instance, on our last visit to Millenium Green, we unexpectedly discovered the most wonderful display of bronze lions and other African animals by the 'Born Free Foundation' – quite the savannah!
---
10. The BFI Southbank / British Film Institute
Fancy a film? The BFI (British Film Institute) Southbank is a four-screen repertory cinema showing a catalogue of classic and modern movies, often themed into seasons or Q&As with cast and crew.
The BFI Southbank is a 5 minute walk from Waterloo Station with a nice bar and restaurant set-up at the front, overlooking the River Thames. So enjoy a bellini with your Bertolucci or a tequila with your Truffaut.
---
11. Southbank Book Market at Waterloo Bridge
Just outside the BFI Southbank and located directly below Waterloo Bridge on the Southbank Thames path, you'll find several book sellers set-up underneath seven days a week, selling all manner of old books, comics and the usual Harry Potter fare.
Although a little more pricey than other similar second hand set-ups, there is something rather pleasurable about perusing publications whilst looking out over the River Thames and you might even come across a hard to find hardback you've been looking for.
---
12. The National Theatre
Look out for Larry! A few steps from the BFI Southbank, you'll come across a statue of Sir Laurence Olivier, which means you've arrived at the National Theatre, one of the finest and most acclaimed theatre companies in the world.
The architecture jury is still out on the building exterior (although we quite like brutalist buildings – read our guide to the best Brutalist buildings) but the inside is warm and welcoming and the shows here are some of the best you'll ever see.
We were lucky to see 'Network' here with Bryan Cranston a few years ago and even now, it remains one of our best ever theatre experiences in London. The National Theatre is also home to several bars inside as well as The Understudy bar, a sublime spot for alfresco drinks in the summer.
---
13. Okan South Bank
Buoyed on by our Brixton Okan experience, we were thrilled to discover that Okan, a joyful Japanese restaurant, has a branch just outside of Waterloo Station, located inside County Hall.
Like the Brixton branch, Okan South Bank is tiny inside but this means you get to watch them cook the dishes up close, and smell all the sizzling delights – it also feels the real deal with an authentic interior and takes us right back to Japan.
We recommend their signature dish – the okonomiyaki – one of our favourite Japanese foods. Most dishes are around the £8 to £12 mark, which is pretty reasonable for central London and pints of Asahi are £5.
---
14. The Old Vic Theatre
One of the main reasons people visit Waterloo or head in from the home counties is to watch new and returning productions at the Old Vic, one of London's most prestigious theatre venues.
Built in 1819 and rebuilt extensively after being damaged by 1940s air raids, this grade II listed building is a historic, 1000 seater venue which has had many visionary creative directors over its time (we won't dwell on the Kevin Spacey years eh).
Tickets are often in high demand at the Old Vic so best to buy tickets in advance although they do have a box office onsite and open daily.
We've also been to previews several times where tickets are much cheaper plus The Old Vic sometimes offer £10 tickets to 'inspire new audiences', generally for the first five performances of a new production. Definitely some of the cheapest theatre tickets in London (and cheaper than the cinema in Leicester Square).
---
YOU MIGHT LIKE: Total London Experience tour with London Eye, Tower of London and St Paul's
---
15. Draughts Board Game Cafe @Leake Street
If you are 'bored' of hanging out in Waterloo Station, how about a board game at Draughts, located in the super street art tunnel Leake Street Arches? Open daily until midnight (and 1am on Friday and Saturdays) for game enthusiasts and role play revellers, Draughts Leake Street location with its sweet-as street art is pretty unique.
As well as board games, Draughts Leake Street offers up diner style food in the form of burgers, tacos and light bites along with the usual craft beer choice. Batt-aleships indeed!
---
16. Gabriel's Wharf
We're not sure who Gabriel is / was, but their wharf is a nice spot to shop or grab drinks or a bite to eat and remains one of our firm favourites on the River Thames for an alfresco session – the best views of the River Thames at Gabriel's Wharf are to be had at the Gourmet Pizza Co. or Marsha's restaurant.
An eclectic mix of food stalls, bars and arts and crafts, this feels almost like a mini Italian village and is sublime in the summer with its outdoor tables and picnic benches centred around the band stand, with live music.
---
17. Roupell Street Conservation Area
One of the best preserved streets and historic areas in London, it is quite the surprise to discover the Roupell Street Conservation Area in the backstreets of Waterloo.
Built in the 1820s and even today, like taking a step back in time, Roupell Street is a quiet residential street and popular filming location featuring in movies such as Legend (the Kray Twins biopic starring Tom Hardy) and Q's apartment exterior in the latest James Bond blockbuster 'No Time To Die'.
Very village like in feel, Roupell Street is protected from future developments and is famous for its uniform rows of terraced housing and vintage corner shops (look out for Konditor, a cute as cafe and bakery)
---
18. Imperial War Museum London
One of the best free museums in London, the Imperial War Museum (IWM) London has a number of permanent galleries and temporary exhibitions relating to conflicts from World World I onwards that involved British and Commonwealth troops.
Originally founded in 1917 and housed in this former Lambeth hospital since the 1930s, the Imperial War Museum is a well-known free to visit London museum and one of five locations around the UK (two other IWM sites in London are the Churchill War Rooms and HMS Belfast on the River Thames).
As you arrive at IWM London near Elephant and Castle, look out for the giant guns out front previously used on Royal Navy battleships. Inside, permanent displays include WWI and WWII galleries, a Holocaust gallery and an incredible atrium of military vehicles and hanging aircraft. The Imperial War Museum London is open Wednesday to Sunday and open seven days a week from April 2022.
---
19. Hayward Gallery
Brutalist as, whilst the Hayward Gallery exterior sometimes makes it blend into its Southbank surroundings, this is one of the best contemporary art galleries and exhibition spaces in London. Open five days a week (closed Monday and Tuesday), most exhibitions at the Hayward Gallery require an entry ticket to be purchased in advance.
---
20. Waterloo Oasis Farm
An urban farm located close to St Thomas' Hospital, whilst this doesn't have the space or scale of say Hackney City Farm or Mudchute Park and Farm, Waterloo Oasis Farm is a local and well loved farm located in the heart of the capital, and particularly popular with school groups and families (note that it is open on weekdays only between 9am and 5pm).
Waterloo Oasis Farm specialise in working with disadvantaged groups and are often on the look out for volunteers to help run the farm and look after the animals.
---
21. Archbishop Park near Waterloo Station
Finally and rounding out our guide to all the things to do around Waterloo Station is Archbishop Park, once part of the royal and regal grounds of Lambeth Palace but now available for all to use for recreation and sports.
Archbishop Park is a Green Flag award winning park and has a number of sporting facilities including tennis courts, cricket nets, astroturf pitches and outdoor gym equipment – it is also a nice spot to relax or enjoy a picnic in.
---

Other London blog posts you might like
---
Did you enjoy our things to do near Waterloo station blog post? Let us know in the comments or by sharing it on social media. You can follow CK Travels on Instagram and YouTube!