This post may contain affiliate links to tours and hotels. These help us earn a small commission at no additional charge to you.
Heard the one about the unassuming south east London industrial alleyway that becomes a foodie heaven at the weekend? If not, why not? Quite unlike any other food market set-up in London (not a permanent site for a start), the Maltby Street Market should be high on your London must do list.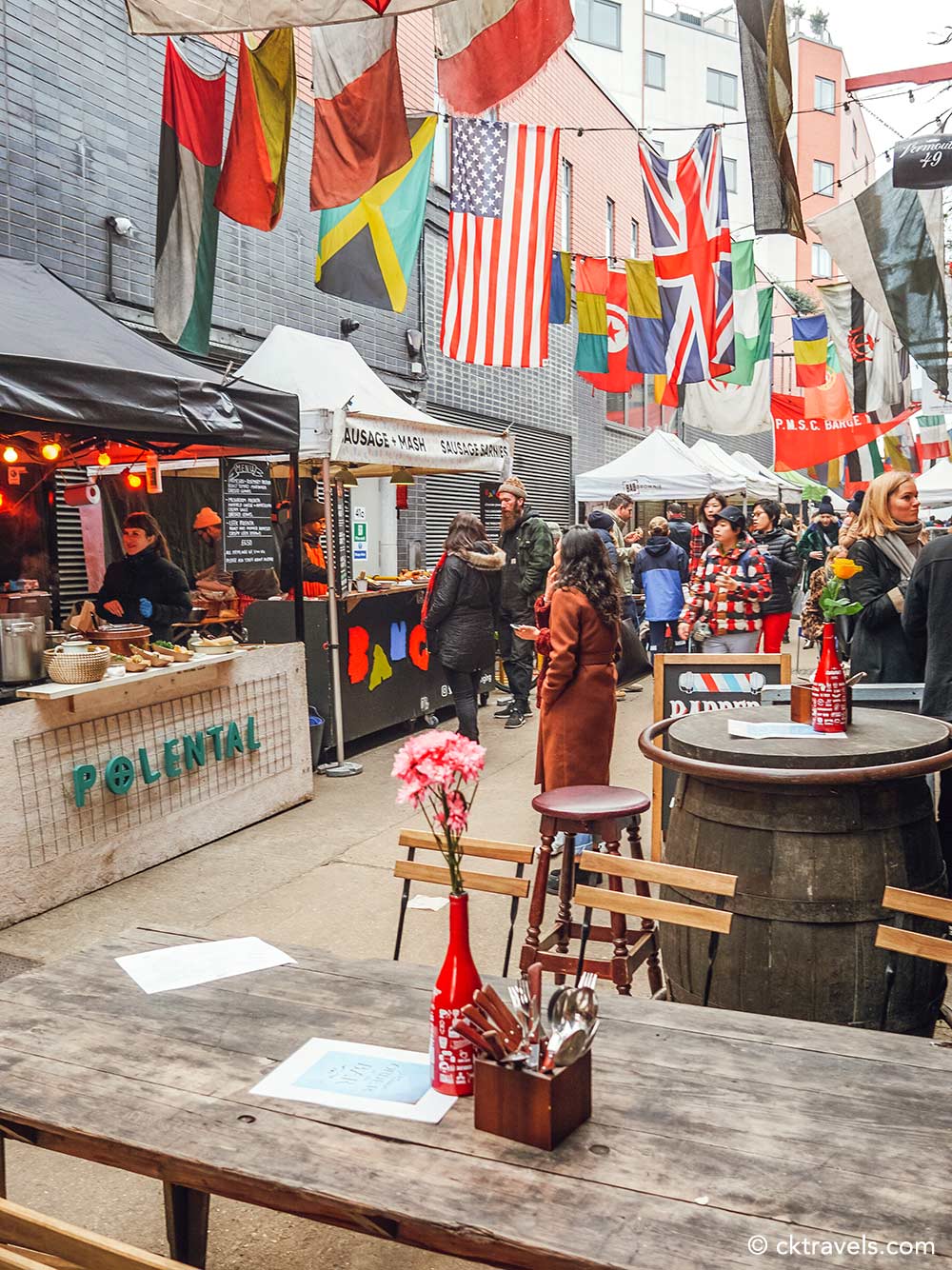 Maltby Street market is located under railway arches near London Bridge, and is open every Friday lunchtime and most of the day on Saturday and Sundays. The market opened for the first time back in 2010 and has seen a steady rise in attendees, likely spurred on by the success of the nearby Bermondsey Beer Mile (more on that later…).
There are around 30 food stalls, bars and restaurants located along the alley, the vast majority of which only appear at the weekend. Whilst the alley can get quite busy especially when queues form, the uniqueness of the location is something to behold – pastel colours and expensive furniture this ain't.
---
YOU MIGHT LIKE: Things to do near London Bridge Station >
---
We've visited several times over the last couple of years and our Maltby Street Market main highlights include:
Bar Tozino – one of the few permanent fixtures here (open all week) and London's first Jamon Bodega – the set-up here is amazing, with the hanging jamon enticing you in, strung up from the ceiling. Tasty tapas should always be like this!
Hoxton Beach – Chickpea or not chickpea, that is the question! Although the name might not suggest it, this falafel stall is the bee's knees (i.e. amazing). Generous with their free samples (likely because they know you'll be hooked after one bite), this is one of the best falafel wraps in town (up there with Pilpel in our unexpert opinion) – 100% vegan too.
---
YOU MIGHT LIKE – Top Saturday markets in London (with map) >
---
Babelle – we first discovered the delicious sweet baked caramel treat that is caneles at it's sister stall during the Duke of York Square weekend market in Chelsea. Literally every time we go to Maltby Street Market now, we save room for a mini caneles which we devour in one sweet as bite (creatures of caneles habit innit). They also do takeaway boxes should you have eaten too much already.
Little Bird Dry Gin – Small batch London distilled gin company serving up a range of gin cocktails inspired by the old-time glamour of the 1940s.
The Cheese Truck – Championing British cheese and reclaiming toasties, you know you are getting close to this stall when the waft of grilled cheese hits you – gooey goodness awaits.
The Walrus and Carpenter – fancy fresh oysters but don't fancy visiting somewhere like Whitstable, then the Walrus and Carpenter is for you with rock oysters available for £2 each. Add some prosecco and/ or tabasco to the mix (but ideally not together).
At the end of the market, you'll come across several bars and drinking establishments, Hiver Beer brewery include honey in most of their range and we'd suggest you make a 'bee-line' for here. With their core range brewed onsite, their interior set-up amongst the massive brewing vats is well done – if honey isn't your thing, they also have a huge fridge full of other craft beers.
Talking of beer (any excuse), whilst you are there, you may also want to check out the Bermondsey Beer Mile – a bounty of around 17 breweries (new ones are springing up all the time). There are lots of things to do in the local area of London Bridge, including Vinegar Yard, which also has a variety of food-trucks and pop-up bars against an industrial backdrop (plus awesome views of the Shard).
---
YOU MIGHT LIKE – 10 best markets in London
---
Maltby Street market location and opening times
Location: Maltby Street, Bermondsey, SE1 3PA.
The nearest stations are London Bridge (northern and jubilee tube lines and national rail service trains) and Bermondsey (northern line tube).
Maltby Street Market opening times:
Friday lunch: 12pm to 2.30pm
Saturday: 10am to 5pm
Sunday: 11am to 4pm
Admission is free – just take a full wallet as the food is all so good.
Other London posts you might like
---
Did you enjoy our Maltby Street Market blog post? Let us know in the comments or by sharing the blog on social media. Follow us on Instagram!
Maltby Street market – add to Pinterest!