This post may contain affiliate links to tours and hotels. These help us earn a small commission at no additional charge to you.
A rich mix of East End history, hipster hangouts and close communities, east London's Bethnal Green still retains a neighbourhood feel. Bethnal Green is a magnificent melting pot of markets, museums coupled with the cream of culinary and cultural destinations.
From a raft of railway arch brewery taprooms to the soon to be transformed V&A Young museum, here is our guide to the best things to do in Bethnal Green, east London:
Things to do in Bethnal Green
1. E Pellicci
An East End dining legend and possibly the most famous place to eat in Bethnal Green (if not the whole of East London), E Pellici is family run greasy spoon cafe / Italian restaurant serving hearty fare to all manner of customers since the 1900.
Time has stood still in the cosy, wood panelled interior of this Bethnal Green Road cafe – and all the better for it. E Pellici oozes history inside so if you can get a table inside (not always an easy task), do so.
The walls of E Pellici are also adorned with historic pictures plus autographed pictures of celebrities who have eaten here (half the cast of EastEnders seem to have dined at E Pellicci based on the number of signed pics inside).
The cafe also was a regular haunt of the notorious Kray Twins (and other East End gangsters) back in the day and is often used as a film location given its incredible interior and history.
We recently had a full English breakfast at E Pellicci and it was sooo good (bonus points for the 'fried bread' and good quality bacon).
Portion sizes are huge and prices around £9. Part of E Pellici's charm is its character and staff; highly rated. Get there early if you want an indoor spot. Definitely one of the best things to do in Bethnal Green (and eat!).
Address: E Pellicci, 332 Bethnal Green Road, London E2 0AG
---
YOU MIGHT LIKE: things to do near Liverpool Street Station
---
2. Young V&A / Museum of Childhood (Closed for renovation)
At the eastern end of Bethnal Green road, you'll find the Young V&A (formerly known as the V&A Museum of Childhood) – the nation's National Collection of Childhood and a fantastic museum and day out in itself for families.
With free admission and an ever changing events schedule, there is a permanent collection showcasing various childhood toys over the ages (from dainty Victorian dollhouses through to Transformers and Teenage Mutant Turtles) plus exhibitions that change regularly, all based around play, design and imagination.
Note that as at early 2023, the V&A Young is currently closed until at least the summer (2023) for an epic transformation and renovations so we'll be updating this blog with the new space and exhibitions once it opens.
Address: V&A Young, Cambridge Heath Road, Bethnal Green, London E2 9PA
---
3. Columbia Road Flower Market
One of Bethnal Green's best activities and places to visit is Columbia Road, a charming mix of cafes, bakeries and craft shops. The Royal Oak and Birdcage pubs are always nice places to pop in for a pint and nearby Ezra Street is particularly photogenic.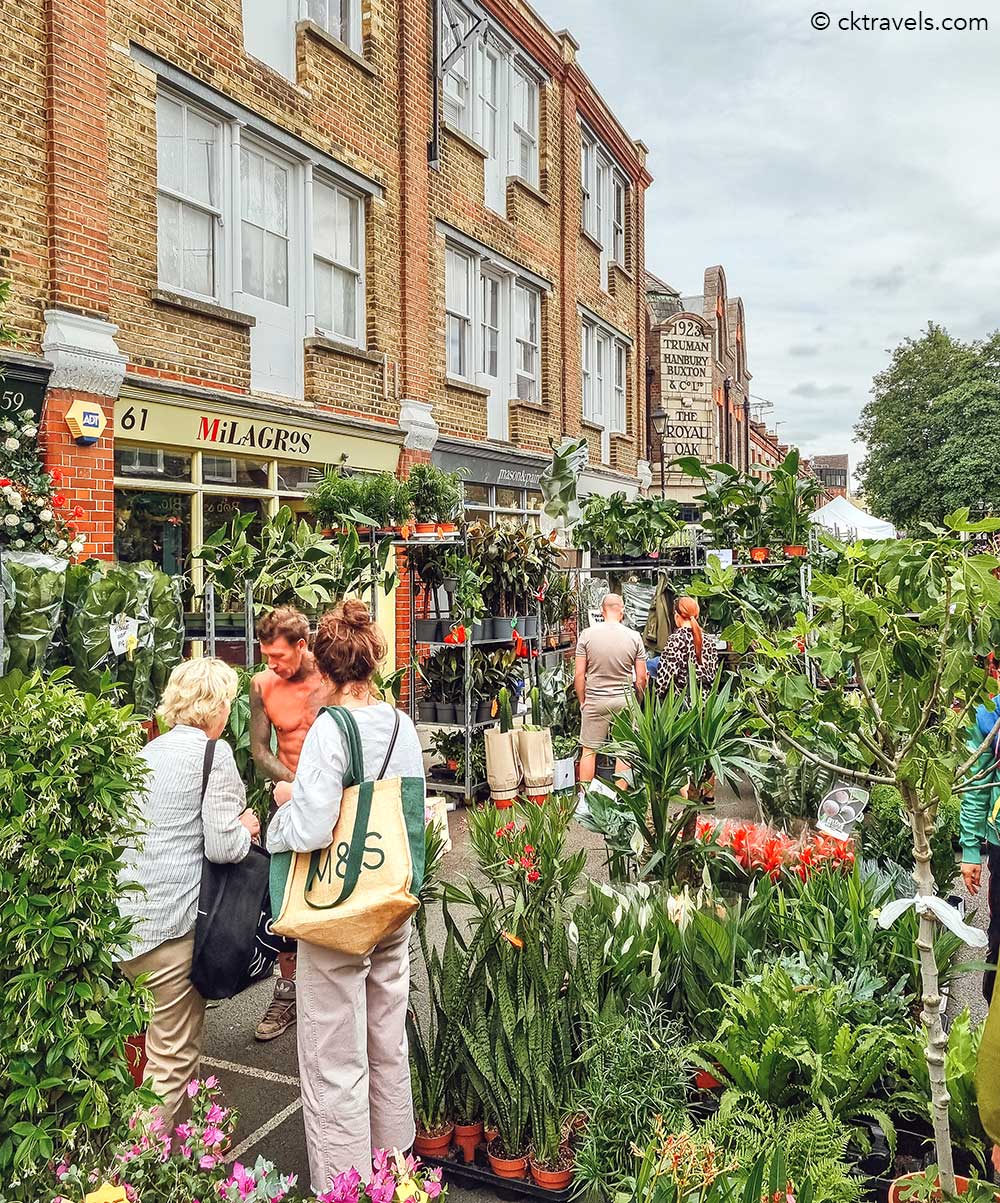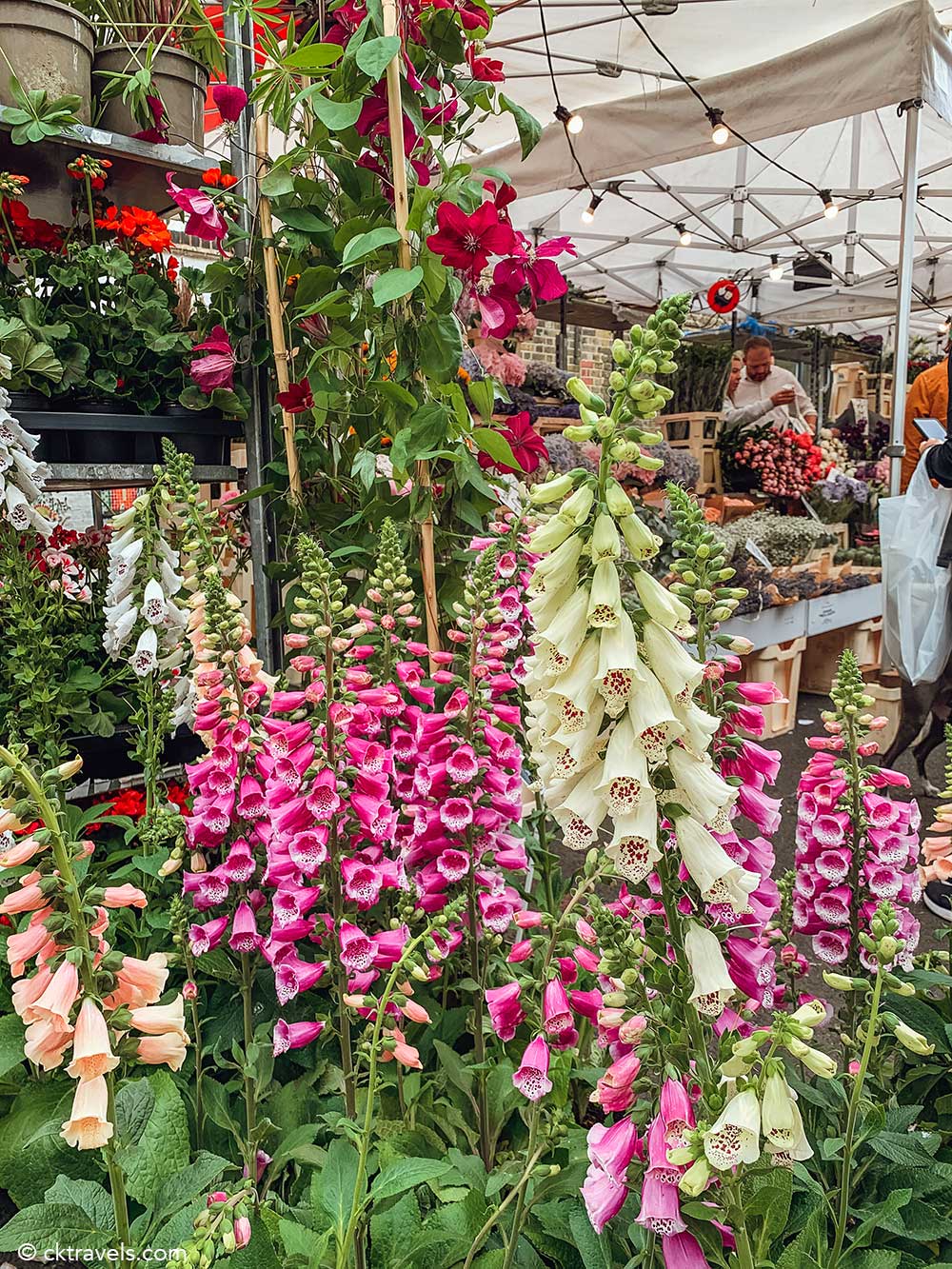 However, every Sunday between 8am to 3pm, Columbia Road transforms to become Columbia Road Flower Market, London's most popular and colourful flower market.
This is a one stop shop for all your plant, shrub and gardening needs – get there early though if you want to bag the best flowers and avoid the crowds. Prices at Columbia Road Flower Market are reasonable too, much cheaper than the chain gardening centres and supermarkets.
Read more about Columbia Road Flower Market in Bethnal Green and its history here >
Address: Columbia Road, London E2 7RG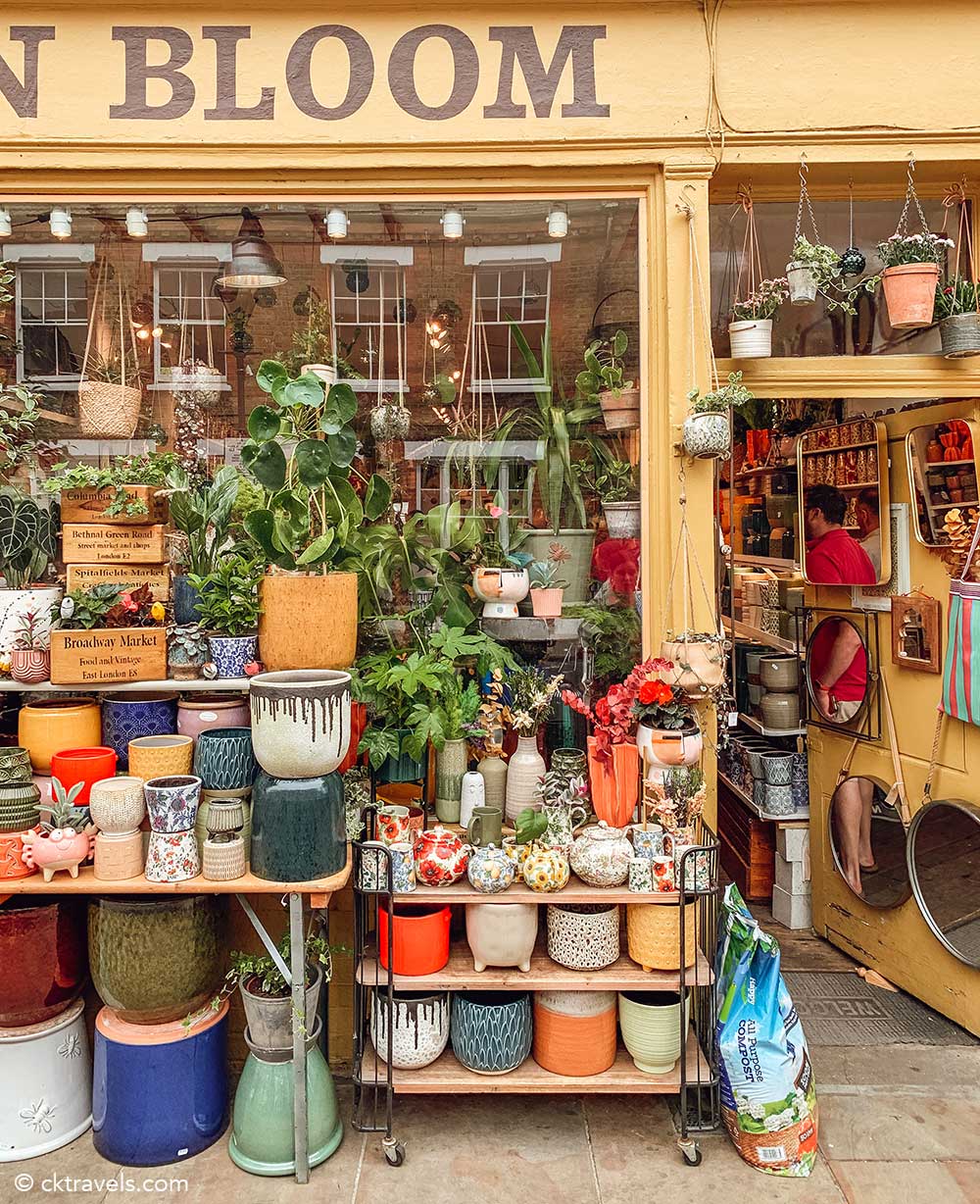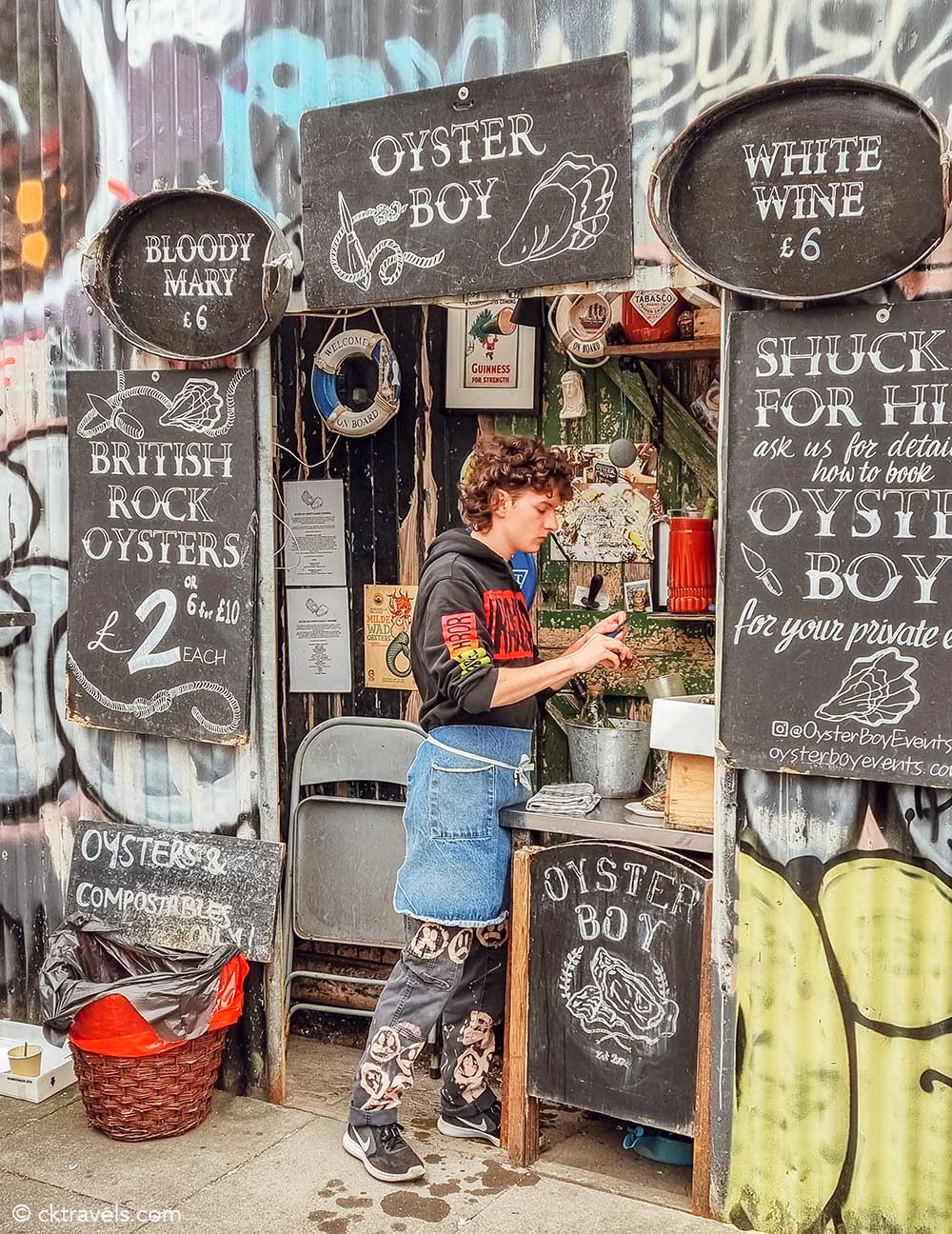 ---
4. The Five Points Brewery & Taproom
Hands up – we know Five Points Brewery and taproom is officially based in Hackney (on Mare Street) but as it is such a short walk from Cambridge Heath station and all the other main bars in Bethnal Green, we thought we should include it in our 'Things to do in Bethnal Green' blog.
We've been to Five Points Brewery Taproom quite a few times as their huge outdoor drinking is really enjoyable in the summer.
A great set-up on the site where they brew all their beers, the Five Points Brewery and taproom beer garden has a pop-up bar with a combination of their own range and guest beers on tap.
The Five Points taproom inside also has a huge bar plus tables with views of the brewing vats – cheers to that! Five Points out of five!
Five Points core range includes an extra pale ale (XPA), Pils and our favourite, a chocolatey coffee Railway Porter. Like lots of breweries in Bethnal Green, Five Points are also located along the railway arches and beer tasting tours of the brewery are available too.
Address: Five Points Brewery and Taproom, 61 Mare Street, London E8 4RG
---
5. BOXCAR Brewery & Taproom
UPDATE MARCH 2023: BOXCAR Brewery and Taproom is currently closed whilst the owners look for new premises
We really like visiting BOXCAR Brewery. A no-nonsense, unpretentious Bethnal Green brewery and taproom, BOXCAR is one of the best taprooms in London located snugly beneath the railway arches in Birkbeck Street.
The taproom itself is warm and welcoming and you always get an eclectic crowd in here, from seasoned beer enthusiasts to students or wage slaves supping after work.
As well as the comfy sofas and chairs inside, there is a small yard area out front (usually quite popular). The bar staff are always friendly here and offer samples if you aren't sure what to have.
BOXCAR class themselves as an experimental brewery so you never know what to expect each time you visit. BOXCAR Brewery is open Wednesday to Sunday for ice-cold canned beers and kegs (usually from 5pm on weeknights and midday at the weekend).
Address: Boxcar Brewery, Unit 1 Birkbeck Streer, Bethnal Green, London E2 6JY
---
YOU MIGHT LIKE: East London Craft Beer Tap Tour (Bethnal Green) >
---
6. Fugitive Motel / Three Colts Tavern
UPDATE: Fugitive Motel is now permanently closed. The Three Colts Tavern (from the excellent Exale Brewery is opening in February 2023)
Find out more about Exale Brewery in our Blackhorse Beer Mile guide >
Note, not an actual Motel but an American inspired bar, Fugitive Motel is an all day brunch spot and boisterous bar and kicking cocktail bar by night. The American theming continues with US board games (shuffleboard or cornhole anyone?), big screen sports and big ass burgers on offer. Sleek and shiny, Fugitive Motel is a good looking craft beer bar.
Address: Three Colts Tavern, 199 Cambridge Heath Road, London E2 0EL
---
7. Mother Kelly's Bethnal Green
Located along the railway arches in Paradise Row, Mother Kelly's Bethnal Green branch has a massive collection of beers on tap (over 20) and describes itself as a 'New York inspired' taproom.
With industrial interiors and incredibly busy when we visited last time, in the summer months, beer happy and hoppy enthusiasts spill out on the outdoor terrace outside.
The main joy of visiting any Mother Kelly's is the sheer range available, with varying strengths and types of beers .
We'd recommend sticking to halves so you can try more (and if you can't find anything on tap – unlikely – there are 6 beer chillers / fridges with even craft beer goodness).
Food options include a meat or cheese platter or there are plenty of restaurant options in the neighbouring railway arches.
There are several branches of Mother Kelly's in London including East Village in Stratford.
Address: Mother Kellys, 251 Paradise Row, London E2 9LE
---
8. Bethnal Green Working Men's Club
An iconic local institution, our first foray to Bethnal Green Working Men's Club was several years ago when we attended their much talked about Eurovision night. For those not from Europe, the Eurovision Song Contest is an annual event where countries from across Europe put forward a song and vote on each other – in a word, competitive!
The night was kitsch and gauche (in a good way) and it was nice to meet people from the local area, all of whom seemed to welcome all these random strangers into their club.
Bethnal Green Working Men's Club has been hosting socials and events (many disco and cabaret related these days) since the 1950s and is as old school as it gets. Go for the camp as experience (and relatively cheap drinks) – a fun night out in east London and one of the best things to do in Bethnal Green.
Address: Bethnal Green Working Men's Club, 42-46 Pollard Row, London E2 6NB
---
9. York Hall Leisure Centre/ Bethnal Green Spa
Located just across the road from the Young V&A / Museum of Childhood, York Hall is a historic gym, spa and events centre, these days most known for international boxing bouts held in the evenings (often with big names from the world boxing scene).
Opened in 1929 and much cherished in Bethnal Green, York Hall is renowned for its Bethnal Green spa centre and Turkish baths, which were refurbished in 2005 (although still retaining some of their main features and interiors, making them one of the oldest surviving spas and Turkish Baths in London).
The Bethnal Green spa facilities include steam rooms, saunas, a hammam, plunge pool and ice fountain. Selected days are also female only, with a three hour pass generally around the £30 mark.
York Hall sometimes hosts gigs in their main hall and we once saw Laura Marling perform here a few years ago.
Address: York Hall, 5 Old Ford Road, London E2 9PJ
---
10. Renegade Urban Winery and Bar
Chances are if you've ever seen a distinctive bottle of wine in a London pub with a photo of a person's face on it, it'll be from Renegade Winery (and they are often looking for models to appear on bottles so 'wine' not give it a go)?
Producing all their own wine on site, the Renegade Urban Winery is open to buy and taste the wine at source (or dabble in cheese or cocktails), kind of like a wine taproom – dog friendly too.
Renegade Winery also has a second bar located in Blackhorse Road, Walthamstow.
Address: Renegade Winery, Arch 12 Gales Gardens, London E2 0EJ
---
11. Backyard Comedy Club
Bethnal Green's Backyard Comedy Club has been around for over 20 years, and one of the biggest and best known venues in London. Hosting new and established acts, previous shows have included Dave Chapelle, Harry Hill, Joe Lycett and Russell Howard.
You can see some form of comedy most nights of the week at the Backyard Comedy Club, with tickets starting at £5 for the lesser known acts or try-out nights. Pizza is on the menu so you can combine the mirth with a margarita or Hawaiian with the humour.
Address: Backyard Comedy Club, 231 Cambridge Heath Road, London E2 0EL
---
YOU MIGHT LIKE: Bermondsey Beer Mile – ultimate guide with map >
---
12. Chiringuito Bar
A rare rooftop bar in Bethnal Green with views overlooking the Museum Gardens and St John's Church, Chiringuito is a stylish Spanish bar and restaurant with warm interiors plus ample seating outside, both on the rooftop and within the Museum Gardens themselves.
Whilst working at the next door V&A Young Museum, we often used to pop in here for after work drinks and it was always a popular spot, particularly on a sunny, summer's day.
On the menu is Latin American inspired mains plus Spanish tapas style dishes. We also didn't realise until after the fact that the building Chiringuito Bar is located in used to be a public toilet / WC block – such is the transformation!
Address: Chiringuito Bar, Museum Gardens, Bethnal Green, London E2 9PA
---
YOU MIGHT LIKE: things to do in Shoreditch, London >
---
13. Lady Dinah's Cat Emporium
Surprisingly, London doesn't have that many cat cafes – you can find out more about all the cat cafes in London here. Lady Dinah's Cat Emporium was the original cat cafe in London, opened in 2014 and located on Bethnal Green Road, very near to Brick Lane.
If you are just walking through the Bethnal Green Road area, you might be lucky enough to see a playful pussy or chilling cat in the window of Lady Dinah's Cat Emporium too.
Lady Dinah's Cat Emporium is home to a group of rescue cats and across its two themed floors, offers a selection of hot drinks and snacks such as toasted sandwiches as well as a full afternoon high tea service.
Lady Dinah's was named after Alice's small red kitten in 'Alice in Wonderland' and like any reputable cat cafe, it has its own house rules including no picking up the moggies (stroking is fine).
Booking in advance is recommended. The admission price at Lady Dinah's Cat Cafe is £15 Tuesday to Thursdays and £20 Friday to Monday (correct at Feb 2023) allowing you up to 90 mins with the cute kitties (food and drink is extra). You can also do 1 hour for £10 on selected weekdays.
Address: Lady Dinah's Cat Cafe, 152-154, Bethnal Green Road, London E2 6DG
YOU MIGHT LIKE: The best cat cafes in London >
---
14. G Kelly Pie and Mash
If you are a Londoner, you'll undoubtedly already know what pie and mash is. If not, this is a traditional English dish of pie (usually meat), mashed potato and liquor (jellied eels with parsley – not alcoholic!).
They are a staple of London history and you must try one, particularly when visiting the East End of London – that said, it is quite an acquired taste and we whilst we love pie and mash, we still aren't convinced by the liquor.
Address: G Kelly Pie and Mash, 526 Roman Road, Old Ford, London E3 5ES
---
15. Plant Warehouse
A 'blooming' marvellous addition to Bethnal Green located on nearby Cambridge Heath Road, Plant Warehouse is a 'perennial' favourite and is almost like a mini version of the Barbican Conservatory.
As you walk into this gem of a gardening centre (specialising in house plants), the warmth and plant perfume immediately hits you.
With all sizes of plants available from bijou bonsai to colossal cacti, Plant Warehouse has an awesome array of plants (and is very close to Cambridge Heath tube, if you go have to lug a huge plant home – bonus!).
Address: Plant Warehouse, 270 Cambridge Heath Road, London E2 9DA
---
16. Oval Night Market
2023 UPDATE:Oval Night Market is temporarily closed.
A monthly, so-so street food social and crafts market set amongst the gas holders, the Oval Night Market usually opens up one weekend a month during the summer months.
We visited the Oval Night Market and compared to other night markets and street food set-ups, this one is pretty average with a limited selection (usually around 10 to 15 stalls, half of which sell crafts).
However, whilst not worth a special trip say from the other side of London, it does make a nice alfresco addition to the Bethnal Green food and drink scene (and the setting is nice, with twinkly fairy lights and winnebagos galore) it so would be fine to combine the Oval Night Market with a nice out visiting several places.
Address: The Oval, Bethnal Green E2 9DU
---
17. Satan's Whiskers
Bethnal Green's best cocktail bar – but don't just take our word for it. Satan's Whiskers was recently (2023) named as the UK's best place to drink as part of the annual 'Top 50 Cocktail Bars' list as voted for by bartenders – praise indeed.
Known for its vintage stylings, brooding interior (complete with animal heads) and incredible cocktails, Satan's Whiskers is a class affair. Celebrating its tenth anniversary in Bethnal Green in 2023, the cocktail list here is forever changing so you never know what to expect at each visit.
When in east London, definitely add Satan's Whiskers cocktail bar to the mix!
Address: Satan's Whiskers, 343 Cambridge Heath Road, Bethnal London E2 9LJ
---
18. Brick Lane
Take a short walk from Bethnal Green Road to London's famous Brick Lane, an eclectic East London neighbourhood that is known for its flea markets, vintage clothes shops, street art, Indian restaurants and its world famous boiled bagels.
Two bagels stores here are incredibly famous and popular: Beigel Bake and Brick Lane Bagel Shop – both open 24 hours but expect huge queues during the day.
YOU MIGHT LIKE: Indian Secret Food Tour of London's East End
---
19. London Cocktail Club @ Bethnal Green
2023 UPDATE: Cocktail Club now permanently closed
Perched in Paradise Row just a short walk from both Bethnal Green Tube and Cambridge Heath overground stations, this branch of the London Cocktail Club (they are all over the city including Shoreditch, Liverpool Street and Oxford Street) is modelled after an old school Tube station, with a quirky 'floating' carriage above the bar.
In the summer months, the outdoor terrace is also popular for outdoor sessions and alfresco cocktails. Happy Hour(s) at the London Cocktail Club Bethnal Green run every day from open to 8pm, with two cocktails for £12. Paradise Row has several drinking and eating spots so this is a good place to base yourself for the evening.
Address: Arch 253 Paradise Row, London E2 9LE
---
Our final thing to do in Bethnal Green
20. Banksy on Pollard Street
Disclaimer – although you can still see parts of Banksy's flower and painter mural on Pollard Street in Bethnal Green (thanks to a small piece of perspex), it has been tagged and partially spray painted over (no love lost on the street art scene).
So please don't make a special trip just for Banksy as it may have pretty much disappeared by now but if you are curious and already in the area, take the short stroll from Bethnal Green to Pollard Road.
---
Did you enjoy our things to do in Bethnal Green guide blog post? Let us know in the comments or by sharing it on social media. You can follow CK Travels on Instagram, TikTok and YouTube!
---
Other London blog posts you might like
---