This post may contain affiliate links to tours and hotels. These help us earn a small commission at no additional charge to you.
From Christmas crafts to festive fare, there are a multitude of cracking Christmas Markets in London to choose from in 2023 (and pretty much all of them have mulled wine – bonus!)
From riverside pop-ups to fine foodie festivals, here are 11 Christmas Markets in London in 2023 (we'll be taking new photographs and updating the Christmas market in London pictures as the markets open).
Christmas markets in London
1. Leicester Square Christmas Market – dates TBC
Love it or loathe it, Leicester Square is the bustling centre of London's arts and theatre scene, smack bang amongst all the cinemas, casinos and cultural spaces in the West End, attracting tourists in their thousands every day.
Usually, we'd say it is best avoided at night but come Christmas, Leicester Square becomes a lively European style winter wonderland with alpine lodges, bars and pop-up theatres and events setting up home around the fountain.
Whilst pretty small in comparison to Hyde Park's Winter Wonderland, this is one of the best free things to do in London. There is much to enjoy here – although your wallet may not agree, if it doesn't get stolen, mulled wine is ridiculously expensive!
Best visited at twilight, the Leicester Square Christmas Market runs from 9th November 2022 to 7th January 2023. You can also visit the nearby Leicester Square Scenes from the Square film statues with a Harry Potter statue.
Check out our things to do in Leicester Square post >
---
YOU MIGHT LIKE: The best Christmas ice skating rinks in London 2023 >
---
2. Angel's Christmas Market at Winter Wonderland – 2023 dates TBC
Likely London's biggest (and possibly best) Christmas Market in terms of sheer number of stalls, the wonderful Winter Wonderland returns to Hyde Park in 2023.
Angel's Christmas has an array of awesome Alpine chalet stalls (who said garden sheds?), boasting over 100 stalls selling everything from personalised decorations to cotton candy canes.
The main difference this year is that Winter Wonderland is now ticketed and only a handful of early, off-peak sessions are free (usually weekdays and very early admission before lunch).
If you want to access Angel's Christmas Market at Winter Wonderland during the evening or at busy periods, you may need to pre-purchase tickets for admission starting from £5 although there are package deals online where you get free admission if you spend £25 on any attraction, ride or game in advance online.
Admission is daily (apart from Christmas Day) from 18th November 2022 – 2nd January 2023.
Book your tickets to Winter Wonderland >
---
---
YOU MIGHT LIKE: The best Christmas events in London 2023 >
---
3. Christmas By The River at London Bridge – 2023 dates TBC
Christmas By The River is located on the banks of the River Thames with London's stunning skyline lit up at night as a backdrop, including views of Tower Bridge and the Tower of London.
Christmas by the River 2023 will see numerous craft, gift and food / drink stalls pop-up around the Scoop, Potter's Field as well as Hays Galleria. Christmas By the River runs 7 days a week (except Christmas Day) from 15th November 2022 to 2nd January 2023.
Make a day of it with our top things to do in London Bridge guide before concluding your visit with Christmas By The River – our Christmas gift to you!
---
BOOK IT! London Christmas Market Tour >
---
4. Greenwich Christmas Market – 2023 dates TBC
We've always been a big fan of Greenwich Market, so much so that we include it in our best London markets list. At any time of year, Greenwich Market is a good place to eat, drink and be merry but particularly so at Christmas.
As well as the usual artisan wares and crafts, there will be festive decorations up, hot drinks (alcoholic and soft) and the main Christmas lights in Greenwich will be switched on from November in 2023.
On previous Christmas visits, we've also seen / heard the local St John's brass-band playing carol songs and raising money for charity – we would recommend going a little earlier in the day if possible so you can explore Greenwich by daytime then enjoy the Christmas lights at night along with all the other festive fun.
Check out our things to do in Greenwich guide >
5. Southbank Winter Market – 2023 dates TBC
The River Thames walk around South Bank is one of the capital's best free attractions and none more so at Christmas when the area is bedecked with Christmas lights and traditional Alpine wooden huts selling festive favourites like mulled wine, Christmas decorations and damn fine hot food.
The annual Southbank Winter Christmas Market is on from 3rd November 2022 until 8th January 2023 – so no excuses for giving poor gifts on Xmas day.
A Christmas caveat – we visited Southbank Winter Market one Sunday just after it opened and compared to previous years, it was more woeful than wonderful. Comprising of around 15 stalls – 3 of which are gift stalls, and the rest are bog standard non-festive food stalls.
The area is dimly lit and stuck underneath Hungerford bridge with next to no decorations, save for one measly string of fairy lights. Southbank Winter Market 2023 is definitely not worth a special trip but is ok if you were already going to Southbank or Between the Bridges already. Bah Humbug.
If you want to continue the Christmas theme, there are several restaurants along the River Thames in this area with igloo / plastic dome dining, including Jimmy's Alpine lodge, Gauchos near London Bridge and Copa near the Tower of London.
---
YOU MIGHT LIKE: Christmas Party Tour – Silent Disco Walking Tours >
---
6. Kingston Christmas Market – 2023 dates TBC
Kingston Christmas Market 2023 has already begun and runs until Christmas Eve (Nov 10 to Dec 24).  The annual Kingston Christmas market is always a festive delight, with alpine themed festive stalls festooned around the cobbled square, with a huge Christmas tree as a focal point. 
After December 24, you can still enjoy the bars, food and entertainment at Kingston Christmas market until 2 January.
Getting into the European Christmas spirit, a Bavarian curling slide is also promised, costing £10 per lane and located in the grounds of Kingston's All Saints Church.
Also, if you have a sense of deja vu when visiting the Kingston Christmas Market but you aren't sure why, it may be because the festive favourite Mr Bean's Christmas was filmed in the square here (the carol singing scene).
---
YOU MIGHT LIKE: The best Christmas lights in London 2023 >
---
7. Canopy Christmas Market at King's Cross – 2023 dates TBC
As suggested by the name, this King's Cross market is located under a large roof so is all weather, should you be looking to get your festive fix on a rainy day.
Unlike some of the London Christmas Markets on this list, this isn't just food focused, with half the space given over to various arts and crafts stalls (the combined aromas from the candle, food and mulled wine stalls will likely be heavenly).
Each weekend in December at Canopy Market sees a different theme and roster of stalls. The only ones we know so far is The Drops Christmas Market on the 2nd – 4th December 2022, and the Crafty Fox Market which takes place on Sunday 11th December 2022 with over 100 traders selling their homemade wares.
Combine Canopy Market at Christmas with a trip to nearby Coal Drops Yard, King's Cross newest retail development chock full of shops, bars and restaurants.
Check out our things to do in KIng's Cross guide >
---
YOU MIGHT LIKE: London Christmas Lights Tour by Vintage Bus Open Top >
---
8. Borough Market at Christmas – 2023 dates TBC
Make this a culinary Christmas with a visit to Borough Market. Although Borough Market can sometimes be a bit of a tourist trap with long queues for food, it is still one of the best, foodie favourites in London due to its setting and sheer range of amazing and beautifully looking food stalls.
You definitely want to visit Borough Market this Christmas season on an empty stomach so you can snack to your heart's content (calories don't count at Christmas – fact!).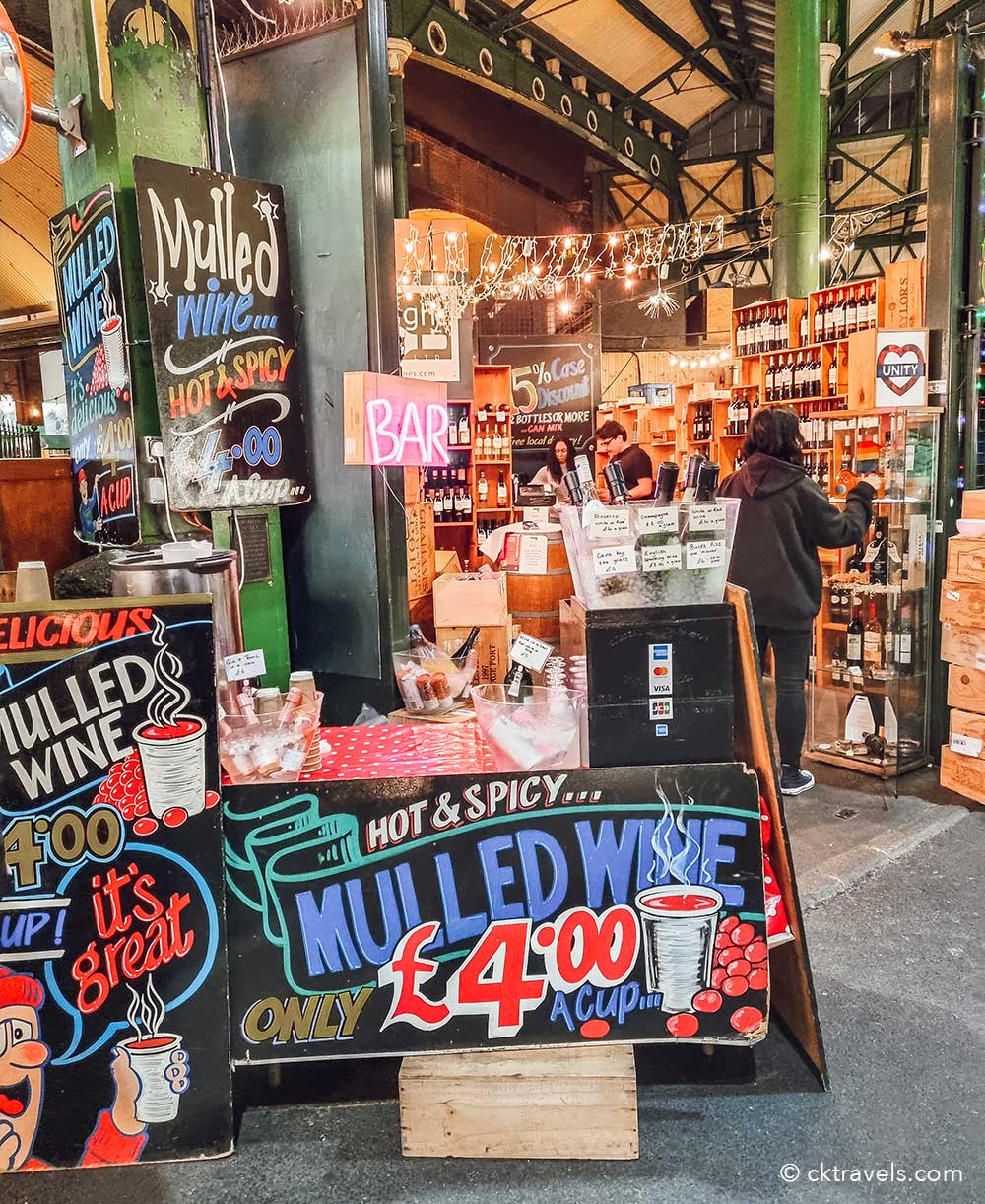 From December 2022, Borough Market will be extending its opening hours for the festive season and is open 7 days a week from December 1st until Christmas Eve.
If you are planning on putting together your own Christmas hamper this year, this is likely the best place to start as there are bakeries, pate stalls, cheese stalls, champagne stalls – the list goes on. Indulge this Christmas at Borough Market – the diet can start in January.
Read our dedicated guide to Borough Market here (it'll make you hungry, we promise!) >
---
---
9. Covent Garden Christmas Market – 2023 dates TBC 
Hands up if you've seen the movie 'Last Christmas'? Yep, we might not admit it either as it was pretty bad but hey, it gives you a glimpse of what to expect from Christmas in Covent Garden (to note the Christmas shop in the movie is actually fictional alas and is actually a restaurant in real life).
Covent Garden has a year round market but at Christmas, they put out all the stops and adorn the interior market with huge mistletoe decorations and giant disco balls – could you imagine what a work Christmas party here would be like? Scandal central…).
Apart from possibly the one in Trafalgar Square, Covent Garden's Christmas Tree is also the most iconic, given its picture perfect setting on the piazza (ideal for Instagram if that is your bag).
YOU MIGHT LIKE: Best things to do in Covent Garden guide >
---
10. Trafalgar Square Christmas Market – 2023 dates TBC
Trafalgar Square this year not only has the huge Christmas tree (an annual gift from the good people of Norway to thank for our help in the war) but for the first time, there is also a Christmas Market in Trafalgar Square in 2023.
Immediately in front of the National Gallery on the upper tier of Trafalgar Square, there is a line of around 25 to 30 Christmas market stalls and festive huts, with an outdoor drinking and seating area centrepiece, looking out over the main square.
From the organisers of Underbelly, this is a welcome addition to Trafalgar Square and a nicely Noel place to get some Christmas crafty gifts or indulges in festive fare and drink mulled wine – just try not to go for a swim in the fountains afterwards.
---
11. Maltby Street Christmas Market – 2023 dates TBC
"Have yourself a Maltby little Christmas" as the famous song (kinda) goes. Maltby Street Market has a wonderful year round street food market but this Christmas 2023, Maltby Street places host to a Christmas market most Fridays in December (December 2, 9 and 16 from 5pm to 9pm) in the run up to Christmas. 
Maltby Street Christmas Market 2023 promises live music and carols, incredible street food, decoration and gift ideas galore plus the usual trees and wreaths. The Maltby Street Christmas market takes place along the Ropewalk alleyway that will be festooned with Christmas lights. 
---
12. Pexmas: A Christmas Market in Peckham – 2023 dates TBC
Pexmas 2022 is coming, landing in Peckham on the 3rd and 4th December at Copeland Park. There is loads to do in Peckham all year round; read our things to do in Peckham guide here.
Promising over 100 stalls and independent traders over both days with a street-food line up still TBA – Pexmas promises independent boutique stalls with small batch gifting products including prints ceramics, textiles and jewellery.
Pexmas is billed as "…Peckham's home grown free entry festive market; an annual celebration of local business, creativity and community spirit" – plus the legendary Pexmas mulled wine will be on hand to get you into the Christmas spirit.
---
13. Christmas Market on the Mews, Selfridges Christmas Market – 2023 dates TBC
We don't wish to be a Christmas Grinch but the Selfridges Christmas Market on the Mews really is not worth a visit. Whilst we are usually fans of Selfridges (especially their food court), this Christmas market is anything but a seasonal soiree or festive fun place.
We've been in previous years and it was nicely themed with a Christmas decorated indoor section but this year, it is essentially a few food trucks on a concrete side street with a few make-up stalls and an overly commercial Christmas tree – bah humbug. 
We visited Edwards Mews (just behind the main Oxford Street Selfridges store) one Sunday afternoon in November 2021 and having been told booking in advance was essential, we rocked up to find hardly anyone there (no tickets were being asked for) and alas, the security and staff outnumbered the Christmas shoppers.
As festive as a concrete carbuncle save for the helter-skelter (£5 for two slides – Santa would not approve), this is one London Christmas market best avoided. Instead, stick to browsing inside Selfridges and enjoy the Veuve Clicquot champagne tram, the indulgent cheese stall or fancy, fine foods. Selfridges, you can do much better than this excuse of a Christmas market (which runs until Christmas Eve 2021, if you are a glutton for punishment).
Book your complimentary ticket to Selfridges Christmas market 2021 >
---
Other Christmas in London posts you might like
Other London posts you might like
---
Did you enjoy our best Christmas markets in London 2022 blog post? Let us know in the comments or by sharing it on social media. Follow us on Instagram!