This post may contain affiliate links to tours and hotels. These help us earn a small commission at no additional charge to you.
From Christmas crafts to fun festive fare, there are lots of cracking London Christmas Markets to choose from in 2023 (and pretty much all of them have mulled wine – bonus!).
From riverside pop-up markets on the River Thames to fine foodie festivals, Christmas has come early with these Christmas Markets in London.
If you are shopping in London for Christmas gifts or just want to indulge in some mince pies (or three), here is our guide to the best Christmas Markets in London in 2023:
October 2023 update – please note that not all London Christmas markets in 2023 have confirmed their dates for 2023 /24 yet so we'll be updating this article regularly once dates are set – bookmark this page. Santa would approve!
You might like:
Christmas Markets in London 2023 /2024
1. Leicester Square Christmas Market
Leicester Square Christmas Market runs from 8th November 2023 – 7th January 2024
Love it or loathe it, Leicester Square is the bustling centre of London's arts and theatre scene, smack bang amongst all the cinemas, casinos and cultural spaces in the West End, attracting tourists in their thousands every day.
In the run up to Christmas in London, Leicester Square becomes a lively European style winter wonderland with alpine lodges, bars and pop-up theatres and events setting up home around the fountain.
This year's 2023 Christmas Market in London's Leicester Square will see the return of the multi-award-winning show, La Clique, in a German style 'spiegeltent' – prost!
Whilst the Leicester Square Christmas Market is pretty small in comparison to Hyde Park's Winter Wonderland, this is one of the best free things to do in London. There is much to enjoy here – bring plenty of cash or credit cards though as the mulled wine and gifts here can be quite expensive!
Best visited at twilight, the Leicester Square Christmas Market runs from 8th November 2023 to 7th January 2024. You can also visit the nearby Leicester Square Scenes from the Square film statues with a Harry Potter statue.
Check out our things to do in Leicester Square post >
---
YOU MIGHT LIKE: The best Christmas ice skating rinks in London 2023 >
---
2. Christmas Market at Winter Wonderland
Christmas Market at Winter Wonderland runs from 17th November 2023 – 1st January 2024
Likely London's biggest (and possibly best) Christmas Market in terms of sheer number of stalls, the wonderful Winter Wonderland returns to Hyde Park from 17th November 2023 until January 2024.
The Winter Wonderland Christmas Market in 2023 has an array of awesome Alpine chalet stalls (who said garden sheds?), boasting over 100 stalls selling everything from personalised decorations to cotton candy canes, running from 10am to 10pm daily.
In 2023, it will be managed by Underbelly, who also run the popular Trafalgar Square and Leicester Square Christmas Markets.
Other fun Christmas events and things to do at Winter Wonderland London this year include ice-sculpting workshops, Ice Mountain, a real ice slide and the UK's largest open-air ice rink.
New shows at Winter Wonderland for 2023 include Justin Fletcher's Singalong Christmas, Zipp's Christmas Circus and a stunt show from Cirque Berserk, Tornado. You'll find us in Bar Ice, literally the coolest bar in London.
If you want to access the Christmas Market at Winter Wonderland during the evening or at busy periods, you will need to pre-purchase Winter Wonderland tickets for admission starting from £5 – off-peak admission however (weekdays before 2pm) is free.
Book your tickets to Winter Wonderland >
---
---
Try this – Christmas Lights Bike Tour of London >
---
3. Christmas By The River at London Bridge
Christmas By The River market dates still to be announced but likely to start November 2023
Christmas By The River is located on the banks of the River Thames with London's stunning skyline lit up at night as a backdrop, including views of Tower Bridge, HMS Belfast and the Tower of London.
Christmas by the River 2023 will likely see numerous craft, gift and food / drink stalls pop-up around the Scoop, Potter's Field as well as Hays Galleria. Christmas By the River runs 7 days a week (except Christmas Day) from November 2023 to January 2024.
Make a day of it with our top things to do in London Bridge guide before concluding your visit with Christmas By The River – our Christmas gift to you!
London Travel Planning Facebook Group by CK Travels
Need help with your London travel itinerary or have any questions about your upcoming trip? Join our brand new online community! Click here to join our London Travel Planning and Tips Facebook group
4. Greenwich Christmas Market
Greenwich Christmas Market launches 15th November 2023
We've always been a big fan of Greenwich Market, so much so that we include it in our best London markets list. At any time of year, Greenwich Market is a good place to eat, drink and be merry but particularly so at Christmas.
As well as the usual artisan wares and crafts, there will be festive decorations up, hot drinks (alcoholic and soft) and the main Christmas lights in Greenwich will be switched on between 4pm and 6pm on 15 November 2023, accompanied by a Greenwich lantern parade through the streets!
On previous Christmas visits, we've also seen / heard the local St John's brass-band playing carol songs and raising money for charity.
We would recommend going a little earlier in the day if possible so you can explore Greenwich by daytime then enjoy the Christmas lights at night along with all the other festive fun.
Afterwards, treat yourself to a pint or mulled wine in one of these top pubs in Greenwich >
Check out our things to do in Greenwich guide >
5. Southbank Winter Market
Southbank Winter Market runs from 28th October 2023 – 7th January 2024
The River Thames walk around South Bank is one of London's best free attractions and none more so at Christmas when the area is bedecked with Christmas lights and traditional Alpine wooden huts selling festive favourites like mulled wine, Christmas decorations and damn fine hot food.
The annual Southbank Winter Festival featuring the Christmas Market starts 28 October 2023 until 7th January 2024 – so no excuses for giving poor gifts on Xmas day.
A Christmas caveat – the Southbank Winter Market can be a little hit and miss, some years only comprising a small number of stalls nestled below Hungerford bridge, selling quite similar fare, dimly lit by some meagre fairy lights – hopefully it is better in 2023!
The normal weekly Southbank Food Market also continues at the rear of the Southbank Centre (near to Waterloo Station) every weekend; we'd rate it as one of the best weekend markets in London.
If you want to continue the Christmas theme, there are several restaurants and riverside pubs along the River Thames in this area with igloo / plastic dome dining, including Jimmy's Alpine lodge, Gauchos near London Bridge and Copa near the Tower of London.
---
YOU MIGHT LIKE: Christmas Party Tour – Silent Disco Walking Tours >
---
6. Kingston Christmas Market
Kingston Christmas Market runs from 16th November to 31st December 2023.
Kingston Christmas Market 2023 begins in mid December and runs until New Year's Eve. The annual Kingston Christmas market is always a festive delight, with alpine themed festive stalls festooned around the cobbled square, with a huge Christmas tree as a focal point.
In previous years and getting into the European Christmas spirit, a Bavarian curling slide was also installed, costing £10 per lane and located in the grounds of Kingston's All Saints Church.
Also, if you have a sense of deja vu when visiting the Kingston Christmas Market but you aren't sure why, it may be because the festive favourite Mr Bean's Christmas was filmed in the square here (the carol singing scene).
For information on the 2023 Kingston Christmas Markets near London, visit their website >
---
YOU MIGHT LIKE: The best Christmas lights in London 2023 >
---
7. Canopy Christmas Market at King's Cross
Canopy Christmas Market at King's Cross runs from 23rd November – 23rd December 2023
As suggested by the name, this King's Cross market is located under a large roof so is all weather, should you be looking to get your festive fix on a rainy day.
Unlike some of the other 2023 London Christmas Markets on this list, this isn't just food focused, with half the space given over to various arts and crafts stalls (the combined aromas from the candle, food and mulled wine stalls will likely be heavenly).
Each weekend at Canopy Christma Market sees a different theme and roster of stalls – details still TBC as of October 2023.
Combine Canopy Market at Christmas with a trip to nearby Coal Drops Yard, King's Cross newest retail development chock full of shops, bars and restaurants.
Check out our things to do in KIng's Cross guide >
---
YOU MIGHT LIKE: London Christmas Lights Tour by Vintage Bus Open Top >
---
8. Borough Market at Christmas
Borough Christmas Market 2023/24 dates to be announced
Make this a culinary Christmas with a visit to Borough Market. Although Borough Market can sometimes be a bit of a tourist trap with long queues for food, it is still one of the best, foodie favourites in London due to its setting and sheer range of amazing and beautifully looking food stalls.
You definitely want to visit Borough Market this Christmas season on an empty stomach so you can snack to your heart's content (calories don't count at Christmas – fact!).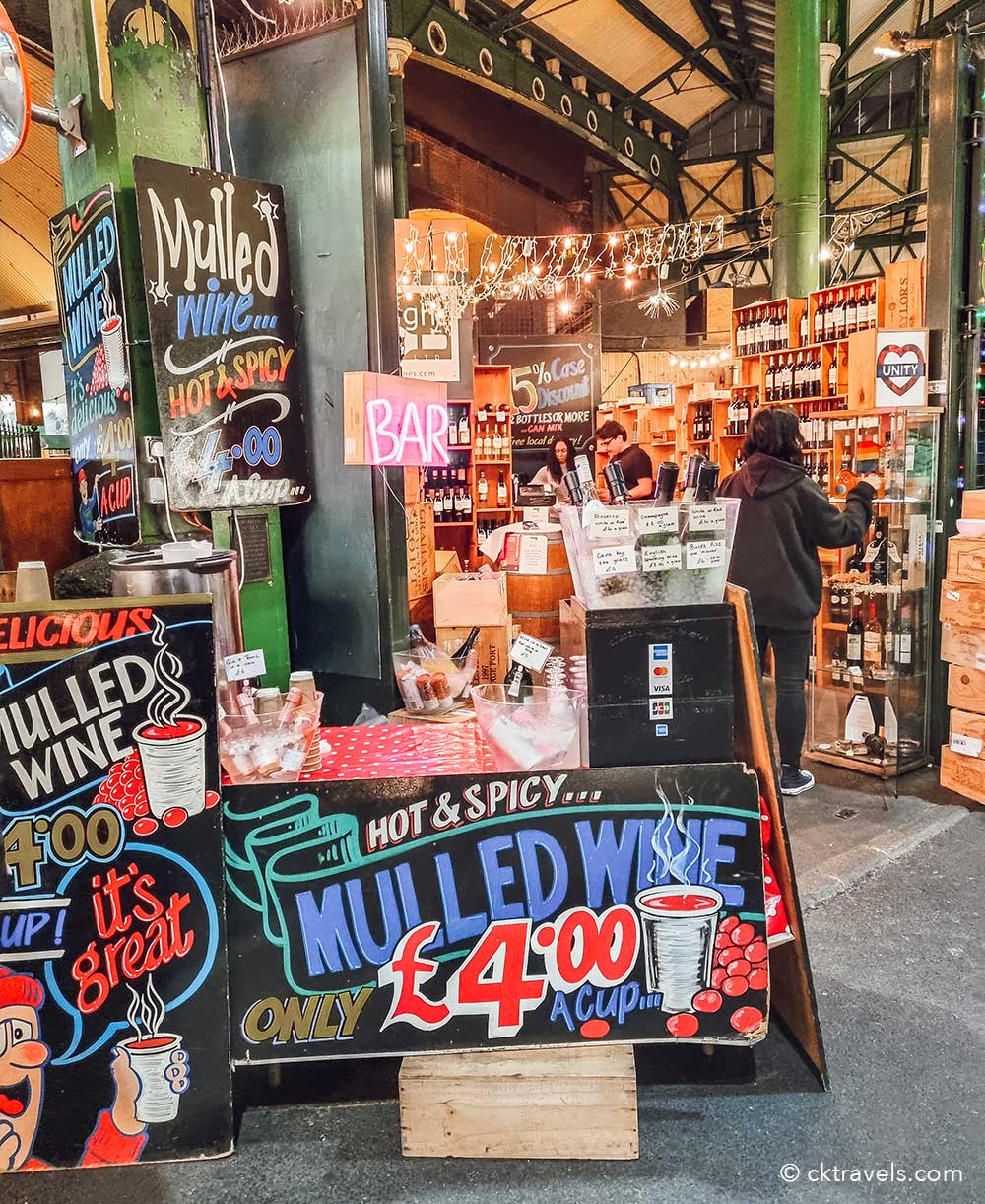 From 28th November 2023, Borough Market will be extending its opening hours for the festive season and is open 7 days a week from December 1st until Christmas Eve 2023.
There is even a special 'evening of cheese' Christmas event at Borough Market on 13th December from 6 – 9pm.
Enjoy Christmas Cheese tastings and create a festive cheese board with festive drinks also available (we hope it is a wine and cheese combo!).
If you are planning on putting together your own Christmas hamper this year, this is likely the best place to start as there are bakeries, pate stalls, cheese stalls, champagne stalls – the list goes on.
Plus there are some fine Borough Market pubs to enjoy after all that Christmas shopping Indulge this Christmas 2023 at Borough Market – the diet can start in January 2024!
Read our dedicated guide to Borough Market here (it'll make you hungry, we promise!) >
---
---
9. Covent Garden Christmas Market
Covent Garden Christmas Market runs from 1 November 2023 to January 2024
Hands up if you've seen the Wham-tastic movie 'Last Christmas' with Emilia Clarke? Yep, we might not admit it either as it was pretty bad but hey, it gives you a glimpse of what to expect from Christmas in Covent Garden and Soho (to note the Christmas shop in the movie is actually fictional alas and is actually a restaurant in real life).
Covent Garden has a year round market but at Christmas, they put out all the stops and adorn the interior market with huge mistletoe decorations and giant disco balls – could you imagine what a work Christmas party here would be like? Scandal central…).
Apart from possibly the one in Trafalgar Square, Covent Garden's Christmas Tree is also the most iconic, given its picture perfect setting on the piazza (ideal for Instagram if that is your bag).
Returning in 2023 will be the small Covent Garden Christmas Village Market (in front of Sushi Samba) with festive themed pop-up food stalls and the magical Wonder Wood, a perfect seasonal selfie spot.
One of the best free things to do in London at Christmas is to visit the historic Covent Garden Christmas sleigh, that dates back to the 1880s – you can pose for photos in the sleigh (although Santa will alas not be around).
Festive Thursdays return to Covent Garden throughout November and December for late night shopping, Christmas discounts, festive happy hours and live performances.
Find out about all the London Christmas events in Covent Garden here >
YOU MIGHT LIKE: Best things to do in Covent Garden guide >
---
Looking for a perfect London Christmas present in 2023?
Try the Go City Pass London – choose from over 70 London attractions for one fixed price >
---
10. Trafalgar Square Christmas Market
Trafalgar Square Christmas Market 2023/24 dates still to be announced
Trafalgar Square this year not only has the huge Christmas tree (an annual gift from the good people of Norway to thank for our help in the war) but for the first time, there is also a Christmas Market in Trafalgar Square in 2023.
What we do so far is the Trafalgar Square Christmas tree will be switched on December 7, 2023 – the Trafalgar Square Christmas tree is always switched on during the first Thursday of December by Norwegian dignitaries and The Mayor of Westminster.
Immediately in front of the National Gallery on the upper tier of Trafalgar Square, there is a line of around 25 to 30 Christmas market stalls and festive huts, with an outdoor drinking and seating area centrepiece, looking out over the main square.
From the organisers of Underbelly, this is a welcome addition to Trafalgar Square and a nicely Noel place to get some Christmas crafty gifts or indulges in festive fare and drink mulled wine – just try not to go for a swim in the fountains afterwards.
---
You might like – The best Christmas shopping in London 2023 guide >
---
11. Maltby Street Christmas Market
Maltby Street Christmas Market 2023/24 dates still to be announced
"Have yourself a Maltby little Christmas" as the famous song (kinda) goes. Maltby Street Market has a wonderful year round street food market but usually at Christmas, Maltby Street places host to an extra market most Fridays in December in the run up to Christmas.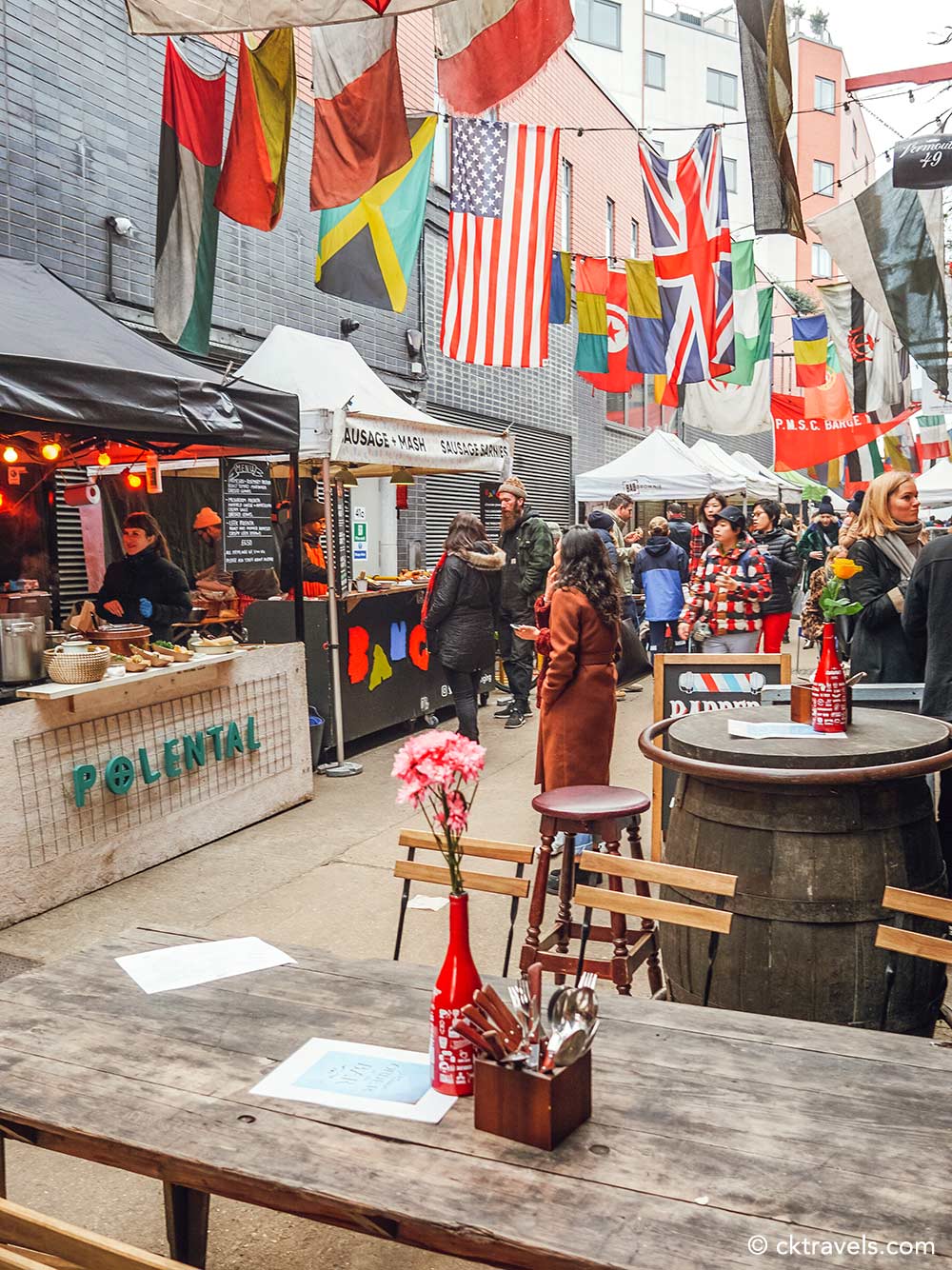 Maltby Street Christmas Market 2023 promises live music and carols, incredible street food, decoration and gift ideas galore plus the usual trees and wreaths.
The Maltby Street Christmas market takes place along the Ropewalk alleyway that will be festooned with Christmas lights.
We also rate Maltby Street Market one of our best street markets and food courts in London >
Thanks for checking out our blog!
We are currently digital nomading / travelling for the next few months around London and Asia (Thailand, Malaysia and Taiwan). Check out our travel diaries on Instagram @.c.k.travels, Tik Tok @cktravels and on Facebook.
12. Spitalfields Christmas Market
Spitalfields Christmas Market runs from November 2023
East London's epic Christmas Market located close to Liverpool Street Station, Spitalfields fun and festive Christmas market returns this November.
Promising late night shopping, pop up events and Christmas Theatre shows, this will one be of the best things to do in East London this winter time.
Billed as "East London's jolliest Christmas market", take a stroll by Spitalfields for street-food, Santa, London Christmas shopping and more!
---
Try this – A Christmas Carol & Charles Dickens Small Group Walking Tour >
---
13. Pexmas: A Christmas Market in Peckham
Pexmas Christmas Market dates still to be announced
Pexmas 2023 is hopefully coming, likely landing in Peckham this Christmas at Copeland Park. There is loads to do in Peckham all year round; read our things to do in Peckham guide here.
Promising over 100 stalls and independent traders over both days with a street-food line up still TBA – Pexmas promises independent boutique stalls with small batch gifting products including prints ceramics, textiles and jewellery.
Pexmas is billed as "…Peckham's home grown free entry festive market; an annual celebration of local business, creativity and community spirit" – plus the legendary Pexmas mulled wine will be on hand to get you into the Christmas spirit.
---
Our final Christmas Market in London 2023/24…
14. Christmas Market on the Mews, Selfridges Christmas Market
Christmas Market on the Mews 2023/24 dates still to be announced
We don't wish to be a Christmas Grinch but the Selfridges London Christmas Market on the Mews really is not worth a visit. Whilst we are usually fans of Selfridges (especially their food court), this Christmas market is anything but a seasonal soiree or festive fun place.
We've been in previous years and it was nicely themed with a Christmas decorated indoor section but this year, it is essentially a few food trucks on a concrete side street with a few make-up stalls and an overly commercial Christmas tree – bah humbug.
We visited Edwards Mews (just behind the main Oxford Street Selfridges store) one Sunday afternoon in November and having been told booking in advance was essential, we rocked up to find hardly anyone there (no tickets were being asked for) and alas, the security and staff outnumbered the Christmas shoppers.
As festive as a concrete carbuncle save for the helter-skelter (£5 for two slides – Santa would not approve), this is one London Christmas market best avoided. Instead, stick to browsing inside Selfridges and enjoy the Veuve Clicquot champagne tram, the indulgent cheese stall or fancy, fine foods.
Selfridges, you can do much better than this excuse of a London Christmas market (which runs until Christmas Eve, if you are a glutton for punishment).
Book your complimentary ticket to Selfridges Christmas market >
---
Other Christmas in London posts you might like
Other London posts you might like
---
Did you enjoy our best Christmas markets in London 2023 blog post? Let us know in the comments or by sharing it on social media.
You can follow CK Travels on:
Instagram
Facebook
TikTok
YouTube
Pinterest