This post may contain affiliate links to tours and hotels. These help us earn a small commission at no additional charge to you.
One of London's busiest train stations, Liverpool Street Station and its surrounding area have undergone a serious transformation in recent years, with some big infrastructure investments and several new corporate HQs setting up shop around the station.
With so many things to do near Liverpool Street Station including late night haunts, historic places and boutique bars, Liverpool Street in London is a destination in its own right and easily accessible from all over London and the Home Counties.
We also particularly enjoy exploring Liverpool Street at the weekends as apart from the bars around Liverpool Street Station, much of the city, particularly the Square Mile is quite quiet, as offices are closed and the tourists concentrate on central London.
Whether you are waiting for a connecting train or starting a day out in London from the station, here is our guide to all the things to do around Liverpool Street Station in London as 2023:
Things to do near Liverpool Street Station
1. Old Spitalfields Market
Likely the most popular spot on this 'things to do near Liverpool Street station' guide, Spitalfields Market is one of London's oldest and finest public markets, which originally begun over 350 years ago.
Full of fine food and drink options (lots of street food stalls) plus huge weekend markets, Spitalfields market is also undercover so is a great option no matter what the weather.
Read our dedicated guide to all that Old Spitalfields Market has to offer and our best London street food markets guide.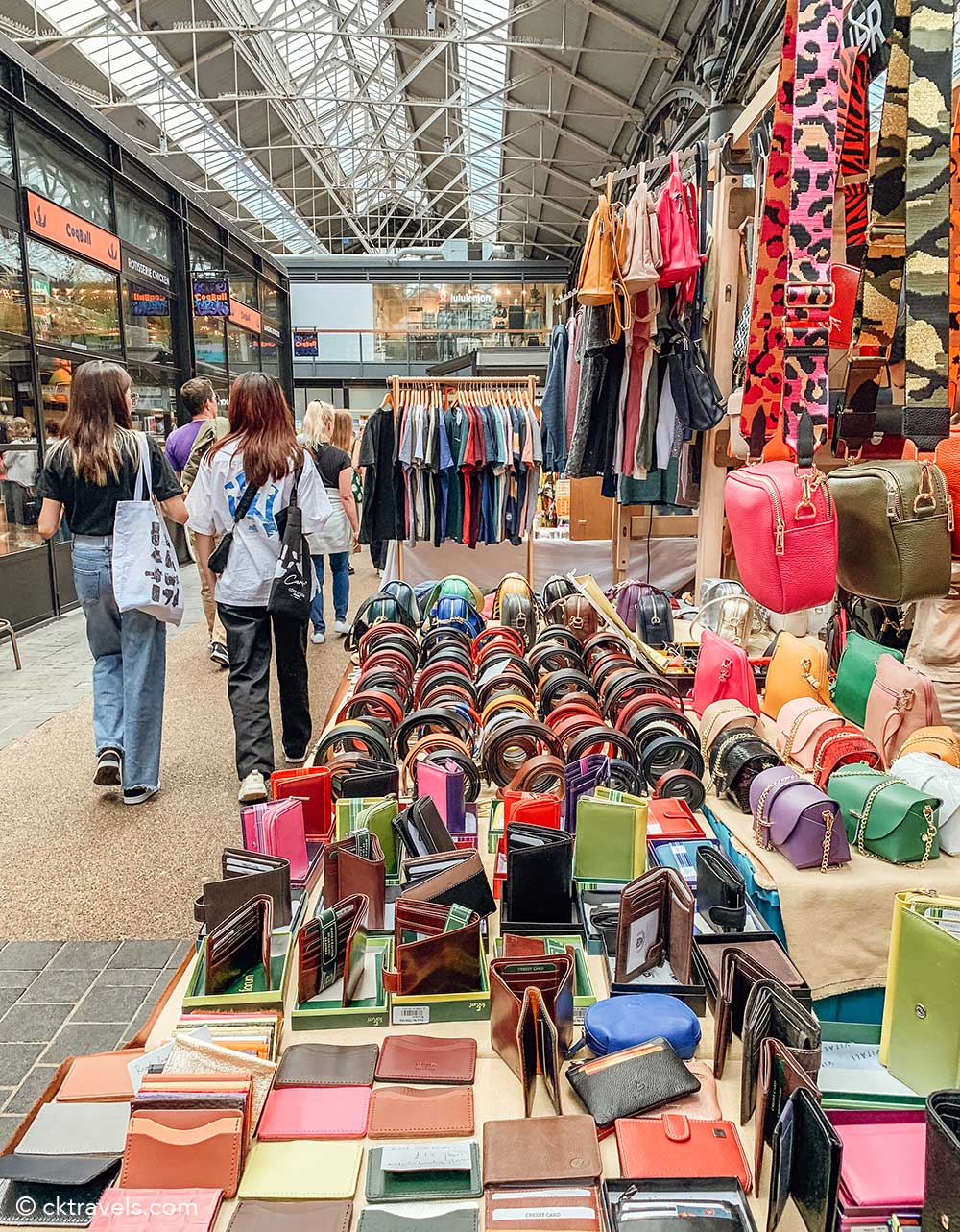 ---
2. Brick Lane
Take a ten minute walk from Liverpool Street Station to London's famous Brick Lane, an eclectic East London neighbourhood that is known for its flea markets, vintage clothes shops, street art, Indian restaurants and it's world famous boiled bagels.
Two bagels stores here are incredibly famous and popular: Beigel Bake and Brick Lane Bagel Shop – both open 24 hours but expect huge queues during the day.
If your visit to Brick Lane and Liverpool Street Station happens to be on a Sunday, we'd also recommend combining it with Columbia Road Flower Market, a 20 minute walk away from the main station concourse– read our full blog about Columbia Road >
YOU MIGHT LIKE: Indian Secret Food Tour of London's East End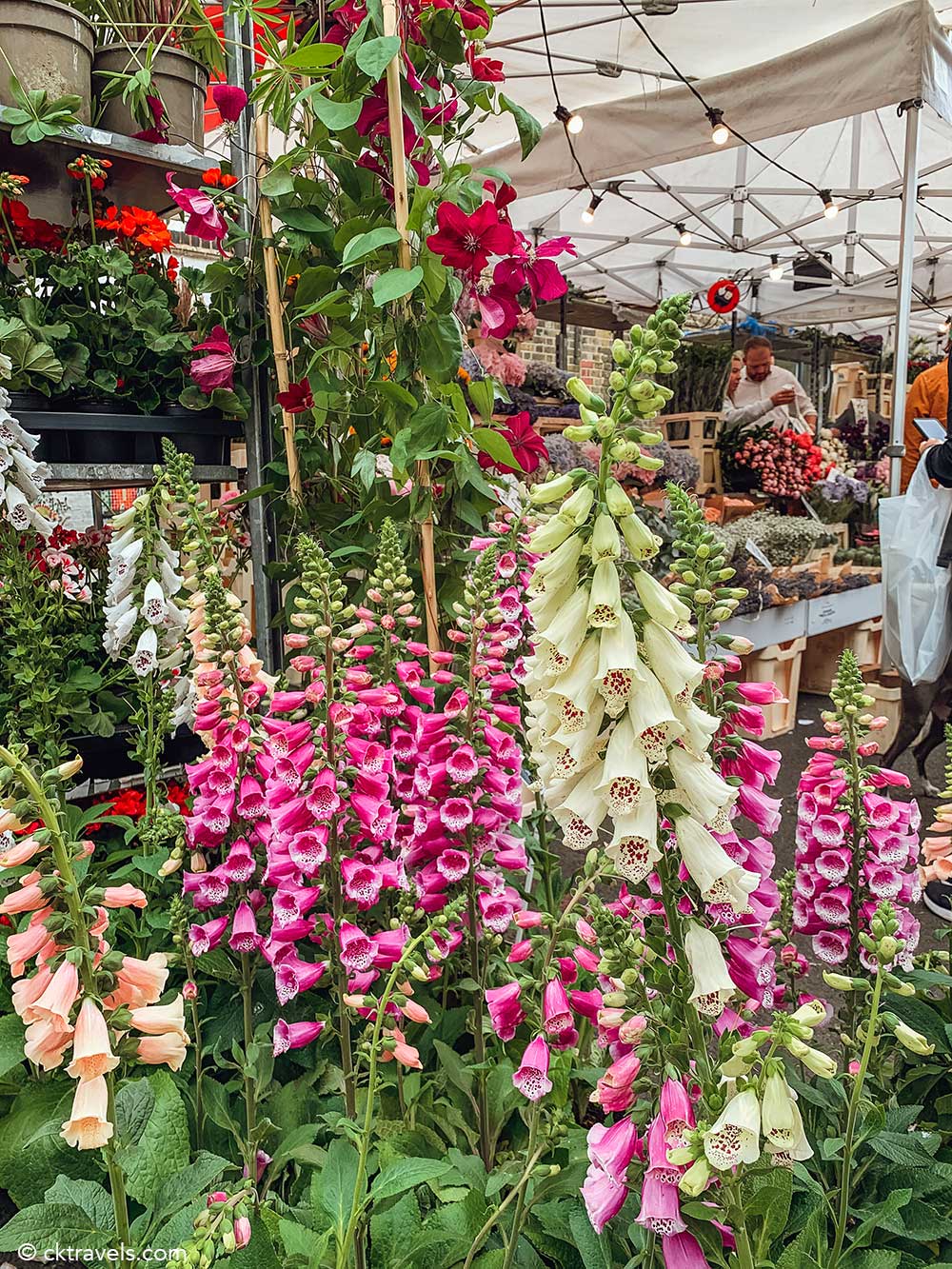 ---
YOU MIGHT LIKE: Things to do in Bethnal Green, London
---
3. Hijingo Bingo
If we had to describe Hijingo in two words, it would have to be 'beautifully bonkers'. Hijingo in essence is Japanese inspired bingo, a neon nirvana of bright lights and an attack on the senses. Jeez, Hijingo is just unadulterated fun, like Gala bingo on acid.
As previous visitors to Tokyo, we really enjoyed the Hijingo experience and whilst it isn't quite up there with Robot Restaurant (to be fair, what is?!), this is one of the best nights out in London we've had recently.
With prices starting at £16pp for two games, this is futuristic fun. Popular with work crowds, you enter a modern bingo hall adorned with state-of-the-art video screens, neon lights and a huge stage.
Each session consists of three games and prizes up for grabs on our night including a retro games console, mini drone plus the chance to win £250 cash or a European city break; swish!
There is a virtual bingo caller to boot plus two dancers who ably assist and bring winners onto stage – just don't miscall as if your numbers are wrong, you'll do the walk of shame and be the centre of attention (this happened several times during our visit).
Drinks at Hijingo can be ordered via the app or with one of the roaming servers – try the cocktails served in a Maneki-neko waving cat cocktail mug; cute as! Bao buns, burgers and other fare can also be purchased at Hijingo during your bingo session.
---
YOU MIGHT LIKE: The best Immersive Experiences in London >
---
4. Queen of Hoxton Rooftop
One of our favourite bars and also the best rooftop bar near Liverpool Street Station, the Queen of Hoxton venue has been around for years and is a local institution, with bars over several floors.
We like to visit the Queen of Hoxton rooftop at sunset or in the night-time hours to get a glimpse of the high rise skyscrapers all around Liverpool Street and Bishopsgate.
Over the years, the Queen of Hoxton Rooftop has hosted various events like outdoor cinemas and live music. They also often theme the outdoor space according to the season (we visited in spring so were treated to a cherry blossom with our craft beers).
The rooftop also has an outdoor bar plus the lower levels play host to various club nights and dance events.
---
5. Explore Shoreditch
The gateway between the Square Mile and central London, Shoreditch is East London's edgier, hipster hangout and a little removed from the suits you'd usually see around Liverpool Street Station.
A creative and regenerative backdrop bursting with bars, clubs and restaurants, here is our guide to the grungy and gentrified go to places in Shoreditch >
YOU MIGHT LIKE:
---
6. Shoreditch BOXPARK
The first London's shipping container retail park, BOXPARK Shoreditch was also supposedly the very first in the world that kickstarted the entire container mall trend – go Shoreditch!
BOXPARK Shoreditch has lots of small retail stores and a wide selection of bars, food kiosks and outdoor seating areas on the upper levels. There are regular events here like live DJs or music performances.
BOXPARK Shoreditch is a 10 minute walk away from Liverpool Street Station.
Since BOXPARK Shoreditch launched, its success has gone from strength to strength and BOXPARK now has also has two more London outlets. BOXPARK Croydon and BOXPARK Wembley (you can take the Metropolitan Line to BOXPARK Wembley from Liverpool Street station).
Read about them in our best London street food markets and food halls guide >
---
7. Finsbury Circus
Not to be confused with Finsbury Park (a whole other area of London), Finsbury Circus is a historic park (grade II listed) located just a stone's throw away from the rear entrance of Liverpool Street station.
Regal and stately, Finsbury Circus is the largest open park in the city boundaries and its beautiful setting often sees it used as filming location for TV ads and series.
The present garden at Finsbury Circus dates back from the 1810s although there has been a public space here since the 17th century. A perfect place to pitch a picnic in the heart of London, this is one of the more tranquil things to do near Liverpool Street Station.
---
8. Broadgate Circle – best place near Liverpool Street station to get a drink
If you fancy something to eat or drink very VERY close to Liverpool Street station but don't fancy staying indoors, there is a large cluster of bars and restaurants to the rear of the station.
Broadgate Circle is around a 1 min walk away from the main Liverpool Street Station platforms and concourse (so good for waiting for a train or if the service is delayed).
Popular with the workers and city crowd, this is billed as the largest pedestrianised area in London (hmmm). It is also the best place at Liverpool Street Station to catch some rays in the summer and sip on some champagne or beer and grab a quick bite / enjoy a sit down meal.
Restaurants include Franco Manca (pizza), Bar Douro (Portuguese), Comptoir Libanais (Lebanese) and Hop (Vietnamese).
---
9. Eat/drink at Heron Tower – Sushi Samba or Duck and Waffle
Head up on high to Heron Tower / Bishopsgate, a huge skyscraper full of offices with two of London's top restaurants on the higher floors.
Duck and Waffle can be found on the 40th floor of Heron Tower, with panoramic views of the city and an emphasis on good old British food fare and some European epicurean delights.
Just below Duck and Waffle, straddling floors 38 and 39 respectively, Sushi Samba offers the best of Japanese, Peruvian and Brazilian dishes – it also has a rooftop bar / beer garden.
Both are incredibly popular so book in advance (Duck and Waffle have now also resumed 24 hour service).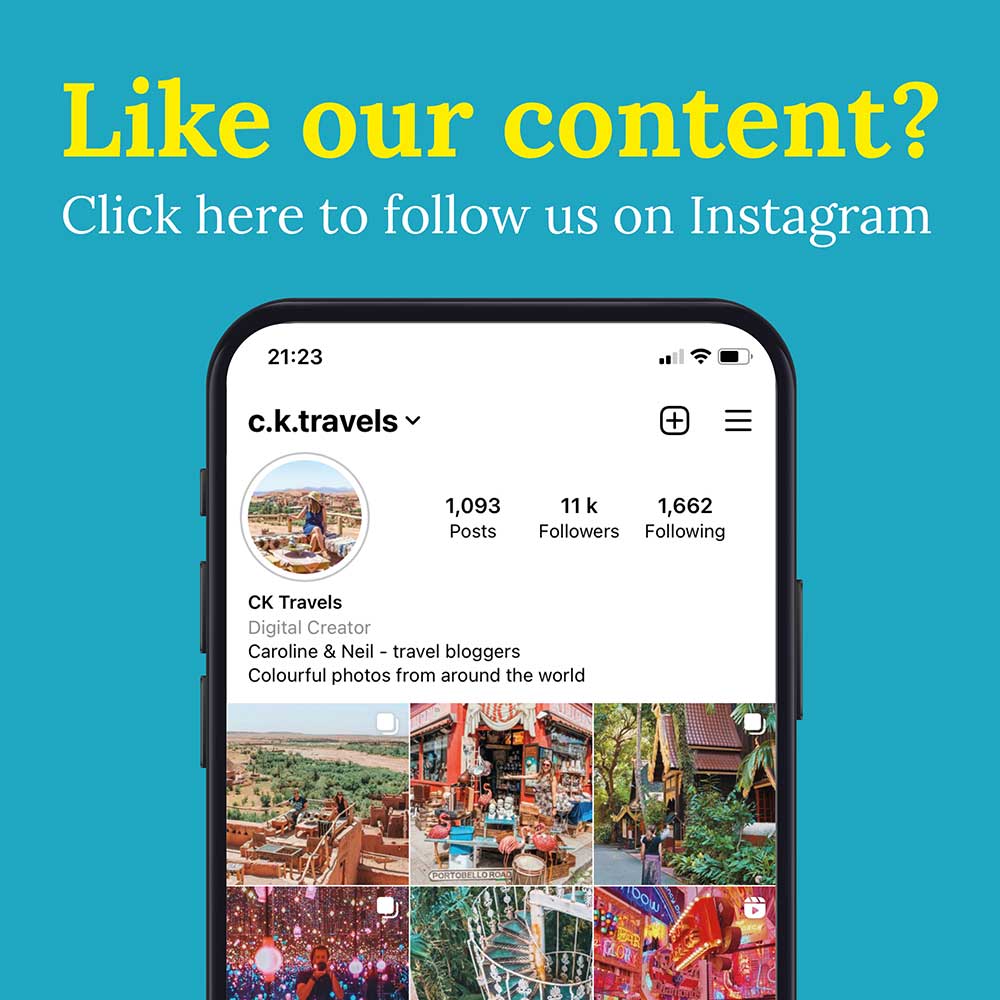 ---
10. Sky Garden
If you're planning your trip into the capital via Liverpool Street Station, we'd highly recommend booking free tickets to visit the Sky Garden, on the 35th floor of the Walkie Talkie building.
Whilst most of the building is used for commercial purposes, part of the reason planning permission was granted by the authorities was that they had to include a public space that all visitors could access – thus the Sky Garden was born (or should that be bloomed)?
One of the capital's newest attractions and the city's highest public garden, it is a nice spot for both strolling around the gardens, and eating and drinking at one of their several rooftop bars and restaurants.
Tickets go super quickly so make sure you plan well – free tickets usually get released 3 weeks in advance.
Find out more about the Sky Garden here including how to book your free tickets >
---
11. Leadenhall Market
Leadenhall Market, originally constructed in the 14th century is one of London's most beautiful and historic market places – the interiors are stunning and intricately painted(just look up at the roof – incredible!).
Walk along the covered, cobbled streets and lanes in Leadenhall Market, browse the stalls, evade the hardcore Harry Potter fans (joke!) or simply grab a beer or wine at one of the old pubs here and wonder in awe at the architecture, imagining all that has happened here over the last several hundred years.
Read our dedicated Leadenhall Market blog here >
YOU MIGHT LIKE:
London Travel Planning Facebook Group by CK Travels
Need help with your London travel itinerary or have any questions about your upcoming trip? Join our brand new online community! Click here to join our London Travel Planning and Tips Facebook group
12. Shoreditch Street Art
The Shoreditch street art scene is like no other in London and we'd rate it as one of the BEST free things to do in London. Most of the best street art in Shoreditch can be seen within a 10 minute walk of Liverpool Street Station.
Showcasing internationally renowned street artists as well as local painters, Shoreditch's streets are awash with an awesome array of artwork in practically every type of space you can imagine, from the picturesque to the political.
The best Shoreditch street art areas are King John Court, New Inn Yard, Holywell Lane and Ebor Street.
Read our dedicated Shoreditch Street art guide here >
YOU MIGHT LIKE: Shoreditch Street Art Tour London or Street Art Walking Tour with Spray Painting Session
---
13. Eataly Italian Food Hall
Liverpool Street's newest food hall as at 2023 and located immediately next to Liverpool Street station Bishopsgate entrance, Eataly (nice name) is an Italian market hall with several shops, bars and food outlets.
Designed with Instagram in mind (probably – check out the neon archway), Eataly Italian food hall has fast become one of Liverpool Streets go to gourmet hotspots.
When it first opened, the queues went around the block although they have now died down (likely since everyone has seen the price of a slice of pizza – definitely not a cheap eat).
---
14. Gherkin / St Mary Axe
A five minute amble from Liverpool Street Station brings you to the iconic St Mary Axe building, commonly and affectionately referred to by locals as the Gherkin due to its unique exterior (to be fair, there are much worse nicknames it could have had).
Primarily used as a commercial premises, the jewel in the crown at St Mary Axe for members of the public is the Helix restaurant on the top floor, run by Searcys (they of champagne bar fame so you know you'll be in for a good time).
Check out our Sunday Brunch at the Gherkin >
---
15. The Barbican Estate
Beautifully brutalist or a concrete carbuncle? Who knows but there is no doubt that a walk around Barbican Estate is a slightly dystopian but delightful experience.
Now home to over 2,000 residents (so be respectful when exploring the Barbican), this was designed as an experiment in inner city living after WWII. It now wouldn't feel out of place in a sci-fi movie and is grade II listed.
The Barbican estate is also home to the Barbican Centre, a theatre, cinema and performing arts space. Try to visit from Liverpool Street when the Barbican Conservatory is open – the second biggest conservatory in London.
The gardens are very Amazon like (the rainforest, not the website!) and admissionis free.
---
16. St. Dunstan in the East Church Garden and Ruin
A little slice of solitude and a world away from the usual hustle and hubris of Liverpool Street, the church of St. Dunstan in the East church garden, offers a bit of tranquility in the city, and a respite from the capital's hubris.
Just over a 10 minute walk from Liverpool Street station, here is our dedicated guide to St Dunstan in the East >
YOU MIGHT LIKE:
---
17. Seek out London's Square Mile
The historic heart of London has so much to see and do, and is just a short walk from Liverpool Street Station (and usually very quiet at the weekends with offices closed and workers away).
From the little known free rooftop view of St Paul's Cathedral to the finest old inns and pubs (sit where Dickens or Twain once enjoyed a flagon of ale), read our guide here– we've tried to go the extra (Square) mile for you >
YOU MIGHT LIKE:
---
18. Hamilton Hall – one of the prettiest Wetherspoons in London
Possibly the closest, interior pub actually located within Liverpool Street station (well, until the new Fullers pub opens), the Hamilton Hall is one of the best looking Wetherspoons pubs in the city (look up at that ornate ceiling – it must have caused a national shortage in gold-leaf!).
People from overseas may have not have heard about the Wetherspoons chain, but whilst they can be hit and miss depending on where you go (e.g. the one in Windsor has castle views), they are undoubtedly cheap compared to other London pubs e.g pints start from as little as £1.99 but the Liverpool Street Wetherspoons usually is a bit more expensive – premium pricing.
Like all Wetherspoons, it has long opening hours (open from first thing to late night) so it is a good opportunity to try a traditional England breakfast (fry-up) or other traditional English dishes.
---
19. Ride the Elizabeth line from Liverpool Street; London's newest railway
If you are a bit of a transport geek or love London's railway lines, you can now easily hop on London's newest railway line from LIverpool Street – check out those plush new purple seats and brand new train carriages.
The Elizabeth line stretches more than 6 miles from Reading and Heathrow in West London through central London to Abbey Wood in the east, via 41 new and upgraded travel stations.
It is also one of the cheapest ways to reach central London from Heathrow Airport if you are travelling to London from overseas.
---
20. Hoxton Square
Escape the skyscrapers and tower blocks around Liverpool Street Station with a 15 minute hike to Hoxton Square, a hip and verdant hang out with several bars and restaurants dotted around a small park.
Recommended bars around Hoxton Square include Nikki's Bar Shoreditch (the queen of cocktails), Happiness Forgets and Ever After (small plates and fine wine).
Hoxton Square one of the oldest squares in London and dates all the way back to the 1680s – so how about a little history with your highball?
---
21. The Old Truman Brewery
The Old Truman Brewery was once home to London's largest brewery, but nowadays the building and surrounding areas just off Brick Lane are home to a hive of creative businesses.
You'll find arty independent shops, galleries, markets, bars and restaurants, plus Sunday UPMARKET – which has more than 140 creative traders selling everything from fashion, accessories, art, interiors, music and loads of Asian/south American street food traders.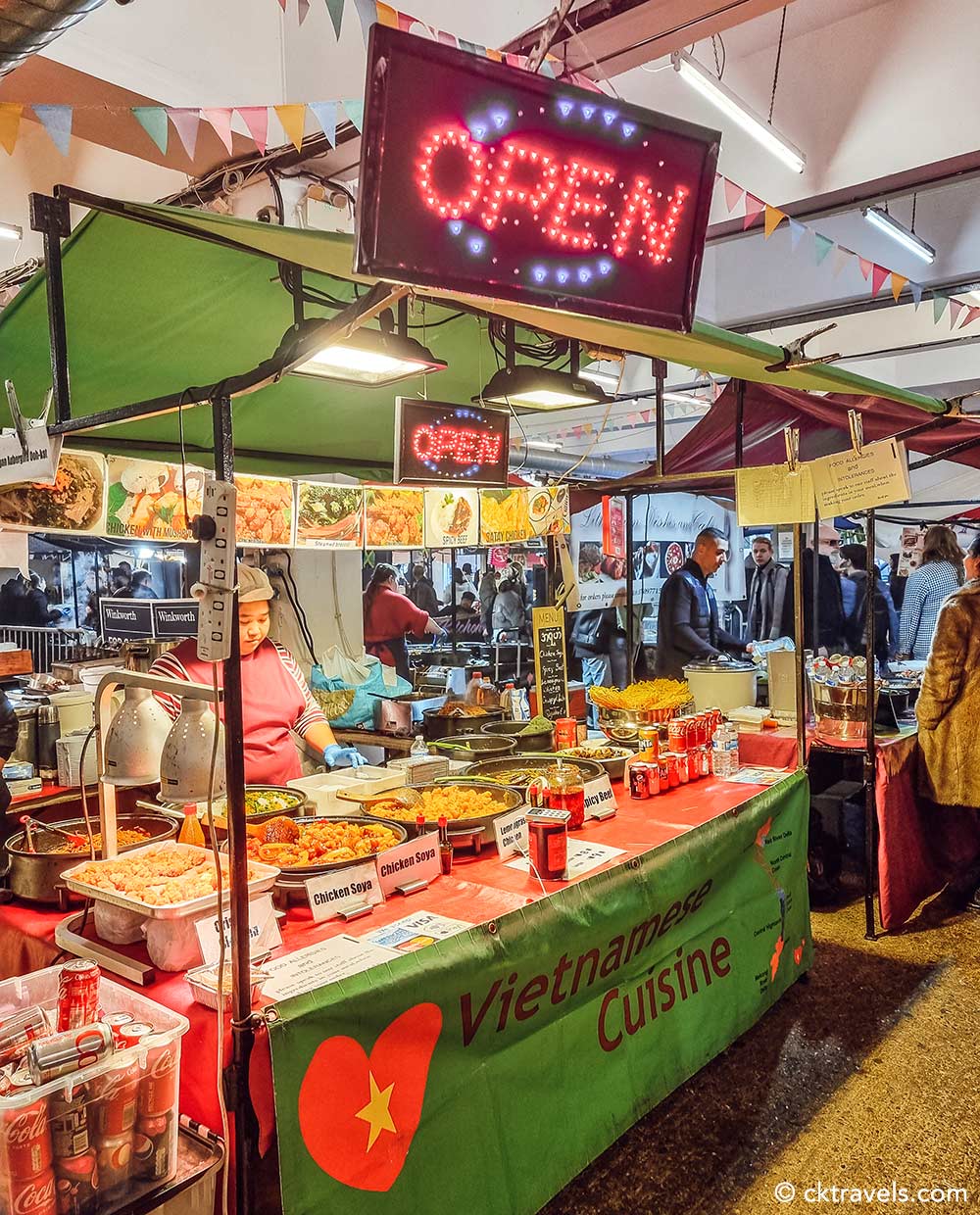 Just outside the Old Truman Brewery is Ely's Yard which is also great for street food. We recommend the Nepalese Momos from Tibet Kitchen, the dumplings are amazing! There is also Juju's Bar and Stage for innovative cocktails and live music.
The Truman Brewery also hosts regular pop-up events such as beer festivals, fashions shows and vintage clothing sales.
---
22. LaLaLand (formerly Shoreditch Dinerama)
Shoreditch and the Liverpool Street Station are never in short supply of street-food but after the demise of Dinerama food hall, LaLaLand popped up in its place.
With around 10 street food stalls and a couple of bars plus a waterfall (yep, a waterfall – how Shoreditch), LaLaLand is an so-so spot for some street food eats and craft beer; it is a 10 minute walk from Liverpool Street Station.
---
23. Bank of England / Threadneedle Street
The Bank of England is over 300 years old and acts as the UK's central bank (for the Government) and can be found on Threadneedle Street, around a 10 minute walk from Liverpool Street Station.
Whilst you are unable to visit the bank itself, the building is also home to the Bank of England Museum, which is free admission. It is more aimed towards children but you can see and hold a gold bar, which is kinda neat (albeit heavy).
---
24. Rough Trade East
The Rough Trade indie music label has its own awesome independent record store – Rough Trade East, near Truman Brewery in Brick Lane. Liverpool Street Station to Rough Trade East is a 10 minute walk.
Rough Trade East regularly have bands (established and up and coming) doing signings plus occasionally host free gigs.
Stop by Rough Trade East and check out their huge range of records, books and other merchandise or grab a coffee from their cafe.
---
25. Elder Street
A stone's throw away from the shiny and sleek buildings dotted around Liverpool Street Station and Shoreditch, Elder Street is one of London's finest preserved Georgian streets.
We've walked along Elder Street on multiple occasions and can't believe such a historic street still exists in this way near to Shoreditch, especially in an area so full of new buildings.
The houses along Elder Street are all listed which means they won't get swallowed up by all the development that is transforming Shoreditch. It almost felt like a historical theme park and the icing on the cake was the couple of old classic cars that were parked on the street.
---
26. Arnold Circus and Boundary Gardens/ Rochelle Canteen
From Finsbury Circus to Arnold Circus – take a 15 minute walk from Liverpool Street Station to nearby Boundary Gardens in Arnold Circus and dine at Rochelle Canteen, a cafe / restaurant housed in an old bike shed.
This restaurant gets rave reviews for its food and outdoor dining area, and has been visited by both Anthony Bourdain and Phil Rosenthal as part of their televised London eating escapades.
Also just off Boundary Gardens in Shoreditch is Calvert Avenue, which is lined with cute boutique shops.
---
Our final thing to do near Liverpool Street Station…
27. Monument to the Great Fire of London
Our final 'thing to do near Liverpool Street Station, The Monument to the Great Fire of London (which started in nearby Pudding Lane) was finished in 1677 to commemorate the rebuilding of the city.
Designed by Sir Christopher Wren, visitors can still climb the 311 steps to the top to see views of London and the Thames.
The Monument to the Great Fire of London admission is £5.80 per adult as at 2023 and a 10 minute walk from LIverpool Street Station.
---
Other London blog posts you might like
---
Did you enjoy our things to do near Liverpool Street station blog post? Let us know in the comments or by sharing it on social media. You can follow CK Travels on Instagram, TikTok and YouTube!