This post may contain affiliate links to tours and hotels. These help us earn a small commission at no additional charge to you.
This is what the weekends were made for (apart from lie-ins, obviously). Browsing market stalls and scoffing street food at leisure are what makes a Saturday in London so special. There are many different types of Saturday markets in London to suit all tastes, from art aficionados to culture vultures and street food junkies (the latter would suitably describe us!).
We've scoped out the best Saturday markets that London has to offer – some of these are also quite close to each other so several can be attempted in one day. You're welcome…
Best Saturday markets in London map
Best Saturday markets in London
1. Borough Market, London Bridge
You can't beat a bit of Borough Market. It might be one of the more famous (predictable even) choices on this Saturday market list but is it worthy of its accolades (as long as you don't mind rubbing shoulders with lots of tourists and queuing a little).
Indeed, half the fun is the hustle and bustle and ducking and diving among the market's stalls and laneways before deciding where to splash the cash. We'd recommend you walk around first to get the lay of the land before making your choices.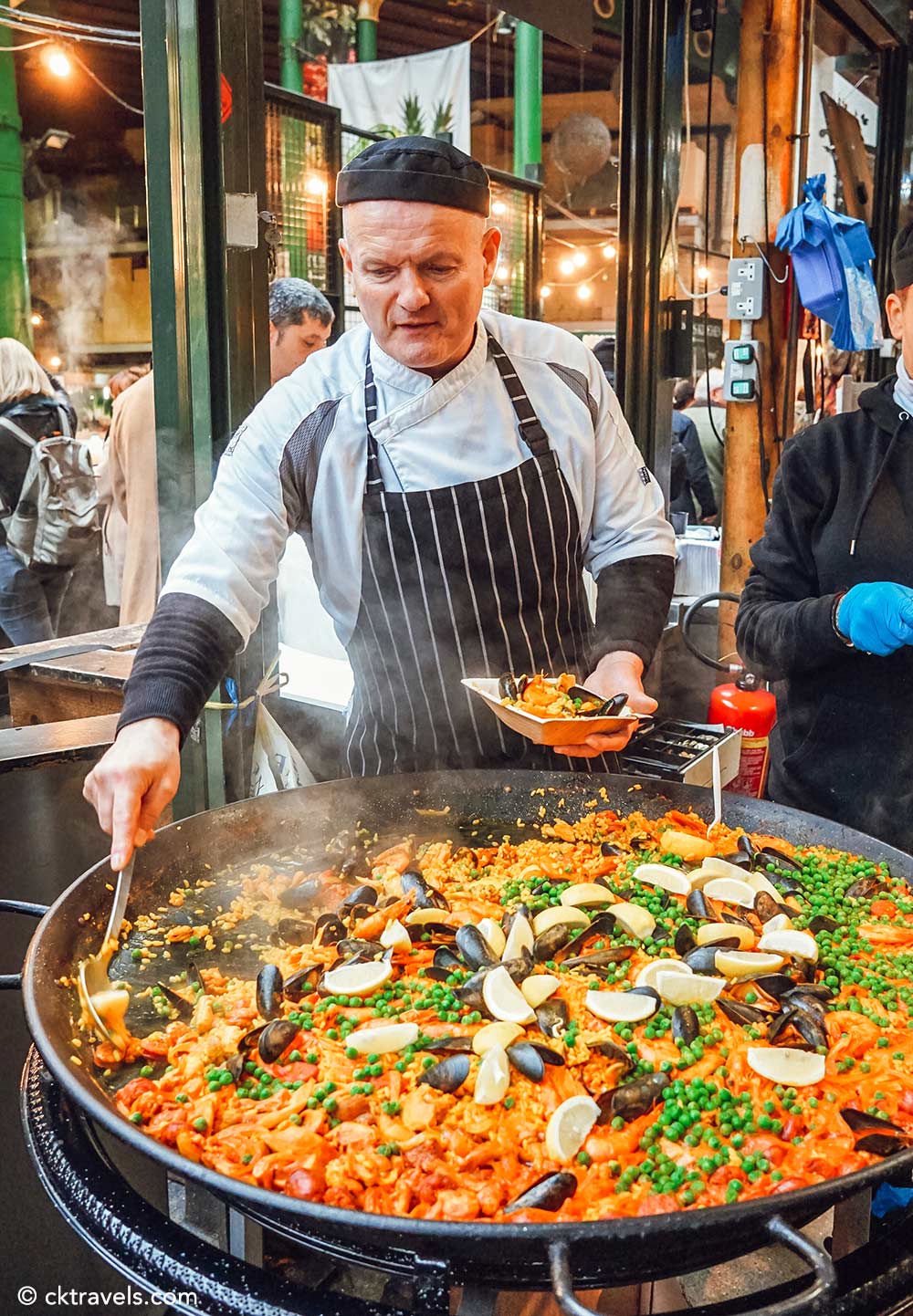 If you are on a budget you can also do Borough Market cheaply – some incredible bread and sweet treats can be bought for around the £1 mark (but you can also break the bank with oysters or incredible cheese if you so desire).
For more pictures and our full guide to Borough Market, read our dedicated Borough Market blog. Also check out our London Bridge area guide for when you've finished at Borough Market.
YOU MIGHT LIKE:
---
YOU MIGHT LIKE: things to do near London Bridge station
---
2. Maltby Street Market, Bermondsey
Food, glorious food! Possibly the most appetising market on our Saturday market summary, Maltby Street Market is a foodie fave of ours and we return here on numerous occasions.
The laneway setting is so unusual, tucked away amongst the railway arches and various industrial warehouses. It feels quite different to the usual Saturday market fare – the selection of stalls here is huge, with an international twist; from Taiwanese waffles to delicious french canales, your stomach will be satisfyingly sorted.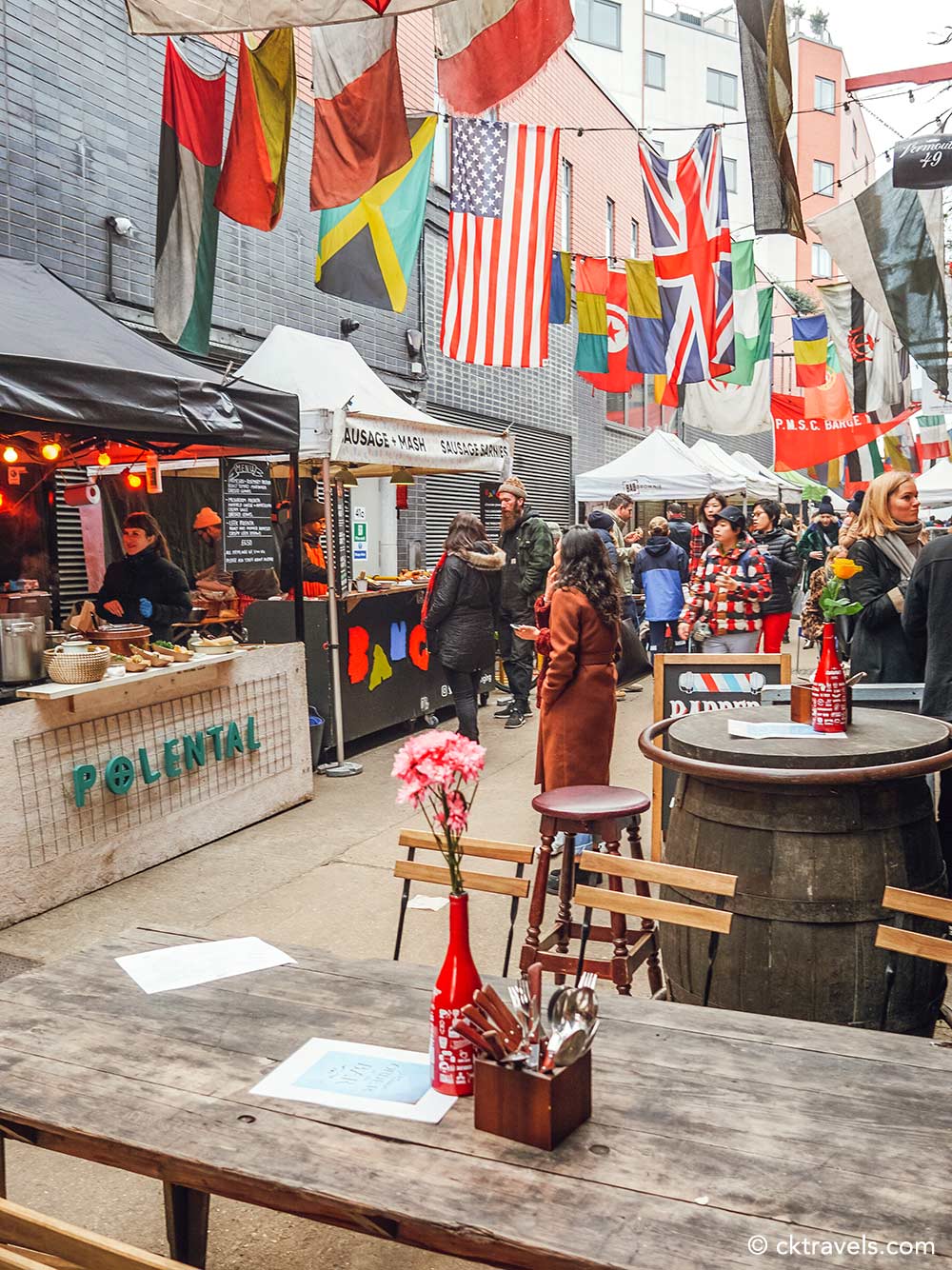 We'd also recommend a Maltby Street tasting and tipple session as it sits along the famous Bermondsey Beer Mile. One of the breweries themselves (Hiver) is literally next door to the market.
You can also visit Maltby Street during the week as several of the restaurants and wine bars are open, but the main street food market itself is only open Friday to Sundays. Read more in our Maltby Street market guide >
YOU MIGHT LIKE THESE NEARBY TOURS
---
3. Broadway Market, Hackney, East London
A traditional tidbit of food and craft stalls (sometimes described as a 'Victorian working street market'), Broadway Market comes alive on Saturdays with a huge line of market stalls lining the main high street.
During the week, Broadway Market is coffee culture central with lots of nice bars, cafes and deli style affairs to choose from.
However, head along on a Saturday morning and you'll be rewarded with an alfresco Aladdin's cave of foodie finds.
Once you've grabbed your gourmet grub from a stall, enjoy it in nearby London Fields, one of east London's most popular public parks. Craft beers can also be bought from the local boozer The Cat and Mutton or from the London Fields Pub in the Park.
---
4. Camden Market north London
Grungy Camden has gentrified and morphed over the years but it still tries hard to retain some of its colourful counterculture (although the apartments around here are still so stupidly expensive).
Whilst mainstream can mean mundane, Camden Markets retain their eclectic nature and are worthy of a walk on a Saturday, especially the retro and quirky fashions around the Stables area. Kerb Camden also offers a wide variety of street food kiosks overlooking the nearby canal and barges.
Across the whole Camden Market site, you'll discover heaps of stalls selling everything from vintage, goth and punk clothing (Hello, Cyberdog!) through to handmade crafts, bric a brac and beautifully bizarre trinkets.
Read more about Camden in our things to do in Camden post >
---
5. Portobello Road Market, Notting Hill, West London
As long as you aren't on the lookout for Hugh Grant or Julia Roberts, you won't be disappointed by Portobello's pop-up weekend markets (although you can still find the famous blue door).
From antiques to bric a brac and flea markets via some damn fine street food stalls, Notting Hill's shopping street comes alive at the weekends, as a circus of street-traders sell their wares down both sides of Portobello Road.
As it can become tourist central, we'd recommend getting here early on Saturday morning (especially during the summer) as otherwise, it can take a while to navigate Portobello Road (it is one long road which gets packed easily).
The food stalls here are also excellent with lots of international food like jerk chicken and afro carribbean flavours – especially towards the Ladbroke Grove end. Acklam Village street food market is a particular highlight.
Read more in our Notting Hill guide >
TOURS IN NOTTING HILL YOU MIGHT LIKE
---
Check out out best Sunday markets in London guide >
---
6. Old Spitalfields Market
One of London's oldest (350 years plus) and most enduring markets, Old Spitalfields Market in the shadow of Brick Lane and Liverpool Street station is a colourful, covered market full of independent arts and crafts stalls, street eats and a few restaurants and bars dotted around the internal perimeter.
Due to its canopy roof, Old Spitalfields Market is fine to visit even if it is raining and is open seven days a week, not just on Saturdays.
For us, as fans of London cheap eats, Old Spitalfields Market is all about the street food choices available here – we usually pass on by the permanent restaurants and head straight for the central food court kiosks.
Read more in our Old Spitalfields market blog here >
---
YOU MIGHT LIKE: things to do near Liverpool Street Station
---
7. Greenwich Market
Where heritage and haggling combine, Greenwich Market is one of the oldest and most historic markets in the whole of the UK. It opened its doors in the 18th century (around the 1730s to be precise) and moved to its current central Greenwich site a few years later.
Greenwich is a great gem of a Saturday market – in fact, this whole riverside area in south east London is awash with maritime history and majestic buildings.
The market is an equally nice diversion and pleasant shopping experience with lots of street food, arts, crafts and antiques stalls.
Stay for the day and do Greenwich in all its glory by following our guide to Greenwich >
---
8. Alfies Antique Market, Marylebone
What's it all about, Alfie? London's largest indoor antiques market and purveyor of all things retro and vintage can be located just off Lisson Grove, with over 60 different stalls and traders offering an awesome array of artefacts and Objet d'art.
Not your typical Saturday market, this is a fine selection of trinkets and it might be best if you fancy a casual browse or are looking to bling your residence with something that isn't Habitat or Ikea. It also has a cafe and rooftop terrace to soothe your aching limbs after all that shopping strolling.
---
9. Canopy Market, King's Cross
King's Cross in north London has become one of our regular haunts, due to its new restaurant additions, gregarious Granary Square plus the recent Coal Drops Yard development overlooking the Regent's Canal.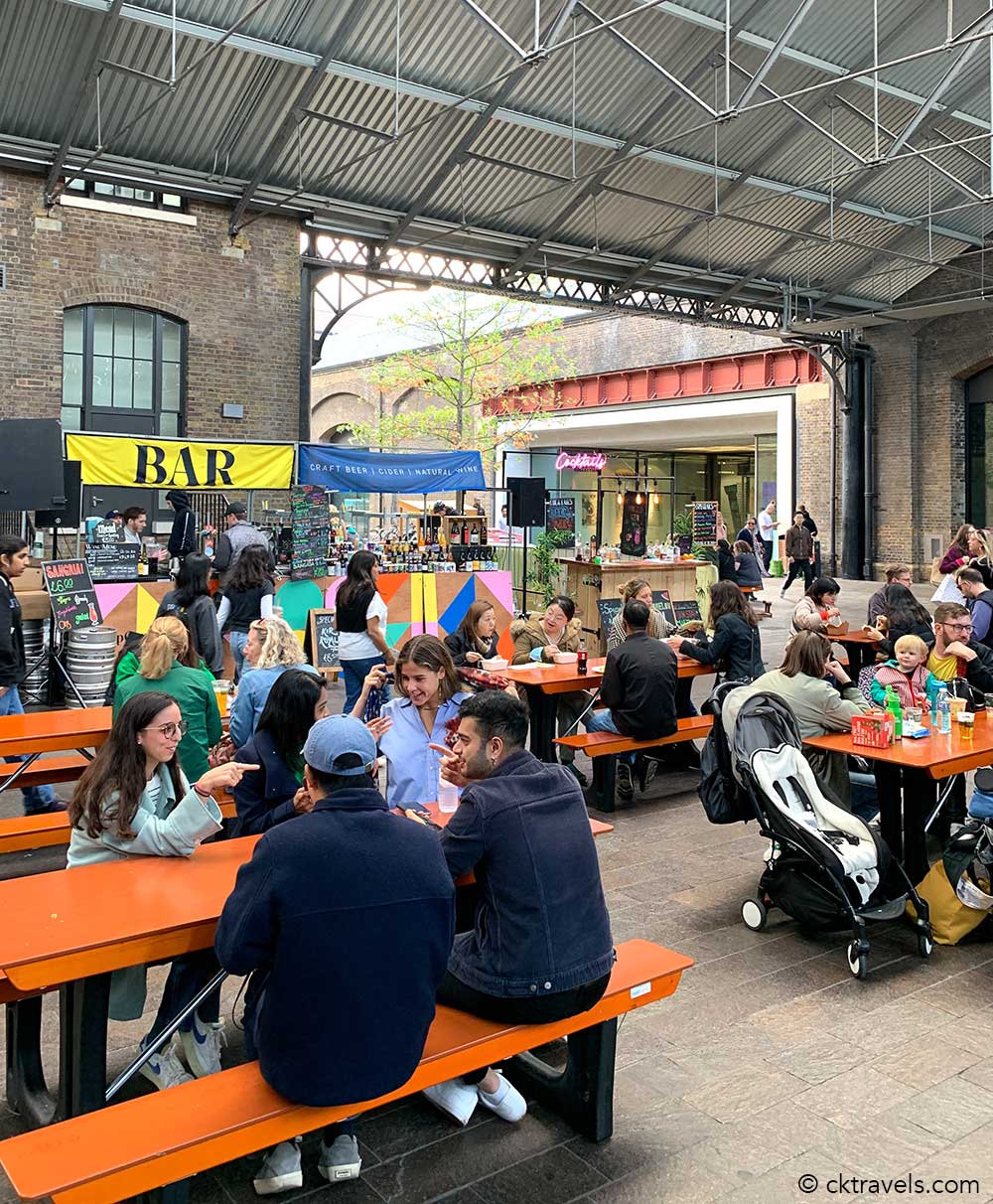 Add to that list the Canopy Market, which takes place next to Central St. Martin's campus several days a week including Saturdays.
Famed for its independent stalls the likes of which you won't see anywhere in London, Canopy Market is more about quality than quantity. It is tiny compared to the likes of Camden but as part of a day out exploring the King's Cross, this is a superb way to spend a Saturday.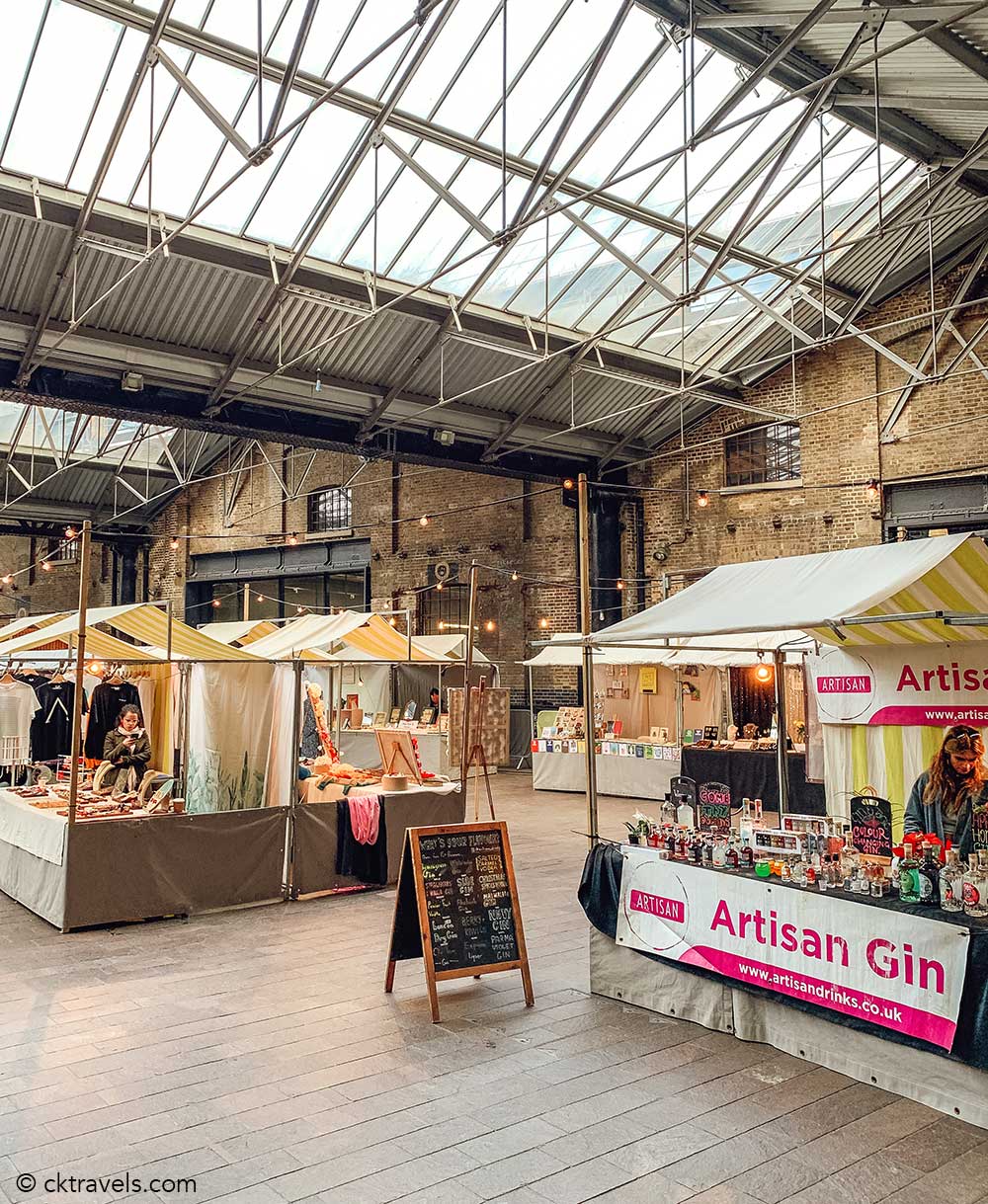 ---
10. Southbank Centre Food Market
Located a stone's throw from the river Thames and all manner of the capital's iconic arts institutions, the Southbank Centre market is open from Friday to Sunday inclusive so you can also attempt this another day if your Saturday is already planned with other markets.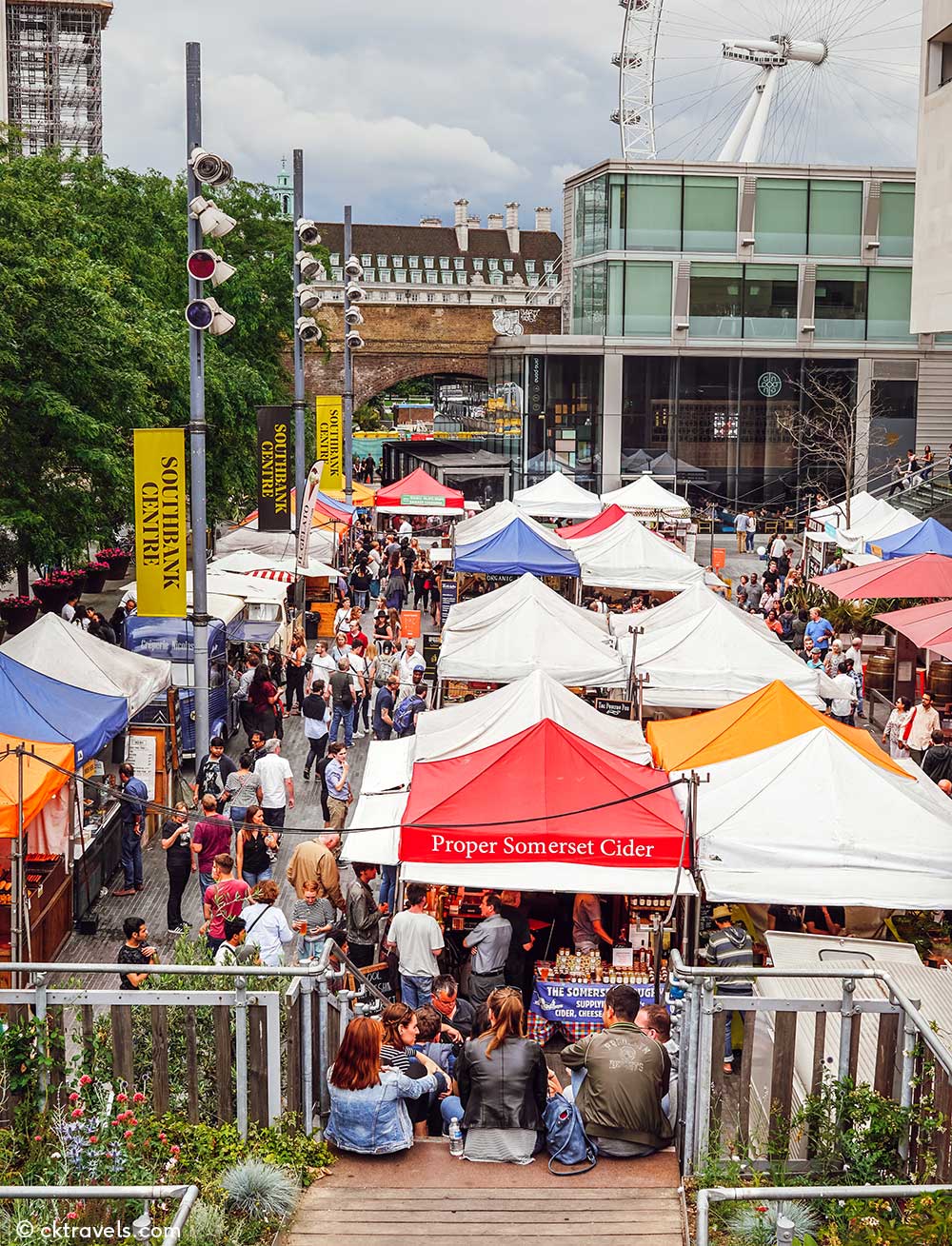 The Southbank Food Market is home to street food from all over the world, plus the very best of traditional British foods like Cornish Pasties and scotch eggs. The line-up of food stalls seems to change every time we visit so you are guaranteed to find a bite that is right for you.
There are a couple of craft beer stalls as well as a Somerset cider stall that we *think* sells the cheapest pint of cider in London – tuck into some grub, grab a takeaway pint and then go for a stroll along Southbank towards Southwark.
---
YOU MIGHT LIKE: Things to do near Waterloo station, London
---
11. Brockley Market, south London
Situated in an unassuming carpark about 10 minutes from Lewisham Central, Brockley Market is a weekly farmer's market with a fine line in artisan foods and ingredients.
The location can be a challenge to get to from central or north London but this is what makes the trek worth it as the quality of produce is so good and it isn't tourist central. Afterwards, walk through the gorgeous Blackheath village neighbourhood before possibly continuing your foodie foray at the Greenwich Market.
---
12. Wapping Docklands Market
London's newest Saturday market opened in April 2021 on a quayside in Wapping, and is a super little market with a host of artisan food stalls and independent arts and crafts.
We visited on their second week of opening and were blown away by the set-up, from the live jazz-band to the waterside coffee van (and the cheese stall looked particularly delicious).
Head over to Shadwell Pierhead by Wapping Wall from 10am – 4pm, just a short walk from the famous Prospect of Whitby riverside pub.
Check out our things to do in Wapping blog >
---
13. Lloyd Park Saturday Market, Walthamstow
This weekly outdoor farmers market is located in the grounds of the William Morris Gallery and Lloyd Park in Walthamstow, north east London.
You'll find over 30 stalls selling local produce as well as a handful of street food options from popular vendors such as Crosstown Doughnuts, Mother Flipper (burgers), Little Leaf (vegan pizza), Carcass Fire (steak), Gyoza Guys (Japanese dumplings) and many more.
Check out our things to do in Walthamstow guide >
---
14. Duke of York Square Food Market, Chelsea
In the centre of Chelsea nestled near to Sloane Square, the sumptuous Saturday food market in and around The Duke of York Square is one of the best food markets in London.
Chock full of sweet treats, gourmet goodness and bubbles (of the Veuve Clicquot variety), you can visit lots of stalls and combine all the culinary gems to create a picnic as the lawn outside the Saatchi Gallery is often open, particularly in the warmer, summer months (remember to bring a picnic throw and your best cutlery as this is Chelsea after all, darling!).
Delicacies available from the various produce and farmer's market stalls include freshly shucked oysters, cheese and wraps galore.
One of our particular favourite food stalls at the weekly Duke of York Saturday market is the canale seller, a dainty and decadent pastry dessert from the Bordeaux region in France, flavoured with rum and vanilla and covered in a soft and tender custard centre and a dark, thick caramelized crust. Various flavours are available although we are slightly addicted to the coconut canale.
---
15. Pimlico Road SaturdayFarmers Market, Belgravia
Held every Saturday from 9am to 2pm (except when it falls on a public holiday), Pimlico's premier produce pop-up has established itself over the last 20 years as one of London's best Saturday markets and farmers markets.
Produce is fresh and queues for some of the more popular stalls can be huge – thankfully there are numerous coffee shops and bars nearby to unwind in afterwards.
Based around Pimlico's Orange Square under the gaze of a Mozart statue (the composer lodged here for several months in the 1760s when he toured the capital as a child, the Pimlico Farmers Market has plenty of outdoor areas and benches to enjoy your fresh snacks and wraps purchased here or you can buy fresh fruit and veg, poultry and meat.
Read our Belgravia things to do guide here >
---
We are in the 'market' for any new additions to this blog so please do leave your favourite London Saturday Market additions in the comments below.
---
Other London blog posts you might like
---
Did you enjoy our Saturday markets in London blog post? Let us know in the comments or by sharing it on social media.