This post may contain affiliate links to tours and hotels. These help us earn a small commission at no additional charge to you.
Once (probably) best known for East 17 and a greyhound stadium, Walthamstow has undergone a lot of regeneration in recent years. Situated at the end of the Victoria line and easily accessible from central London, Walthamstow is now one of London's most vibrant places to visit and live – 'awesomestow'.
From the copious craft breweries to the foodie delights of Walthamstow Village (plus Europe's biggest urban Wetlands and a restaurant in an old Tube carriage), here is our list of top things to do in Walthamstow, London.
Things to do in Walthamstow – our Instagram reel
---
You might like – Guide to Walthamstow's best restaurants or best pubs in Walthamstow
---
Things to do in Walthamstow
1. Gods Own Junkyard (our favourite thing to do in Walthamstow)
Oh My God…'s Own Junkyard. It is rare to say in London that a place is '…like no other', but in this instance, it is fair to say that not only us God's Own Junkyard the most unique thing to do in Walthamstow, but possibly in the whole of London.
Located on an industrial estate, this may not initially sound like the most promising of locations but God's Own Junkyard is an Aladdin's cave of quirky, cute and often subversive neon lights and sculptures. And their cafe is called 'The Rolling Scones' – how good?!
An explosion of neon, like Soho has relocated to Walthamstow, God's Own Junkyard is a warehouse packed to the rafters with all manner of neon signs and art works (as featured in countless movies like Batman and Eyes Wide Shut).
From religious statues holding guns to go-go dancers and strip joint signs, God's Own Junkyard is the most entertaining thing to do in Walthamstow.
God's Own Junkyard is open to the public at the weekends and one of the best free attractions in London (donations are requested, especially if you are taking photographs).
Read more in our guide to God's Own Junkyard >
Address: God's Own Junkyard, Unit 12, Ravenswood Industrial Estate, Shernhall Street, London E17 9HQ
---
YOU MIGHT LIKE: Leytonstone Beer Mile guide >
---
2. Walthamstow Village
Walking around Walthamstow Village is a nice way to escape the hustle and bustle of central London (especially if you're visiting Walthamstow after arriving via the tortuous Victoria Line).
One of the most charming and oldest villages in London (the original settlement dates back to 1086), Walthamstow Village is a little slice of country life in London and renowned for its local produce shops and historic buildings.
Concentrated around pretty (and pedestrianised) Orford Road, Walthamstow Village is the perfect place for an afternoon walk, possibly combined with some treats and tipples.
From delicious delis to tasty tapas and several craft beer breweries and historic pubs Walthamstow Village offers a veritable feast of gourmet goodness and fine foodie fare.
Address: Orford Road, E17 9NJ
Read more in our Walthamstow Village guide blog post >
---
3. Dine on an old Tube train – Walthamstow supperclub.tube
Eating food on the London Underground is normally frowned upon but not at Walthamstow's Supperclub.tube – it in fact, it is actively encouraged, an epicurean experience like no other in east London.
Taking you on a literal fine foodie journey, the supperclub tube takes place on a disused Victoria Tube carriage, transporting the best of Latin inspired cuisine to Walthamstow Pumphouse Museum.
Over 6 courses (which change seasonally), Walthamstow's out of the ordinary Tube tasting experience is brought to life with Latin American love, curated by Nick Atkins and Colombian born Head Chef Bea Maldonado (who comes aboard the Tube to welcome you on your culinary journey).
Unique, tasty and ultimately fun, Walthamstow's Tube supper club experience with a difference 'departs' three times a week (Thursdays to Saturdays).
Read about our tasty Tube journey aboard the Walthamstow Tube Supper Club here >
Address: Walthamstow supperclub.tube, Walthamstow Pumphouse Museum, 10 S Access Road, London E17 8AX
---
4. Walthamstow Wetlands
Unbelievably, Europe's largest urban wetlands (Walthamstow Wetlands) is just a stone's throw away from the Victoria Line station.
Situated over an immense 211-hectare site, Walthamstow Wetlands comprise ten interlinking reservoirs that are still used to provide much of London's drinking water.
It is also the largest fishery in London – no wonder the migrating birds and wildfowl flock there! There are several walks and tracks all around the reservoirs which are clearly signposted and very flat.
Walthamstow Wetlands also has a visitor centre situated in an old Victorian Engine House building, which doubles as a function room for local events or weddings- you'll easily recognise it by its huge chimney (which now is home to swifts and bat colonies).
And if wildlife or walks aren't your thing, visit the Walthamstow Wetlands Larder café which offers drinks, light meals and snacks and an outdoor area overlooking the boardwalks.
Walthamstow Wetlands is worth a visit and free admission – note Walthamstow Wetlands are actually closer to Blackhorse Road or Tottenham Hale Tube stations than Walthamstow station if you are travelling from central London.
Check out our guide to Walthamstow Wetlands blog post >
Address: 2 Forest Road, N17 9NH
Opening hours: open every day 9.30am-4pm as at February 2023
---
5. William Morris Gallery
William Morris was a Walthamstow based English arts and crafts designer and early socialist. The William Morris Gallery is a museum dedicated to his life and works located inside his family home – now a Grade II* listed building in Walthamstow's Lloyd Park (William Morris lived here from 1848 to 1856).
The William Morris Gallery has two floors of free exhibitions to explore plus a lovely cafe, gardens, ponds and gift shop.
Address: The William Morris Gallery, Lloyd Park, Forest Road, E17 4PP
Opening hours: Tues-Sun: 10am-5pm. Free entry
---
YOU MIGHT LIKE – The best places to eat in Walthamstow >
---
6. Lloyd Park Saturday Food Market, Walthamstow
Walthamstow's Food Market takes place 10am to 4pm in the grounds of the William Morris Gallery and Lloyd Park in Walthamstow every Saturday.
Lloyd Park Market comprises around 25 street food stalls from popular vendors such as Crosstown Doughnuts (always the biggest queue), Mother Flipper (burgers), dumplings from Gyoza Guys and many more.
Lloyd Park Market in Walthamstow also features in our best street food markets in London guide.
Address: Lloyd Park Food Market, Lloyd Park, Forest Road, London E17 4PP
---
7. CRATE St James Street
Walthamstow's answer to Shoreditch BoxPark, Crate St James Street is a small retail village and street-food pop-up rolled into one, consisting of lots of shipping containers and a deck for eating and drinking.
Family (and dog) friendly with lots of board games to play and a big screen for football and rugby, the deck at Walthamstow Crate St James Street can be enjoyed both in the summer and winter, when a large tarpaulin roof covers it coupled with copious indoor heaters.
With over 30 crates / containers all with different businesses, Crate St James Street is a great place to meet with friends in Walthamstow if you all want to eat different things, accompanied with beers from the onsite Untraditional Pub (ably run by local favourite Pillars Brewery).
From burgers at Baggio Burger, sweet treats via Crosstown Doughnuts, Korean food at Green Choy to the Green Grill's vegan burgers and sourdough pizza and bread from the Italian Bakery, there should be something to suit everyone's tastes at Crate in Walthamstow.
Address: CRATE Building, 35 St James Street, E17 7FY
Opening hours: Mon -Sun 8am-11pm (note Crate food traders may have their own hours) – times correct as at February 2023.
---
8. Walthamstow breweries and taprooms
London has no shortage of craft breweries and Walthamstow is fast emerging as one of the best beer and brewery places to visit – a big cheers to the Walthamstow craft beer scene!
Dubbed as the Blackhorse Beer Mile there are several Walthamstow Breweries to explore all within a close proximity of each other.
From the grungy laid-back surroundings of Wild Card Brewery and Exale Brewing (both hidden gems amongst the urban decay of rambling random industrial estates) through to the shiny new surroundings of Pretty Decent Beer Co and Hackney Brewery Hill Hill taproom, the Walthamstow brewery and pub taproom scene is 'bar' none.
With more to come, hit up this bevy of Blackhorse Beer Mile breweries in Walthamstow (seven in total) before the hipster, hopster masses descend:
Read our dedicated guide to seven breweries along the Blackhorse Road Beer Mile in Walthamstow here >
YOU MIGHT LIKE: UK Brewery Tours run a guided beer tasting tour along the Blackhorse Beer Mile. Check out their tour here >
---
YOU MIGHT LIKE: The best pubs, bars and brewery taprooms in Walthamstow >
---
9. Walthamstow Village Breweries and taprooms / Ravenswood Industrial Estate
In addition to Blackhorse Beer Mile, there are also several breweries and taprooms in Walthamstow Village on Ravenswood Industrial Estate (right next to God's Own Junkyard).
Wildcard Brewery – The Barrel Store
Walthamstow is home to two Wild Card brewery taprooms – their 'Barrel Store' bar near Walthamstow Village is our preferred brewery bar – it has a beer garden out front and cranks out pizzas and ice cold pints all day long.
The Real Al Company and Trap Taproom
The Real Al Company and Taproom is a small, quirky industrial chic bar offering the best beers (often from local breweries) on tap. Their main business is beer and cider distribution so they definitely have a fine selection of craft beers and spirits.
Pillars Brewery
At Pillars Brewery on Ravenswood estate, you can drink amongst Pillars brewing vats inside and they also have an alfresco drinking area.
The staff at Pillars are always very helpful and knowledgeable and you can try before you buy too. In terms of sampling beers – guided tours and beer tasting sessions are available to book in advance at Pillars.
You can also pop into the their Untraditional Pub at Crate St James Street.
---
10. Wood Street Indoor Market
A short walk from Wood Street overground station in Walthamstow, Wood Street Indoor Market is an eclectic mix of bric a brac, bohemian stores selling all manner of vintage garments and assorted items from Moroccan tea-pots to vinyl LPs.
It is also one of the best places in London to seek out retro toys (there are 3 or 4 toy stores selling the likes of original Star Wars figures, 80s Matchbox and Hot Wheel cars).
There are a couple of food and drink places inside Walthamstow's Wood Street Indoor Market but the main draw card is Homies on Donkeys – a small but cosy venue making fresh Mexican tacos to orders. Busy as and the tastiest tacos we've had for a while in London. Note that Homies on Donkeys will be leaving Walthamstow Wood Street Indoor Market in March 2023 to relocate to Leytonstone.
Address: Wood Street Indoor Market, 98-100 Wood Street, E17 3HX
Opening hours: Tues-Sat: 10am-5.30pm
Read our guide to the best bars and pubs in Leytonstone here >
---
11. Froth & Rind
This cool little cafe in Walthamstow Village serves up cheese, coffee and craft beer all under one roof.
At Froth & Rind, you can sample a range of artisan cheeses from the East London Cheese Board as well as a range of cheese toasties, coffee, cakes and pastries, plus craft beers from local breweries.
Address: Froth & Rind, 37 Orford Road, E17 9NL
---
12. St Mary's Church and The Ancient House, Walthamstow Village
We've coupled these as they are right next to each other in Walthamstow Village and combine to create a traditional English village scene (right here in northeast London!) complete with a traditional red post box.
The 15th century timbered Ancient House looks the part (it was restored in 1934 and then again in 2002) but isn't open to the public any more as it is now private dwellings. It is also worth noting there are almshouses nearby dating from the 16th century, and the Vestry House – a historic museum dedicated to the heritage of the local area.
---
13. Walthamstow Comedy
Red Imp Comedy Club at the Ye Olde Rose and Crown pub host regular comedy nights in their upstairs theatre.
Famous TV names who have performed there in the past doing 'work in progress' and tour warm up shows include Alan Carr, Richard Herring and Micky Flanagan.
Tickets for all shows go out to their mailing list first then on general sale 24 hours later.
Address: Ye Olde Rose and Crown, 53 Hoe Street, E17 4SA
Ye Olde Rose and Crown opening hours: Mon-Thurs: 10am-11pm; Fri-Sat: 10am-1am; Sun: 12pm-11pm (alcohol is served from 12pm everyday)
---
14. Eat 17 restaurant (the best Sunday roast restaurant in Walthamstow)
This modern British Walthamstow restaurant is one of the most renowned spots to eat in the village, serving a range of hearty comfort foods such as burgers, fish, curries and steaks.
Eat 17 is open for breakfast, lunch and dinner with separate menus for each, but we recommend visiting on a Sunday for their traditional roast dinners as they are absolutely delicious!
Address: Eat 17, 28-30 Orford Road, E17 9NJ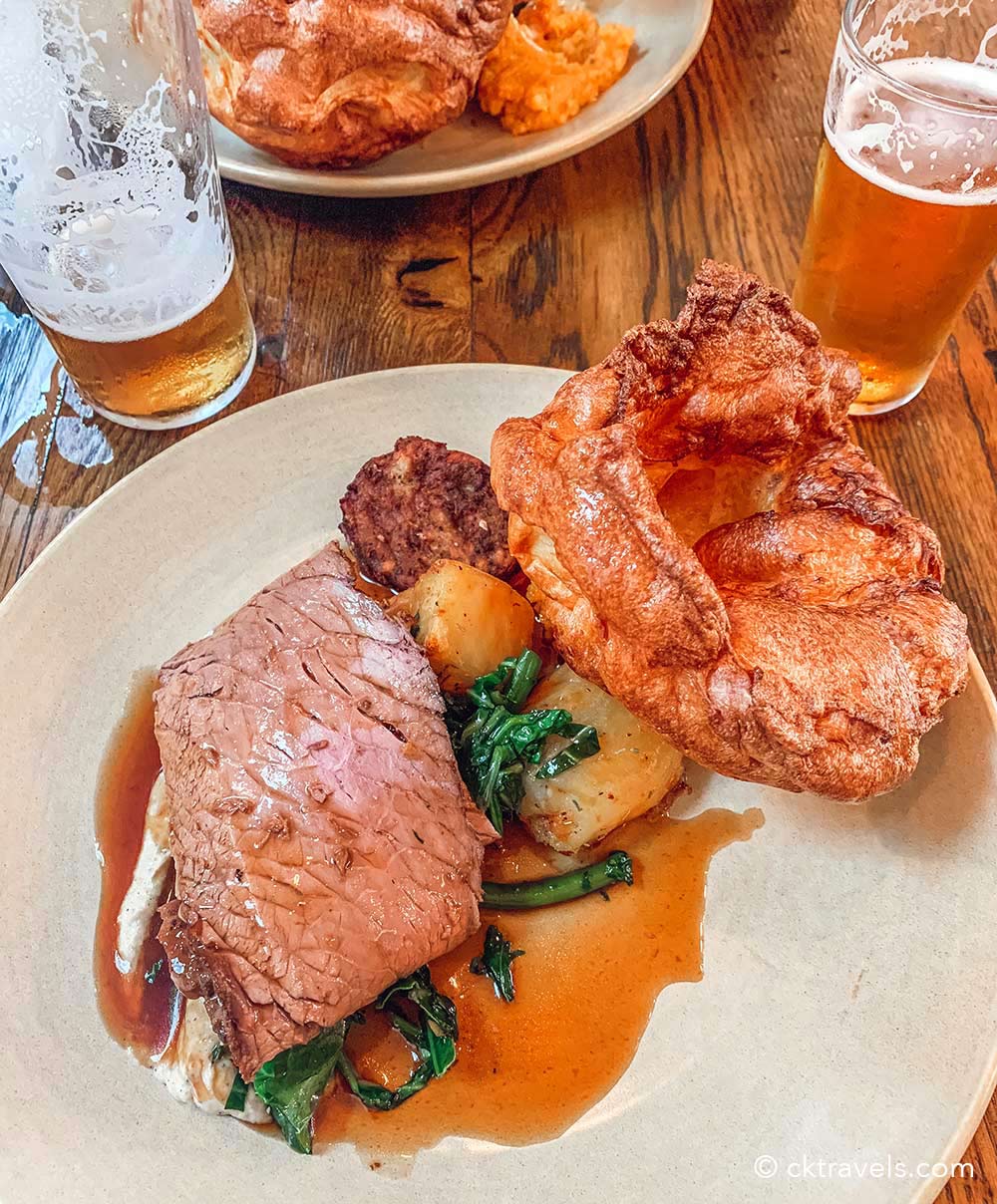 ---
15. Walthamstow High Street Markets
Reputedly Europe's longest street market, Walthamstow High Street hosts several markets every week selling everything from haberdashery to hardware. With street traders here in Walthamstow since the 1880s, it is also one of London's longest running street markets running around 1km in length.
The main Walthamstow High Street Market runs every Tuesday to Saturday with around 200 stalls including a good choice of street food and fresh fruit and veg stalls plus fishmongers. Walthamstow street markets is open Tuesday to Friday, 8am to 5pm and Saturday, 8am to 5.30pm.
On Sundays, Walthamstow High Street also has a smaller farmers market (around 20 or so stalls) located in between the library and Lidl (next to Natwest). The Sunday Walthamstow Farmers Market runs every Sunday between 10.30am and 2.30pm.
---
16. Sodo Pizza (our favourite pizza restaurant in Walthamstow)
This popular Walthamstow restaurant is based in an old industrial building and serves incredibly delicious sourdough pizzas along with an excellent selection of craft beers. Service at Sodo Pizza is attentive, and the decor inside the restaurant is rustic and cosy with candlelit tables at night.
There is a good range of pizzas on the menu with something for everyone including vegan options, plus white pizzas (without the tomato).
This is also a really popular place to eat in Walthamstow so you'll need to book ahead for peak times (you have to call as you cannot book online). Sodo Pizza also has branches in Clapton, Hoxton and Bethnal Green.
Address: Sodo Pizza, 21-23 Hatherley Mews, E17 4QP
---
17. Walthamstow Pumphouse Museum
A treasure trove of transport and old vintage vehicles, Walthamstow Pumphouse is a former Victorian works dating from the 1880s, now a listed building that opens up every Sunday to the public for free.
Featuring an old London Routemaster bus, two old Victoria Line Tube carriages (one of which now is home to the weekly Walthamstow Tube Supperclub plus a fire engine once used in the popular TV series 'London's Burning'
If you are into the London Transport Museum in Covent Garden, definitely seek out the free to visit Walthamstow Pumphouse Transport Museum, free to visit every Sunday between 10.30am and 3.30pm
Address: Walthamstow Pumphouse Museum, 10 S Access Road, London E17 8AX
---
18. Amble over to Blackhorse Road
Once an indistinct industrial area and mundane main road located between Walthamstow and Tottenham Hale, Blackhorse Road is now a burgeoning and bustling local neighbourhood.
Thanks to a swathe of new apartment buildings and student accommodation and the Blackhorse Beer Mile, there are lots of things to do in Blackhorse Road from cool coffee shops to new wineries. Blackhorse Road is just one stop on the Victoria Line from Walthamstow Underground station.
Read our guide to things to do on Blackhorse Road in Walthamstow >
---
19. The Collab, Walthamstow
As you'd expect from the name, this is a mash-up between award winning Walthamstow brewery Signature Brew and critically acclaimed restaurant We Serve Humans (the 'Best Burger in Britain' apparently).
The menu has a great range of burgers, chicken wings and sides, with a really good selection of options for vegans.
On our first visit to The Collab, we tried the truffle mac and cheese burger and the buffalo chicken wings which were great, but on our second visit the wings were really soggy – so the food at The Collab can be a bit hit and miss based on our own experience.
However the beer and atmosphere are great and it is only located a few minutes walk from Walthamstow Central station.
Address: The Collab, 198 Hoe Street, E17 4BF
---
20. Mother's Ruin Gin Palace
Walthamstow is famous for all its breweries and taprooms but if beer isn't your beverage of choice, a cheeky cocktail or gin delight can be found in the Mother's Ruin Gin Palace.
Hand-crafted in small batches in Walthamstow, Mother's Ruin Gin Palace opens their inner workings at the weekend with an extensive cocktail menu so you can sample their award winning gin – bonus points too for their beautifully painted exterior, a very warm welcome.
Address: Mother's Ruin Gin Palace, Unit 18, Ravenswood Industrial Estate, Shernhall Street, London E17 9HQ
---
21. Clapton Craft E17 (Wood Street)
An amazing craft beer shop in Wood Street Walthamstow – Clapton Craft E17 has a huge range of bottles/cans in the fridge and you can also drink onsite.
There are tables both inside and outside (including comfy booths) plus best of all at Clapton Craft E17, there are also around 10 lines on draught.
ADDRESS: Clapton Craft, Unit 1, 147-151 Wood Street, London E17 3LX
---
22. Crate Walthamstow
Newly opened in summer 2023 on the top floor of the 17 & Central shopping mall in Walthamstow, Crate Walthamstow is a new London street food market and food hall complex from the brains behind Crate St James Street.
With around a dozen or so street food stalls and a blinged bar (High Street Social), Crate Walthamstow is a crate place…sorry, GREAT place for a quick bite to eat or enjoy a drink on the outdoor terrace that overlooks Walthamstow Town Square Gardens.
Current food vendors at Crate Walthamstow as of September 2023 include the Yorkshire Burrito company (Yorkshire pudding wraps with a Tex Mex twist) and burger stall Nanny Bill's.
After a bite or beer, grab a game of mini golf at Walthamstow Go Go Golf, also located in the same area as the food court. There is also a space for temporary exhibitions and pop up performances.
CRATE Walthamstow on the first floor of 17 & Central shopping centre is open on Mondays from 8am-10pm, 8am-11pm on Tuesdays / Wednesdays, 8am-11.30pm Thursdays through Saturdays and 11am-10pm on Sundays.
---
You might like – the best street food markets and food halls in London >
---
23. Walthamstow Go Go Golf!
One of the more 'interesting' mini golf courses in London, Go Go Golf also happens to be the newest crazy golf course in London as of summer 2023.
This 9 hole indoor Walthamstow mini golf course is a luminous land inspired by local Waltham Forest landmarks like Epping Forest, Hollow Ponds and Walthamstow Wetlands.
We also noticed lots of neon so perhaps they were inspired by God's Own Junkyard (link) too, within walking distance of this mini north east London mini golf course?
Opened up as part of the new High Street Social food court and bar complex in 17 & Central shopping mall in 2023, Walthamstow's only mini golf course is open daily.
Check out our guide to the best mini golf courses in London >
---
24. True Craft Walthamstow, St James Street
A true story, this new craft beer bar in Walthamstow is all about fine craft draft and fresh sourdough pizza!
Just a short hop from Crate St James, True Craft Walthamstow is located in a former cafe that has now been transformed into a good looking bar and taproom with delicious pizza smells wafting out the door. It is also a very popular place for families and dog friendly too.
We've been to the True Craft beer bar in Tottenham many times and it has always been one of our favourite Tottenham pubs.
We are pleased to report that True Craft Walthamstow retains all the character of the original – if anything, the Walthamstow True Craft is slightly better than the original as it is a bigger space and feels a little more light and airy. All in all, True Craft is a great new neighbourhood bar in Walthamstow.
---
25. Walthamstow Village SPAR
OK, bear with us on this one – why are we including a supermarket in our 'best things to do in Walthamstow guide? Well this is one special supermarket, well loved by locals and found in the heart of the Village.
Walthamstow Village SPAR is chock full of local produce from nearby restaurants like fresh juices from Peeld, sushi from Ohba Leaf Kitchen (who now also have their own restaurant near Walthamstow Village) and pre made gourmet meals from next door restaurant Eat 17 which you can reheat at home.
Plus Walthamstow Village SPAR has aisles of craft beer cans from some of London's best breweries and also nearby breweries like Wild Card and Pillars Brewery.
Local Eat 17 actually operate this SPAR which is why it is one of the best mini supermarkets we've ever visited. They also make their own brand of 'bacon jam' here – it is AMAZING!
Address: SPAR, 28-30 Orford Road, E17 9NJ
---
Our final thing to do in Walthamstow…
26. Taro Walthamstow
Hello to Taro Walthamstow! A new branch of this Japanese ramen chain restaurant is now open on Walthamstow High Street, towards St James Overground station.
Taro Walthamstow is located inside the old grade-II listed L Manze restaurant and we are pleased to say they've retained the iconic white tiled interior with the historic features, but with their own Taro touches.
The new Taro Walthamstow restaurant specialises in ramen dishes plus sushi and sashimi and does a nice line in beautiful bento boxes.
They also do a special local dish – a Walthamstow roll which is a rolled rainbow sushi roll with prawn, salmon and yellowtail filled with avocado, asparagus, tobiko and spicy mayo.
Address: Taro, 76 High Street, London E17 7LD
---
You might like – the best Japanese okonomiyaki restaurants in London >
---
Other Walthamstow blog posts
Other London blog posts you might like
---
Did you enjoy our Things to do in Awesomestow….sorry we mean things to do in Walthamstow blog post? Let us know in the comments or by sharing the blog on social media. Follow us on Instagram, TikTok and YouTube!