This post may contain affiliate links to tours and hotels. These help us earn a small commission at no additional charge to you.
One of the most charming and oldest villages in London (the original settlement dates back to 1086), Walthamstow Village is a little slice of country life in London and renowned for its local produce shops and historic buildings.
Concentrated around Orford Road, Walthamstow Village is the perfect place to explore on an afternoon walk, and combine with some treats and tipples.
From delicious delis to tasty tapas and breweries offering beer at the source, Walthamstow Village is a veritable feast of gourmet goodness and fine foodie fare.
See how Walthamstow is becoming 'Awesomestow' with our list of the top things to do in Walthamstow Village:
Walthamstow Village Pubs and Breweries
You're spoilt for choice in terms of pubs and bars to drink at in Walthamstow Village. If breweries are your thing (as we all know beer is best at the source), there are several breweries located on the Ravenswood Industrial Estate, at the top of Orford Road.
Breweries
Wildcard Brewery, Pillars Brewery and The Real Al Company / Trap Taproom all have taprooms open to the public (generally at the weekends).
We like Wildcard brewery for their wide-ranging selection of beers and outdoor picnic table area, and at Pillars, you actually sit right amongst the brewing vats and the staff are always keen with their recommendations.
Mother's Ruin Gin Palace
If beer isn't your thing, Mother's Ruin Gin Palace is on the same industrial estate and certainly lives up to its name, offering gin cocktail concoctions galore!
Hand-crafted in small batches in Walthamstow, Mother's Ruin Gin Palace opens their inner workings at the weekend with an extensive cocktail menu so you can sample their award winning gin. Bonus points too for their beautifully painted exterior, a very warm welcome.
The Nag's Head
Nearby, The Nag's Head is a feline friendly inn (check out the cat silhouettes in the windows) that specialises in pizzas, good beer and often has special events like jazz Sundays. Note that it is also an adult's only pub so no families are allowed in.
Walthamstow Village Pub
The eponymous Walthamstow Village pub is a local mainstay that has been around for years, recently reinventing itself from an old man boozer to a cracking choice of craft beer and delicious pub grub.
The Walthamstow Village Pub is also home to a massive beer garden out the back with a huge marquee roof making it suitable for all weathers.
The Queen's Arms
As Walthamstow Village has gentrified, so too has the Queen's Arms – gone are the sticky floors and karaoke nights and it is now one of the best pubs in the area, serving delicious Mediterranean food (good options for vegans and vegetarians) and other fine gastropub fare.
The interior is opulent but the Queen's Arms E17 is also a prime spot to watch the comings and goings on Orford Road so best to bag a table outside the pub on a warm afternoon and watch the world go by.
The Castle
Tucked away in the backstreets of Walthamstow Village, The Castle is a family-friendly pub that is proud of its food, and incredibly popular at the weekends, particularly for Sunday roasts (book ahead). We haven't yet tried the food at The Castle but based on the number of reserved tables for large groups last time we visited, it must be good.
We also liked the vintage interior with nods to the local area including old Walthamstow Village signs and pictures – a nice blast from the past of how the area used to be.
---
YOU MIGHT LIKE: The best pubs, bars and brewery taprooms in Walthamstow >
---
Walthamstow Village Restaurants
Orford Road is lined either side with an awesome array of fine restaurants – there are delicious dishes and cuisines to suit all tastes and budgets.
Eat 17
We particularly like 'Eat 17' (see what they did there), especially for their incredible Sunday roasts. We've spent a few Sundays in Walthamstow Village where we've been here for lunch (make sure you book in advance) then wandered over to the Nags Head for some live jazz music.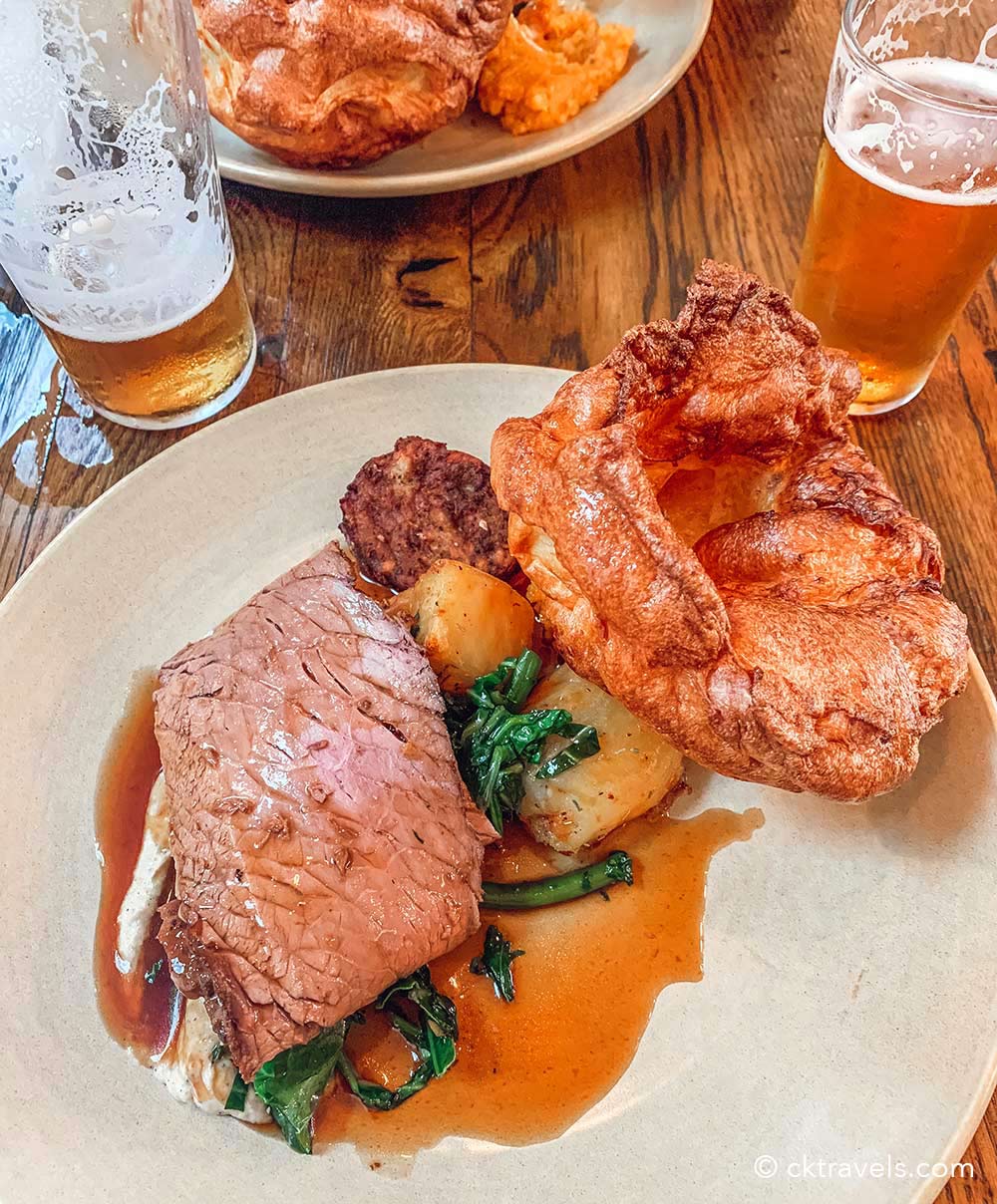 Orford Tapas Saloon Bar and Deli
This is a little piece of Spain (or should that be 'pedazo pequeno') in the heart of Walthamstow Village, offering cold and hot tapas (the lentils with chorizo are nom!), paella and various seafood dishes.
The Kitchen
The Kitchen offers light bites and full meals throughout the day. Like Eat 17, they also concoct cracking Sunday Roasts, which they are rightfully proud of.
Orford's Fish & Chips
A recent opening to Walthamstow Village, this is a retro style restaurant serving perfectly battered fish and crispy chips, plus a range of pies including a couple of plant based ones.
Peeld (Poke, Acai and Noodle Soup)
Peeld is a super popular addition to the Walthamstow Village dining scene, serving a range of fresh juices, smoothies, coffees, pastries and acai bowls (a Brazilian thick smoothie bowl loaded with toppings).
Peeld also have a small takeaway stall inside the SPAR supermarket just down the road selling fresh juices and frozen yoghurt bowls.
---
YOU MIGHT LIKE – The best places to eat in Walthamstow >
---
Local produce stores
If you don't fancy (or have time for) a sit down meal in a restaurant, you can always grab a snack to enjoy in Walthamstow Village Square or to take home from one of these local produce stores.
The Village Bakery
The Village Bakery is the first establishment you'll see in the village if you are walking up from Walthamstow Station via Hoe Street. Serving sandwiches, baked goods and various sweet treats, this is a nice nibble for takeaway.
Froth & Rind
Cheesy does it! Froth & Rind is basically our dream – an artisan cafe that specialises in combining craft beers with cheeses from all over the world – you had us at 'beer and cheese'!
SPAR
A special shout out also goes to the SPAR convenience store in Walthamstow Village too (I know, I know but bear with us…) as it specialises in local ingredients (e.g. cook at home ready meals from nearby Eat 17 restaurant).
Plus the fridge in SPAR is also chock full of ice-cold craft beers from local breweries like Wild Card and Beavertown, plus others from further afield in London.
---
YOU MIGHT LIKE: Leytonstone Beer Mile guide >
---
St Mary's Church and The Ancient House
We've coupled these together in Walthamstow Village as they are right next to each other and combine to become a picture perfect postcard setting, complete with a traditional red post box.
The 15th century timbered Walthamstow Village Ancient House looks the part (it was restored in 1934 and then again in 2002) but isn't open to the public as it is now private dwellings.
It is also worth noting there are almshouses nearby dating from the 16th century, and the Vestry House – a historic museum dedicated to the heritage of Walthamstow Village.
St Mary's Church in Walthamstow Village was founded in the 12th century (although has been rebuilt several times).
You can walk through the graveyard to access Walthamstow Village gateway and it has a regular events programme, including taking part in festivals such as the annual Walthamstow Jazz Festival.
God's Own Junkyard
Not strictly in the village as such, but a two minute walk away in an unassuming industrial estate will lead you to something truly unique (and it is very rare to say that in London these days).
It is fair to say God's Own Junkyard is like no other – a cacophony of colour and explosion of neon, like something deemed too uber cool for Bladerunner.
Europe's oldest signmakers, this wacky warehouse in Walthamstow is packed to the rafters with neon lights, vintage signs and hypnotic, hedonistic installations. From a religious figure with a firearm to the scandalous red-light signs from Soho, this is a must see when in the Awesomestow – our photos just don't do it justice.
God's Own Junkyard is open to the public at weekends and is one of the best free attractions in London (although donations are appreciated).
This neon nirvana is also home to its Rolling Scones Bar and Cafe. Given the neon soaked setting this is likely Walthamstow Village's most unique bar and restaurants – you can enjoy the neon necking a lager or enjoy some afternoon tea.
Read more in our guide to God's Own Junkyard blog post >
Quaint alleyways
Wandering around Walthamstow Village, you'll come across some really cute backstreets, particularly Church Path. You can also find little glimpses of street-art like the David Bowie homage on the railway bridge. Note: as at 2023, alas the mural has been removed.
Walthamstow Village Town Hall
Dating back to 1866, the Old Town Hall in Walthamstow is located at the top end of Orford Road and looks European in style (described as 'Italianate' but it could equally be as home in France).
Walthamstow Village Mosaics
Depicting wildlife and local artists such as William Morris, these wall mosaics can be found in Walthamstow Village gateway, just behind St Mary's Church.
The mosaics were made by local community groups and pupils from nearby Walthamstow School for Girls. Our particular favourite has to be the cheeky monkey.
Walthamstow Village Square
A gathering point for locals with a cute notice board bedecked with vines and flowers, this is a sublime little square where you can enjoy your treats from the Village.
There are several benches to relax on, and it is also a good stop for cyclists passing by. We've also heard of locals playing games of petanque here (like French boules) but have yet to see it ourselves.
---
Did you enjoy our Walthamstow Village guide blog post? Let us know in the comments or by sharing it on social media. Follow us on Instagram, TikTok and YouTube!
Other Walthamstow blog posts you might like
Other London blog posts