This post may contain affiliate links to tours and hotels. These help us earn a small commission at no additional charge to you.
Bangkok bound? Lucky you! Thailand's capital by day is terrific but Bangkok at night is even better!
Bangkok at night comes alive with many things to do – from the bright lights to twilight bites via Muay Thai fights, Bangkok is a big bustling city and one of south east Asia's best places to explore in the evening.
If your traveller tastes are gastronomic or curious, we have some sundown suggestions for you.
From Bangkok's best malls to evening dinner cruises, get the best out of Bangkok at night with our guide to night-time Bangkok activities (2023):
Things to do in Bangkok at night
1. Asiatique: The Riverfront
If browsing stores by day isn't your (shopping) bag, Asiatique Night Market is a riverside shopping and entertainment centre that might take your fancy.
Located on the water's edge and easily accessible by using the free water shuttle available from Saphan Taksin Skytrain station, Asiatique: The Riverfront offers a mix of shops, bars, restaurants, entertainment and street food stalls.
The venue also often hosts special night-time events such as the Calypso Cabaret and festivals to coincide with public holidays.
We last revisited Asiatique: The Riverfront night market in summer 2023. Post COVID, things seem to have slowed down a little but exciting new night-time developments are happening at Asiatique The Riverfront in 2023.
This includes the new waterfront restaurant The Crystal Grill House, the most 'glamorous' grill house on the river in Bangkok.
Other new culinary highlights at Asiatique Riverfront market include the Sirimahannop heritage ship restaurant (a fancy place for a floating feast) plus the complex is now home to multiple evening dinner cruise departures.
Address: Asiatique: The Riverfront, 2194 Charoen Krung Road, Bangkok 10120
Read our dedicated guide to Asiatique the Riverfront here >
---
You might like – things to do in Ari, Bangkok >
---
2. Tuk Tuk Night Lights tour
Seriously, you haven't explored and experienced Bangkok at night at all until you jump in the back of a tuk-tuk taxi or go on a tuk-tuk tour at midnight.
Whilst traversing the roads during the day can sometimes be cumbersome and slow (especially at the busy intersections during rush-hour traffic), the roads at night are a lot quieter.
So strap in and hold on tight and burn rubber around Bangkok by night -this is an awesome Bangkok evening activity.
You can go your own way and hail your own tuk-tuk to get you from A to B, but we recommend booking a Bangkok night time tuk tuk tour experience.
This is a fun evening of temple hopping, night markets and Thai food (including the famous Thipsamai pad thai restaurant).
We did our Bangkok night time tuk tuk tour with an excellent tour company called Expique who we highly rate. Book a tour with Expique on Get Your Guide and check out our Tuk Tuk Night Lights tour blog post.
---
You might like – Bangkok Night Tour: Wat Arun, Wat Pho, and Grand Palace >
---
3. Pak Khlong Flower Market
We first came across the Pak Khlong Talat (Flower Market) when we took a Thai cooking class, part of which is meandering the market and picking fresh ingredients to cook up our own tasty Thai dishes.
Alas the cooking course isn't a Bangkok night-time activity but a visit to Pak Khlong Talat (Flower Market) is one of the best things to do in Bangkok at night.
Surprisingly, Bangkok's most colourful market (literally) is equally alive at night as the flower sellers make flower garlands and sell their wares 24 hours a day to consumers and wholesalers.
Although it is busy in the evenings, if you want to see Pak Khlong Talat at its most vibrant and busiest time, then visit in the very early hours of the morning (around 4am to 5am) when all the fresh deliveries arrive and most petal purchases are made.
If you can coincide your Bangkok at night visit to Pak Khlong Talat with the Loy Krathong festival, even better – thousands of floral decorations are made at the flower market, which are then set sail on the Chao Phraya river by locals as part of the Loy Krathong celebrations and tributes.
Address: Pak Khlong Talat – Wat Kanlayanamit, Khwaeng Wang Burapha Phirom, Bangkok 10200
Plan your trip to with our guide to Bangkok's Flower Market >
YOU MIGHT LIKE: 4-Hour Flower Market and Little India Tour >
---
4. Jodd Fairs Rama 9 Night Market
One of our favourite things to do in Bangkok at night is Jodd Fairs Rama 9 (formally Ratchada Rot Fai Train Night Market) – an eclectic evening experience with a steady supply of street food stalls, bars and a beautiful bazaar.
The only way you can begin to truly appreciate the sheer scale of the market is by either visiting one of the lively rooftop shipping container bars here or sneaking into one of the nearby taller buildings (like Central 9 Rama shopping centre) to look down at a sea of brightly lit canvas roofs.
The Jodd Fairs Bangkok night market is very popular with locals and the food stalls here are much better than some of the Bangkok city markets.
We recommend you try some of the more unique Thai specialities here such as deep fried insects or laeng saeb (pork bones with green chilies).
Other stalls at Jodd Fairs night market include barbers / hair-dressers, pet toys and supplies, souvenir stalls plus several huge alfresco bar areas – cheers!
Please note that at the end of 2023, Jodd Fairs Rama 9 night market in Bangkok will be closing down. A second, new Jodd Fairs night market (Jodd Fairs Dannermit) has recently opened with a fairytale castle and vintage theming.
Jodd Fairs Night Market is open from 4pm to midnight everyday, as at summer 2023.
Address: Jodd Fairs Night Market, Rama IX Road, Bangkok 10310
---
You might like – From Bangkok: Floating Market and Ayutthaya Guided Day Tour >
---
5. Jodd Fairs Danneramit, Bangkok's newest night market
If you are a fan of Bangkok at night and Bangkok street food, it is time to take a trip to Jodd Fairs Danneramit, Bangkok's newest night market that opened in April 2023.
As well as dozens of fashion and street food stalls, restaurants and bars, what sets Jodd Fairs Danneramit apart from other Bangkok night markets is the site theming and range of food and products.
When you first enter, you are greeted by a Disney-esque fairytale castle and vintage American stalls and muscle cars. There is also a boating lake with outdoor seating where you can enjoy your night-time eats.
Better yet, Jodd Fairs Danneramit is a brilliant Bangkok night market that is easily accessible by public transport just a five minute walk from a BTS or MRT station.
From fairytale theming to beer buffets, cheap street eats to selfie spots galore, here is our guide as to why Jodd Fairs Danneramit is Bangkok's best new night market >
---
6. Bangkok rooftop bars at night
Bangkok has a bevy of radiant rooftop bars all with incredible views (although some are better than others) and they are one of the most popular things to do at night in Bangkok.
Two of our favourites (and some of Bangkok's best rooftop bars) are the Octave Rooftop Bar, on the 45th floor of the Marriott Bangkok Hotel Sukhumvit (360 degree views and unspoilt city views) and the Moon Bar / Vertigo Restaurant.
Moon Bar is located on the 61st floor of the Banyan Tree Hotel (possibly the best rooftop bar set-up and view we've encountered in Bangkok).
We also like the Sky Bar at Lebua Bangkok Hotel but ever since it featured in the Hangover part II movie, our enjoyment has waned a tad as it is so busy, and particularly popular with young American backpackers who can't hold their drink. Still, it has super cool views though and is one of the best Bangkok bars at night.
If you want to check out the Sky Bar at night at Lebua Bangkok Hotel, you can book a reserved table/round trip transport package with GetYourGuide >
Our tip would be to possibly pick no more than two rooftop bars to tackle in one evening and arrive at the first before sunset to bag the best spot and indulge in happy hour cocktails. Practically all rooftop bars offer some form of happy hour in the early evenings which generally coincide with sunsets.
We've also visited Above 11 rooftop bar at night but the views aren't as spectacular but were still pleasant enough – however, avoid The Roof /@ 38th Bar at Mode Sathorn Hotel as the set-up is pretty grim with so-so views and disappointing food.
You might like – indulge in 2 hours of free flow alcoholic drinks and food with a Bangkok city sunset sky view at Barracuda Rooftop Bar at Akara Hotel Bangkok >
---
You might like – Bangkok bar crawl or Bangkok Bar Hopping Night Tour
---
7. Soi Cowboy at night
Definitely one of the more 'fascinating' places to visit in Bangkok at night, Soi Cowboy is a hedonistic hotbed of strip bars, neon lights and all manner of epic entertainment.
Soi Cowboy at night certainly isn't for everyone, but if you are curious and just want to hang out for happy hour drinks and people watch, this is quite an entertaining / epic night out in Bangkok.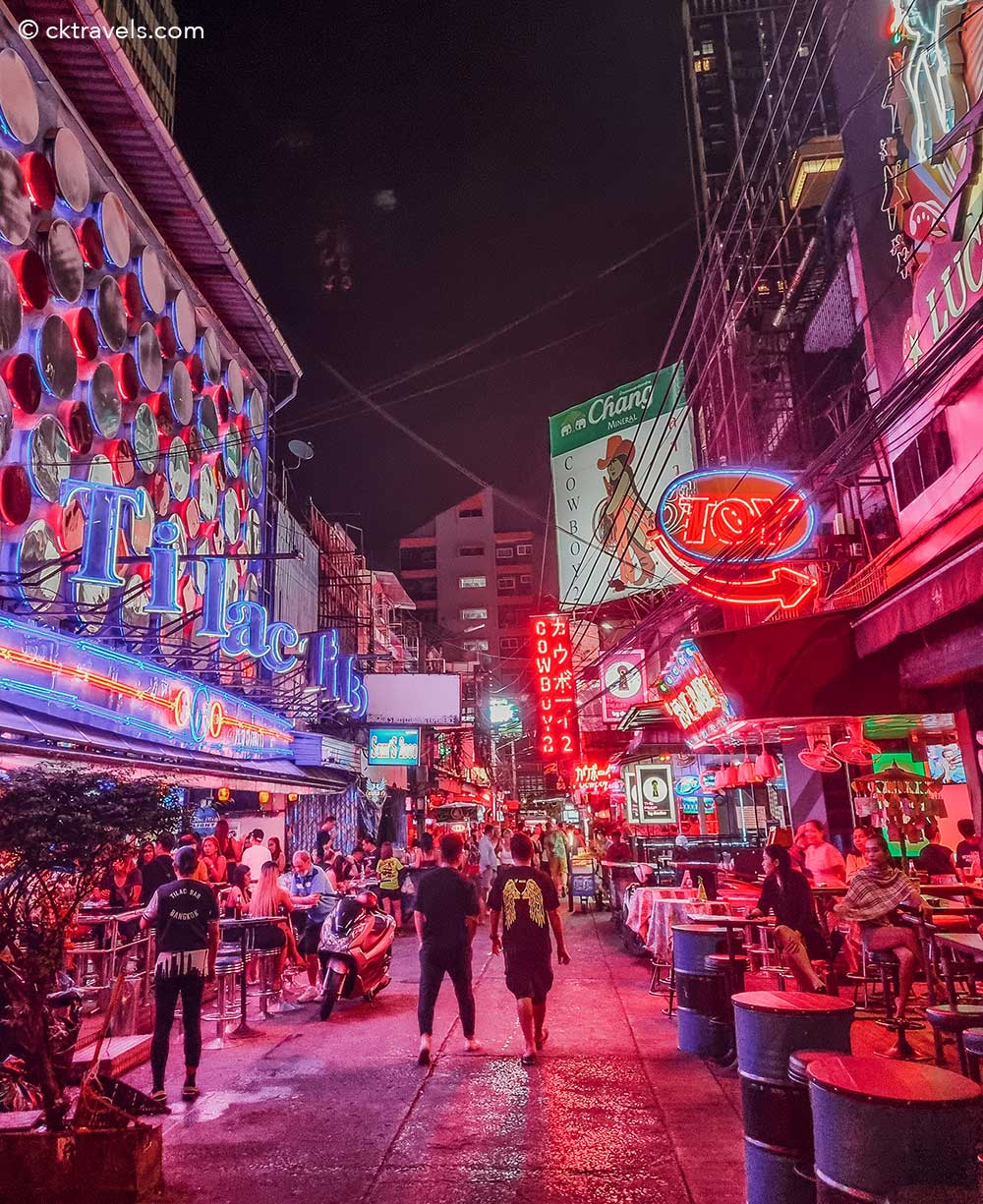 We haven't ever been inside any of the clubs and go go bars at Soi Cowboy, always opting to people watch from the outdoor seating areas; so we can't vouch for exactly what goes on (or indeed doesn't) in those smoky rooms at the back of the bars that everyone talks about.
Check out our dedicated Soi Cowboy guide – it details our experiences and why we continue to visit every time we return to Bangkok – check out our guide to Soi Cowboy blog post.
Address: Soi Cowboy, Khwaeng Khlong Toei Nuea, Krung Thep Maha Nakhon 10110
---
8. Khlong Toei Market
Bangkok's biggest wet market is open 24 hours and is an exciting place to visit if you are a food lover – a fine place for night-time snacks in Bangkok.
You'll find many night-time stalls in Khlong Toei Market selling wholesale low priced produce including exotic fruit and vegetables, raw seafood and meat, spices, kitchenware and hot street food.
Khlong Toei Market is a proper authentic night time market and a great insight into how locals live – you can also visit as part of the night time tuk tuk tour with Expique.
However this is not your typical 'tourist' experience and as with most wet markets, remember that not everything you see at Khlong Toei Market (in terms of animal treatment) will be that humane or pleasant – if you aren't sure, it might be best to stick to other suggestions on this Bangkok at night blog.
We suggest you visit the market when it is at its most busy late at night and do not wear your best shoes as the floor can be very wet! The nearest MRT station is Khlong Toei which is about a 10 minute walk from the market.
YOU MIGHT LIKE: Hands-on Genuine Thai Cooking Class and Khlong Toei Market Tour
Address: Khlong Toei Market, Rama IV Road Khlong Toei, Bangkok 10110
---
You might like – Guide to Lumpini Park in Bangkok >
---
9. Bangkok Chinatown at night
If you only have limited time, one of the must visit places to visit Bangkok at night is Bangkok's Chinatown.
The area comes alive at night and transforms into a neon soaked nirvana of sublime street food and gourmet goodness. Centred around Yarowat Street, Bangkok Chinatown is a whole district dedicated to food vendors and outdoor tables and chairs.
We just love wandering the streets in Chinatown at night with no particular plan in mind – we just follow our noses and seek out where the locals get their night-time snacks.
Another reason why we love Chinatown Bangkok at night is it looks so spectacular with all the huge neon billboards and flashing lights, located along Yarowat Street – there are numerous alleyways with cosy bars and side street markets to explore at night too.
If you are unsure about where to go to eat or want to seek out the best places, then here are a few tour companies that run night time food tours.
---
You might like – Bangkok: Historical Temples Tour & Hidden Bar at Sunset >
---
10. Sampeng Lane Market
If you fancy a bit of shopping after your late night noodles then head over to Sampeng Lane Market – a wholesale market that runs from 12am-5am (it also runs during the day from 6am – 4pm).
This Bangkok night market is located in a narrow walkway and sells very cheap handicrafts, clothing, household items, accessories, stationary and children's toys.
We discovered the Sampeng Lane night market as part of a private Midnight Markets Tuk Tuk tour with Expique.
Address: Sampeng Lane Market, Khwaeng Chakkrawat, Khet Samphanthawong, Krung Thep Maha Nakhon 10100
---
YOU MIGHT LIKE: Chiang Mai itinerary, the perfect 3, 4 or 5 days in Chiang Mai
---
11. Khao San Road Bangkok at night
Known as 'Backpacker Central' and with a slightly dubious reputation, Khao San Road is actually best to explore in the evening (it is actually pretty quiet in the mornings – maybe because everyone has a hangover?).
Khao San Road is also one of the most popular places to visit in Bangkok at night, especially if you are doing Bangkok on a budget.
Drinks at Khao San Road are cheap (possibly the best value happy hours in Bangkok) and there are heaps of tourist bars and clubs to choose from. However, be aware of some of the bar touts who are a tad too enthusiastic.
Khao San Road is a popular Bangkok night time hangout, made even more famous after featuring at the start of hit movie 'The Beach' starring Leonardo DiCaprio. Khao San Road is also famous for the water pistol fights that occur during the Songkran festival held every April.
---
You might like – Guide to celebrating the Loy Krathong festival in Chiang Mai >
---
12. Patpong Night Market
Notorious as the 'best' place to see 'night-time ping-pong' in Bangkok (if you know, you know!), Patpong in Silom is a nocturnal nest of go-go bars and a maze of market stalls (most people seem to go for the former).
Gritty and grimy with less neon than say Soi Cowboy, we've never been huge fans of Patpong but it is still worth seeing if you haven't been before, if only to experience bar touts thrusting eye-watering menus in front of you, detailing what 'delight's lie instore.
Likely the most famous thing to do in Silom, the area in and around Patpong Night Market is probably best known for its live 'shows', adult entertainment and go go bars, where young 'ladies' (and some not so young) try to entice you in.
Oh yeah, and of course there is the actual night market itself, full of tourist tat, greasy food and overpriced beer.
On our most recent visit to Patpong Night Market (February 2023), we were surprised how much it had changed since our last visit 5 years ago. There were only 3 or 4 active go-go bars trying to attract us in and a lot fewer night market stalls.
Most of the Patpong bars at night expect you to pay an evening admission charge before you go in, and there are reports that tourists are paying exorbitant entrance fees to these 'specialist' clubs and bars, only to find practically nothing inside.
You have been warned (and to be honest, there are so many better ways to spend your evenings in Bangkok).
Patpong Night Market is open daily from around 5pm to the early hours.
Address: Patpong Night Market, 61, Thanon Patpong 1, Bangkok 10500
---
13. Soi Thaniya (AKA Little Japan / Little Tokyo)
Forget Patpong Night Market. If you are looking for a 'good-time' in Silom (and possibly an empty wallet), head on over to the little Japan area of Silom, Soi Thaniya.
Here at Thaniya, you'll find numerous go-go bars (we lost count after 12) where large groups of scantily clad women and lady-boys will try and entice you in. Like literally – we saw groups of men and individuals being semi-pulled into the bars (although to be fair, some groups seem to quite enjoy it).
We found that nearby Thaniya street (Little Japan / Little Tokyo) was now the most popular place in Silom for 'night-time' entertainment.
As a couple, we were left alone and were free to wander around without being bothered, but we saw lots of men (generally in groups) being hugged and dragged towards various bars with large groups of scantily clad ladies gathered outside.
Popular with businessmen as a spot to go to after work, Soi Thaniya in Silom is an interesting Bangkok night spot – there are also lots of Japanese restaurants in and around Thaniya too hence its nickname of Bangkok's Little Japan / Little Tokyo. A very adult activity at night in Bangkok.
---
You might like – Go City Bangkok Pass – is it worth buying? >
---
14. Bangkok night dinner river cruise
Cruise the Chao Phraya at night with one of Bangkok's numerous evening cruises – many include dinners (usually a buffet of Thai and international dishes), drinks and entertainment.
This nocturnal navigation doesn't necessarily have to blow the budget as there are discounted Bangkok night time dinner cruises.
For instance, we went on a Bangkok night dinner evening cruise on the Meridian as part of a Go City Bangkok All Inclusive pass, where we save 60% of seven attractions including a cruise.
This particular evening dinner cruise departs from ICON Siam Bangkok shopping mall at around 7.45pm every evening (although you must check in between 5.30pm and 7.30pm).
As the cruise ship first arrives, you are greeted by the staff and entertainers all waving and playing live music as they dock.
Once aboard the Meriden, we were given our own private table for two with a riverside view. Along the way, we saw various temples and high rises plus lots of riverside shopping centres all lit up, like Asiatique.
The dinner cruise buffet was really delicious (very good food quality) which included unlimited seafood, plenty of Thai and Western dishes plus free soft drinks and drinking water.
Live entertainment and dancing kept us entertained throughout the evening. Sunset cruises are also available as part of the Go City: Bangkok All Inclusive passes but these are only available on Saturday and Sundays.
We also like the White Orchid River cruise as the package includes free-flow beer (cheers!)
YOU MIGHT LIKE THESE BANGKOK NIGHT DINNER CRUISES
---
15. Muay Thai match
You'll generally know when Thailand's traditional boxing is on, as you'll see (and hear!) vans with loudspeakers driving around town (especially in Khao San Road) announcing that night's fight.
If you are a Muay Thai fan, you are in the right place as Bangkok is generally classed as the best place in the world to catch the best Muay Thai fights in the world.
The experience is a Bangkok at night must do and it isn't just about watching the boxing spectacle – most fights begin with the Wai Kru Ram Muay, a traditional Thai dance (accompanied by Thai music) that pays respect to the trainers and boxers.
Most of the locals go to see ringside bouts at Lumpini and / or Rajadamnern Stadiums, but if your visit doesn't coincide with an actual professional Muay Thai boxing bout, you can you'll find a more tourist version taking place most nights at Asiatique The Riverfront and also occasionally at MBK Bangkok shopping mall.
Book a Muay Thai Rajadamnern Boxing Stadium Entrance Ticket with Get Your Guide or Viator.
---
16. Mahanakhon Skywalk
Bangkok's newest and highest observation deck, the Mahanakhon Skywalk (AKA King Power Mahanakhon Skywalk) is one BIG Bangkok attraction – it is an incredible place to be at sunset and see Bangkok at night from up high.
Opened in 2018, the Mahanakhon Skywalk not only has unparalleled and panoramic 360 degree views of Bangkok, but also has a number of awesome attractions at the top.
These include a roof-top bar and the Mahanakhon Skywalk glass tray / glass floor – with a sheer drop down below, this isn't for the faint hearted.
The King Power Mahanakhon Skywalk is Bangkok's highest skydeck at 314 metres high (over 1,000 feet high).
Unlike other skywalks and observation decks, the Mahanakhon Skywalk is totally outdoors on the very top floor, meaning you have unspoilt 360 degree views of Bangkok and the Chao Phraya River.
The Mahanakhon Skywalk is on the 78th floor of the King Power Mahanakhon building. If you don't like open spaces, the 74th floor is an indoor observation deck.
Note that whilst the Mahanakhon SkyWalk is open daily from 10am-7pm (last admission 18.30pm), the King Power Mahanakhon building (restaurants etc) is open daily from 10am until midnight. Skip the queue and book your ticket online.
Bangkok Mahanakhon Skywalk is also included as part of the Go City Bangkok pass >
Address: Mahanakhon Skywalk, 114 Narathiwas Ratchanakarin Road, Silom, Bangkok
---
17. Nana
Bangkok's night-time 'naughty but nice' district, Nana in Sukhumvit is certainly a lot more eye-opening than nearby Soi Cowboy or Patpong To a first time visitor, nocturnal Nana is certainly a sight to behold and could be construed as a little on the slightly seedy side.
Found in Sukhumvit Soi 4, Nana Plaza is renowned for its go-go bars, dancing girls and an array of eye candy to lure you into various bars.
Located over three floors with a security presence at the main entrance, the ground level of Nana Plaza is the most accessible and 'safest' part (and best bet if you are just looking for a casual drink).
On the upper two levels, the neon lights get a little dimmer and the various rooms and clubs are mainly accessed by dimly lit staircases.
Unlike Patpong, there is no street-food or good restaurants here; Nana Plaza is purely about go-go bars and good-times.
That said, there are several bars on the ground floor where you can easily just grab a drink and watch what goes on. One of the most 'interesting' adult things to do in Bangkok at night.
Address: Nana Plaza, 3, 1 Sukhumvit Road, Bangkok 10110
---
18. Cabbages and Condoms Restaurant
Are you 'coming soon' to Bangkok or Thailand? If so, Cabbages and Condoms restaurants are quite like no other dining experience in Thailand; a quirky 'night-time' bite in Bangkok.
Set in a verdant rainforest setting (yet still in the heart of urban Bangkok), this Thailand condom restaurant is quite the experience – and yes, there are condoms strewn all around (not so many cabbages) with a safe sex gift-shop as well.
The best bit about visiting this restaurant is that profits are reinvested into charitable causes for young or disadvantaged people across Thailand.
Read our guide to visiting Cabbages and Condoms in Bangkok here >
Address: Cabbages and Condoms, 6 10 Sukhumvit 12 Alley, Bangkok 10110
---
19. Korea Town (Sukhumvit Plaza)
Although rather quiet by day, Korea Town (near Nana Plaza) is a buzzing hub of Korean restaurants, BBQ joints and authentic street food flavours.
Korea Town is easy to spot – just look for the huge rooftop TV screen at the front of the plaza, blasting out K Pop songs like 'Gangnam Style' by Psy.
Known as Bangkok's Little Seoul, this is the best place in Bangkok at night to get your South Korean street food fix.
Address: Korea Town (Sukhumvit Plaza) Sukhumvit Road, Bangkok 10110
Love South Korea? Check out all our South Korea guides here >
---
You might like – Things to do in the Talat Noi neighbourhood, Bangkok >
---
20. Silom Soi 4
Bangkok's biggest gay street and night-time entertainment, Silom Soi 4 is chock full of late night bars, nightclubs and exotic evening entertainment
This side street just off Silom is the biggest and best gay street in Bangkok that becomes a neon nirvana at night.
The best time to visit Silom Soi 4 is after 9pm with most bars and massage parlours on Silom Soi 4 open until the wee small hours.
Silom Soi 4 attracts a real mix of people, with the more mainstream bars at the start of the alley and the more interesting ones located down the far end.
Popular bars along Silom Soi 4 include Pride Bar and Restaurant, The Balcony Pub & Bar and Banana Bar on 4. Note that legendary Telephone Pub Restaurant & Karaoke has now closed down.
---
You might like – Chatuchak Weekend Market, Bangkok – ultimate guide >
---
21. Don Don Donki – 24 hour stores
Japan's favourite thrift store and discount warehouse comes to Bangkok!
Originally known as Don Quijote in its homeland of Japan where it has dozens of stores all over the country, Don Don Donki as it is branded in Thailand have recently opened their newest store (it opened in January 2023) in Bangkok's Silom district, right on the edge of Thaniya Street.
This is in addition to the hugely popular Don Don Donki's at the MBK Centre and Thonglor (where you can sit in a colourful tuk-tuk outside and pose for pics).
Specializing in cheap Japanese imported goods and foods, Don Don Donki Thaniya Silom is quite unique as Bangkok Don Don Donkis go with its own sushi conveyor belt restaurant plus a 24 hour ramen joint where bowls of ramen noodles start as low as 60 Baht.
Don Don Donki is open 24 hours a day – so great too for night time snacks after a big night out in Bangkok.
Addresses:
Don Don Donki Thaniya Silom, 62 Si Lom, Suriya Wong,Bangkok 10500
Don Don Donki MBK Center – 444 Phaya Thai Road, Bangkok 10330
Don Don Donki Thonglor – 107 Soi Sukhumvit 63, Bangkok 10110
You might like – Everything you wanted to know about Don Quijote stores in Japan >
P.S. If you are a fan of all things Don Don Donki then come and join our Don Don Donki Facebook group >
---
22. Chatuchak Night Market (Fridays)
Although Bangkok's Chatuchak Market is primarily known as a weekend market, Chatuchak also has a night market that opens on Friday evenings from 6pm to midnight.
Chatuchak Weekend Market is Thailand's largest market covering 35 acres with around 200,000 visitors (a good mix of tourists and locals) every day.
Chatuchak Weekend Market is handily broken down into various (and quite eclectic) sections, there are 30 different areas to explore, ranging from clothing and toys through to pet shops and gardening
Note that whilst Chatuchak has up to 15,000 stalls at the weekends, Friday nights at Chatuchak Market are much quieter with many of the shops and kiosks only opening at the weekends.
Read more in our guide to Chatuchak Market >
Address: Chatuchak Night Market, 587, 10 Kamphaeng Phet 2 Road, Bangkok 10900
---
23. Mix Market
Like Jodd Fairs Dannermit, this is one of Bangkok's newest night markets.
We first visited Mix Market in early 2023 and whilst it is on the smaller scale (around 30 or so food stalls), the quality of street food was really good and VERY cheap compared to other night markets e.g. a large bottle of Chang costs around 80 THB.
Opened in 2022, Mix Market has a good variety of stalls with ample outdoor seating plus two outdoor stages for live music. Mix Market (night market) in Bangkok is open daily from 4pm to midnight
Address: Mix Market, 1678 Phetchaburi Road, Bangkok 10400
---
24. Bangkok Michelin Guide Street Food Tour by Tuk Tuk
A 'moving' night time tour of Bangkok, the Michelin Guide Street Food Tour is a 3 hour tuk tuk tour that takes in four restaurants / street food stalls, all of which have featured in the Michelin Guide (not to be confused with the Michelin star system).
All of the Bangkok restaurants and evening eateries have been picked for their quality and reputation (plus food handling) and you get to go between them in your own tuk-tuk; it is fun whizzing off after each meal as part of a group of tuk-tuks racing through the Bangkok streets at night.
The Michelin Guide Street Food Tour by Tuk Tuk tour included a couple of soup noodle dishes, a fried dough dessert with pandan custard, crab fried rice, plus for those brave enough, fried insects (we politely declined on the latter).
Our group was a good mix with people from Canada, Australia, Germany and the UK. The tour ended with a couple of night-time temple visits.
Book your Michelin Guide Street Food Tour by Tuk Tuk here – or you can do it as part of the Go City Bangkok All Inclusive pass.
---
25. Bangkok Shopping Malls
Many of the Bangkok shopping malls stay open until the late evening (generally closing around 10pm) – so this is good thing to do in Bangkok at night (especially when most shopping malls have amazing air conditioning).
Two of the best malls to explore at night are the riverside ICONSIAM and the themed Terminal 21 Asok mall.
ICONSIAM has various bars and restaurants located over its 10 stories – plus the ICONSIAM Starbucks is one of the best Starbucks in Bangkok with an incredible outdoor deck offering stunning views of the Chao Phraya river at the Bangkok skyline at night.
Terminal 21 Asok (one of three Terminal 21s in Thailand) is our favourite shopping mall in Bangkok as each floor is themed like a different country / city; for instance there is a Tokyo floor, a London floor plus the cheap as food court has incredible San Francisco theming.
Read more about Bangkok's shopping malls in our dedicated guide >
Addresses:
ICONSIAM, 299 Charoen Nakhon Rd, 10600
Terminal 21 Asok, 88 Soi Sukhumvit 19
---
26. Bangkok at night Thai Bus Food Tour
If you fancy something a bit more sedate than a Bangkok at night food tour on a tuk tuk, then enjoy the epicurean delights of Michelin-starred food on the first food bus in Thailand.
The Thai Bus Food Tour operates several times a day from River City on the banks of the Chao Phraya river including an evening dinner tour every night including a 'night life' tour at 7:30pm or evening dinner tour at 5:30pm.
Find our more about the Bangkok at night Thai Bus Food Tour Experience here >
---
27. Bangkok Night Bike Tour
Enjoy Bangkok at night on a brilliant bike tour that highlights the nocturnal hustle and bustle of Bangkok.
See Wat Pho and Wat Arun lit up at night, explore the busy alleys of Pak Khlong Talat flower market in the evening and taste delicious street food snack.
Along the way, your tour guide will tell you about local history and lead the way through the Bangkok backstreets.
Find more about Bangkok Night Bike Tour >
---
You might like – Bangkok City Culture Tour by Bike >
---
28. Ari's Coffee Shops
Time to discover Ari, Bangkok's hippest neighbourhood, chock full of cool coffee shops, stylish street food courts and village vibes, many of which stay open until late.
Walking along the leafy streets and exploring the quieter residential areas, Bangkok's Ari district feels a world away from the hustle and bustle of the neighbouring districts – plus you can get everything here from a mocha to a Mercedes Benz.
Easily accessible by public transport (there is a BTS station), here is our guide to all the things to do in Ari, Bangkok >
---
29. Get High in Bangkok
Since 2022, it has been legal to smoke grass / MJ in Thailand – that said, please note it is illegal to smoke (and vape) in public places.
As such, many 'dope' cafes are now dotted around Bangkok in areas such as Ari, Silom and Sukhumvit.
With dope cafes with names like Sky X High Cafe and the Green Fairy Dispensary, let's just say it is now quite easy to make best buds in Bangkok at night.
---
30. See a late night movie in Bangkok
Most of the biggest movie theatres in Bangkok can be found in Bangkok shopping malls – IMAX screens are second nature in Bangkok meaning you can see the latest releases with incredible picture and sound quality.
You'll find IMAX screens at malls like Emquartier or Paragon Cineplex at Siam Paragon or themed cinemas with crazy bathrooms and massive Academy Awards at Terminal 21 Rama 3 Bangkok or Terminal 21 Asok Bangkok.
---
You might like – Guide to Bangkok's best themed mall, Terminal 21 Rama 3 Bangkok >
---
31. Sunset at Benjakitti Park
Looking for a quiet place to escape the hustle and bustle of Bangkok at sunset? Welcome to Benjakitti Park (AKA Benchakitti Park), genuinely Bangkok's most beautiful park and free to visit.
Popular with walkers, picnickers and joggers (plus the ideal photo spot at sunset), Benjakitti Parks offers stunning views of the city and its forest, from numerous boardwalks, sprawling across a vast and verdant 180 acre site.
Given all the trees, mangroves and water features, it is hard to believe you are still in the heart of one of the largest cities in the world.
Especially popular at sunset, here is our guide to visiting Benjakitti Park / Benchakitti Park in Bangkok >
---
Our final thing to do in Bangkok at night
32. 7-Eleven in Thailand
We round up our 'best things to do in Bangkok at night' guide with 7 Eleven, the 24 hour store that any right minded Thailand traveller has to visit at least once.
A culinary rite of passage, you haven't lived (probably) until you've had a 7-Eleven toasted sandwich at 4am in the morning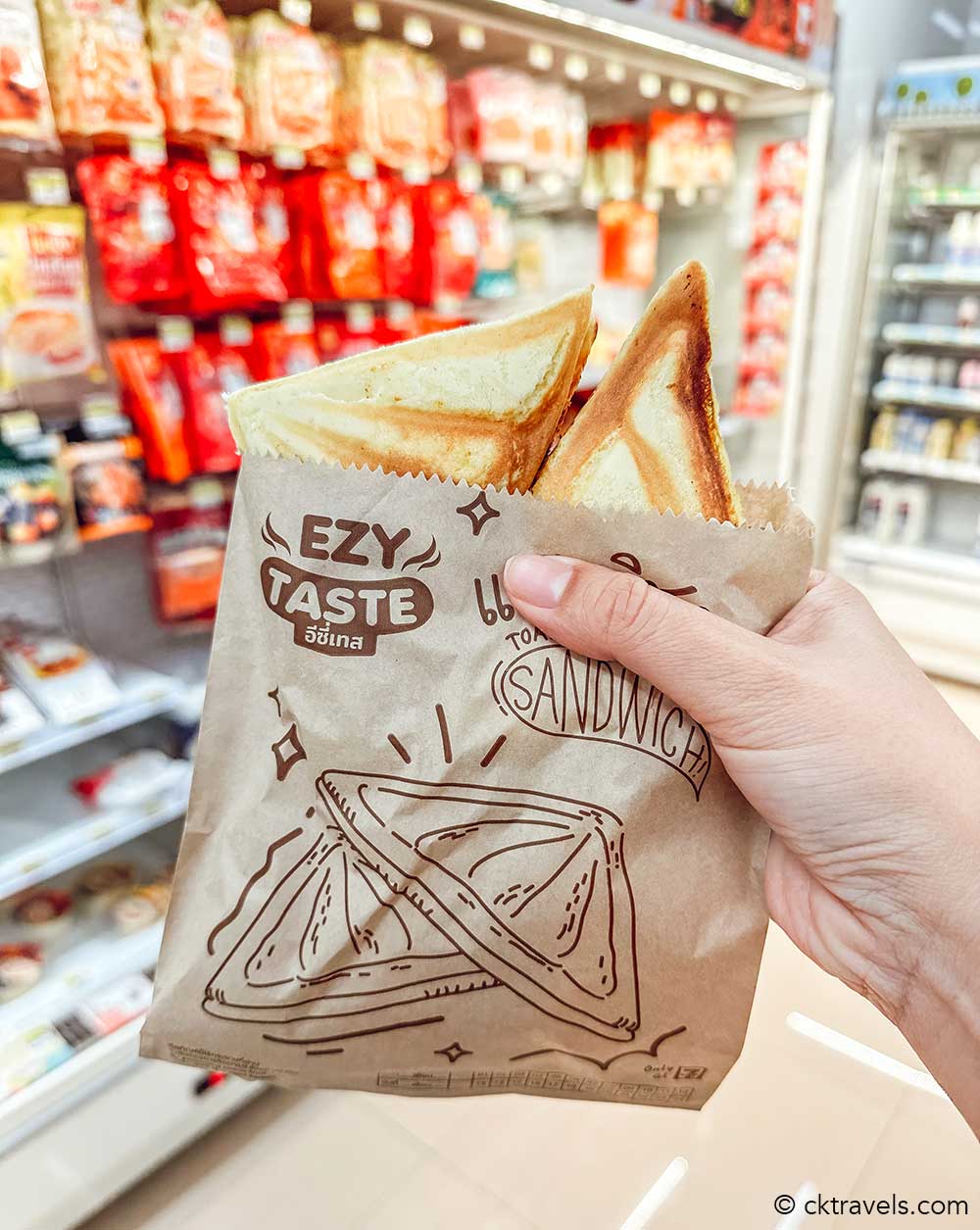 7-Elevens in Thailand are literally on every corner and are the perfect place to grab an after hours ice-cream or even a cheeky Chang (just try not to get a 'Changover' the morning after).
Most Bangkok Thailand 7-Elevens are open 24 hours (especially in the city areas and in and around Silom and Nana) – you could even try one of over 20 flavours of crisps / chips at 7-Eleven as a late night snack? Note that alcohol is not available in 7-Elevens in Bangkok after midnight.
Check out our guide to everything you can buy in Thailand's 7-Eleven stores >
---
Other Thailand blog posts you might like
---
Did you enjoy our things to do in Bangkok at night blog post? Let us know in the comments or by sharing the blog on social media.
You can follow CK Travels on:
Instagram
Facebook
TikTok
YouTube
Pinterest
---
Things to do in Bangkok at night – add to Pinterest!