This post may contain affiliate links to tours and hotels. These help us earn a small commission at no additional charge to you.
Fact – London is one of the best shopping destinations in the world, with something to suit all tastes and budgets. From Knightsbridge fine fashion stores to flea markets in Camden, there are many London London shopping areas and malls to choose from.
The London shopping mall scene is changing constantly. Battersea Power Station has now been transformed into a new, world-class shopping mall, whilst East London is home to Europe's largest shopping mall, Westfield Stratford City. Plus you can bag a bargain in London shopping designer outlets.
From the well-known London shopping areas like Regent street and Oxford Street to something a bit more curious (Hello Cyberdog), here is our guide to the best London shopping malls and London shopping streets in 2023:
---
You might like – the best free things to do in London >
---
Best London Shopping Malls and Shopping Streets
1. Icon Outlet at The O2, Greenwich Peninsula
Greenwich isn't just about the Cutty Sark and historic buildings – the O2 at Greenwich Peninsula in North Greenwich is home to one of London's best shopping outlet malls and shopping areas.
With over 60 shops under one roof, most of which have huge discounts (up to 70% off), this is one way to save a lot of cash when shopping in London.
The Icon Outlet has a really good roster of brands, high street stores and big name luxury retailers including an Adidas outlet (cheap sneakers and trainers galore), The Body Shop, Calvin Klein, Gant, Guess, Hobbs, Kurt Geiger, Nike Factory Shop and a Next Outlet.
The bargains at Icon Outlet at O2 continue with free parking available – it is also just a 5 minute walk from North Greenwich London Underground station.
Check out our guide to things to do at the O2 and North Greenwich >
---
You might like – London Shopping tours >
---
2. Regent Street
Similar to Oxford Street, Regent Street is packed full of shops galore, but is a little more sedate (and possibly more upmarket).
Flagship stores in Regent Street include an incredible Apple store, Hamleys toy shop (more on this later) and fashion brands like REISS, Arket, Burberry, Tommy Hilfiger, Hollister and Kate Spade.
Regent Street was originally designed by renowned architect John Nash, one of the best known British architects who also designed Buckingham Palace.
One of the finest looking stores off Regent Street (housed in a Tudor style black and white building) is Liberty London.
Libertys was founded in the 1870s but moved to its current timbered building in the 1920s (incredibly, the store timbers were taken from two old ships, HMS Hindustan and HMS Impregnable). It is now a listed building.
You might like – London Christmas shopping guide >
---
You might like – Best of Royal London including Tower of London, Changing of the Guard and Cruise >
---
3. Battersea Power Station Shopping Mall
London's Battersea Power Station mall is all about shopping in style and is definitely one of the best looking and more high-end retail experiences south of the river.
Opened in October 2022 and making good use of the lower levels of the former Battersea Power Station, this is a slick and stylish London shopping mall and aesthetically pleasing architectural affair where the building itself looks as good as the shops.
Spread over several levels and with fine fashion stores in situ at the time of opening (featuring the likes of Tag Hauer, Uniqlo, Tommy Hilfiger, Jo Malone, Abercrombie and Fitch) with more promised over the next few months.
Battersea Power Station is a must visit shopping destination with more restaurants and bars opening soon.
Check out our guide to the best things to do in Battersea >
---
You might like – the best mini golf courses in London >
---
4. Bond Street
Running in parallel to Piccadilly, London's Bond Street is perhaps best known as THE best place in central London for luxury shopping. Bond Street is famous for designer goods, exclusive boutique stores, high end jewellers and art galleries.
It also has incredible examples of Georgian architecture and along with neighbouring Mayfair, is some of the most expensive property / real estate in central London.
All the major international luxury brands can be found here from Prada to Gucci, Tiffanys & Co to Alexander McQueen, Rolex and more.
Based on the amount we observed outside stores, Bond Street must have the highest concentration of security guards per square foot than anywhere is London!
In particular, Cartier is known for its annual annual London Christmas lights and decorations – given there is a red London phone-box right outside too, this makes it one of the most Instagrammable locations in London.
---
You might like – the 20+ best immersive events in London >
---
5. Westfield Stratford City London Mall
The largest shopping mall in Europe, Westfield Stratford City in east London is an impressive shopping centre with dozens of fashion, toy and gift shops all under one roof.
London Christmas shopping here is quite varied with toy shops such as the Entertainer and The Works, plus book shops like W H Smith and Foyles.
Plus if retail therapy isn't for you or you want to escape whilst other family members do shopping, Westfield Stratford City, also has oodles of outdoor bars and restaurants as well as a cinema and several themed food courts.
Check out our guide to the best things to do in East London or things to do in Stratford.
---
6. Covent Garden & Floral Street – one of the best shopping areas in London
A little bit of Italy in central London, Covent Garden's central piazza consists of a picture perfect square and cobbled streets surrounding Covent Garden's market buildings.
We'd rate it as one of London's best shopping areas (and the best London shopping streets here are Floral Street and Long Acre).
Busy by day and bustling at night, Covent Garden Piazza is THE place for shopping followed by wining and dining.
Check out the Apple Market in Covent Garden for handmade soaps, gorgeous jewellery and vintage framed posters. The general stalls are open every Tuesday to Sunday at Apple Market, whilst on Mondays, it is generally more antiques based.
Covent Garden's fashion street, Floral Street has a number of independent stores and high end boutiques as well as high street brands – from Peloton to Paul Smith and Serac to Skechers, you can easily do some damage to your credit card here.
New for 2023, Uniqlo Covent Garden has opened an amazing multi-level store on Floral Street in Covent Garden.
Check out our guide to the best things to do in Covent Garden >
---
You might like – Camden Market, Borough Market and Covent Garden Market Private Tour >
---
7. Oxford Street – the most famous shopping street in London
Although Oxford Street is a bit 'Marmite' (you either love it for shopping or hate it because it is busy), Oxford Street is still one of the best London shopping streets and shopping areas in central London.
Retail and fashion therapy is 'de rigueur' when in this part of the city – there is also talk of pedestrianising it one day (here's hoping!).
London's best known shopping street, Oxford Street is a 2km stretch (1.3 miles) of high street stores. You can literally shop until you drop (or your credit card gets maxed) with all the various choices of clothes, toys, jewellery and electronics along the route.
If you love to shop in London, you'll find all your favourite brands around Oxford Street like H&M, Zara, Uniqlo, Urban Outfitters and Schuh.
Check out our guide to the best things to do near Oxford Circus station >
---
You might like – Best London stadium tours and sporting museums >
---
8. Westfield White City London Mall
With over 400 stores, concessions and restaurants, Westfield London near Hammersmith and Shepherd's Bush in West London is your one stop shop for shopping in London.
All the usual chains can be found at Westfield White City mall like Zara, H&M, HMV and Primark, plus a luxury shopping village area for the likes of Gucci and Armani.
Check out our guide to the best things to do in Hammersmith and Shepherd's Bush.
---
You might like – London sightseeing tours by night >
---
9. High Street Kensington
The best shopping street in West London (along with King's Road in Chelsea), High Street Kensington has a combination of chain fashion stores and high end luxury shops.
Famous brands along this famous London shopping street include Uniqlo, Jigsaw, Zara, Waterstones, Muji and Decathlon.
If you get a chance, also check out the tucked away, tree-lined Kensington Church Walk for half a dozen boutique and antique stores.
Kensington also has one of the best Japanese shops in London, with a beautiful array of gifts and pottery available in Japan House, a Japanese cultural centre and restaurant complex located near to the High Street Kensington London Underground Station.
Afterwards, treat yourself to a pint in Kensington's Churchill Arms, the most colourful pub in London (thousands of flowers outside in summer), with a secret garden restaurant that serves delicious Thai food.
---
You might like – London Royal Parks Bike Tour >
---
10. Canary Wharf Malls
Reminiscent of the underground malls of Seoul, the shopping centres in Canary Wharf are practically all underground making it probably the best place for wet weather shopping in London (it also never gets too crowded, unlike say Oxford Street on a hot summer's day).
There are several interconnecting Canary Wharf malls including Jubilee Place Mall and Churchill Place Mall. On your first visit, it can be a little easy to get lost as all the tunnels and walkways can look quite similar after a while.
You'll also find lots of regular high street chains like Waitrose, M&S and Boots, as well as one off chocolate shops and high end clothing companies, plus one of our favourites – Crosstown Doughnuts.
Check out our guide to the best things to do in Canary Wharf and Docklands >
---
You might like – Guide to the best London pubs on the river >
---
11. Carnaby Street
One of London's most popular and well known London fashion shopping streets (especially in the swinging sixties), Carnaby to this day continues to be a hive of activity and fine fashions and superb shoe / sneaker shops.
Carnaby Street is famous for its riot of rainbow colours, particularly during festivals and special events when banners are hung across the top of the buildings and pop-up events take place.
Famous famous shops in the Carnaby Street London shopping area include Muji, Dickies, Birkenstock, Dickies and Vans.
Whilst there, also check out the UK's first dedicated Rolling Stones store (RS No.9 Carnaby Street) or all the food court offerings at Kingly Court.
---
You might like – the best Saturday markets in London or Sunday Markets
---
12. Mayfair
Hands down one of the more exclusive ('poshest') shopping areas in London, Mayfair is a myriad of 5* London hotels and luxury shopping.
Often you'll see more security guards than shoppers, that is how expensive some of the stores are (luxury car and cabriolet retailers are popular in Mayfair.
Brands with stores in Mayfair include Longchamp, Balmain and Paul Smith – this is also an excellent place for art galleries.
One of personal favourite stores in Mayfair is Hedonism Wines, one of London's premier champagne suppliers who often have themed displays outside.
---
Find out about the latest West End London Theatre ticket offers here >
---
13. Knightsbridge shopping
The preferred London shopping street and shopping street for many wealthy overseas visitors, no shopping trip to London is complete without a visit to Knightbridge, including a peek inside Harrods department store, possibly the capital's best known luxury shopping destination.
From Harvey Nicks to Harrods, Knightsbridge is a world-class shopping destination with a wide and wonderful selection of stylish shopping options, although try not to get run over by the gold plated Lamborghinis which rev up and roar down in the area.
Each year, the opulent exterior of the Harrods building is bedecked with Christmas lights and the window displays are always something to behold, no matter what time of year it is.
There are lots of London luxury shopping opportunities in Knightsbridge including Harvey Nichols, Ted Baker, Burberry, and Lacoste.
---
You might like – Small-Group Tour: Historical Pub Walking Tour of London >
---
14. Chelsea Sloane Square and King's Road
Cosmopolitan Chelsea and its iconic Kings Road (famous in the swinging 60s and now more for its antique shops and designer labels) is a millionaire's playground.
Although with its sheer number of cafes, restaurants and every day high street chains, there is something to suit all budgets.
One of the best shopping streets in London is the new(ish) shopping village in Duke of York Square, with all manner of boutiques and eating options.
Another popular London shopping street (and eating and drinking destination) near to Sloane Square is Pavilion Road, a popular pedestrianised area that has numerous outlets including the Chelsea General Store, Bread Ahead, Granger & Co and Wulf & Lamb – a perfect post-shopping in London treat.
Whilst there, check out Bywater Street, just off King's Road, one of the most colourful and Instagrammable streets in London.
---
You might like – Best of Royal London including Tower of London, Changing of the Guard and Cruise >
---
15. London Designer Outlet, Wembley
Similar in scale, size and shop to the Outlet Shopping at The O2 at Greenwich Peninsula, London Designer Outlet in Wembley celebrates its tenth anniversary in 2023.
A purpose-built London shopping mall and designer outlet village in the shadow of Wembley Stadium (and its HUGE arch), the London Designer Outlet has over 70 shops, boutiques, bars and restaurants all under one roof (plus a few outside as well).
Most stores at London Design Outlet offer huge discounts and bargains (up to 70% off standard prices) making this one of the cheapest shopping malls in London.
Stores with massive discounts at London Design Outlet include the Adidas Outlet, the Nike Outlet, a Supedry outlet plus a Marks & Spencer discount store.
---
You might like – best food-courts and street food markets in London >
---
16. Shoreditch BOXPARK
The first London shopping shipping container retail park (try saying that after a beer or two), BOXPARK Shoreditch was also supposedly the very first in the world that kickstarted the entire container mall trend – go Shoreditch!
BOXPARK Shoreditch has lots of small retail stores on the ground floor, and a wide selection of bars, food kiosks and outdoor seating areas on the upper level.
The events schedule at BOXPARK Shoreditch is always eclectic, often with live music of special one-off themed events.
There are also additional BOXPARKs in Croydon and Wembley but these are more focused on street food as opposed to shopping.
Check out our guide to the best things to do in Shoreditch >
---
17. Piccadilly shopping
Piccadilly is primed as a perfect place to go shopping in London with several 'Royal' shopping arcades and it is home to Jermyn Street, famous for its men's fashion shops, shaving sundries and bespoke tailors.
Of the shopping arcades in Piccadilly, Burlington Arcade is the finest, a boutique shopping lane which runs between Piccadilly and Bond Street, which was established in 1819 and is home to luxury fashion stores, fine jewellers plus top tea-rooms and champagne bars.
Stores and brands at Burlington Arcade include Manolo Blahnik, Bollinger Burlington champagne bar, The Royal Mint and Lalique Art Gallery.
Also check out Fortnum & Mason, the official grocer to the Royal Palace and has its original, flagship store in Piccadilly.
Founded in 1707, Fortnum & Mason is a food-lovers dream with everything inside from a craft cheese counter, fine wines and even its own gin distillery on the top floor.
Check out our guide to the best things to do in Piccadilly, London >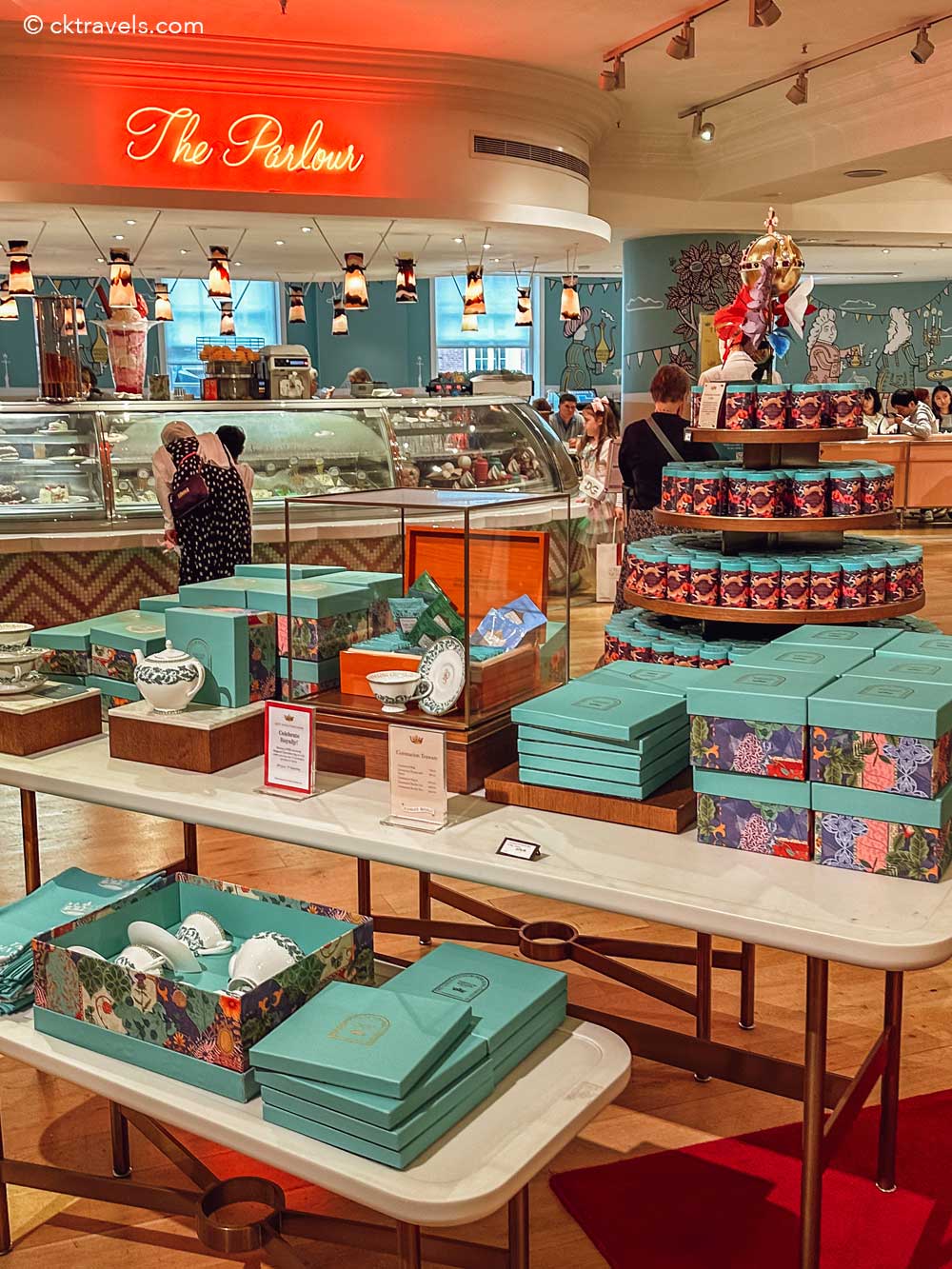 ---
You might like – Fun Vintage Shopping Tour >
---
18. Notting Hill / Portobello Market
We love Notting Hill – it has seen many changes over the years (there are SO many tourists) yet it still retains that rare mixture of old world, west London warmth combined with super shopping hipster hangouts and boutique bohemia.
Perhaps the most famous shopping street in West London, Portobello Market comes alive at the weekends and welcomes an array of antique, flea market and clothing stores that line either side of the street.
More permanent and famous shops in Notting Hill include Alice's antique shop on Portobello Road, the world-famous Notting Hill Travel Bookshop (as featured in Notting Hill movie with Hugh Grant) and Books for Cooks shop which houses a cavernous collection of cookbooks, with its own cooking school
Check out our guide to the best things to do in Notting Hill or the best pubs in Notting Hill
---
You might like – London: Hop-On Hop-Off Sightseeing-Tour >
---
19. One New Change Mall and Cheapside
One of the only shopping malls in the city of London and in the historic Square Mile, One New Change lies in the shadow of St Paul's Cathedral.
There is a even a free to access rooftop on the top floor that has incredible views of St Paul's and the city – we'd rate it as one of the best free things to do in London.
There are several well known brands and fashion stores at One New Change including H&M, Hackett, Marks and Spencers and Oliver Bonas. Note that many shops on the lower ground floor at One New Change are now closed, as of summer 2023.
Nearby Cheapside is one of the best London shopping areas in the city of London with stores like Argos, Accessorize and Daunt Books.
---
You might like – Things to do near Liverpool Street Station >
---
20. Soho
At the very heart of London's West End, Soho has seen it all over the years and is the gateway to so many good London shopping areas like Regent Street, Oxford Circus and Charing Cross Road.
Soho is your best bet for the most adult stores in close proximity (from 'special' books to toys, clothing to films).
In the market for fantastic plastic or rare records? Looking for Vinyl Lionel Richie or LP J Harvey? Then search no further than the record stores of Soho, the best place in central London to look for rare LPs or hard to find discs.
On Berwick Street, you'll find Reckless Records and Sister Ray or look for Phonica Records on Poland Street. Famous independent music store Rough Trade can also be found on Beak Street.
Check out our guide to the best things to do in Soho >
---
21. Coal Drops Yard
A new shopping and dining destination set amongst the backdrop of restored railway arches, this characterful culinary and retail space is a welcome addition to King's Cross.
Opened in October 2018 and now busier than ever in 2023, the area springs into life at night as the workers stream out of their nearby office blocks for a cheeky tipple or three.
Coal Drops Yard has over 100 shops and restaurants with some nice alfresco bars overlooking nearby Regent's Canal and an interesting events programme.
Shops at Coal Drops Yard in King's Cross include London's flagship Samsung KX shop, & Other Stories, Paul Smith and Space NK.
Check out our guide to the best things to do in King's Cross >
---
You might like – Independent Shopping Tour of London with Private Driver >
---
22. Camden
The home of counterculture in the capital, Camden is a grungy mix of markets and bars with several shopping areas including Camden Stables, Hawley Wharf and Buck Street shipping container mall.
Easily one of London's best shopping areas and markets, Camden Market is a wonderful warren of arts and crafts stalls, bars, restaurants and clothing shops.
Housed in former stables, there are loads of alleyways, nooks and yards to discover, including an Aladdin's cave of retro stalls in the basement. Open seven days a week, there are over 1000 stalls of various shapes and sizes to explore.
One of our favourites and a must visit when in Camden Market is Cyberdog, a futurist clothing and dance accessory shop, which has two giant robots at its entrance – as you descend the stairs into its neon basement, you'll be amazed at the goth gear and steampunk sundries.
Check out our guide to the best things to do in Camden >
---
You might like – the best London craft beer brewery tours >
---
23. Old Spitalfields Market
One of London's oldest public markets, Old Spitalfields is open seven days a week (and located indoors too in case you want to avoid the rain).
It offers a variety of delicious street food from around the world, arts and crafts stalls plus lots of bars and restaurants around its perimeter.
Different types of market operate on various days of the week, from record fairs to vintage clothing – located near to Liverpool Street station, this is one of the more fun London shopping areas and markets to enjoy any day of the week.
Check out our guide to Spitalfields Market >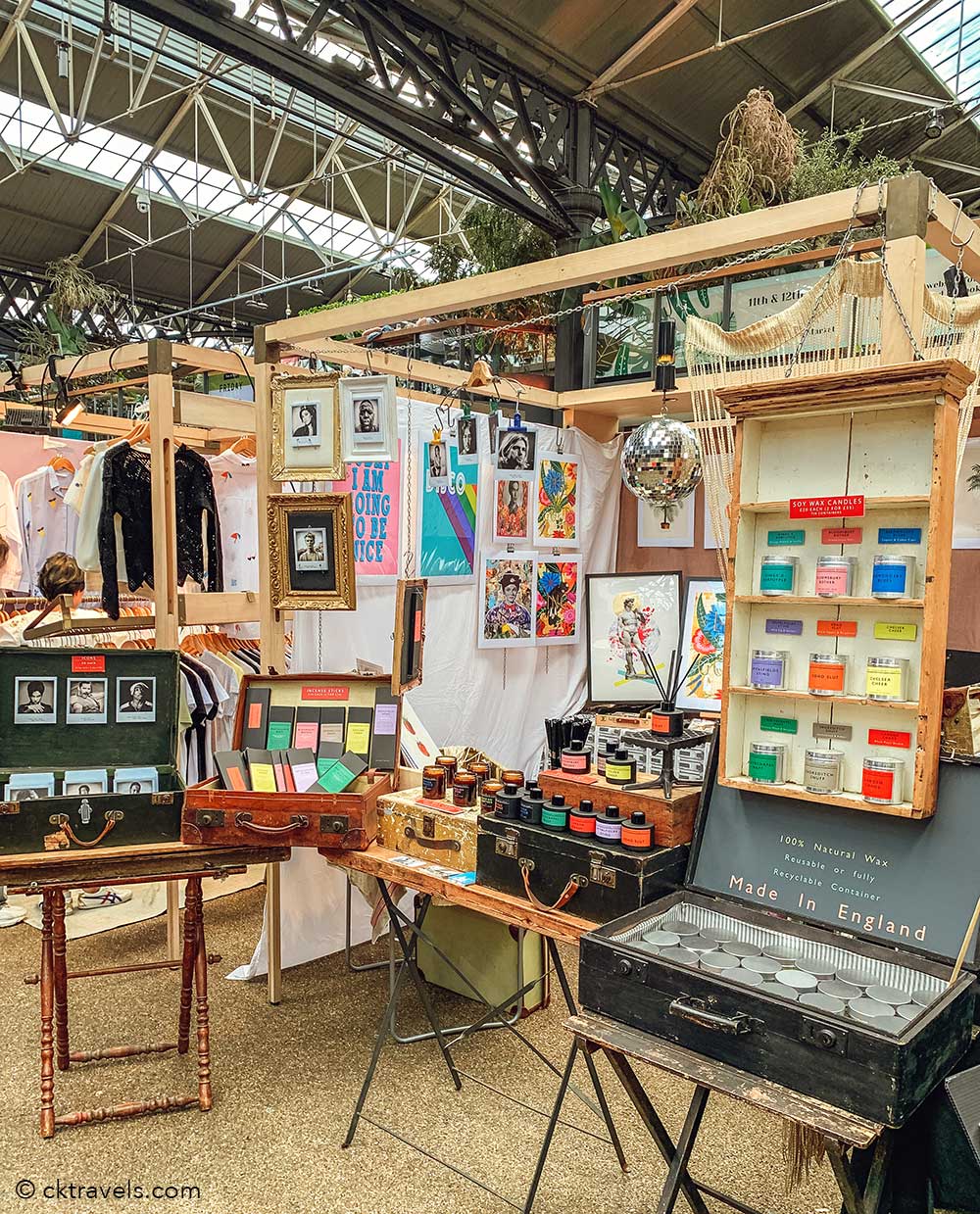 ---
24. Belgravia
A largely residential district that takes in the best of Kensington, Chelsea, Victoria and Pimlico, London's boujee Belgravia district is an affluent area with several smaller shopping streets and retail areas.
Ecclestone Yards is a former industrial yard near to Victoria station that now has several upmarket shops, restaurants and bars, including a branch of the Biscuiteers and a boutique doggy clothing store (woof!)
Belgravia's Elizabeth Street has a sundry of cafes, restaurants and fine fashion stores, perfect for outdoor sessions and people watching. Most of the businesses (particularly the fashion and floral stores) band together to change their foliage displays out front seasonably.
Check out our guide to the best things to do in Belgravia >
---
You might like – Trendy Chelsea and Belgravia Walk – Private Custom Tour >
---
Our final London Shopping Malls and Shopping Streets suggestion
25. Other London Markets
London has a multitude of flea markets, farmers markets and shopping stalls
Here are our guides to some of the best shopping street markets in London: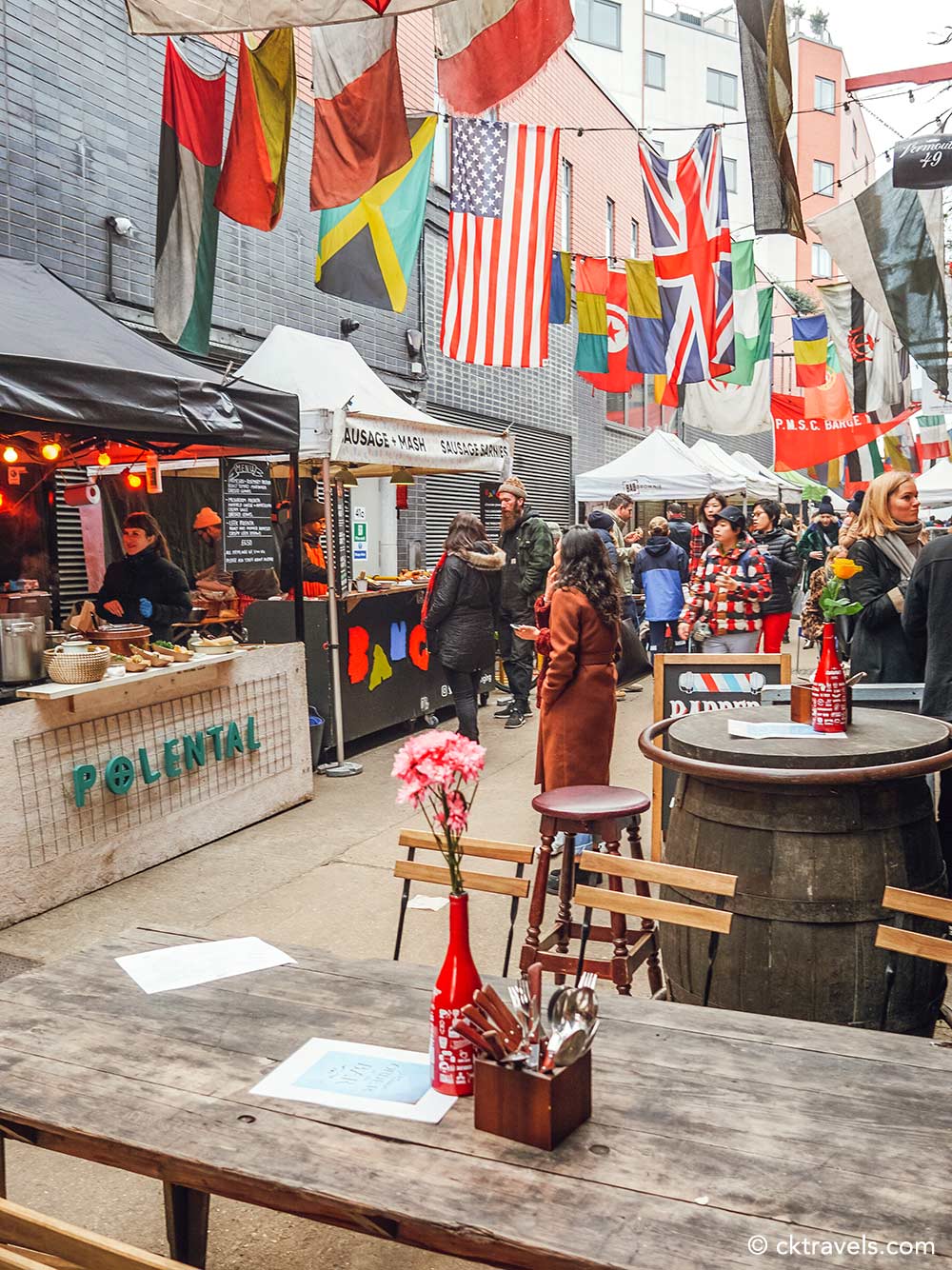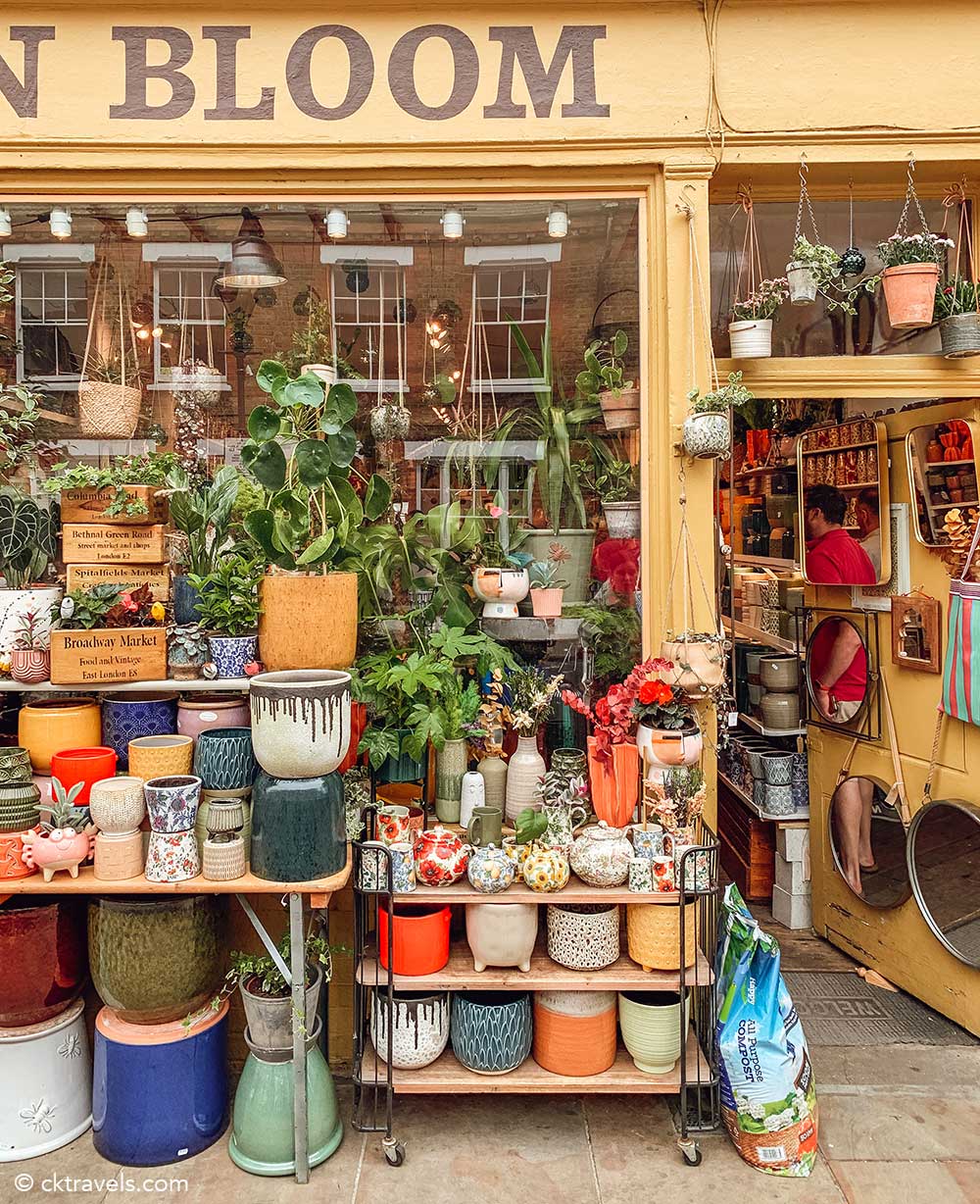 ---
Did you enjoy our best shopping malls, shopping areas and shopping streets in London blog post? Let us know in the comments or by sharing it on social media.
You can follow CK Travels on:
Instagram
Facebook
TikTok
YouTube
Pinterest
Other London posts you might like