This post may contain affiliate links to tours and hotels. These help us earn a small commission at no additional charge to you.
One of the most popular beach resorts in Thailand and an easy coastal retreat from Bangkok, Pattaya has plenty going on.
Sandy beaches, island getaways, family activities and lively nightlife are all part of the fun in Pattaya. From floating markets to transvestite cabaret, beachside bars to shopping malls, there are so many things to do in Pattaya.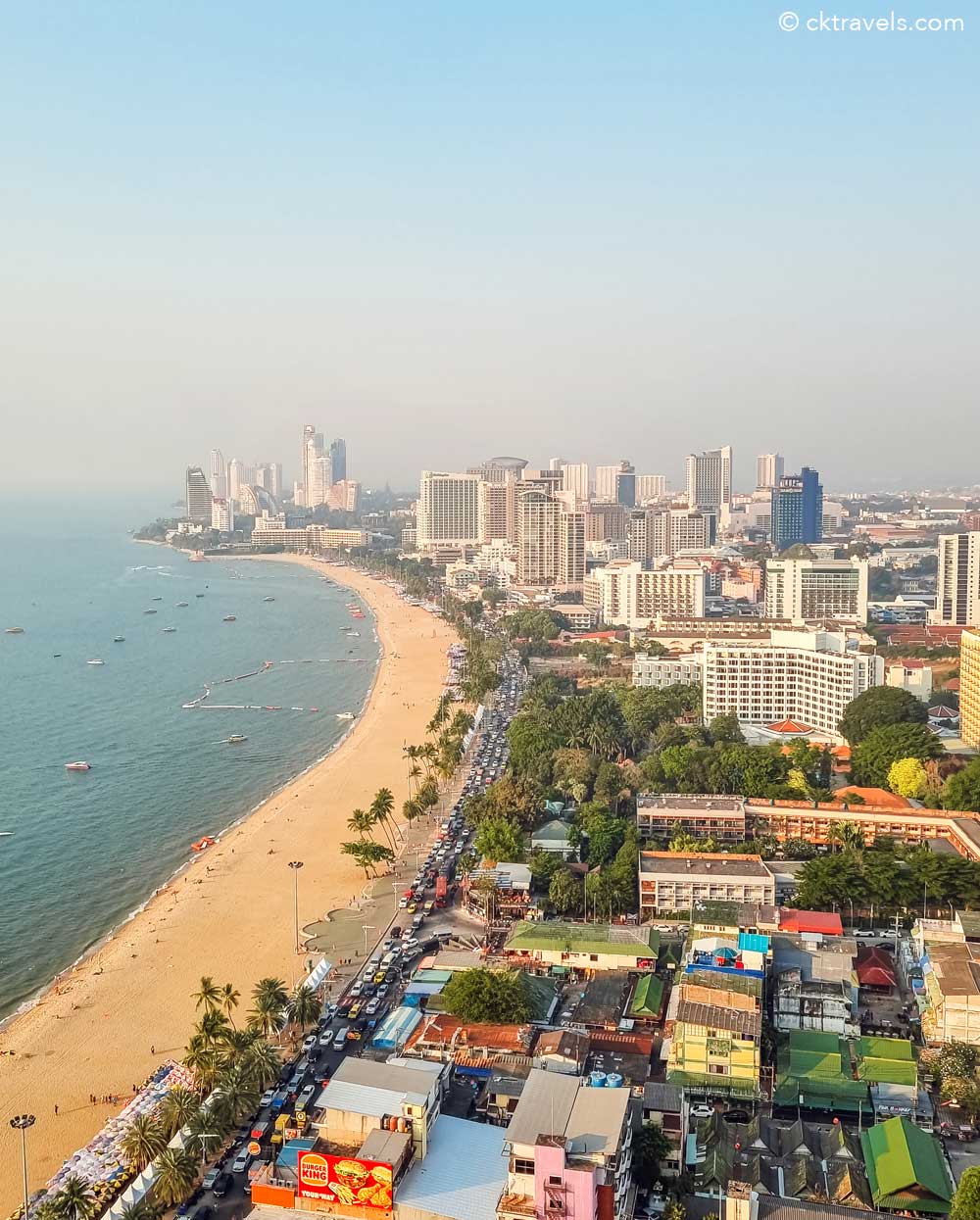 Until a few decades ago, Pattaya was a relatively sleepy fishing village and it is now a buzzing beachside city chock full of night markets and museum (plus even the world's largest 7-Eleven and the world's largest Hooters).
Although big and brash in parts with a certain reputation (especially at night), Pattaya has a quieter side too, including serene shrines ,beautiful botanical gardens plus The Sanctuary of Truth, Thailand's most unique temple.
From idyllic island escapes to seafood restaurants where you can your own squid, here is our guide to the best things to in Pattaya in Thailand in 2023:
How to get to Pattaya, Thailand
Pattaya is approximately 150km south of Bangkok, located on the coast.
There is a small international airport in Pattaya (U-Tapao Rayong Pattaya International Airport), but most travellers fly into Bangkok Suvarnabhumi or Bangkok Don Muang airport and then take a transfer or domestic flight to Pattaya.
You can take a taxi from both of Bangkok airports, but for the best rates, we'd recommend booking a private transfer from Bangkok to Pattaya.
You can book a Bangkok to Pattaya private transfer with either Viator or Klook.
Another way to get to Pattaya is by bus. There are regular public buses between Pattaya and Bangkok but these often wait until they are full before they depart, plus make several stops along the way – so we'd personally recommend taking a private transfer.
Taking a pre-booked transfer from Bangkok often works out cheaper than a bus if there are several of you sharing the car and splitting the fare.
Click here to jump straight to things to do in Pattaya list >
Hotels in Pattaya We Recommend
We spent two weeks in Pattaya and stayed in several hotels in different areas. Hotels we'd recommend include:
Budget Pattaya Hotel
Bayview Pattaya
We stayed in Bayview as it was very close to the beach and all the main Pattaya things to do and attractions without being overly noisy; the pool at Bayview was a nice place to cool off too. Check rates and availability for Bayview Pattaya >
Mid Price Pattaya Hotel
One Patio
Another Pattaya hotel we enjoyed was One Patio, due to its huge pool and swanky interiors.
The rooms are huge at One Patio compared to other Pattaya hotels, plus it is within 5 minutes walking distance of Terminal 21 mall, Tiffany's Cabaret and the Plane Night Market. Check rates and availability for One Patio >
High End Pattaya Hotel
Z Through by the Zign
If you want to stay in a nice 5* Pattaya hotel within walking distance of the Sanctuary of Truth, we'd recommend Z Through by the Zign.
We stayed there for 1 night and loved our villa with direct pool access, plus it has a glass floor in the lounge and a huge hot-tub in the bathroom. Check rates and availability for Z Through by the Zign >
Things to do in Pattaya
1. The Sanctuary of Truth
Truth be told, a trip to the Sanctuary of Truth is a must do when visiting Pattaya.
A world away from the other 'attractions' of Pattaya, The Sanctuary of Truth is an iconic (and still to be finished) temple set upon a beautiful beach and calm coastal cove.
Building of the Sanctuary of Truth begun in 1981 and it is still an ongoing project and building site.
It is also the largest wooden temple in the whole of Thailand. In fact, there isn't a single metal fastening in the whole structure, and is a superb showcase of traditional Thai wooden carving skills.
The Sanctuary of Truth museum / temple entrance fee is 500 Baht per adult and 250 Baht per child on the door (if you do not purchase your tickets in advance). This is approx $14.50 / £12 / 13 Euros per adult. Prices correct as of Summer 2023.
Visitors to the museum / sanctuary must be escorted by a guide.
Skip the line and book your discounted Sanctuary of Truth tickets in advance or take a guided tour with transport that includes the Sanctuary of Truth.
check out our guide to visiting the Sanctuary of Truth Museum >
---
You might like – the 20+ best temples in Chiang Mai >
---
2. Pattaya Beach
A sandy shore stretching along 3km of top Thailand coastline, Pattaya Beach is where everyone hangs out during the daytime, from sunbathing on the beach to wet and wild watersports.
Popular with international tourists, Pattaya Beach isn't exactly peaceful (it is surrounded by hotels, restaurants and bars) but it is a great place for swimming (certain sections have lifeguards and swimming nets).
We preferred to spend time on Pattaya Beach in the early evening to watch the sunset set over the ocean.
Popular beach activities include beach massages, hiring deck-chairs and sunbathing beds plus jet-ski hire.
---
Try this – Top Pattaya activities and tours with Get Your Guide >
---
3. Pattaya's Big Buddha Temple
For us, a walk to the top of the hill to see the Big Buddha is one of the best free things to do in Pattaya.
Standing at over 16 metres tall, the Big Buddha and surrounding hilltop shrine were constructed in the late 1970s and it is now one of the most popular tourist attractions in Pattaya.
Indeed when we visited early one morning having walked all the way from central Pattaya, we found dozens of tour groups who had arrived on buses – so try to get there very early or later in the day!
Located atop Pratumnak Hill, the panoramic views from the top are also sublime and you can see the coastline.
One of the highlights is the golden staircase that leads to the Big Buddha from the car park with two huge golden naga snakes 'guarding' the entrance.
Note you must dress respectfully to visit the Big Buddha – there is a small kiosk by the main staircase that loans shawls and scarves for free.
---
Try this – Pattaya Discovery Tour with Floating Market and Viewpoints >
---
4. Runway Street Food
The one place in Pattaya where the street food is quite 'plane'… sorry not sorry.
One of the more weird and wonderful street food markets, a HUGE old plane sits in pride of place at the Runway Street Food market (alas you can't go aboard the plane but it looks so FLIPPING COOL).
There is also additional theming like a mini airport terminal with boarding screens.
Even though the plane at Runway Street Food is the star of the show, we found this to be one of Pattaya's best food courts with around 50 food and drink stalls, selling everything from seafood to burgers and chips.
Street food prices at Runway Street Food market were reasonable and you can eat very well here for 70 to 150 THB. There are lots of tables to enjoy your food or ice-cold Chang beers and this was one of our favourite sunset things to do in Pattaya.
CK Travels tip – Love old plane-spotting? As well as Runway Street Food, there are also a couple of old planes outside nearby Terminal 21 shopping mall, complete with faux runway.
---
Try this – Pattaya Landmark Tours: All Famous Points in One Day >
---
5. Pattaya Walking Street
One of the more interesting places to visit in Pattaya at night, Pattaya Walking Street is certainly a sight to behold. Reminiscent of Soi Cowboy or Nana Plaza in Bangkok, this is a slightly seedier part of Pattaya.
The 'liveliest' party place in town, the notorious Walking Street 'strip' is full of neon-lit bars (lots of 'red lights' too) and restaurants, with various happy hours, big screen TVs, pool tables and local ladies beckoning you in.
If this is a place you want to go-go to (see what we did there?), that is up to you but have your wits about you and hold on to your wallet.
Not for everyone and possibly a little seedy for some, the clientele here seems to mainly be bloated old men enjoying themselves a bit too much. But best to see it with your own eyes first – and some of the happy hour drinks prices on the Walking Street seem really good too.
Try this – Pattaya Signature Nightlife Pub Crawl Tour >
---
You might like – Bangkok at night or our guide to Soi Cowboy >
---
6. Pattaya Floating Market
Autumn 2023 update – Pattaya Floating Market suffered a huge fire in early September 2023 and is currently closed to the public.
One of Pattaya's most popular things to do (24k Google reviews and counting as of late 2023), the Floating Market is certainly a Thailand tourist hot-spot.
Thailand is renowned for its colourful floating markets but Pattaya Floating Market does feel a little more overly touristy than others (it is a man-made lake located on the side of a busy highway).
Before the recent fire, there were around 100 or so stalls, shops and restaurants at the Floating Market although the whole site seems a little dilapidated and in need of some TLC.
Other attractions include rowing boat tours, free dance performances and an elephant park (which we'd advise you avoid).
The Pattaya Floating Village ticket price to the market is 200 Baht per adult when purchased on the door (as of summer 2023). A package deal is available for 500 Baht which includes admission and a 20 minute rowing boat tour of the 'village'.
If you book tickets in advance with Klook, it will cost just 120 THB, a saving of 80 Thai Baht (65 Thai Baht per child).
Read our full guide (and honest review) of Pattaya Floating Market here >
---
You might like – Things to do on Railay Beach, Krabi >
---
7. Day trip to Koh Larn AKA Coral Island
Koh Larn is one of the most popular islands to visit in Pattaya.
Only accessible by sea, Koh Larn (also known as Coral Island) feels like a tropical Thai island paradise hidden away from the rest of the world. Turquoise waters, sandy beaches and impressive underwater snorkelling sites are all on offer at Koh Larn.
Pattaya to Koh Larn by sea can be as quick as a 15 minute speed boat ride from Bali Hai Pier, or you can get a more sedate (and much cheaper) ferry.
We took a Pattaya to Koh Larn speedboat half day tour which cost 480 Baht (£11 / $13.75 USD). Full day tours are also available, plus you can also add on various watersports activities when you book.
This Pattaya to Koh Larn speedboat tour picked us up at our hotel foyer in a songthaew and took us to the Bali Hai Pattaya pier. We then jumped aboard a private speedboat from Bali Hai Pier with a tour guide and the rest of the tour group.
Read our full guide to getting from Pattaya to Koh Larn either by ferry, private speedboat or group tour >
You might also like – Coral Island tours (Koh Larn) with Viator >
---
8. Visit the World's Biggest 7 Eleven
Talk about 7-Eleven Heaven. The world's largest 7-Eleven (and of course Thailand's largest 7-Eleven) opened in Pattaya in 2018.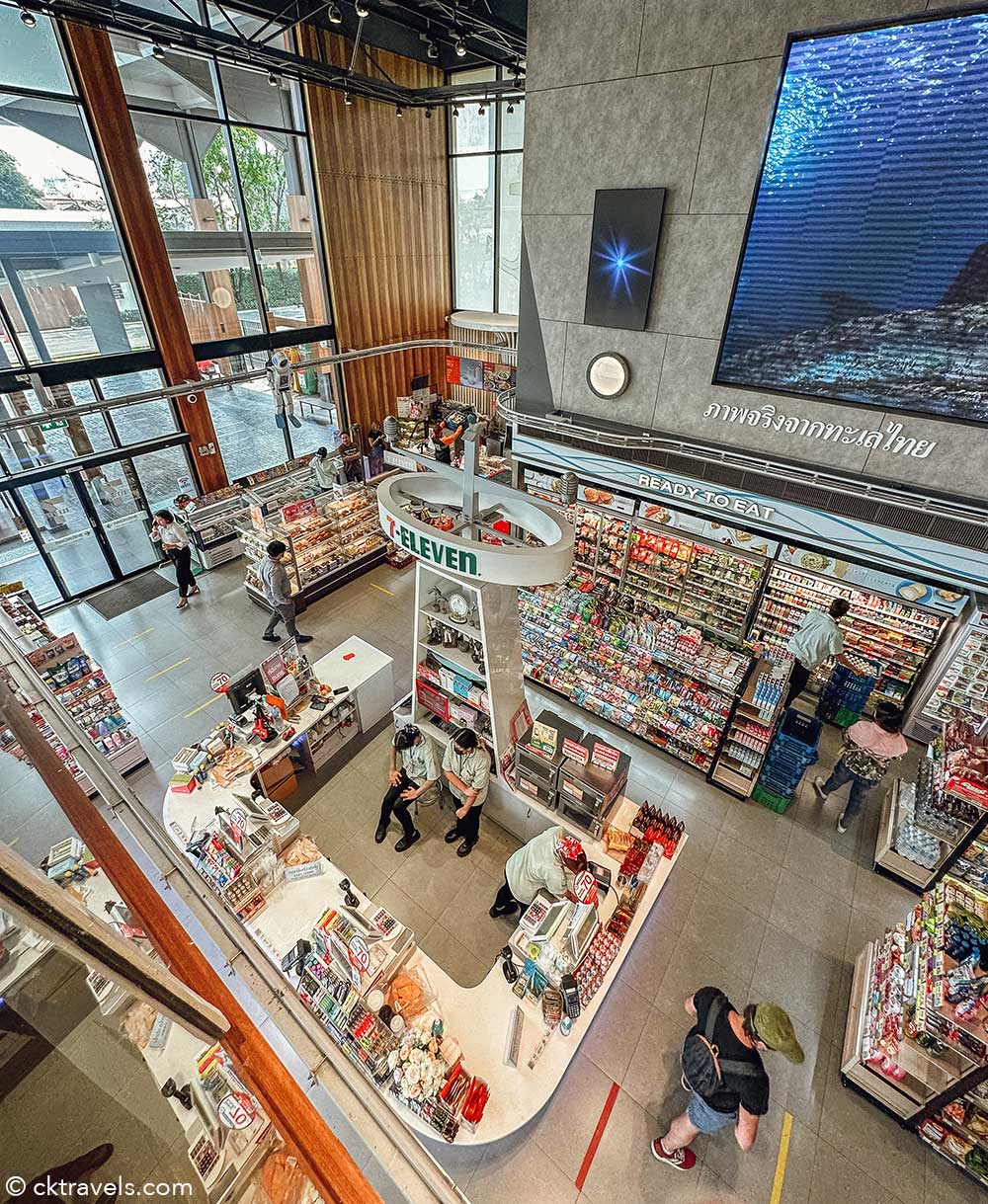 Better still, the world's largest 7-Eleven is in the shape of a boat, with maritime theming throughout, making it feel like you are aboard a cruise ship – it is literally the 'flag-ship' Thailand 7-Eleven store.
Located in Thara Pattaya and around a 20 minute walk from Pattaya Beach, this unique 7-Eleven has so many interesting features from a HDTV aquarium inside to a robot diver.
And yes, you can enjoy a huge range of Thailand 7-Eleven toasties here too!
Read our guide to visiting the world's biggest 7-Eleven in Pattaya or our guide to the best things to buy in Thailand 7-Elevens.
---
9. Pattaya Beer Garden
If you fancy a few beers or nice seafood overlooking the ocean, one of Pattaya's best bars is Pattaya Beer Garden, a family-friendly pub and restaurant with incredible views – the prices are pretty good too considering the incredible location.
A stone's throw from the Walking Street, Pattaya Beer Garden is a superb sunset spot although it can get very busy – so you may need to queue to get an outdoor table on the deck.
That said, there is loads of room inside and the service is brisk; preference is given to diners for the outdoor tables with views.
As well as local beers like Chang and Singha (prices start from around 65 THB for a small local draft beer), Pattaya Beer Garden has international beers on draft like Hoegaarden and Budweiser.
---
Try this – Parachute in Pattaya; Jump from an airplane at 13,000 feet >
---
10. Central Pattaya Shopping Mall
A huge beachside shopping centre and leisure complex that incorporates the Hilton hotel, Central Pattaya has over 300 stores and restaurants located across seven levels plus a nice outdoor viewing area overlooking Pattaya Beach.
Central Pattaya shopping mall is one of your best bets for cheap eats with several food courts inside plus a smaller street food market on the rear concourse (some of the stalls here are quite interesting including one that does an alligator spit-roast; make it snappy!)
As well as fashion stalls and jewellery stalls, Central Pattaya mall is chock full of international chain restaurants and fast food vendors like Mister Donut, Starbucks, Sizzler and KFC.
---
You might like – the 20+ best shopping malls in Bangkok >
---
11. Terminal 21 Mall Pattaya
The third Terminal 21 shopping mall in Thailand is located in Pattaya (in addition to their hugely popular Terminal 21 Asok and Terminal 21 Rama 3 shopping malls in Bangkok).
Pattaya Terminal 21 has an excellent and very inexpensive food court plus a huge Eiffel Tower and Leaning Tower of Pisa in the middle of the mall.
The unique feature of the Terminal 21 shopping mall is an actual, full size Terminal 21 branded airplane parked outside the mall on a runway (there is also a smaller King Power plane next door to it so it kinda feels like an airport)!
Terminal 21 also has the look and feel of a transport hub with various installations like a huge baggage sculpture.
There are six floors at Terminal 21 – the ground floor represents France / Paris, the middle floor represents London / England and the first floor Rome / Italy.
The second floor at Terminal 21 is themed as Tokyo, Japan, the third floor as San Francisco (complete with themed food court) plus the top floor is a Hollywood themed cineplex.
---
You might like – Best Chiang Mai shopping malls >
---
12. Pattaya Water Sports
Pattaya Beach is a popular place for watersports and beach activities like paragliding, banana boats and jet ski hire. All along the beach-front, you'll find dozens of watersports operators all vying for your trade (some can be a little more pushy than others).
Alternatively, there are lot of water sport activity day trips from Pattaya Beach including Nemo Snorkeling Experience by Speedboat and Paragliding off a pontoon.
You can even do a full day of watersports activities that includes snorkelling, jet-skis, yachts and more for one fixed price.
A word of caution – make sure you have travel insurance before undertaking any water sports plus ensure your insurance coverage includes such activities.
Try these water activities in Pattaya via Klook or Viator.
---
13. Hilton Horizons Rooftop
For the best aerial view of Pattaya Beach and the surrounding area, head to the Horizon Rooftop Bar and Restaurant, located atop the Pattaya Hilton hotel on the 34th floor.
We spent a splendid sunset session at the Horizons Rooftop Bar watching the sun go down over the ocean, with views of all the paragliders and boats returning from various day-trips.
Service is good and the main terrace has panoramic views of Pattaya. Better yet, try and combine your visit with the Hilton Horizons Rooftop Bar Happy Hour which is 'Buy one drink and get one free' between 5pm and 7pm.
Note that this Horizon Happy Hour offer is per person not per drink so for instance, a couple would end up buying two drinks and getting one free drink each. Cheers!
Check out the room rates at Pattaya Hilton >
---
Try this – Pattaya Full-Day 3 Tropical Island tour (Snorkeling Cruise with Buffet) >
---
14. Pattaya City Sign
A little of Hollywood comes to Pattaya – the colossal Pattaya City sign is one of the city's most popular coastal lookouts and stands proud over the bay, a short walk from Bali Hai Pier and the ferry terminal.
You can get up close to the Pattaya City sign with a series of walkways around the back that start from the harbour car park in front (follow the 'Park' signs). This is also a rather fun (and free) thing to do in Pattaya.
---
You might like – Asiatique Night Market in Bangkok >
---
15. Khao Phra Tamnak Viewpoint
Pattaya can be party central and sometimes quite busy along the beach, so if you want to take a peaceful stroll, we'd recommend a coastal walk from the main ferry terminal (Bali Hai Pier) to the lighthouse at Cape Bali High /AKA Khao Phra Tamnak Viewpoint.
This is a flat walk with nice views out to the ocean (and of the big Pattaya City sign) plus there are a few bars along this stretch of Pattaya – it is also a popular spot with local fishermen.
Just to note there are quite a few stray dogs along this road (often with puppies) but they seemed fine if you don't get too close.
---
You might like – things to do in Thonglor, Bangkok >
---
16. Thepprasit Night Market
Formerly a weekend market that is now open daily, Thepprasit Night Market is a famous street food and souvenir market with dozens of stalls.
Located inland and around 5km south of central Pattaya Beach, Thepprasit Night Market is popular with locals and tourists alike, serving everything from deep fried scorpions to tie-dye dresses.
Thepprasit Night Market is open from approx 5pm to 10.30pm daily although there are generally fewer stalls on weeknights.
---
You might like – Guide to Jodd Fairs Danneramit; Bangkok's newest night market >
---
17. Cabbages and Condoms Pattaya
Cabbages and Condoms restaurant located on Hu-Kwang Bay beach at the 'Birds and Bees' resort, is quite like no other dining experience in Pattaya.
Set in a verdant rainforest setting overlooking the ocean, this condom restaurant is quite the experience. And yes, there are condoms strewn all around (not so many cabbages) with a safe sex gift-shop as well.
The best bit about visiting this restaurant is that profits are reinvested into charitable causes for young or disadvantaged people across Thailand.
Check out our guide to visiting the themed Cabbages and Condoms Restaurant in Sukhumvit, Bangkok >
---
You might like – Go City Bangkok pass; an honest review >
---
18. Wat Yansangwararam
A little way out of downtown Pattaya, Wat Yansangwararam is a large Buddhist temple popular with locals and tourists.
With peaceful gardens, waterside temples and a museum set in over 100 acres of parkland, Wat Yansangwararam is a tranquil time and pleasant way to escape the hustle and bustle of Pattaya.
Admission fee for Wat Yansangwararam is 50 THB as of summer 2023.
Visit Wat Yansangwararam as part of a full-day customizable Pattaya City tour >
---
You might like – Guide to exploring Bangkok by tuk tuk >
---
19. Ripley's Believe it or not / Horror Hospital
A larger than life (and possibly quite cheesy) thing to do in Pattaya, Ripley's Believe it Not is easy to spot – just look for the bright red aeroplane that has seemingly crashed into the entrance. Now that is quite some signpost!
As well as thousands of weird and wonderful artefacts to see, there are multiple attractions to enjoy including the Haunted Adventure, Louis Tussaud's Waxworks, The Vault Laser Maze Challenge and Infinity Maze.
One of the newer attractions at Ripley's Believe it Not is the ominous Haunted Hospital, Pattaya's scariest haunted house – dare you enter?
Found out more about Ripley's Believe It Or Not including advance ticket prices here >
---
You might like – Guide to Chatuchak Market in Bangkok >
---
20. Wat Chaimongkron Royal Monastery
A beautiful Buddhist temple in Pattaya that is free to visit, Wat Chaimongkron royal monastery was built in the 1350s at the bequest of King U-Thong.
The huge chedi of Wat Chaimongkron royal monastery looms large over this religious site, one of very few easily accessible temples in Pattaya.
When visiting, remember to dress respectfully including covering your shoulders and legs.
---
Try this – Pattaya: Half-Day Guided Enduro Tour with Meal >
---
21. Hooters Pattaya – the world's largest Hooters Bar
Welcome to Hooters Pattaya, the world's largest Hooters restaurant with a beachside terrace!
If you weren't already aware of this bright orange eatery, Hooters is a huge worldwide sports bar and American diner chain with many locations in Thailand (including two in Sukhumvit, Bangkok)
As well as its cheap beer and huge all day menus, Hooters is perhaps best known for its scantily clad waitresses and happy hour specials such as cheap chicken wings.
We've been to Hooters Bar several times for their weekday 3pm to 4pm half price food deal and to be fair, the food is really good especially if you like huge portions (the fish tacos and curly spicy fries are superb).
Although far from classy (especially when the waitresses dance – cringy), Hooters is a good place for budget bites, beachside views and friendly service.
---
You might like – Things to do in Sukhumvit, Bangkok >
---
22. Let's Relax Spas in Pattaya
After a busy day of island hopping or coastal walks, time to unwind with a spa treatment, one of the more relaxing things to do in Pattaya.
There are multiple spas in Pattaya particularly in hotels along Pattaya Beach plus in the shopping malls.
One of the most established spa chains in Pattaya and Thailand is Let's Relax, with several spas in Pattaya including Thailand's first sea-view Hotel Onsen in Pattaya.
Treat yourself to a unique onsen experience on your own or with others and soak in beautiful bathtubs full of minerals or enjoy hot stone or steam treatments. Finish off with a massage and mango sticky rice (but not at the same time!).
Book your Let's Relax Spa Experience at Terminal21-Grande Centre Point with Klook >
---
Check out the 10 best spa hotels in Pattaya with booking.com >
---
23. Jomtien Beach
If Pattaya Beach is a bit too busy or overcrowded with sunburned tourists for your liking, take a jaunt to Jomtien Beach, south of Pattaya Beach and a lot less busy. This is where many expats choose to live.
Stretching over 3km with tree lined shores and blissful beachside bars, many travellers prefer Jomtien Beach to Pattaya Beach. There is still night-life and attractions to enjoy at Jomtien Beach although it is little less 'full on' than Pattaya Beach.
---
Try this – All Star Dinner Cruise With Cabaret Show and Unlimited Beer >
---
24. Ramayana Water Park
Make a splash at Thailand's biggest water park! Boasting over 20 water slides, 4 themed zones, 3 large pools and a long lazy river to cruise along, there are over 50 things to do at Pattaya's Ramayana Water Park.
You can also brave the freefall waterslide where the floor literally disappears below you – eek!
If you fancy something a little more sedate, you can also experience a small-scale floating market (well, one barge!) on the river's edge here.
Skip the queue; get your discounted Ramayana Water Park tickets here >
---
25. Pattaya Beach Road
If you aren't a beach bunny who likes to spend all day sunbathing. Pattaya's famous Beach Road is still worth a visit, packed full of dozens of beachside bars (some family friendly, some a little more adult orientated).
The whole stretch of Pattaya Beach Road is just under 3km with much of it shaded by palm trees. It begins by the Walking Street and finishes by the Dolphin Circle roundabout, near to Terminal 21 shopping mall.
During the daytime in Pattaya, we'd often walk along the beachside promenade along the seafront and occasionally stop by beachside bars or a 7-Eleven for some cold refreshments.
At the weekends and during festivals, you'll see lots of roadside street food stalls along Beach Road plus pop-up beach restaurants and bars are in place every day of the week.
---
26. Tiffany's Show Pattaya
The most famous cabaret show in Pattaya that has been running for over 30 years, Tiffany's Show is the largest transvestite theatre performance show in Asia.
A little bit of Las Vegas in Thailand, the costumes, dance choreography and stage sets at Tiffany's are world class. You know you are in for a treat when the first thing you see when you arrive is a very bling lit-up fountain.
You can also pose for pictures with the Tiffany's cast after the show but extra payment is usually required.
Book your Tiffany's cabaret tickets with Viator or Klook.
---
27. Alcazar Cabaret Show
If you've already seen Tiffany's cabaret show or would love to see more 'ladyboys' (their words), the alternative transvestite cabaret show in Pattaya is Alcazar.
Wowing packed crowds since the early 1980s and featuring international dance and musical numbers as Hello Vietnam and Persian Dance, Alcazar is one of the hottest nights out and an alternative thing to do in Pattaya at night.
Book your Alcazar Cabaret Show tickets here >
---
28. Nong Nooch Tropical Garden
A blooming beautiful botanical garden spread over 500 acres of pleasant green pastures, the Nong Nooch Tropical Garden is one of the best things to do in Pattaya, the perfect antidote to the hustle and bustle of the beach area.
Reminiscent of Gardens By The Bay in Singapore, Nong Nooch Tropical Gardens is not full of postcard perfect paths, ponds and plants, but also unexpected surprises like huge dinosaur statues or ornamental animal sculptures.
If booked in advance with Klook, Nong Nooch Tropical Garden discounted tickets start from 398 THB per foreign adult (usually 500 THB on the door) and 255 THB for foreign children.
---
29. Pattaya Night Bazaar
One of the most famous night markets in town, this bustling Night Bazaar has over 200 stalls all selling cheap as chips clothing, souvenirs and jewellery (be prepared to haggle).
From elephants to scarves, Chang beer t-shirts to mini tuk-tuks, there are lots of shopping bargains to be had as you wander round this maze of stalls.
As it is under-cover, this is also a really good all weather night market (very useful during the rainy season).
To mention there aren't that many food stalls at the Pattaya Night Bazaar, but it is just across the road from Central Pattaya shopping mall which has several food courts both indoor and outdoor.
---
Try this – Pattaya PADI Beginner Scuba Diving course >
---
30. Art in Paradise Pattaya
Art attack! Art in Paradise is a Pattaya 3d museum and selfie spot billed as "…Thailand's first optical illusion museum" (hmmmmm).
There are ten 3D galleries where you can create your own optical illusions against cool painted backdrops.
From fighting off a fierce kitty to surfing on a huge wave or getting up close to a rhino on a safari, this is fun for all the family – possibly one to do if the weather is inclement in Pattaya.
Book your Art in Paradise ticket with Klook or Viator.
---
31. Central Marina Shopping Mall
One of the lesser known shopping malls in Pattaya, Central Marina is a little way away from Pattaya Beach. It could almost be classed as a retail outlet as there are lots of big brands at big discount prices (around 100 stalls and small concessions).
Central Marina shopping mall has lots of coastal and shipping theming like a large lighthouse outside plus has a popular nightly street food market outside on the main plaza (often with live music and entertainment).
When we last visited Central Marina in early 2023, we noticed there were a lot of vacant shops and areas so we aren't sure if many of the stores closed down during COVID but it does seem to be bouncing back somewhat.
This is also a good place in Pattaya for international chain restaurants like Yayoi, Mister Donut, Swensen's and Ippudo.
---
32. Underwater World Pattaya
Seeing a jelly-fish or stingray in Pattaya isn't usually a good thing but it is cool when it is at Underwater World, a huge aquarium and tropical sea creature experience.
Marvel at Thailand's marine life through a big glass viewing tunnel or get up close with fish (you might even find Nemo) at the Coral Reef Zone.
Other Underwater World attractions include a Stingray pool, Open Water Zone, a touch pool plus encounter exotic fish from all over the world.
This is Pattaya's only aquarium with three 'feeding' shows daily (including sharks) so this is a fun thing to do in Pattaya, especially on a rainy day.
Skip the line – get your discounted Underwater World tickets with Viator or Klook.
---
33. Little Korea / Korea Town
Whilst staying at the One Patio hotel, we discovered Pattaya's Korea Town immediately in front of the hotel, a square of Korean restaurants, Korean shops and K-Pop karaoke booths.
Popular and well reviewed Korean restaurants in Korea Town include Jin Sung Korean Restaurant, Namsan Grill Korean BBQ and buffet plus Myeong Dong Korean Restaurant.
Note that at night, the Korea Town plaza also seems to become an overflow car park for Tiffany's Cabaret Show next door so best to walk here if you can.
Love South Korea? Check out guides to the 85+ best things to do in Seoul or 75+ things to do in Busan.
---
34. Pattaya Avenue Mall
Located close to Ripley's Believe It Or Not, Pattaya Avenue Mall is a shopping center and mini mall that comprises around 20 cafes and restaurants (many of which are Japanese).
It also has a branch of La Villa Market, billed as Thailand's first international supermarket (popular with expats).
Although it is your typical mall and not worth a special visit, Pattaya Avenue Malls benefits from being close to the beach plus the exterior is quite nice, with fountains, trees and balconies covered in shrubs and greenery.
Anchor tenants include a large cinema and chain restaurants like McDonalds and Wine Connection.
---
35. Lanpho Nakluea Market
A local seafood market in Pattaya, Lanpho Nakluea Market has an incredible array of seafood stalls, all selling the freshest fish and catch of the day from the local fishing boats.
Similar to the seafood markets you'll find in Japan or South Korea, you can purchase seafood here from the numerous stalls then get it cooked by one of the food stalls and restaurants.
From clams to crabs, shrimp to mussels, you'll find a good selection of stalls here but there have been recent reports of some stalls tricking the weighing scales or trying to get you to buy a larger amount than you originally ordered.
Lanpho Nakluea Market is open daily (except Sundays) from 8am until around 6pm (best to get here before the lunchtime rush).
Thanks for checking out our blog!
As of Autumn 2023 we are currently digital nomading / travelling around Asia (Thailand, Malaysia, Singapore and South Korea). Check out our daily travel diaries on Instagram @.c.k.travels >
36. Pattaya International Kite Festival
On our most recent trip to Pattaya we saw the International Kite Festival; usually held every year in February.
Whilst it is nothing to write home about or visit Pattaya especially for, Pattaya International Kite Festival is a nice beachside thing to do in Pattaya if your visit coincides with it.
You'll see numerous huge and high flying kites in various shapes like whales or rainbows – these also look rather cool when viewed from the rooftop bars in Pattaya like the Horizons rooftop bar at the Hilton hotel.
Other Pattaya festivals include the Carnival (in February), Loy Krathong, Songkran and the annual 'Pattaya International Bikini Beach Race' held every September – we genuinely are not making this up!
---
37. Tappia Floating Squid Cafe
For sunset views accompanied with your very own freshly caught squid, try a trip to Tappia Floating Squid Cafe.
Take a speedboat transfer from Pattaya Beach to the Tappia Floating Cafe where you can enjoy cold drinks and fish for squid. Have your fresh catch prepared as sashimi or grilled to your liking.
Book your Tappia Floating Squid Cafe transfer here >
September 2023 update – there seems to be mixed reports about whether Tappia Floating Squid Cafe is currently open so please check beforehand via the booking link above.
---
38. Get High in Pattaya
High times in Pattaya! Since 2022, it has been legal to smoke grass / weed in Thailand – that said, please note it is illegal to smoke (and vape) in public places.
As such, many 'dope' cafes are now dotted around both Pattaya and Bangkok in areas such as Thonglor, Sukhumvit, Ari, and Silom.
---
39. Mini Siam
2 for the price of 1 – Mini Siam not only contains a miniature Thailand but also a mini Europe.
From the ancient temples of Thailand like Ayutthaya to a small-scale Eiffel Tower and shrunken Egyptian Abu Simbel temple, this is your opportunity to get up close to some of the world's most famous landmarks.
Combined with gorgeous green gardens and small scale recreations of key landmarks like Bridge on the River Kwai, this is a fun family thing to do in Pattaya.
Get your advance discounted tickets to Pattaya Mini Siam (including Mini Europe!) with Klook or Viator.
---
40. Other Things to do in Pattaya, Thailand
Hopefully we've given you a good overview of the 40+ best things to do in Pattaya – here are some other Pattaya activities and tours you can do:
---
Did you enjoy our things to do in Pattaya blog post? Let us know in the comments or by sharing it on social media.
You can follow CK Travels on:
Instagram
Facebook
TikTok
YouTube
Pinterest
Other Thailand posts you might like