This post may contain affiliate links to tours and hotels. These help us earn a small commission at no additional charge to you.
Bangkok doesn't have enough malls, shops and night markets, right? If you want to try something a little different, Asiatique night market (Bangkok Asiatique: The Riverfront) might be for you.
Situated on the banks of Bangkok's Chao Phraya river, Asiatique Riverfront offers a mix of night market stalls, restaurants and entertainment plus you can arrive in style via the free river shuttle (from the pier near Saphan Taksin BTS station).
Asiatique Riverfront is a night-time shopper's and food lover's paradise, billed as Bangkok's first 'large-scale riverside shopping centre'. Although in terms of glitz and glamour, Asiatique has been surpassed by the nearby ICONSIAM riverside shopping mall that opened in 2018.
New for 2023 at Asiatique The Riverfront – Disney 100 The Village is a pop-up exhibition with several themed zones including Disney, Pixar, Marvel and Star Wars inspired exhibits.
Bangkok Asiatique The Riverfront in 2023
We last revisited Asiatique: The Riverfront night market in spring 2023. Post COVID, things seem to have slowed down a little but exciting new developments are happening at Asiatique The Riverfront in 2023.
This includes the new waterfront restaurant The Crystal Grill House, the most 'glamorous' grill house on the river in Bangkok plus the Disney 100 Village (admission fees apply).
Other new culinary highlights at Asiatique Riverfront market include the Sirimahannop heritage ship restaurant (a fancy place for a floating feast) plus the complex is now home to multiple evening dinner cruise departures.
We noticed a few of the shops at the rear were closed (and as at 2023, the Muay Thai boxing stadium was closed too). Many of the warehouses had building work going on, hopefully meaning new retail shops and nights markets are planning to open at Bangkok Asiatique Riverfront.
Asiatique Night Market, Bangkok
Once comprising over 1000 stalls, as at early 2023, we'd estimate Asiatique Riverfront night market to have more like 250 stalls and shops plus about 30 bars and restaurants.
You'll find a few chain restaurants like Swensen's and KFC, but the once popular MK Restaurant has now closed down. New stalls at Bangkok Asiatique Riverfront are planned in 2023.
The site where the night market stands was once of Thailand's busiest shipping ports receiving freight from all over the world and has been transformed into a shopping village and replica warehouse complex.
We've been to Bangkok several times and often stay in riverside hotels in this area so Bangkok Asiatique Riverfront is one of our regular go to places at night.
We love the good variety of street food stalls, restaurants and bars, plus easy accessibility (just a 10 minute free shuttle boat ride from Saphan Taksin BTS station).
Entertainment at Bangkok Asiatique Riverfront
Asiatique Bangkok is broken down into several distinct areas including the fashion stalls, waterfront dining establishments plus the entertainment plaza, that used to host the likes of Muay Thai boxing.
As at 2023, the current show and entertainment at Asiatique is a Thai ladyboy cabaret shows, Calypso.
Calypso at Asiatique The Riverfront
New for 2023, Calypso is a nightly cabaret show at Asiatique. Calypso cabaret has been running in Bangkok for over 30 years but recently moved to Asiatique.
A raucous and racy Las Vegas style song and dance extravaganza, Calypso is a transgender and Thai ladyboy dinner and dance show.
Your Asiatique evening at Calypso begins with a decadent and delicious Thai evening meal watching traditional Khon dancing. Post dinner, enjoy the Calypso cabaret performance that includes impersonations, high energy dance routines plus famous English, Thai and Korean songs (Gangnam style!).
Advance bookings to Calypso Bangkok at Asiatique are recommended – click here to get your discounted Calypso cabaret tickets >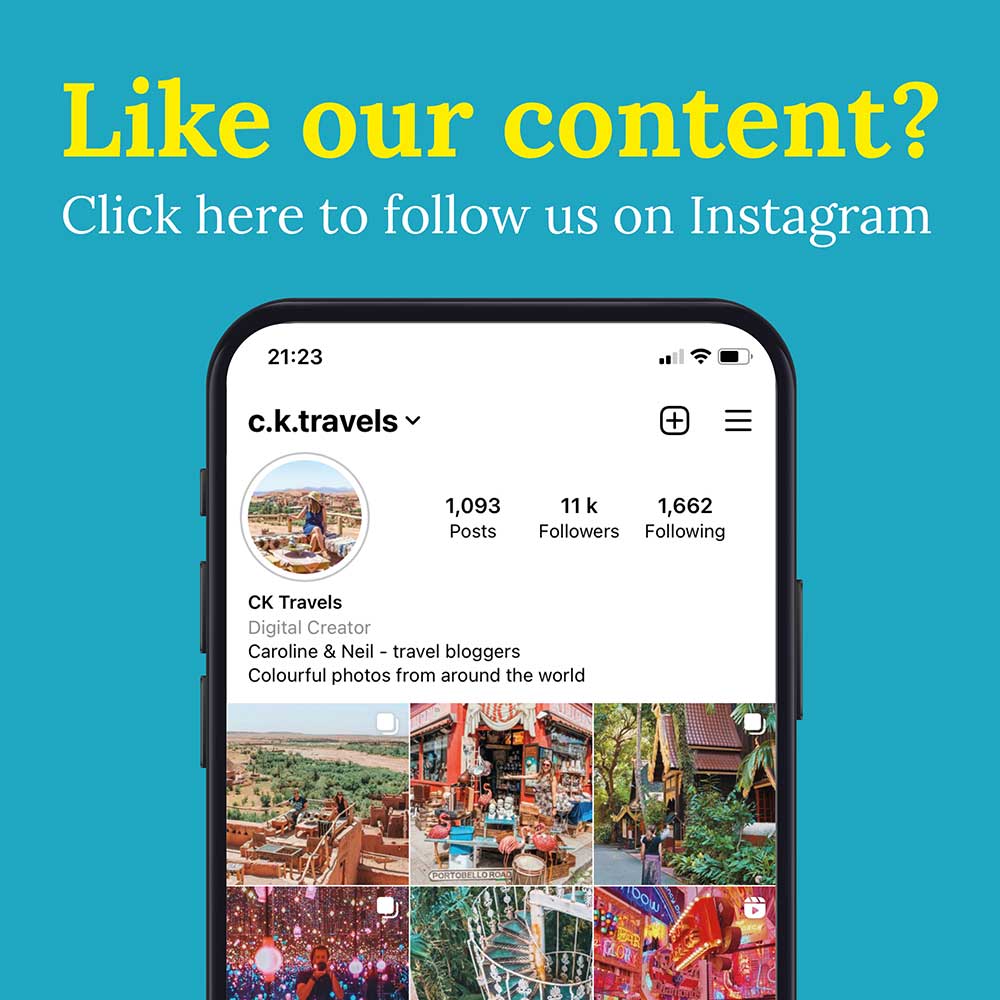 Shopping
There are also several warehouses at Asiatique that host dozens smaller stalls (great for souvenir and jewellery shopping) – although haggling doesn't seem to be the done thing here (unlike say Chatuchak Market).
A lot of the stalls sell the same wares so a few minutes walking around comparing stalls can save you beaucoup de Baht.
---
YOU MIGHT LIKE: things to do in Bangkok at night >
---
Sirimahannop Tall Ship – The Heritage
The most recent new attraction at Asiatique is the Sirimahannop tall ship, moored out front and next to where free Asiatique water shuttle arrives and departs from.
Newly built, it was designed to commemorate the legacy of the Thoon Kramom ship, once the largest vessel and trading ship in the kingdom of Siam.
As well as an onboard museum, the Sirimahannop Tall Ship is now one of Bangkok's most unique dining settings with an onboard bar and restaurant – seriously a cool place to have cocktails at sunset, as the sun goes down over the Chao Phyra river.
Sirimahannop at Asiatique night market is open daily from 4pm to midnight. Check out their menu here >
---
YOU MIGHT LIKE: Things to do in Silom, Bangkok
---
Crystal Grill House
Newly opened in Spring 2023, the Crystal Grill House Bangkok is Asiatique's newest waterfront restaurant with several glass domes (like mini igloos) looking out over the Chao Phraya river.
Run by the owners of nearby Sirinahanop Tall Ship The Heritage, the several glass igloos at Crystal Grill House are decorated in different naval themes to go with the nearby tall ship. Famed for its steak dishes and signature cocktails – grilled seafood here is also a popular choice.
Evening Bangkok Dinner Cruises
One of the reasons Asiatique the Waterfront is so popular at night is not just because of the shops, bars and restaurants – it is also because numerous Bangkok dinner cruises along the Chao Phraya River depart from here at night.
We recently did a Bangkok evening dinner cruise from Asiatique Riverfront and it was so much fun with live music and dancers, unlimited buffets (including seafood) plus all you can drink beer.
On top of that, you get to see incredible Bangkok landmarks and temples lit up at night including Bangkok's Wat Arun temple. Good fun, we found our Bangkok dinner cruise great value.
Check out the Bangkok evening dinner cruises on Viator or grab a Bangkok evening dinner cruise with a Go City Bangkok Pass.
---
YOU MIGHT LIKE: Guide to Jodd Fairs DanNeramit Night Market in Bangkok
---
Disney 100 The Village at Asiatique The Riverfront
Running late March to late July 2023, Disney 100 The Village is a new pop-up event at Asiatique with several themed zones including Pixar, Disney, Marvel and Star Wars exhibits.
Disney 100 The Village at Asiatique has four ticketed zones – Pixar Putt, a Disney themed enchanted garden, a Frozen exhibition and the Marvel Universe.
Admission prices for the Enchanted Gardens start from 219 Baht per adult when booked in advance on Monday to Thursday (as at March 2023).
Ticket prices for Asiatique's Disney Marvel Universe and Frozen exhibition start from 649 Baht per adult (599 Baht for children) when booked in advance Monday to Thursdays (Friday to Sunday the prices are higher).
Free Disney 100 The Village activities at Asiatique include a Star Wars Experience, a Disney100 Express Train and Mickey Mouse and Minnie Mouse Sawasdee statues.
Asiatique the Living Museum (Street Art)
One new addition we spotted on our most recent trip was that the old warehouses now had a mural trail called the Living Museum, with illustrations adorning the side telling unusual tales of local history or street food traders.
The ice-cream illustrations were particularly incredible (and made us so hungry – perhaps that is the plan?!).
---
You might like – Best Shopping Malls in Bangkok >
---
New Opening Times 2023
Asiatique the Riverfront is open every day from 5pm to 12am (midnight) as at March 2023.
---
YOU MIGHT LIKE: Chatuchak Weekend Market in Bangkok – the ultimate guide
---
How to get to Asiatique Night Market, Bangkok
Unless you are already staying in a hotel in the area, the best way to arrive at Asiatique is via their free shuttle boat service from Sathorn Pier.
Take the BTS Skytrain to Saphan Taksin station and follow the signs to the pier – the shuttle boat generally leaves from the last pier on the far left, and takes 10 minutes to arrive.
Some riverside hotels such as Avani Riverside and the Chatrium offer their own free shuttle boats.
Note that the queues for the shuttle can be quite long early on in the evening so allow plenty of time to make the transfers, especially if you have a dinner reservation.
---
YOU MIGHT LIKE: Bangkok Tuk Tuk Tour – exploring the city at night
---
Bangkok Asiatique The Riverfront: a summary
Asiatique is a fun way to spend a laid-back night in Bangkok – enjoy eating, shopping and drinking and to your heart's content.
If your visit to Bangkok also coincides with one of Thailand's festivals, there will likely be some form of special event or fireworks taking place – so always check their website before you visit.
And with new openings promised in 2023, we can't wait to return!
Other Bangkok blogs posts you might like
Other Thailand blogs posts you might like
Did you enjoy our Guide to Asiatique: The Riverfront night market in Bangkok blog post? Let us know in the comments or by sharing it on social media. Follow us on Instagram, TikTok and YouTube!