This post may contain affiliate links to tours and hotels. These help us earn a small commission at no additional charge to you.
7-Eleven in Thailand is a way of life – there is practically a 7-Eleven on every street corner with over 13,000 stores opened in Thailand since the late 1980s.
Thailand has the second largest number of 7-Elevens anywhere in the world (after Japan), plus the largest 7-Eleven in the world (themed like a cruise ship!).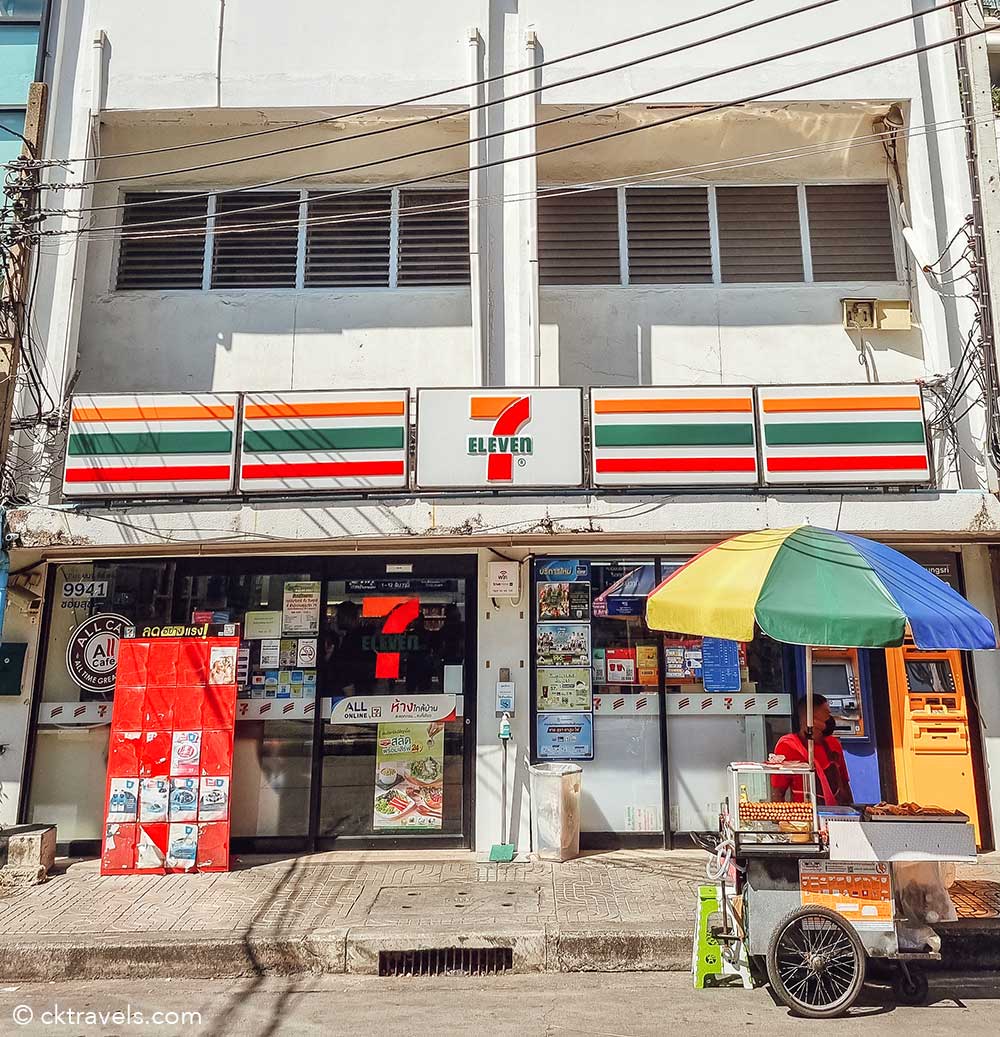 There is are so many fine restaurants and good street-food in Thailand, but no trip there is complete without a quick trip to a convenience store (especially if you are on a budget).
Open 24 hours, pretty much every traveller to Thailand has at some stage ducked into a 7-Eleven for a late-night toasted sandwich, ice-cold Chang beer or to cool down with a ice-cream or soft-drink.
From durian to dried squid, tiger balm to tourist SIMs and condoms to collagen drinks, Thailand 7-Eleven has got you covered!
Here is our guide to 60 things to buy, eat and drink in 7 Eleven Thailand:
Like this? Check out our 7-Eleven Taiwan and 7-Eleven South Korea guides >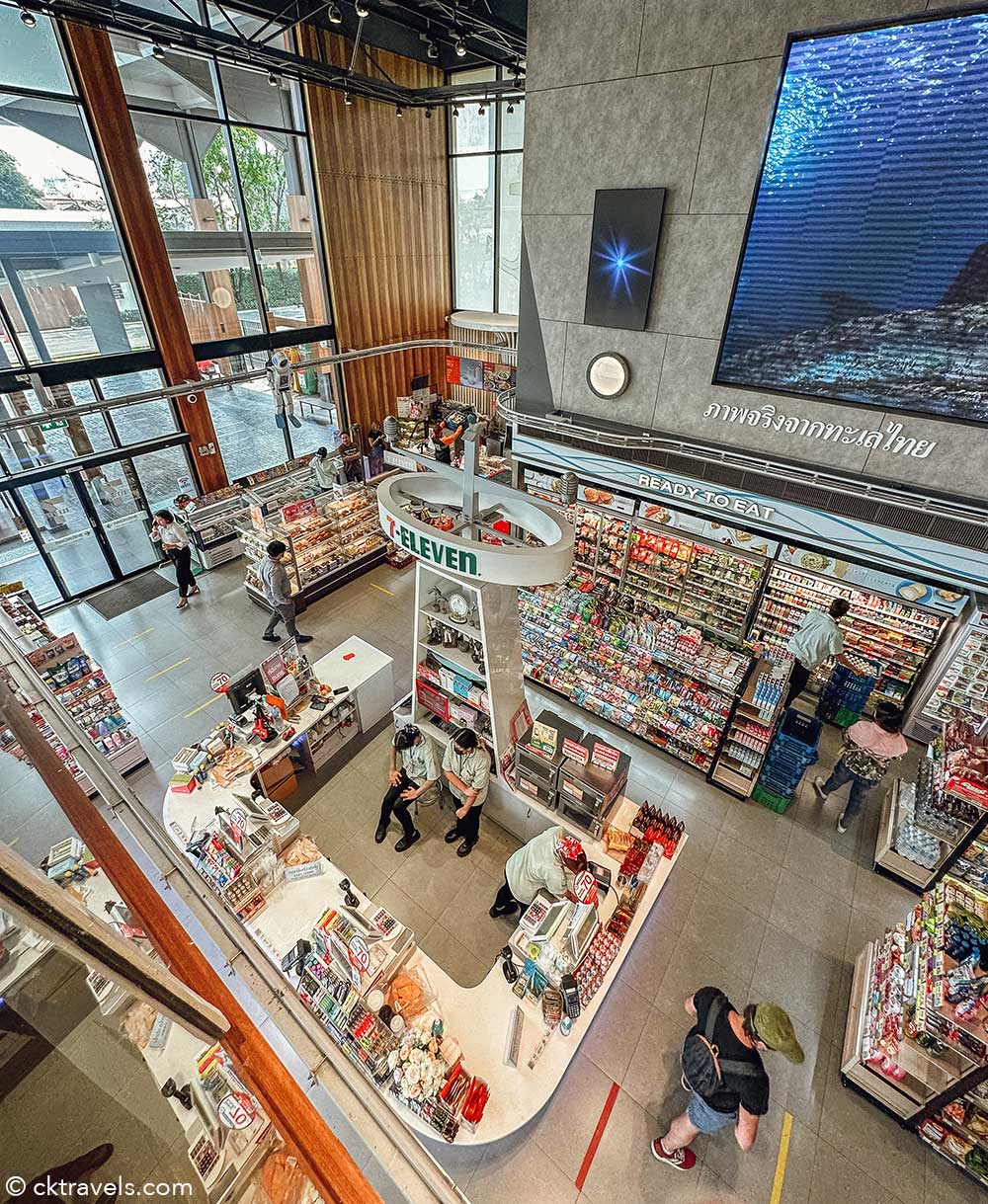 How many 7-Eleven stores are there in Thailand?
As of 2023, there are over 13,000 7-Eleven stores in Thailand; this makes it the most popular convenience store chain in Thailand.
It has rapidly expanded since the first 7-Eleven store opened in 1988. It is not uncommon to see several 7-Elevens along the same road or in close proximity, especially in busy city and tourist areas like Bangkok, Pattaya, Krabi and Chiang Mai.
Incredibly, Thailand has the second largest number of 7-Elevens in the world, after Japan which has over 70,000 7-Elevens(!)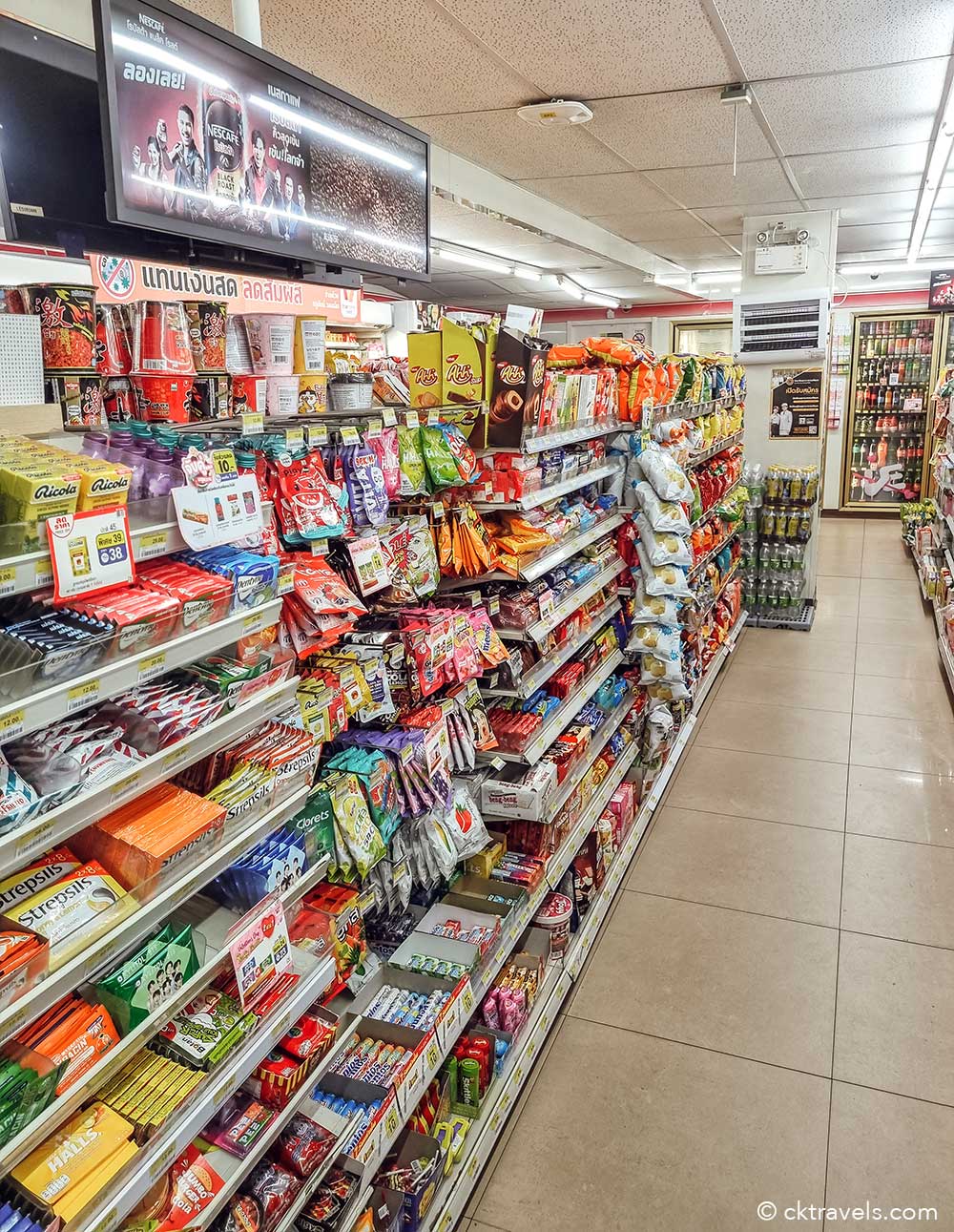 Food/drink/products you can buy in a Thailand 7-Eleven store
1. Toasted sandwiches
A tourist culinary rite of passage, no trip to a 7-Eleven Thailand is complete without at least one toasted sandwich experience (probably).
At our last count, there are at least 40 different toasted sandwich flavours that rotate at 7-Eleven Thailand from the more mainstream like cheese and ham to interesting local flavours like crab stick and wakame toasties or ebiko flavour.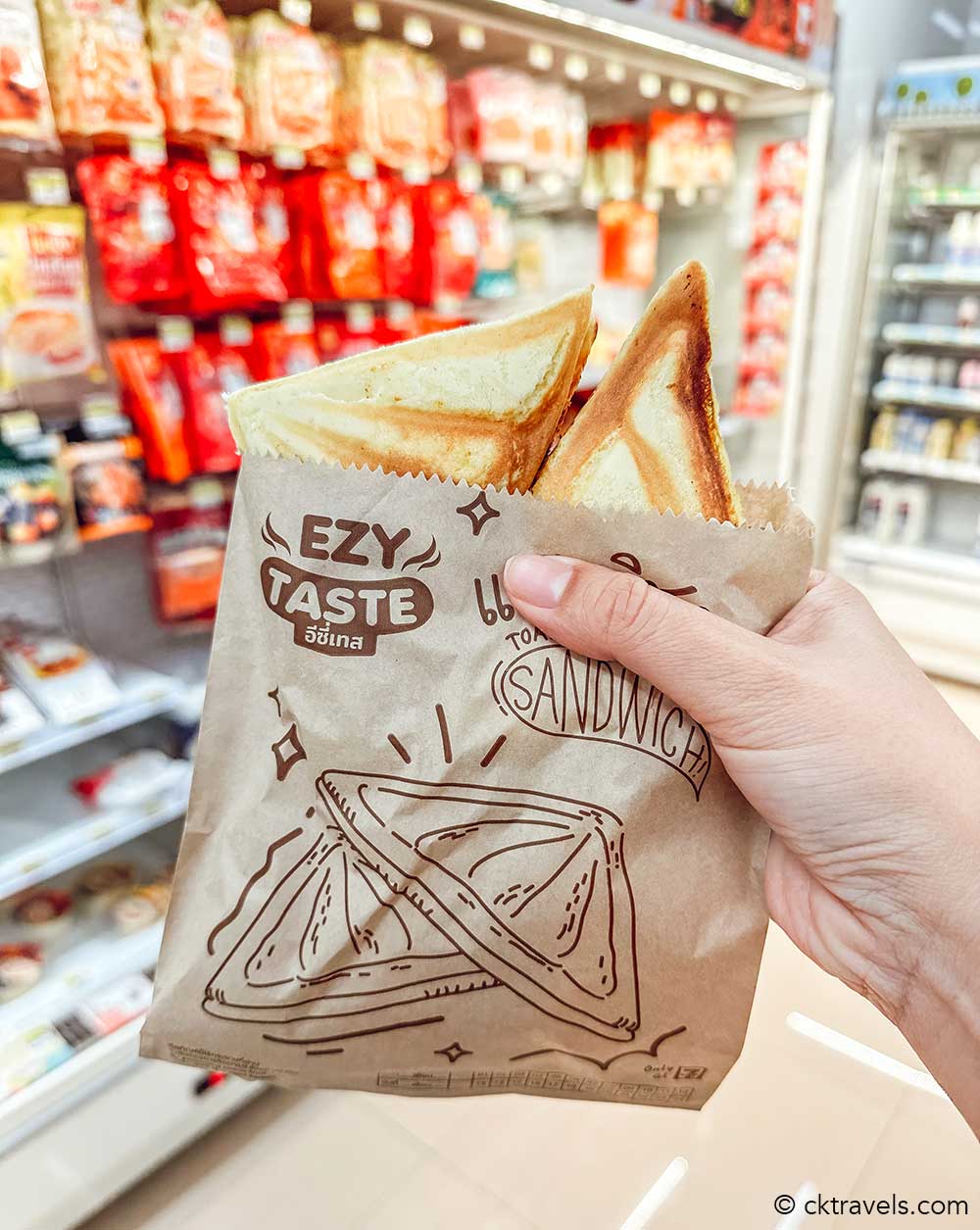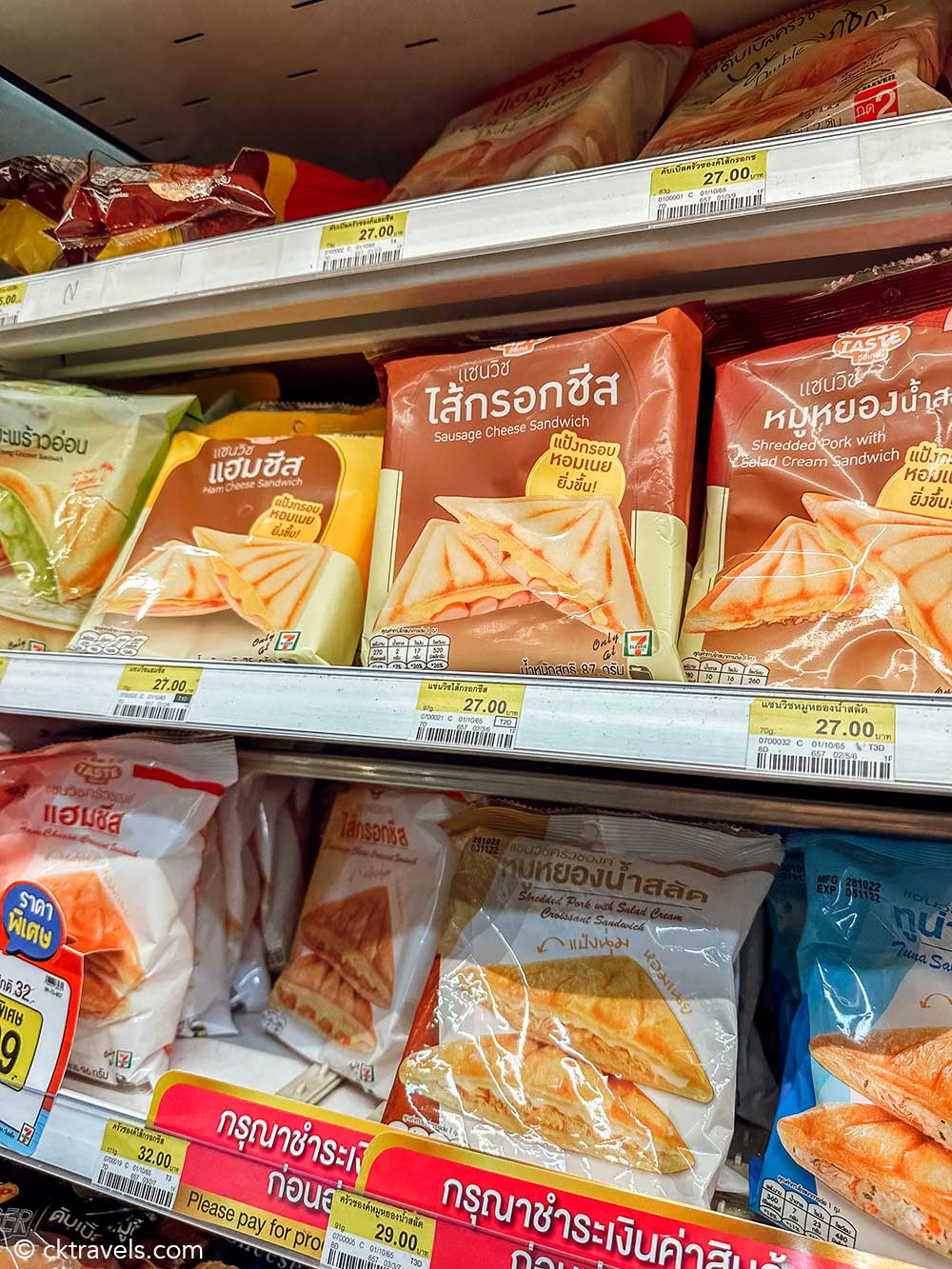 More into sweet treats? 7-Eleven have got you covered with dessert toasties like pandan custard or blueberry toasties. Plus new for 2023, there are now plant-based pork whole-grain toasties. And the Carbonara Danish toasted sandwich will always hold a special place in our heart!
Read our guide to 30+ 7 Eleven Thailand toasted sandwiches here >
2. Crisps / Potato chips
Generally every 7-Eleven store in Thailand has at least one huge aisle of brightly packaged potato chips and corn based snacks, often with really interesting local flavours like crab fried rice or hot chilli squid potato chips.
The most unusual crisp / potato chip flavours in Thailand generally come from Lay's or Calbee – Dunkin Donut flavoured crisps were recently a thing!
From miso butter to mayonnaise crisps, sweet basil to sour lemon potato chips, read our guide to the 'Weird' Lay's Potato Chip Flavours in Thailand 7-Elevens >
3. Probiotic drinks
Time for Thailand 'culture'…'Healthy' probiotic drinking yoghurt is big business in Thailand. Most 7-Elevens have two or three dedicated fridge shelves of live culture products (usually Meiji Betagen or Dutch Mill). Small bottles start from only 7 THB.
4. Red Bull / energy drinks
Fact – super high caffeine drink Red Bull was originally a Thai-based energy drink until it was reformulated and became the global brand that it is today.
Thailand is one of the top five consumers of energy drinks in the world. Unlike in other countries, Red Bull and other energy drinks are super cheap in Thailand 7-Eleven with small bottles costing only 10THB (around 25p / $0.30 USD). Red Bull tastes a little different in Thailand as it is not carbonated.
M150 and Carabao energy drinks are also widely available in Thailand 7-Eleven.
---
YOU MIGHT LIKE: Chiang Mai Lantern Festival & Loy Krathong Guide
---
5. Beers and Wine
Mainstream beers like Chang and Singha dominate the beer sections at 7-Eleven in Thailand but some also include craft beer and small batch brewery cans.
Changs and Singha beers in 7-Eleven come in various sizes including 330ml cans, 500ml cans and 640 ml beers – try not to drink too many or you'll wake up in the morning with a Chang-over.
Note that at 7 Eleven Thailand (and at other convenience stores in Thailand), you can only buy alcohol from 11:00 – 14:00 and 17:00 – midnight. You can also find cocktails and alcopops next to the beer in the chillers.
Wine is also available in Thailand 7-Eleven but more often than not, is stored on shelves meaning the white wine isn't chilled when purchased.
Also unlike other countries that have 7-Elevens (e.g. Canada), you don't need to pay a bottle deposit at Thailand 7-Elevens.
6. Hot Coffee
Hot coffee in Thailand 7-Elevens varies, most stores have a hot coffee station at the back of the store that basically consists of coffee sachets and a hot water urn – make your drink and pay for it at the counter.
Some of the bigger 7-Eleven stores serve barista style coffee with a huge menu behind the counter – either way, 7-Eleven in Thailand is a good way to get your caffeine fix.
7. Cereals
A bit like the potato chip section, 7-Eleven in Thailand has a huge array of cracking cereals and breakfast bits. From Ko-Krunch to Banana Cornflakes, Kelloggs Frosties to Fruit Loops, you won't go hungry in the mornings.
Milo is also a popular chocolate based cereal which also has chocolate bar versions, plus Milo milk and Milo ice-cream in the cold section.
---
YOU MIGHT LIKE: Things to do in Ao Nang Beach, Krabi, Thailand
---
8. Gift cards and Top-up vouchers
7-Eleven (and other convenience stores) are your go to places in Thailand to get pre-paid vouchers and gift cards like Netflix, Roblox, Playstation or Spotify.
Just take the plastic gift cards from the shelves and exchange it for the real thing behind the counter.
9. Beauty products including Korean face creams
From moisturisers to face masks, acne creams to eye gels, this section in 7-Eleven Thailand is a thing of 'beauty'. We also noticed that there was a LOT of so-called whitening skin creams (many of which were from Korea). Caveat emptor.
10. Thailand 7-Eleven Ready meals / microwave meals
Hot stuff! There are loads of microwave meals to choose from in Taiwan 7-Thailand, and all so much tastier than the UK ones. Most cost between 40THB to 80THB and the 7-Eleven staff will cook these for you in the microwaves behind the counter.
The spicy fish curry s a particular favourite plus other popular dishes include Thai green curry and stir fried flat noodles with pork.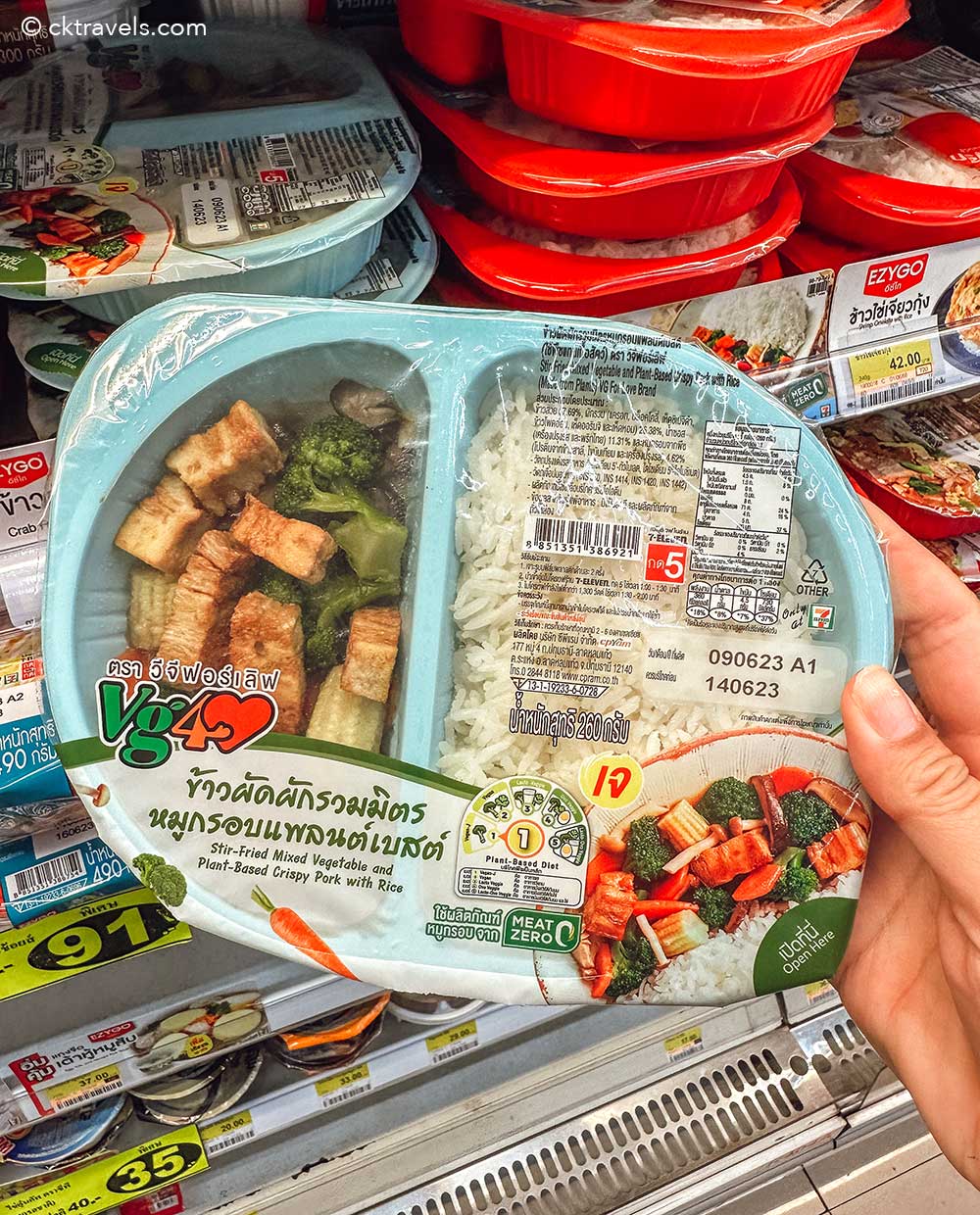 Looking for cheap Thailand day-trips, attractions or group/private tours? We recommend visiting Viator, GetYourGuide, and Klook!
11. Dried squid
As well as a tasty Thai street-food fish, several types of dried squid snacks are available in Thailand 7-Eleven included dried squid chips, dried squid nuts plus actually packaged-up whole dried squid to enjoy at home.
Note this is one of the more 'pungent' 7-Eleven dishes so probably best not to eat on public transport or in confined spaces.
12. Thailand 7/11 Slushies
Super cold slushies are always a welcome respite from the searing sunshine and high temperatures that often occur in Thailand.
Slushie cups come in various sizes all the way up to XXL and the slushie makers can usually be found at the back of the 7-Eleven stores.
13. Ice cream
One of the n-icer things to eat and drink in Thailand 7-Elevens, all stores have an ice cream cabinet freezer chock full of ice creams and lollipops.
Walls chocolate ice creams seemed to be the most widely available especially Cornettos. Cornetto Ice cream flavours available in Thailand include Hokkaido milk, strawberry, salted caramel popcorn, cookies and creme plus several special edition like Hersheys and in 2023, a Pride Cornetto.
14. Nuts and seeds
Grab your fill of flavoured nuts and salted seeds at 7-Eleven; as well as your usual peanuts and cashew nuts, flavoured sunflower seeds are popular. We tried coconut flavoured sunflower seeds which were OK but kinda chewy.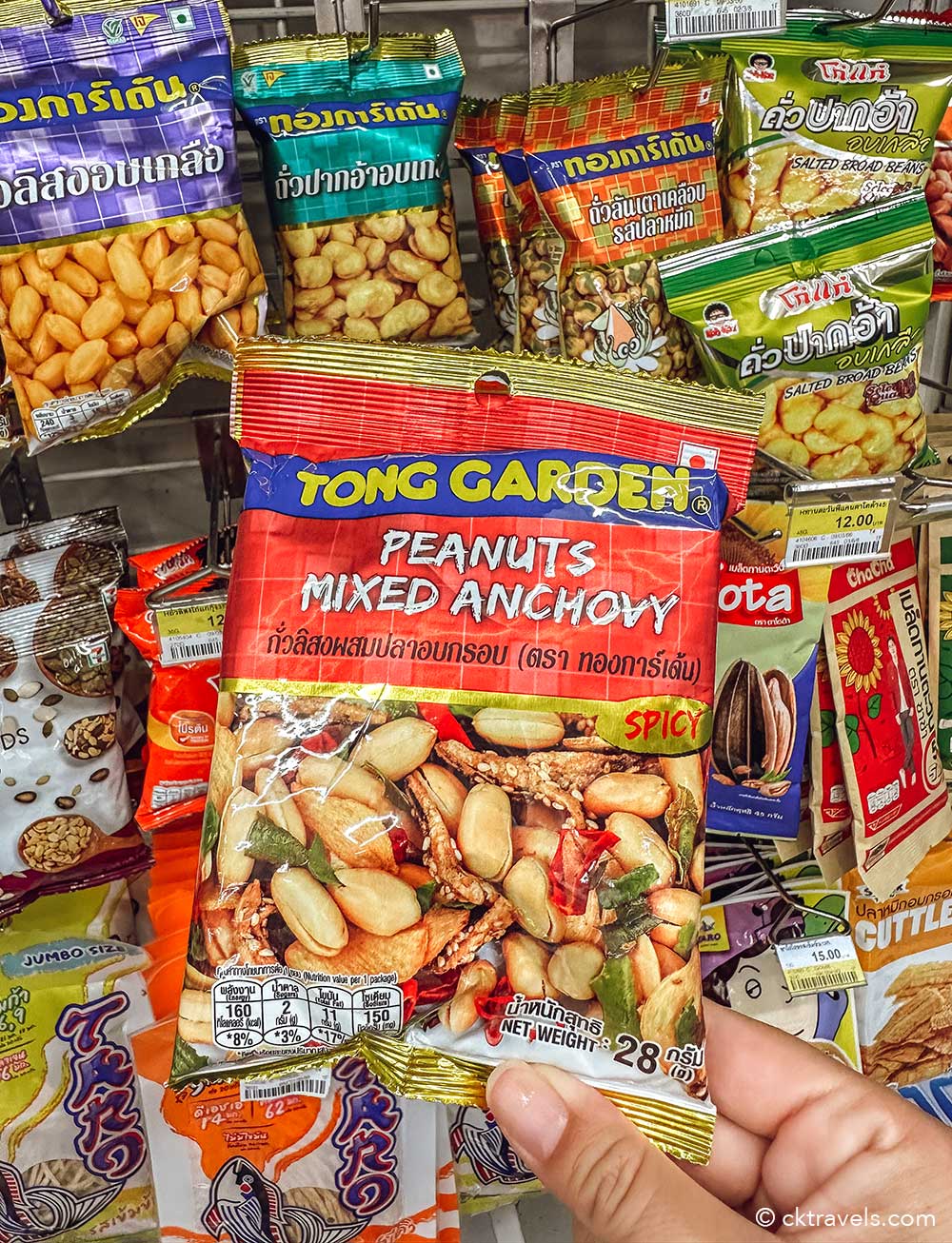 15. Dried fruits and packaged fruits
Fresh fruit is often rare at 7-Eleven Thailand other than bananas – fresh fruit is much cheaper at food markets and night markets in Thailand anyway.
However, you can still get your fruit fill as they have packaged / vacuum seal fruit like pomelo or guava in the chiller section. Alternatively seek out dried fruit such as salted papaya, tamarind with plum, fruitful dried dates or limes covered in a honey glaze.
16. Condoms and lube
All bases are covered at 7-Eleven Thailand – a wide variety of condoms and lube can be found in store, usually right next to the payment counter. Stay safe in Thailand, folks!
17. Instant noodles
Instant noodles and ramen noodles have dedicated sections in Thailand 7-Elevens – you can usually find a dedicated aisle chock full of instant noodle flavours like salted egg, shrimp stir fried tom yam and fried chicken.
We even spotted Carbonara Bacon noodles on our most recent visit to 7-Eleven. Bella bella!
Even better, most 7-Elevens in Thailand include either a hot water vat / urn or plumbed system where you pour boiling hot water on your noodles and then slurp away in the store or on the go.
18. Tourist SIM Cards from Thailand 7-Eleven
If you forgot to pick up a SIM card at the airport then don't panic, 7-Eleven have a range of tourist SIMs with unlimited data allowances. These cards are usually kept on or behind the counter and you'll need to show your passport to purchase one of these.
The cost of an 8 day SIM is 399 baht, 15 day SIM is 699 baht and 30 day SIM is 999 baht (as of summer 2023).
19. Thai desserts
There are DOZENS of Thai-style desserts available in 7-Eleven, both in the fresh section and also in the chiller section.
Sweet as Thai desserts include salted egg lava mochi cakes, pandan custard rolls, sweet sticky rice and steamed banana cake. Nom!
20. Tiger balm and insect repellent
It is pretty common to get mosquito bites in Thailand (especially in Chiang Mai), so you'll be glad to hear relief comes in the form of Tiger Balm in Thailand.
The panacea and cure for all types of bites, stings and rashes – you can get a small round bottle of tiger balm in 7 -Eleven for around 50 THB or a tiny one for 20 THB.
Buzz off! Prevention is often better than the cure so try to avoid mosquito bites in the first place as mosquito repellent is widely available in 7-Eleven Thailand.
21. Thailand 7-Eleven Toiletries
Daily necessities like toothpaste, mouthwash, shaving cream and hand-wash are widely available. We reckon the bigger 7 Elevens in Thailand are sometimes better stocked than local pharmacies and chemists; they also seem to be a little cheaper too for the travel miniatures.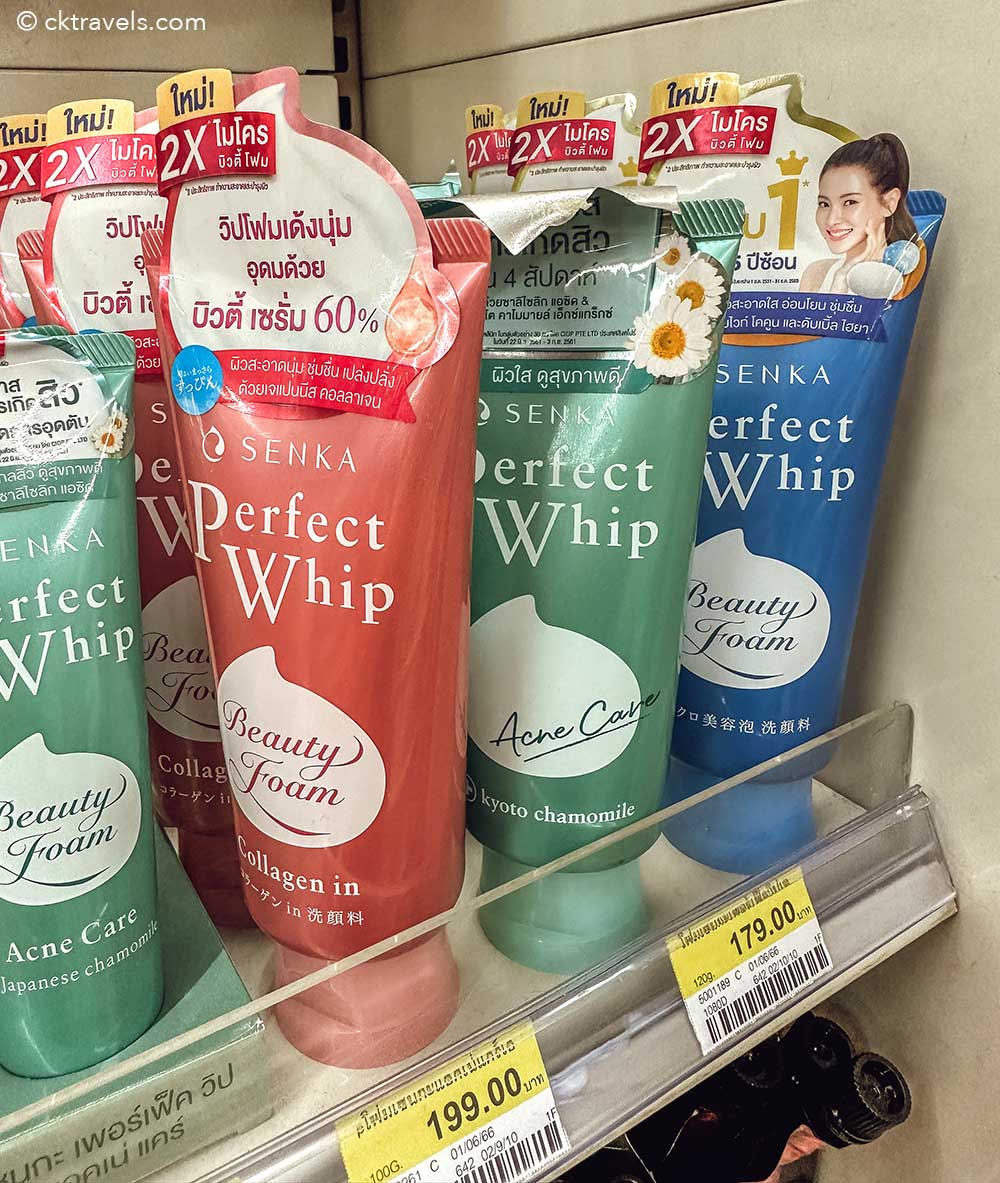 22. Chocolate bars including Hershey's
Dozens of chocolate bar flavours are available in 7 Eleven Thailand including regular favourites like M&Ms, Kit Kat and Maltesers – but we were addicted to Take It matcha green tea which is basically a rip-off of Kit-Kat (but very cheap; like 10 Baht).
Something we've noticed over the last few years of constant revisits to Thailand 7-Elevens is that US based chocolate manufacturer Hershey's have a big foothold in Thailand.
Hershey Bars are widely available in 7-Elevens with flavours such as cookies and creme, strawberry nuggets and dark chocolate Hersheys with salted caramel bits.
23. Frozen meals / freezer section
All the 7-Elevens we visited in Thailand had a dedicated frozen cabinet (or two). These frozen sections included take home goods like edamame beans, gyozas, frozen pasta dishes, pork Penang curry, river noodles with crab curry and cabbage stuffed with soup.
These can also be heated up in store but take obviously longer to cook than the chilled section goods.
24. Chewing gum, fresh breath mints and throat sweets
Adopts TV commercial style voice .. "for longer lasting fresh breath, visit 7-Eleven Thailand" – there are heaps of chewing gum and throat lozenges to choose from, plus mountains of breath mints. Dentyne is the most popular brand of chewing gum usually and available in several flavours.
---
YOU MIGHT LIKE: The World's Biggest 7-Eleven in Pattaya, Thailand
---
25. Durian chips and durian candy
Durian is a 'love it or loathe it' type of fruit, and has a bit of a bad rap in Thailand given its pungent smell – it is even banned on the Bangkok MRT / BTS system and most hotels forbid guests from taking it into their room or face a huge fine.
Thankfully there is a less smelly version of durian available in 7-Eleven Thailand. Mitmai does a durian flavoured soft chewy candy (as well as a mango version) plus you can get dried durian chips too.
26. Pizza roll
Not exactly the type of pizza you'd get from Dominoes or the Pizza Company – this 7-Eleven version of a pizza is found in the chiller section and can be microaved in-store.
It is more of a thick wrap filled with flavours like ham, cheese and spinach – not our favourite 7-Eleven snack.
---
YOU MIGHT LIKE: South Korea 7-Eleven, top things you can buy
---
27. Gyoza and dim sum
The gyoza and dim-sum in the chiller section is easily one of our favourite 7-Eleven ready meals (and dare we say the perfect accompaniment to a toasted sandwich).
Staff will microwave the gyoza for you (flavours like pork and chicken) and each packet comes with a sachet of flavoured sauce plus a small plastic fork.
28. Full Cooked Breakfast
OK, so this is quite rare but there are a few larger 7-Elevens that have their own cafes on the second floor that will serve hot breakfasts, basically cobbled together by heating or microwaving items that are already available in-store.
We saw at least two 7-Elevens in Pattaya that offered this breakfast set-up, with views overlooking the beach – nice.
An example 7-Eleven 'cooked' breakfast would be an American breakfast (toasties, fried egg and frankfurters) with a hot Americano for 103 Thai Baht or a creamy omelette with sausage and salad for 51 Baht.
---
YOU MIGHT LIKE: Themed 7-Elevens in Taipei, Taiwan >
---
29. Tourist section / Imported products section
Bigger 7-Elevens in Thailand have 'tourist selections' which mainly consist of overseas food such as Tim Tam biscuits from Australia or English tea.
30. Japanese wakame salad
Chuka Wakame Salad is a popular Japanese seafood salad – you can buy the actual wakame salad in Thailand 7-Elevens from the chiller section. It is also a well-loved Lay's potato crisp flavour.
31. Onigiri
Nice rice triangles! Although we never figured out properly how to open a Onigiri from 7-Eleven (we always make a total mess and rip the nori), these healthy (ish) snacks are available in a range of flavours like tuna and salmon They are also available in cylindrical versions.
7-Eleven Thailand Bakery Section
There is much to enjoy in the 7-Eleven bakery section. Highlights include
32. A marshmallow filled strawberry flavoured Danish
---
YOU MIGHT LIKE: Best Chiang Mai Night Markets
---
33. Chocolate Danish with Ovaltine
34. Breadsticks with cocktail sauce / cream sauce
35. Croffles
A 'croffle' is a combination of a croissant and waffle – 7 Eleven's latest croffle concoction is to add an injection of classic carbonara filling. Could this be a new morning breakfast routine. A carbonara croffle and coffee certainly has a catchy ring to it!
36. 'No Stink' / Antibacterial T-shirts and Underwear
Larger 7-Elevens have small clothing sections which generally sell a clothing range called 'Go Easy' which are black or white T-shirts that are 'cool, dry and no stink'.
As well as antibacterial t-shirts, there are also 'Go Easy' antibacterial underpants – now that could be an interesting Christmas present to give!
37. Collagen drinks
Purported as healthcare products, these collagen drinks can be found in the fridge / chiller section – or should that be 'filler' section, given how it is meant to improve your skin lines and hair.
Although not medically proven, this is one of several lines of healthcare drinks touted in 7-Eleven Thailand stores.
38. Traditional medicines
We haven't tried these ourselves so we mention without comment but there traditional balms and ointments available (generally in the 'Tourist's favourites' section). These include 'Real bird's nest' potion, Siang pure oil and yellow balm.
---
YOU MIGHT LIKE: Things to do in Bangkok at night
---
39. Pea potato chips / pea crisps
Potato chips are so last year! Pea chips are where it is at, with a tastier texture and fab flavours like fried chicken spicy sauce pea crisps. And yes, they are usually green in colour.
40. Thailand 7-Eleven Cigarettes
Cigarettes, lighters, rolling paper and tobacco are all available behind the counter at 7-Eleven Thailand.
Like other countries, this is the one 7-Eleven product that is totally covered up – usually cigarettes are sealed in a plain grey cabinet with just the names of the cigarette brands showing.
41. Hot Bar
Hot dogs, chicken, spicy sausages and cheese bites are a very popular and inexpensive hot snack items in some Thailand 7-Elevens (generally the more popular 7-Elevens with high foot-flow). You'll find the hot bar by the counter, so staff can get what you want out of the hot bar.
42. Hot Bao / Pao Bar
These look like bao buns to us but they are called pao buns in 7 Eleven Thailand so we'll go with that. Usually next to the hot bar, these steamed pao cabinets have many, MANY flavours ranging in price from 10 to 20 Thai Baht.
Hot pao flavours in Thailand 7-Eleven include minced pork with salty egg pao, rabbit cream pao, barbequed pork pow plus a very cute caramel creme pao with a smiley face on it!
42. Iced coffee in cans
Iced coffee (and coffee in general) is popular in Thailand, although often weaker than what you'd get in the west unless you go to a multinational like Starbucks.
Canned / cold coffee is big in Thailand 7-Eleven, often with a dedicated fridge for cold coffees and teas. Expect to pay around 15 to 20 THB for a small can of coffee such as Nescafe cold latte or UCC Tokyo Cuppa cold coffee.
43. Refrigerated Salads at 7-Eleven in Thailand
Whilst 7-Elevens don't generally have dedicated salad bars, they do have small salad selections in Thailand which have 'EZY fresh' salads like grilled pork salad, caesar salad with black pepper chicken breast plus wakame and crab stick salad. Salads cost between 49 to 59 Thai Baht (correct as at summer 2023).
---
YOU MIGHT LIKE: Go City Bangkok Pass – is it worth buying?
---
44. COVID-19 products
A relatively new addition to 7-Eleven stores in Thailand since the onset of COVID-19, you'll be glad to hear face-masks, COVID testing kits and antibacterial hand-wash are all available at affordable prices.
Although with less people wearing masks and with the requirement to no longer wear them in Thailand, this is on the decrease in 2023.
45. Liquor and Spirits
We've talked about beer and cocktails previously in Thailand 7-Eleven stores but what about the harder stuff? If you want something stronger like Hong Thong whiskey or Jack Daniels, this is kept behind the counter (with the cigarettes).
As with beer and wine, you can only purchase alcohol (spirits and liquor) in 7-Eleven Thailand between 11:00 – 14:00 and 17:00 – 24:00.
46. Soft Drinks at 7-Eleven in Thailand
As well as the usual soft drink types like Coca-Cola, Fanta and Pepsi, there were lots of soft drinks to try in 7-Elevens in Thailand including Est, a local version of Coca-Cola that is not only cheaper but also has 'Asian spices'. Gatorade is also quite big in Thailand.
47. Pocari Sweat
A little like Gatorade, the interestingly named Pocari Sweat is popular in Thailand, an isotonic drink that originates from Japan and claims to have the closest components to '…bodily fluids' (!).
Despite the description, Pocari Sweat actually tastes pretty good and is good for rehydrating after a sweaty day of walking around in Thailand's heat.
Pocari Sweat costs 25 THB for a 500ml bottle in Thailand 7-Eleven (2023 prices)
48. Red Bull Chewing Gum
So we've mentioned you can get Red Bull by the bucketload in Thailand and all chewing gum galore but did you know you can also get Red Bull chewing gum?
Dentyne and Red Bull have collaborated to launch a Red Bull flavoured sugar-free gum in Thailand. It tastes like Red Bull but actually has no caffeine inside – no bull!
49. Pocky
A popular Japanese biscuit snack, Pocky is also one of the biggest selling confectionery products in 7-Eleven.
More traditional Pocky flavours include strawberry Pocky, cookies and cream and chocolate almond. Recently, there have been some cool new and more interesting Pocky flavours in Thailand like 'Summer Paradise Pocky' which is peach lychee and elderberry.
---
YOU MIGHT LIKE: Things to do at Railay Beach, Krabi
---
50. Korean sausages and fishcakes
The bigger 7-Elevens stock lots of Korean chilled goods like Korean fish cake with vegetables or Korean sausages – just remember to not microwave them too long or they might K-pop!
51. Thailand 7-Eleven Electronic items
Forgot your ear-phones or your charger lead has broken whilst on your travels? 7-Eleven has you covered – although note most of the electrical goods they sell are white-label so you won't find official Apple iPods or big brand items. You can find a Doraemon charger lead though so bonus.
52. Umbrellas
The weather in Thailand is often fantastic but the occasional unexpected downpour or flash-storm can leave you under the weather.
If you are unprepared for such rain (like us), you'll be glad to hear 7-Eleven has an umbrella section in most stores (usually handily located by the front entrance).
Umbrella prices at 7-Eleven are usually around 89 THB for a small brolly and around 200 THB for a larger, better quality one.
53. Cold sandwiches
Yes, 7-Eleven Thailand is+ very famous for their epic toasted sandwich collection (50 flavours + and counting) but they also do a limited selection of sandwiches (although nothing like the cold sandwich range you get in 7-Eleven Japan).
Cold sandwich flavours from the fridge include ham and cheese, tuna or crab stick and wakame salad.
---
YOU MIGHT LIKE: Chatuchak Weekend Market, Bangkok – ultimate guide
---
54. Soy Milk and Nut Milk
Thailand is the second largest consumer of soy milk in the world so it is no small wonder 7-Elevens sell so much of it – Lactasoy is the biggest brand in Thailand and you'll find two or three shelves dedicated to this healthier alternative to milk.
Flavoured soy milk is popular too (for instance black sesame or pistachio) and almond milk is widely available in the same section.
55. Thailand 7-Eleven Burgers
Not something we've tried ourselves as there are so many good burger places in Thailand, but if you fancy a microwaved burger to take back to your hostel or hotel, 7-Eleven is there for you.
Microwavable hamburger flavours available include pork burger with bacon and cheese and spicy chicken burgers.
Let's go bananas! Our final thing to buy in 7-Eleven Thailand…
56. Banana Sticks / Chips
As well as fresh bananas, you'll find several brands and flavours of homthong banana chips and sticks – some are even flavoured like sweet potato banana plantain chips.
7-Eleven posts you might like
Other Thailand posts you might like
Did you enjoy our Food and Drink at Thailand 7-Eleven / 7-11 stores guide blog post? Let us know in the comments or by sharing it on social media.
You can follow CK Travels on:
Instagram
Facebook
TikTok
YouTube