This post may contain affiliate links to tours and hotels. These help us earn a small commission at no additional charge to you.
Bangkok's 'Little Japan' and hipster hangout, Thonglor is a cool community and cultural spot to visit whilst in Thailand's capital.
Thonglor is the very best of Bohemian Bangkok with cute dessert cafes, a cornucopia of craft beer bars plus The Commons, one of the best restaurant and street food spots you'll find – there are Thonglor things to do to suit all tastes and budgets.
Also sometimes referred to as Thong Lo or Sukhumvit Soi 55, this is your go to spot for the best Japanese joints and ramen restaurants in Bangkok.
A little piece of Japan and a fun foodie foray, here is our guide to the best things to do in Thonglor, Bangkok in 2023:
---
You might like – Things to do in Ari, Bangkok >
---
Getting to Thonglor, Bangkok
Thonglor is located in central / Eastern Bangkok and is roughly a 10 to 20-minute drive from the main shopping mall area in Siam.
It is also located on the Sukhumvit line of the BTS skytrain – alight at Thong Lo BTS Skytrain station.
Thonglor can also be accessed via Bangkok's Khlong Tan train station then walking south along Thong Lo Road.
---
1. The Commons Thonglor
A cool community hub and creative space chock full of coffee shops, beautiful bars and street food kiosks, the Commons in Thonglor is a hipster hangout, especially popular with locals and students revising. It is also one of the most popular things to do in Thonglor.
Split over several levels including a huge outdoor sitting area with cooling jets and comfy bean bags, the Commons has a warm and welcoming vibe and is the ideal place to get your caffeine fix in Thonglor.
The food choice at Thonglor's the Commons is immense, with around a dozen or so street food vendors located on the Ground Floor Market space (amazing air conditioning too!) plus permanent restaurants like Roast on the top floor / third level.
Highly rated street food vendors at the Commons Thonglor include Fowlmouth (clucking amazing buttermilk chicken), Baba Shuk Mediterranean specialties (heavenly hummus!) and Northern Thai dishes from Esan Ping Ping.
Get your Commons coffee fix at Roots, a popular coffee shop and specialty coffee roaster that does the best espresso and iced coffees for miles around.
---
You might like – Things to do in Sukhumvit, Bangkok >
---
2. J Avenue Lifestyle Centre
Possibly the best known outdoor shopping mall in Thonglor, J Avenue Lifestyle Centre is a Bangkok shopping center and mini mall that comprises around 20 cafes and restaurants (many of which are Japanese).
It also has a branch of La Villa Market, billed as Thailand's first international supermarket (popular with expats).
Although it is your typical mall, J Avenue Lifestyle Centre benefits from being right next to the main Thong Lo road (Soi Sukhumvit 55) plus the exterior is quite nice, with fountains, trees and balconies covered in shrubs and greenery.
At J Avenue Lifestyle Centre, you'll find Japanese restaurant chains like Ippudo, Greyhound Cafe, Maisen, Ootoya and Bonchon plus a popular branch of popular Japanese value / dollar store, Daiso.
Here at Daiso, you'll find lots of imported Japanese homeware and novelty items, most of which sell for around 60 THB – cheap as!
---
You might like – From Bangkok: Floating Market and Ayutthaya Guided Day Tour >
---
3. Don Don Donki – Thonglor
Japan's favourite thrift store and discount warehouse comes to Thonglor!
Originally known as Don Quijote in its homeland of Japan where it has dozens of stores all over the country, Don Don Donki as it is branded in Thailand recently opened a five level store and shopping centre in Bangkok's Thonglor district, right between Thong Lo Street (Sukhumvit Soi 55) and Ekkamai Road.
It is easy to find Don Don Donki Thonglor as you'll be bombarded with the surprisingly catchy 'Don Don Donki' theme tune as you get close to the front entrance.
Look out for the dapper Don Don Donki tuk tuk complete with Donki character that you can pose with outside the store (they also have this as the MBK Center Don Don Donki).
Specializing in cheap Japanese imported goods and foods, Don Don Donki Thonglor is open 24 hours and has several restaurants in the store itself including a cheap ramen kiosk plus a bakery that produces sweet treats in the shape of Don Don Donki.
CK Travels Tip – there is a free hourly shuttle that goes between Don Don Donki – Thonglor and the local BTS stations.
You might like – Everything you wanted to know about Don Quijote stores in Japan >
---
You might like – Bangkok Street Eats by Tuk-Tuk Guided Tour >
---
4. Roji Monster Ice-Cream
A 'beast' of a Bangkok ice-cream shop, Roji Monster Ice Cream serves all manner of weird and wonderful ice-cream characters seven days a week (not just on 'sundaes').
Specialising in shaved ice and Taiwan style sweet treats, this is a matcha made in heaven and the perfect way to cool down on a hot day in Thonglor – check out their extremely cute character waffle with a sweet custard filling.
Like Taiwan? Check out our Taiwan city guides >
---
5. Marche Thonglor – New Mall
One of the newest shopping centres and malls in Thonglor, Marche Thonglor opened in 2023 and has several levels of shops, stores and restaurants, including a big Tops supermarket (a great alternative to the smaller 7-Eleven Thailand stores).
Japanese restaurants at Marche Thonglor include Shoken Bangkok, Emi Izakaya and A Ramen.
---
You might like – Bangkok: City Highlights Temple and Market Walking Tour >
---
6. Rooftop Bars in Thonglor
Bangkok is blessed with rooftop bars, and Thonglor is no different. Rooftop bars in and around Thonglor include:
Tichuca
Perhaps the most famous rooftop bar in Sukhumvit, this jungle themed sky bar is very popular on the 'gram, and renowned for its late night DJ sessions and photo fantastic fibre optic trees.
Expect to queue to get into Tichuca rooftop bars at the weekends and peak tourist season.
Octave Rooftop Lounge & Bar
Located across the 45th to 49th floors of the Bangkok Marriott Hotel Sukhumvit, this is one of our favourite rooftop bars in Bangkok, let alone Sukhumvit.
Superb for sunset sessions, the views at Octave Rooftop Lounge & Bar are some of the best and the happy hour cocktails are also much appreciated.
Assembly Point Thonglor
Assembly Point is a cute and compact rooftop bar located atop One One Bangkok Hotel – billed as your 'new assembly point in Thonglor…'. What it lacks in space is made up for with great views and good value drinks.
---
You might like – Bangkok bar crawls >
---
7. 72 Courtyard
For cool bars and late night entertainment in Thonglor, check out 72 Courtyard that has several pubs and party places including Beer Belly, Little Donkey and Evil Man Blues.
All the bars and restaurants here at 72 Courtyard centre around a cavernous courtyard bedecked with fairy lights and alfresco seating areas – one of the best places to party in the Thonglor or enjoy a copious amount of craft beer or spirits.
---
You might like – Best things to do in Bangkok at night >
---
8. TBC – The Beer Cap
Located in the Commons, TBC- The Beer Cap is one of the best craft beer bars in Thonglor and Bangkok.
With a huge selection of beers both on tap and via bottles and cans in the the chillers / fridges, the Beer Cap promises to be a beer-tiful night out in Bangkok.
On our last visit to the TBC – The Beer Cap, there were around 13 different local and international beers on tap including Belgium Delirium, Brewdog Punk IPA from the UK plus an 8.8% ABV Lion stout from Sri Lanka.
The atmosphere in TBC – The Beer Cap is convivial and as well as the beer selection, the best bit is that you can order in food from all the various eateries in the Commons food court area surrounding the bar – cheers!
---
You might like – Guide to Terminal 21 Rama3, Bangkok's newest mall with crazy, themed toilets >
---
9. Takara Genka Sakaba Thonglor
A popular Izakaya style bar and restaurant in Thonglor, Takara Genka Sakaba offers many good value food and drink options including several all you can eat / drink offerings (there are many restaurants in Thonglor that offer Izakaya style set-ups).
There is also an option to pay a 299 THB entry fee so that all your dishes are at 'cost price' – price correct as of summer 2023.
The outside of Takara Genka Sakaba looks gorgeous and is adorned with glorious graphics, sake barrels and lanterns that light up at night.
---
You might like – Mahanakhon SkyWalk Ticket in Bangkok >
---
10. Gateway Ekamai Shopping Mall
One of the lesser known Bangkok shopping malls, Gateway Ekamai is a Sukhumvit shopping mall that is easily accessible from the Ekamai BTS station.
It is literally metres away from the BTS station with a covered walkway making this a great all weather shopping center if it is raining in Sukhumvit.
Gateway Ekamai comprises 8 levels of shopping and entertainment. Similar to other shopping malls in Thonglor, Gateway Ekamai has a vast amount of Japanese chain restaurants like Sukiya, Ringer Hut and Tendon Tenya Tempura (all based in the Urban Market on the ground floor). There is also a branch of Daiso here.
Look out for the cute waving cats (maneki-neko) statue outside the mall.
Like all things Japan? Check out our sister site 'Plan My Japan' >
---
You might like – Guide to Asiatique night market in Bangkok >
---
11. Get High in Thonglor
High times in Bangkok! Since 2022, it has been legal to smoke grass / weed in Thailand – that said, please note it is illegal to smoke (and vape) in public places.
As such, many 'dope' cafes are now dotted around Bangkok in areas such as Thonglor, Sukhumvit, Ari, and Silom.
With dope cafes in Thonglor with names like Four Twenty Dispensary, High 5, Wake N Bake, Thong Lor THC and Thong Lor Stoned & Co, let's just say it is now quite easy to make best buds in Bangkok at night.
---
You might like – Guide to Chatuchak Weekend Market, Bangkok >
---
12. Let's Relax Onsen and Spa Thonglor
Located in the Grande Centre Point Sukhumvit 55, Let's Relax Onsen and Spa Thonglor is billed as the first true Japanese onsen experience in Bangkok.
Treat yourself to a unique onsen experience on your own or with others and soak in beautiful bathtubs full of minerals or enjoy hot stone or steam treatments. Finish off with a massage and mango sticky rice (but not at the same time!).
Book it – Let's Relax Spa and Onsen in Thonglor…or alternatively try the Oasis Spa (Urban Oasis) in Thonglor >
---
13 alt.Eatery
Thonglor is home to alt. Eatery, a Bangkok plant based cafe and vegan restaurant which has a huge outdoor space (popular with the local school kids) and a vegan food shop indoors.
Serving up fake meat dishes like alt chicken tenders and veggie gyoza, this a brightly coloured eatery and cafe that also does a nice line in sweet treats like donuts and iced coffee.
---
Try this – Bangkok Go City Pass; 25+ Bangkok attractions for one low price >
---
Our Final Thing to do in Thonglor, Bangkok
14. Harborland Gateway Ekamai
On the top floor of Ekamai Gateway mall (next to Ekkamai BTS station), you'll find Harborland Harborland which is open daily from 10am to 8pm.
Harborland Gateway Ekamai is a 'wonder sea' / aquatic indoor adventure playground for kids. As well as slides, assault course and ball pits, highlights include 'Aero Strike', a ball shooting game and Valo Jump (a VR game).
Harborland tickets start from 190 Baht ( September 2023) for 2.5 hours for a small toddler.
---
You might like – Dream World Theme Park Ticket in Bangkok >
---
Other Things to do Near Thonglor
15 Emquartier Shopping Mall
A luxury shopping mall in Sukhumvit with such prestigious shops as Gucci, Chanel and Dior, opulent Emquartier opened in 2015 and is now one of Bangkok's best shopping malls.
Emquartier is around a 15 minute walk from the Thong Lo BTS station or just two stops on the SkyTrain.
It also helps that it is close to the Sukhumvit / Asok areas, so there are lots of bars and restaurants here aimed at tourists, plus it has a direct walkway from Phrom Phong BTS station.
Emquartier is split up into several distinct shopping areas including the Glass Quarter, the Waterfall Quarter, plus the star of the show, the Helix Quarter.
The Helix Quarter at Emquartier is easily one of the most unique shopping experiences in Bangkok, an architecturally awesome helix building and walkway that has dozens of restaurants either side.
---
You might like – Talat Noi, Bangkok – things to do in this hipster neighbourhood >
---
16. Soi Cowboy
Certainly one of the more 'fascinating' places to visit in Bangkok at night, Sukhumvit's Soi Cowboy is a hedonistic hotbed of strip bars, neon lights and all manner of epic entertainment.
It is just three stops from Thong Lo BTS station (alight at Asok BTS station).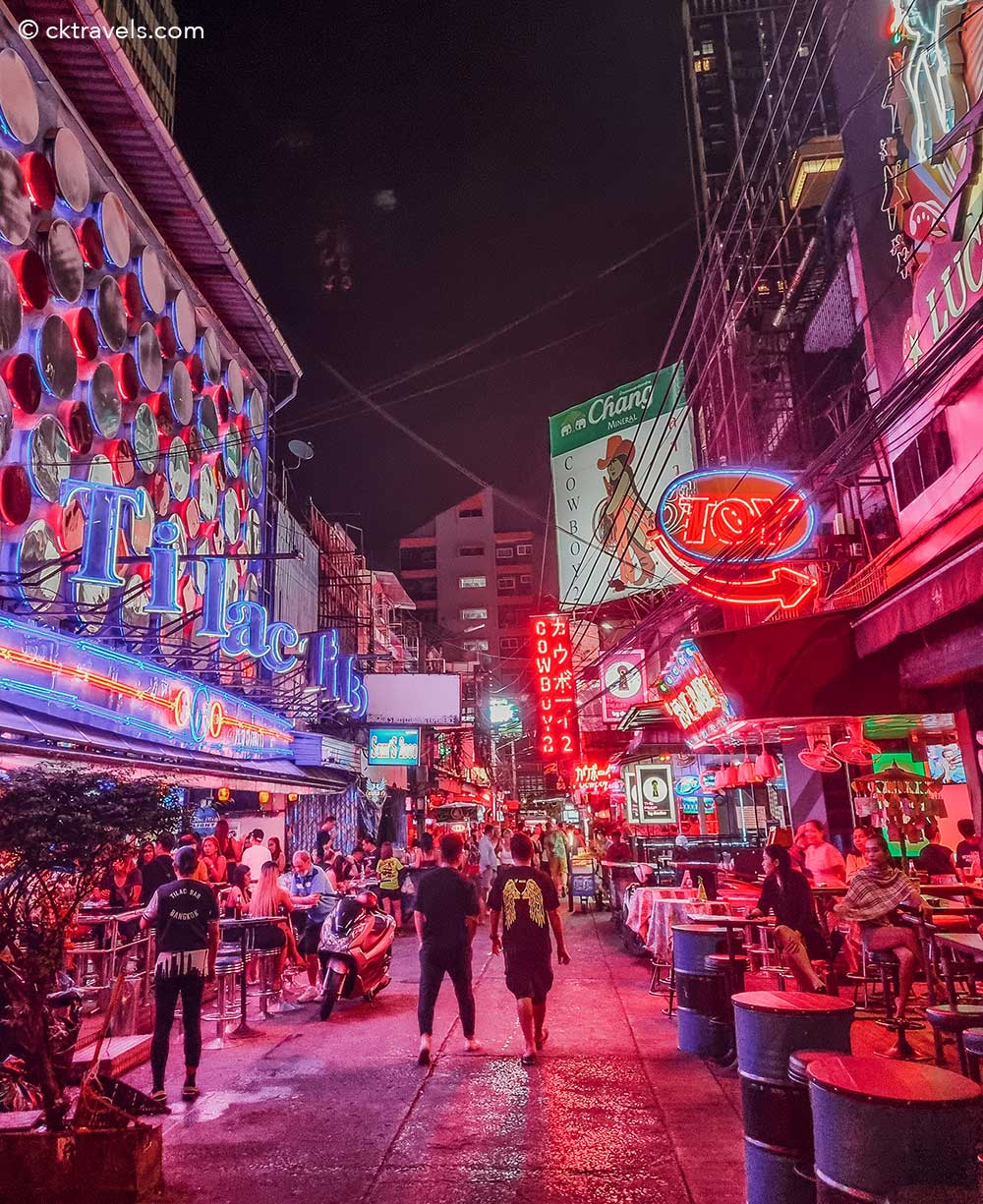 Soi Cowboy at night is a fun place to pass through although it certainly isn't for everyone – however if you are curious and just want to hang out for happy hour drinks and people watch, this is quite an entertaining / epic night out in Bangkok near to Thonglor.
Check out our dedicated Soi Cowboy guide – it details our experiences and why we continue to visit every time we return to Sukhumvit – check out our guide to Soi Cowboy blog post >
---
17. Benjakitti Park
Looking for a quiet place to escape the hustle and bustle of Thonglor? Take a trip to Benjakitti Park (AKA Benjakitti Park), Bangkok's gorgeous green space which is free to visit and a former industrial site transformed into an urban utopia.
Popular with tourists, locals and joggers, Benjakitti Parks offers stunning views of the city and its forest, from numerous boardwalks, sprawling across a vast and verdant 180 acre site (a former tobacco factory and grasslands area).
Given all the trees, mangroves and water features, it is hard to believe you are still in the heart of one of the largest cities in the world. Whilst New York has Central Park, Bangkok has Benjakitti Park, a wonderful place to visit and explore.
Especially popular at sunset, here is our guide to visiting Benjakitti Park in Bangkok >
---
18. Cabbages and Condoms Restaurant
Cabbages and Condoms restaurant on Sukhumvit 12 is quite like no other dining experience in Thailand and an interesting place to visit before or after ThongLor; a short walk from Asok BTS Skytrain Station.
Set in a verdant rainforest setting (yet still in the heart of urban Bangkok), this Sukhumvit condom restaurant is quite the experience. And yes, there are condoms strewn all around (not so many cabbages) with a safe sex gift-shop as well.
The best bit about visiting this restaurant is that profits are reinvested into charitable causes for young or disadvantaged people across Thailand.
Here is our guide to visiting Cabbages and Condoms in Sukhumvit >
---
Other Thailand blog posts you might like
---
Did you enjoy our things to do in Thonglor, Bangkok blog post? Let us know in the comments or by sharing the blog on social media.
You can follow CK Travels on:
Instagram
Facebook
TikTok
YouTube
Pinterest