This post may contain affiliate links to tours and hotels. These help us earn a small commission at no additional charge to you.
Ao Nang beach may be known best as a gateway to the idyllic southern Thailand islands but Ao Nang itself is a destination in its own right with a beautiful beachside setting and incredible nightlife.
From relaxing spas to palm-tree lined bars, night market stalls to Muay Thai shows, there are so many things to do in Ao Nang, Krabi's best jumping off point for the islands.
Best of all, Ao Nang is sunset central – the coastal views here are simply stunning and there are loads of longtail boats to you get you out on the ocean
From fire shows to jungle restaurants, monkey trails to massages by the beach, these are the best things to do in Ao Nang beach, Krabi in southern Thailand:
Recommended Hotels and Beachside Resorts in Ao Nang
We've been to Ao Nang and Krabi several times over the last few years – hotel prices in Ao Nang can vary across the year (especially in off season) so there are some beachside bargains to be had.
Read our guide to the best affordable hotels and beach resorts in Ao Nang, with pictures of all the rooms, swimming pools and breakfast buffets >
Things to do in Ao Nang Beach, Krabi
1. Relax on Ao Nang Beach
Obviously this is a given if you are in Ao Nang – the sea / water here is so warm and inviting (seriously, it is incredible how warm the sea water is in Krabi).
The beach at Ao Nang is quite sandy and the perfect spot to sunbathe and watch the colourful long-tail boats bob up and down on the water or go to and from the nearby islands.
Most people sunbath along the eastern part of Ao Nang Beach (towards Soi Ao Nang 17) but if you want more space, the stretch more towards Reeve Beach club and Krabi Resort is often secluded.
If you want shade, there are lots of trees to shelter under towards the eastern part of the beach. Forgotten your beach towel or cold drink? No probs as beach sellers often walk up and down selling various items.
---
You might like – Guide to getting a longtail boat from Ao Nang to Railay Beach >
---
2. Ao Nang Beach Landmark Night Market
Ao Nang has a lot of food and drink choices but you'll likely notice most restaurants are a bit more expensive than say those of Bangkok or Chiang Mai.
Expect to pay 150 to 300 baht for most restaurant dishes in town, with most restaurants employing enthusiastic (dare we say a little too enthusiastic) employees outside trying to get you into the restaurants.
After a few days of this, we were relieved to discover the Ao Nang Landmark Night Market, located next to Nopparat Thara Beach and Ao Nang Muay Thai stadium (and not to be confused with the smaller night market nearer to town).
We loved Ao Nang Landmark Night Market as there was lots of choice in terms of food stalls (Thai, Malaysian, Indian, Japanese western etc) all at very reasonable prices (e.g. noodle dishes from 60 THB). Plus lots of bars and live entertainment.
We first went one evening at 5pm but not much was open so best to arrive after 6pm when most stalls are open – it is definitely one of the best night activities and things to do in Ao-Nang.
The clothing and jewellery stalls at Ao Nang Landmark night market were also a good mix of artisan crafts and unique gifts along with some of the more standard souvenir stalls (generally much cheaper than the shops in Ao Nang town too).
Read more in our Ao Nang Landmark Night Market Guide >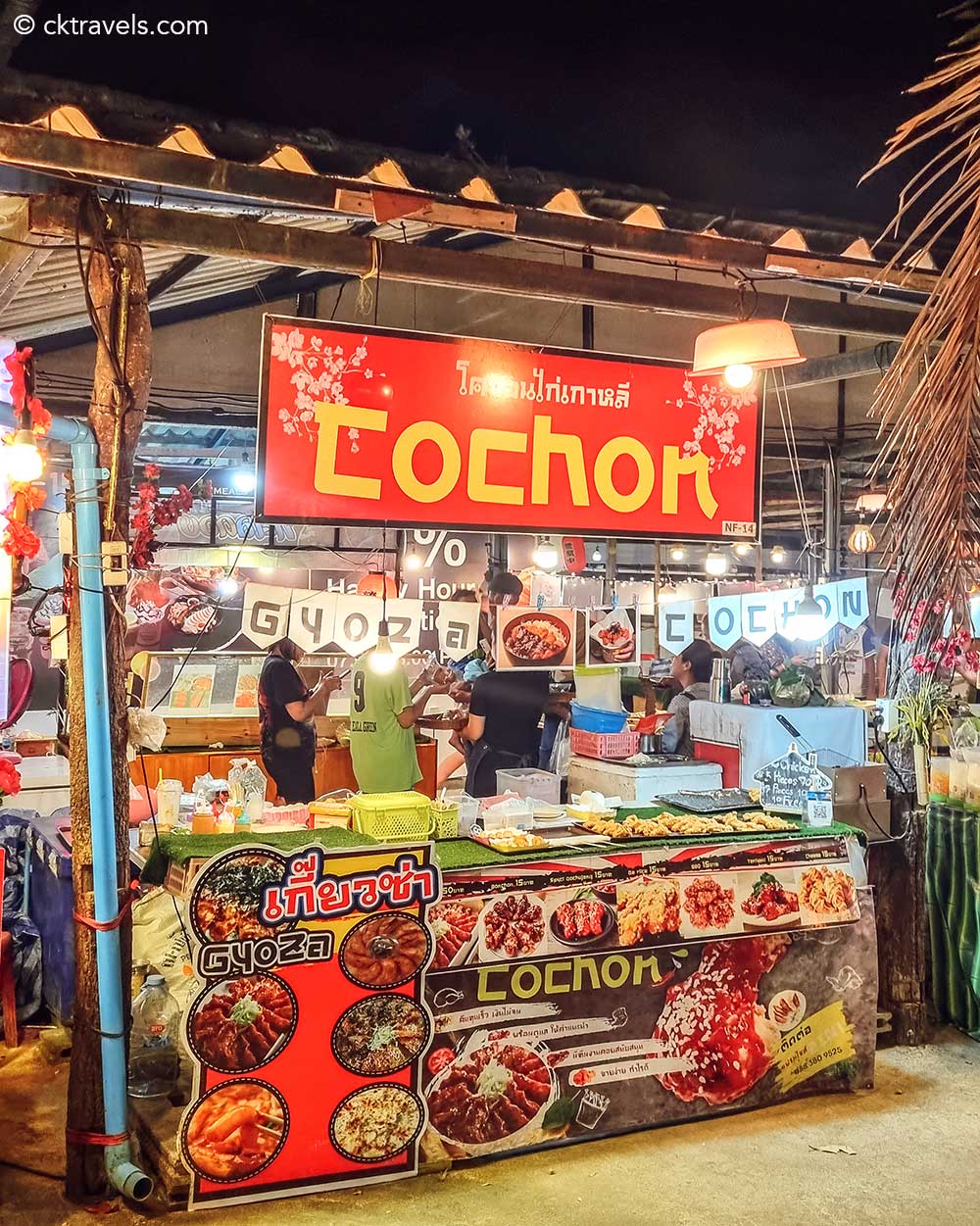 ---
You might like – 30+ things to do in Bangkok at night >
---
3. Get a Long-tail boat to Railay Beach or the Islands
Technically this is escaping Ao Nang but most long-tail tours and island trips start out with a boat ride from Ao Nang Beach.
The most popular islands to head to from Ao Nang beach are Hong Island, Chicken Island, Koh Poda and Koh Phi Phi.
We'd also recommend getting a long-tail boat to Railay Beach / Phra Nang Cave Beach / Tonsai Beach – read a detailed guide about how to get a long-boat from Ao Nang to Railay Beach and our guide to Railay Beach.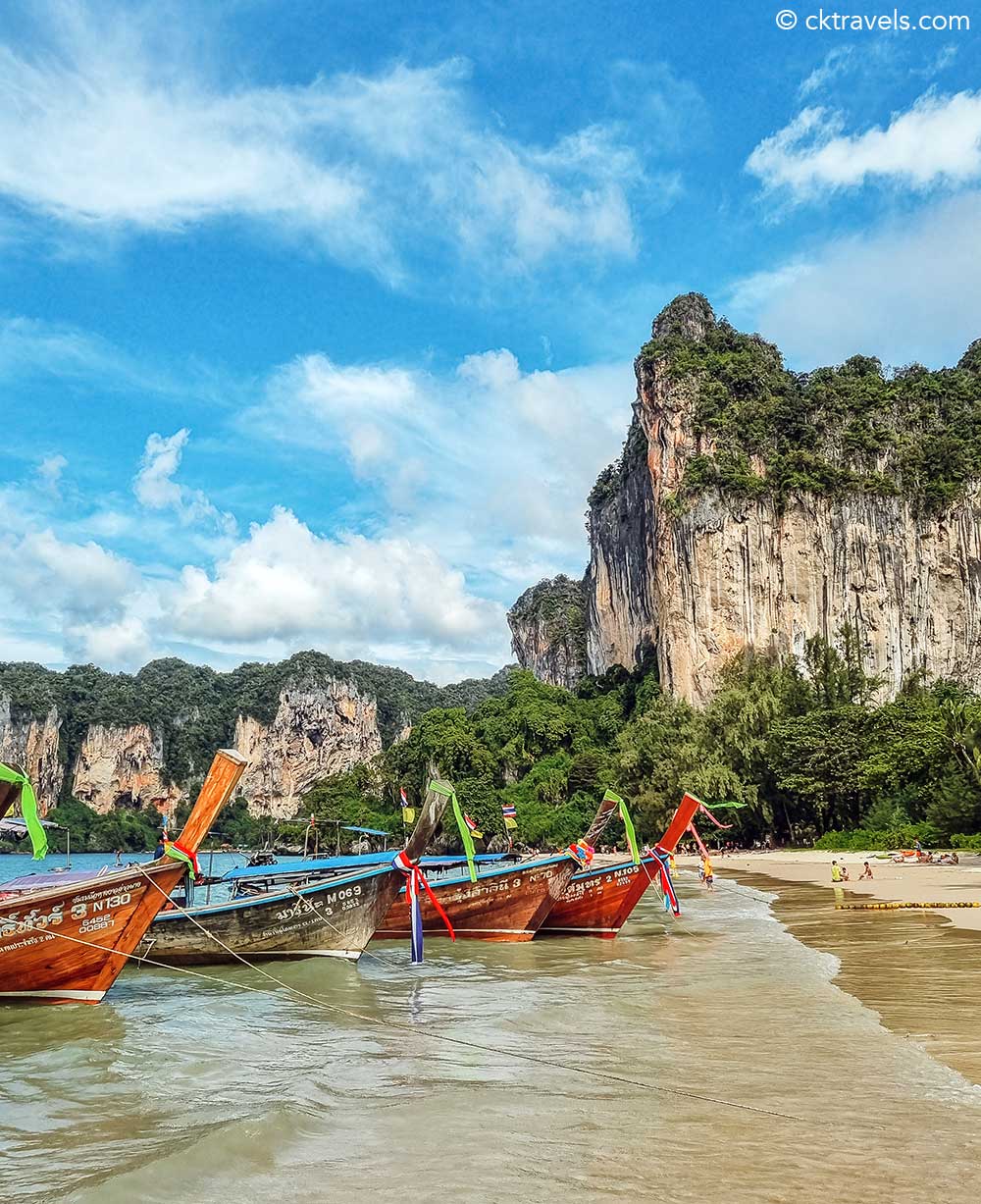 ---
Try this – An All day Krabi Jungle Tour (Hot Spring Water, Emerald Pool, Tiger Cave Temple) >
---
4. Nopparat Thara Beach
Much quieter than the more well known Ao Nang beach, Nopparat Thara Beach is short walk from the main town area but so worth it.
It is much quieter and (probably) the best place to see the glorious nightly Krabi sunsets, with the various islands shimmering in the background and a few longtail boats bobbing up and down.
We headed to Nopparat Thara Beach most nights, either enjoying the sunset whilst relaxing on the beach or in one of the numerous beachside bars there (Frog Bar is popular and quite cheap for sunset drinks).
It is really close to the Landmark Night Market too meaning you can easily grab a bite to eat after sunset (plus there are lots of beachside restaurants in the area).
The other incredible thing about Nopparat Thara Beach is the amount of crabs that roll up millions of tiny balls of sand every day – they look like a work of art, quite incredible.
---
5. Sunset drinks and dinner at The Last Fisherman Bar
One of the most popular and enduring beachside bars in Ao Nang, The Last Fisherman Bar is located at the very end of Soi Ao Nang 17 (next to the Sand Beach Club) and is a superb spot for sunset drinks or a beachside meal.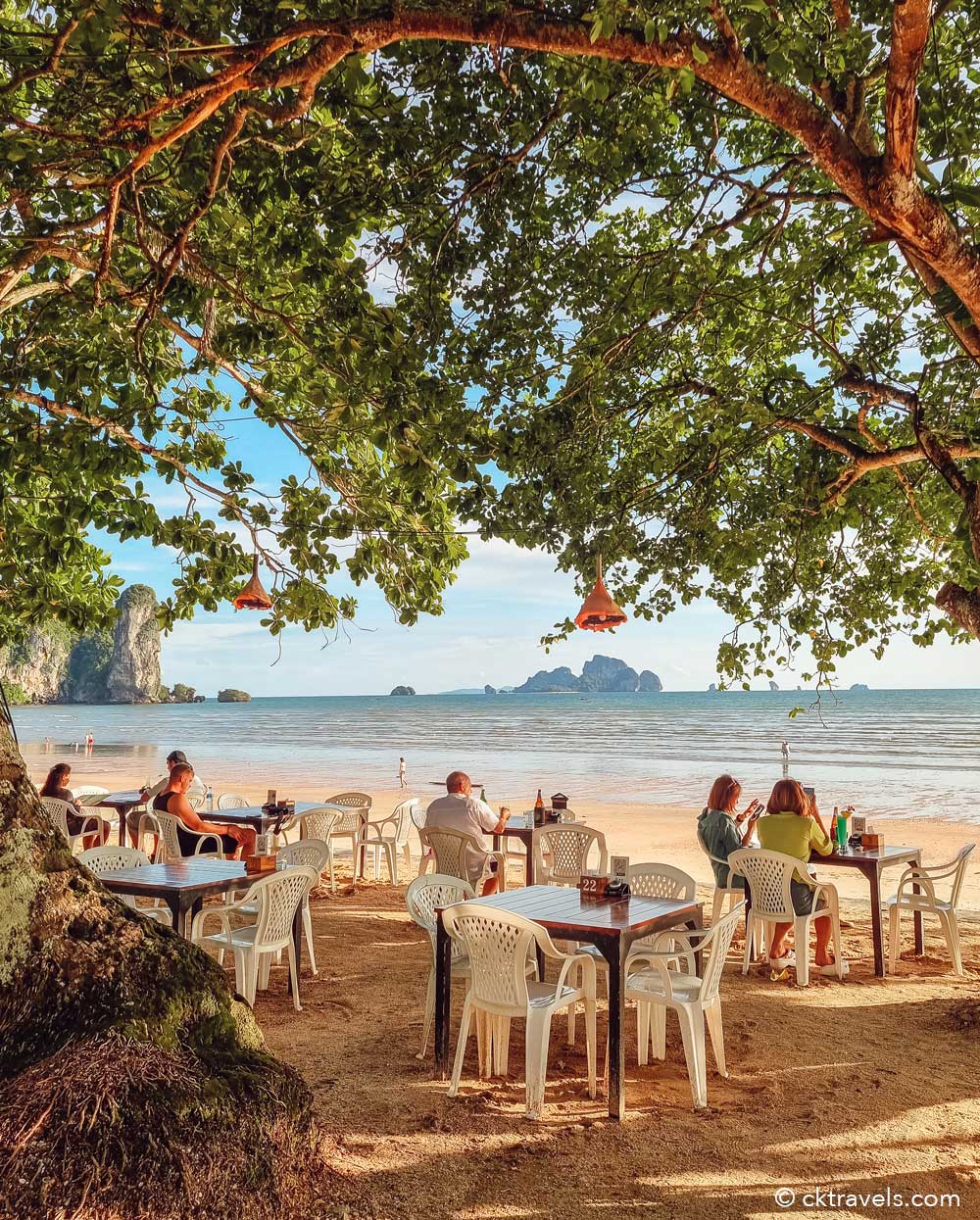 There are lots of outdoor tables and chairs directly overlooking the ocean at The Last Fisherman Bar plus a huge circular bar and indoor area should the weather be inclement.
Get there early though to guarantee yourself a beachside table (we went several times to the Last Fisherman Bar and weren't always able to get a table). Drink prices are reasonable at the Last Fisherman Bar – ice cold Singhas (small) were 90 THB.
Read our guide to the best beach bars in Ao Nang >
---
Try this – James Bond Island Tour from Krabi by Longtail Boat >
---
6. Monkey Trail Cliff Walk to Pai Plong Beach
A rickety path through the jungle may not sound like everyone's cup of tea, but this beachside trail through a lush forest is actually a lot of fun (although on our visit, we didn't see any monkeys, but many others have).
This is a free walk that takes you from the far end of Ao Nang Beach over a hill to Pai Plong Beach – a very quiet beach only accessible by boat, and mainly used by hotel guests from at Centara Grand Beach Resort. Definitely worth a visit if only to nose at how nice the hotel is.
The Ao Nang Monkey Trail Walk is fairly accessible but can be quite steep in parts. It takes around 15 minutes to walk from one end to the other (take mosquito repellant).
The Monkey Trail Cliff Walk is free and 'open' 24 hours (although we did it in the morning to beat the heat so we can't vouch how good the spotlights are at night).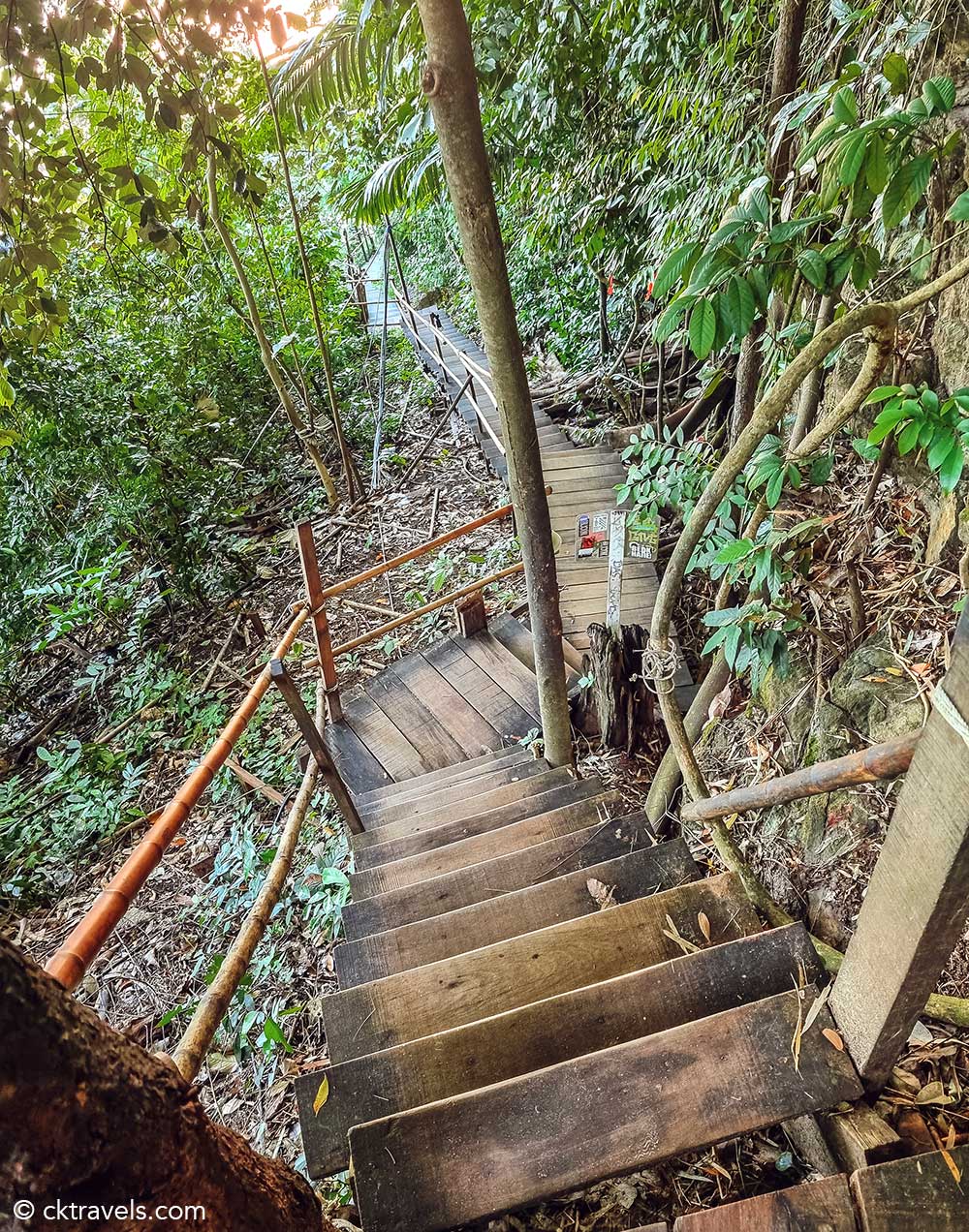 Note that Pai Plong Beach is a private beach and as you arrive from the Monkey Trail, you are greeted by a Centara Grand Beach Resort security guard who asks you to sign in (and out) – but you are free to enjoy Pai Plong Beach (just not the hotel grounds!)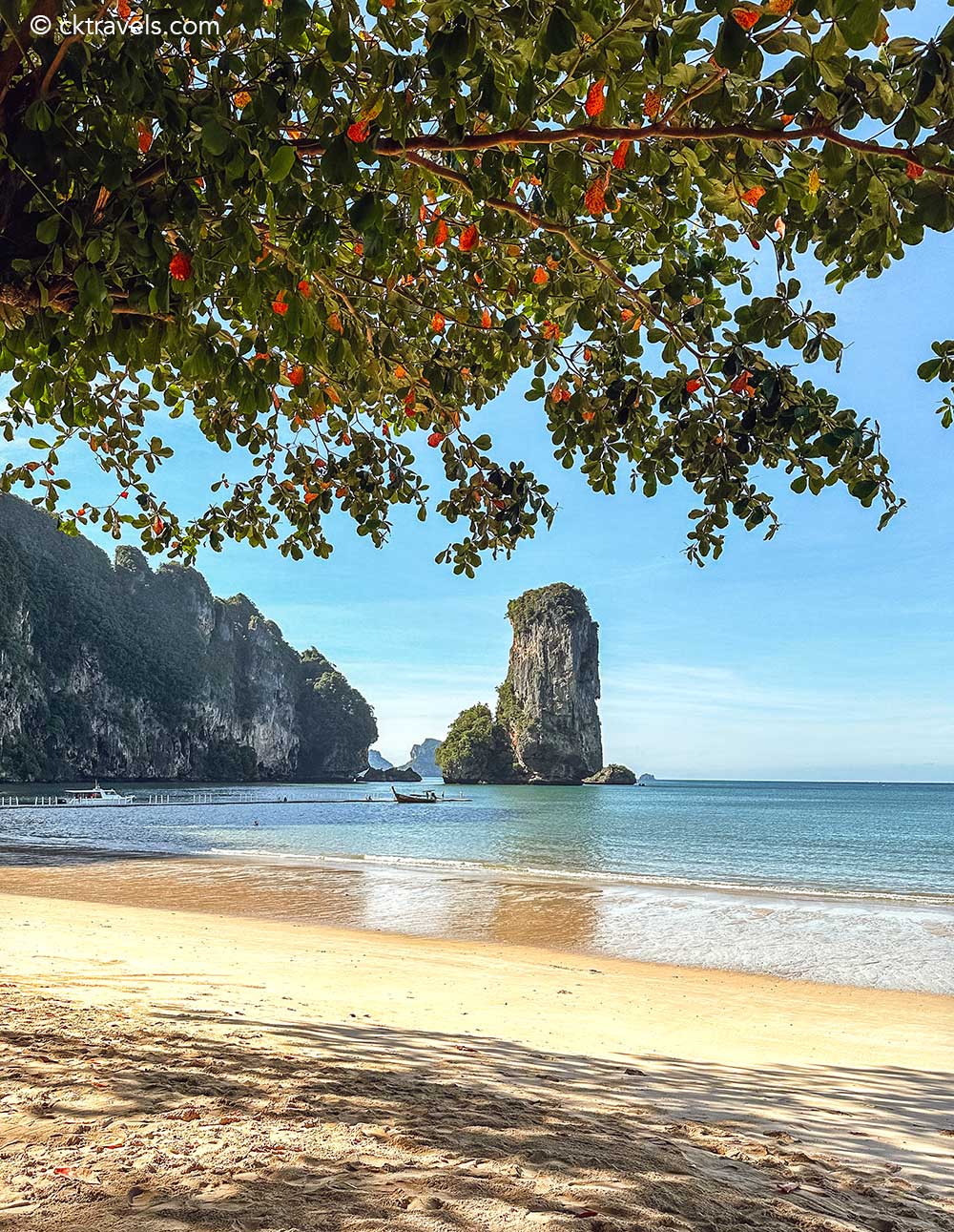 ---
Try this – Deep mangrove and canyon Kayak Tour in Krabi >
---
7. Ao Nang Beach Night Market Place
So there are two night markets in Ao Nang, the bigger and better of which is Ao Nang Landmark Night Market (referred to previously).
This second night market (near Krabi Resort hotel) is much smaller but is fine to grab cheap eats and budget bites (dishes start from around the 80 THB mark).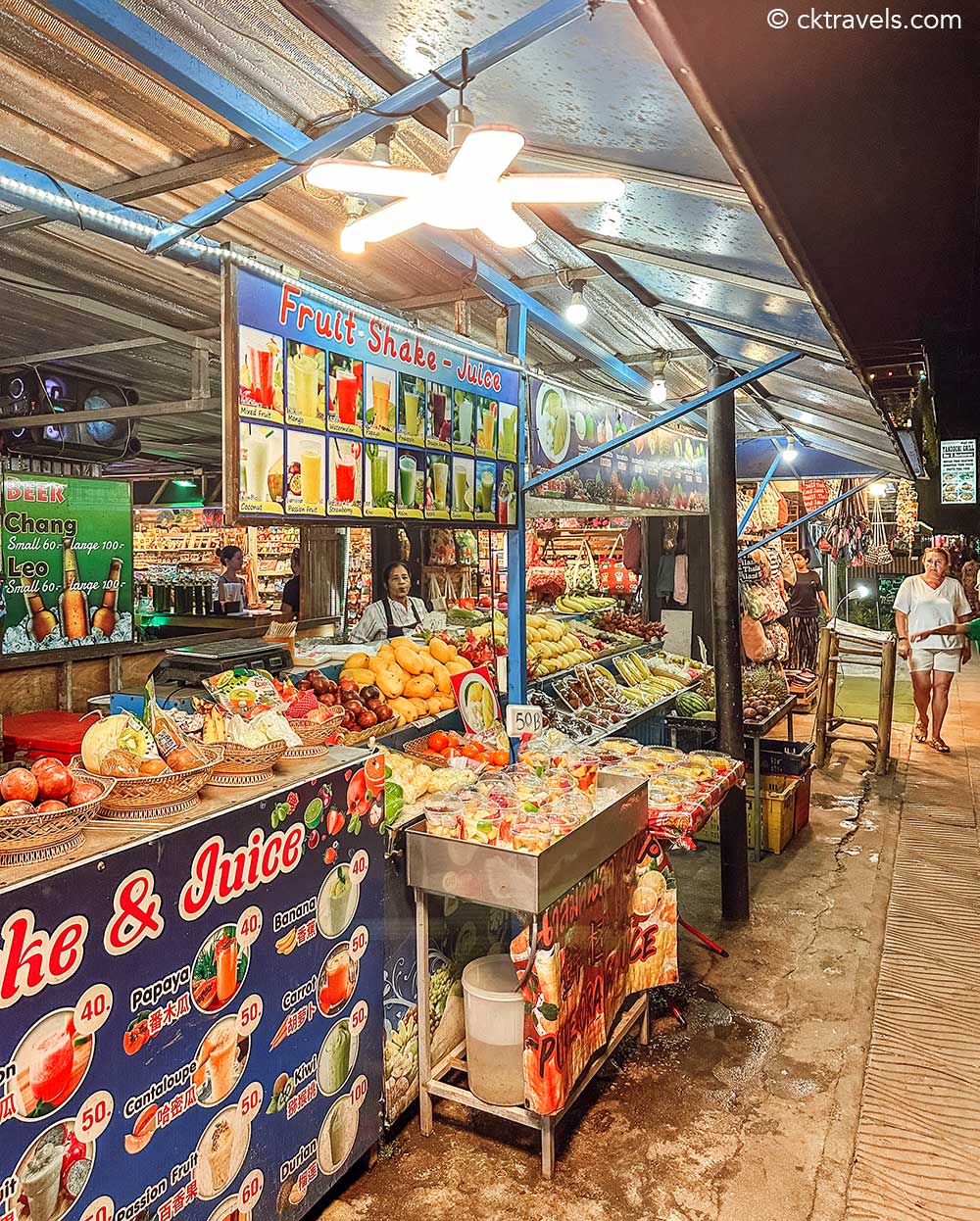 We found this Ao Nang Beach night market a little too compact and the food stall owners were a little 'touty' (very keen to show you their menus) but there were some nice souvenir stalls and craft shops here, many of which are open in the daytime too.
---
Try this – Ya's Thai Cookery School Class in Krabi >
---
8. Muay Thai at Ao Nang Stadium
One of the most common sights (and sounds) whilst staying in Ao Nang beach is the Muay Thai boxing vans driving around the area all day and all night, with their loudspeakers and posters advertising Muay Thai regular bouts at Ao Nang Stadium.
Muay Thai boxing matches in Ao Nang usually take place every Monday, Wednesday and Friday night, with the stadium (built in 2000) reputedly the largest Muay Thai arena in southern Thailand, located just behind Nopparat Thara Beach.
Muay Thai tickets can be bought from various tour agents all over Ao Nang and some also organise transport to and from the matches (although it might be just cheaper to get a tuk-tuk or grab there).
Book a William Ao Nang Landmark Stadium Muay Thai Admission Ticket >
---
9. RCA Entertainment Street in Ao Nang
The 'liveliest' alley in Ao Nang, RCA Entertainment Street is full of neon-lit bars and restaurants, with various happy hours, big screen TVS, pool tables and local ladies beckoning you in.
Not for everyone and possibly a little seedy for some, whilst not on the scale of 'Soi Cowboy' in Bangkok, the clientele here seems to mainly be old white men enjoying themselves a bit too much. But best to see it with your own eyes first – and some of the happy hour drinks prices seem really good too.
RCA Entertainment Street also has lots of cheap food stalls and a small food court on the left hand side as you enter.
One of the cheaper places to get food in Ao Nang, we bought Pad Thai chicken for 80 baht here and a large Chang for 100 baht so it is worth a trip if you are on a budget (although we found Ao Nang Landmark Night Market much better).
If you want something a little more 'relaxed', check out out guide to the best beach bars in Ao Nang >
---
Try this – Krabi Half-Day Rock Climbing at Railay Beach >
---
10. Massage at Ao Nang Beach
You can't go far in Ao Nang without hearing the friendly call of 'You want massage?'.
What makes Ao Nang a particularly good place to get a Thai massage is that there are several massage places that directly overlook Ao Nang beach along Soi Ao Nang 17 and past the Last Fisherman Bar, meaning you can combine your massage with beach views. Prices are generally 300 baht per hour.
Also, most hotels in Ao Nang have their own massage set-ups in spas, including special offers.
We stayed at Panan Resort, The Pavilions Anana Krabi, Centara Anda Dhevi Resort and Pakasai hotel, all of which offered massage treatments which were 50% off or 2 for 1.
---
11. Brunch / Breakfast at Reeve Beach Club Krabi
We ate at a LOT of places in Ao Nang beach (we based ourselves there for three weeks during our last trip) and finding a good restaurant with good beach / sunset views was actually quite tricky. Really popular places like
The Hilltop Restaurant need to be booked in advance whilst a lot of the restaurants along the beach area are quite 'touty' and samey.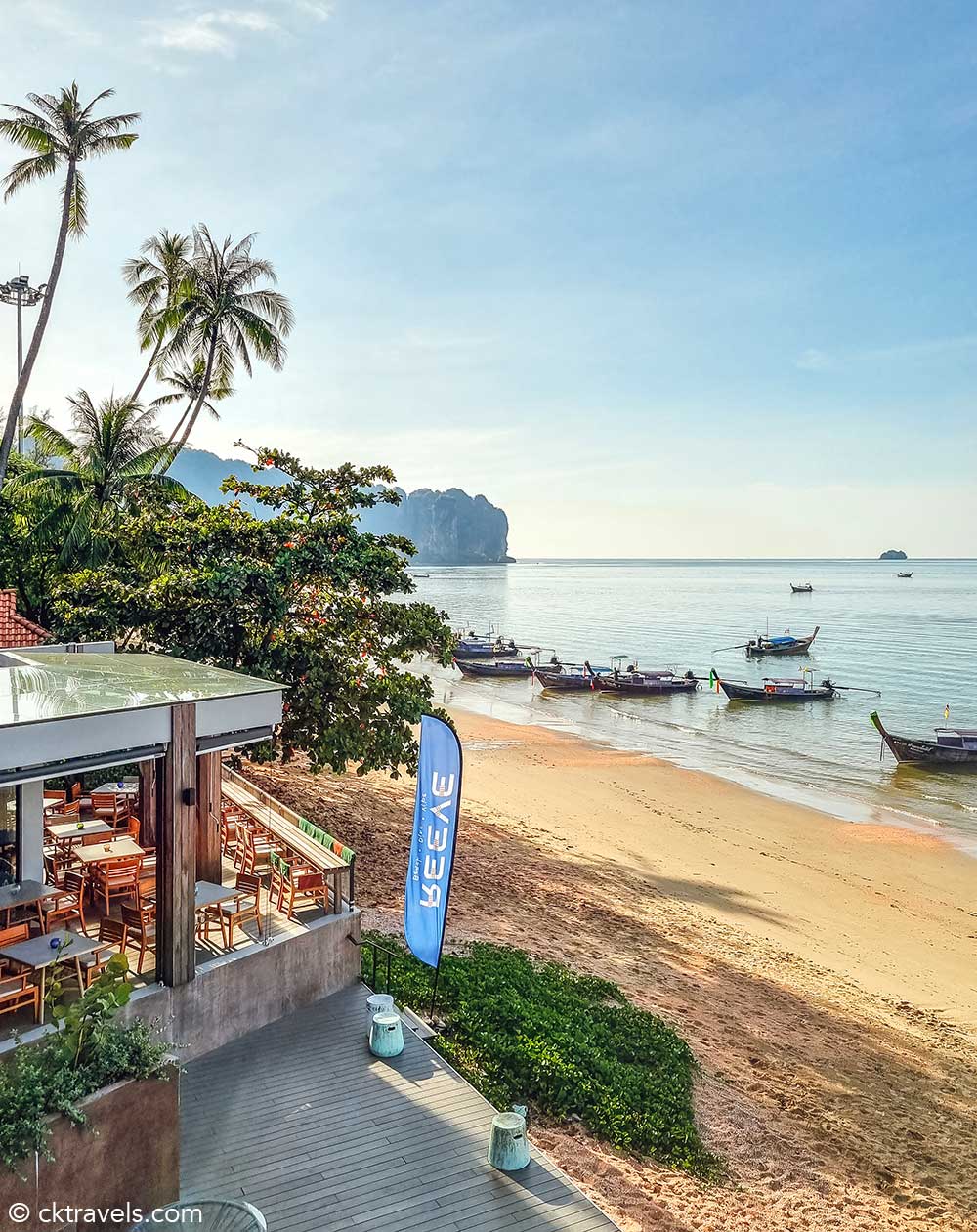 The best breakfast we had in Ao Nang in terms of the food and views combined was the Reeve Beach Club. Reeve Beach club directly overlooks the beach (with steps onto the sand) and boasts stunning sunset views plus looks out over the Ao Nang long tail boats.
The food is delicious at Reeve Beach Club Krabi – we had French toast with bacon, fried egg and waffle bits (280 THB) and Avocado with corn and Salsa (220 THB) with good coffee and an incredible coconut smoothie.
Good value compared to other beachside restaurants with prompt service but the beach views make it something special.
Check out our best breakfast & brunch restaurants in Ao Nang guide >
---
12. Sunset Happy Hour at The Sand Beach Club
The beachside bar at Centara Ao Nang Beach Resort and Spa, The Sand Beach Club is one the better beachside bar set-ups in Ao Nang with incredible views of the sea and direct beach access, with ample outdoor seating plus several wicker benches directly looking out to sea.
Even better, every day between 4pm and 7pm, there is a sunset Happy Hour at The Sand Beach Club including draft beers (Chang) for 99 Baht including service and tax. A large food menu is also available along with mocktails, soft drinks and cocktails
---
13. Ao Nang Landmark Night Street
Seemingly a relatively new addition to the Ao Nang Landmark Night Market, the 'night street' seemed to still be partially under construction still when we last visited, but several bars and nightclubs were open (including Baby Shark!) plus several cafes where you can get high.
The Ao Nang Landmark Market Night Street also had an outdoor climbing wall but is notable for the fact it has outdoor disco lights throughout the whole street meaning it is quite the nocturnal experience (likely gets busy later at night).
---
14. Krabi Sunset Cruise
Ok so technically away from Ao Nang, but most sunset cruises depart from the Ao Nang Beach in Krabi and it is one of the best evening activities and things to do in Ao Nang beach.
The sunset cruises we've seen advertised include time for swimming and snorkelling, and ends with a delicious BBQ dinner as the sun sets on the beach of Koh Poda island.
Click here to book a 7 Islands Sunset Tour with BBQ Dinner and Snorkeling >
---
15. Ao Nang Elephant Sanctuary (no elephant riding)
Ao Nang Elephant Sanctuary looks after retired, rescued elephants and is a short ride from Ao Nang Beach. Learn how the elephants are looked after including feeding them, plus enjoy a mud spa session and a river shower with the elephants!
Book an Ao Nang Elephant Sanctuary Half-Day Tour >
---
YOU MIGHT LIKE: Ao Nang beach resorts, Krabi – best affordable hotels
---
16. Tee Restaurant in the Jungle
An incredible family run restaurant hidden around the back of the Pavilions Anana Krabi resort, Tee in the Jungle (run by a sweet lady called Tee) is one of the best (and most unique) restaurants we tried in Ao Nang, Krabi.
Tee in the Jungle is just fabulous – the family who ran it were so lovely, and the food delicious and pretty inexpensive.
You sit in little huts in the middle of the jungle and the food is out of this world. The Tee in the Jungle Pad Thai was only 80 THB and was the best Pad Thai we had in Krabi. Beers were also 80 THB for a small Chang beer.
We visited Tee in the Jungle on a couple of occasions (once at night, once in the day – do take mosquito repellant). As a parting gift, we were also given free fruit to take away every time we dined there. Highly recommended and just our cup of Tee, sorry tea 🙂
---
YOU MIGHT LIKE: Pakasai Resort Krabi hotel – An Honest Review
---
17. Ao Nang Fire shows
Hot dang in Ao Nang – this is certainly one of the 'hottest' things to do in Ao Nang / Krabi.
Walk along Ao Nang on most nights of the week after dark and you'll likely see an incredible fire show (or two) on the sandy shore.
These Ao Nang fire shows usually take place after 7pm whilst the tide is still out, as the beach becomes the stage for some deadly fire tricks.
Large audiences gather to watch fire-breathing, fire juggling plus group stunts all involving flames. The fire shows in Ao Nang are free to watch but please do put a donation in their collection boxes at the end as they so earned it.
There seem to be a couple of different groups of fire performers on Ao Nang beach plus Reeve Beach Bar has a nightly fire dance show at 8pm.
We've also stayed at Panan Beach Resort and they have a fire show by the pool for guests most Saturday nights in peak season.
---
You might like – best shopping malls in Bangkok or the 10+ best shopping malls in Chiang Mai
---
18. Get High in Krabi
Since 2022, it has been legal to smoke grass in Thailand and it is becoming increasingly common to see 'grass' huts pop up in Ao Nang; so it is 'high times' in Krabi. That said, please note it is illegal to smoke (and vape) in public places.
As such, many 'dope' cafes are now dotted around both Krabi and Bangkok in areas such as Thonglor, Sukhumvit, Ari, and Silom.
With dope cafes and kiosks in Ao Nang with names like Weedology, Get High Ao Nang and Smokey's, let's just say it is now quite easy to make best buds in Krabi.
As of late 2023, there are now over 100 of these 'green, green grass' shops and huts in Krabi; the weed is growing!
---
You might like – 40+ Things to do in Pattaya, Bangkok >
---
19. Mañana Mexican Food Aonang 1
A little bit of Mexico in Krabi, if you are looking for good food in Ao Nang that isn't Thai or Indian, we'd rate Manana Mexican Food Aonang 1 as one of the best restaurants in Ao Nang.
Tucked down a little side-street near the RCA Entertainment street, this magic Mexican cantina style restaurant is warm and welcoming, hosted by restaurant proprietor Big Momma.
We discovered Mañana Mexican Food Aonang 1 quite by chance but instantly adored the setting and quality of food – our visit coincided with their weekly Taco Tuesday offer which meant we got 3 tacos for the price of 2.
We tried the fish tacos and they were melt in the mouth amazing, some of the next Mexican style food we've had – they were served with various salsas and dips.
The interior decor is really nice and we also were treated to a live two piece band plus sombreros that you could wear if the mood takes you.
Mañana Mexican Food Aonang 1 has specials most nights like Margarita Mondays – buy 1 get 1 free margarita. We paid just over 600 THB (Sept 2023) for six fish tacos, a colossal Chang beer and a strawberry lemonade. Recommended.
---
You might like – Things to in Talat Noi, Bangkok's historic riverside district >
---
20. Let's Relax Spa Ao Nang
After a busy day of island hopping, time to unwind with a spa treatment, one of the more relaxing things to do in Ao Nang.
There are multiple spas in Ao Nang particularly in hotels along Ao Nang's main road, but the Let's Relax Ao-Nang spa (located in Ao Nang's Wake Up hotel) is one of the more established.
Treat yourself to a unique indulgent experience on your own or with others and soak in beautiful bathtubs full of minerals or enjoy hot stone or steam treatments. Finish off with your massage with a complimentary Thai spring roll (but not at the same time!)
Book your Let's Relax Spa Experience in Ao Nang or alternatively, try a Radarom Spa Experience in Ao Nang.
---
You might like – Things to do in Sukhumvit, Bangkok >
---
21. The Best One Pad Thai
Although eating pad thai in Thailand can sometimes be seen as unadventurous, when it is done right, it is one of the most delicious dishes to enjoy (and usually cheap too).
Based on our several visits to Ao Nang and multiple restaurant visits, we think this restaurant lives up to its name and actually does serve the best pad thai in Ao Nang, Krabi.
A small family run restaurant, The Best One Pad Thai in Ao Nang is always busy and they have touts outside like many Ao Nang restaurants, trying to force you inside.
Dishes start from around 60 THB for a chicken pad thai or basil chicken dish, through to around 300 to 350 for a huge grilled fish (the sea bass here is very popular).
Ao Nang's Best One Pad Thai also has a roti stall out front (starting from 30 THB for a plain roti) plus shake and smoothie stalls. Two of you can eat really well here with drinks for less than 300 THB including roti for dessert.
---
Try this – Krabi Bioluminescent Plankton, Snorkeling & Sunset Tour >
---
Our last thing to do in Ao Nang
22. Ao Nang Beach Sailfish Statue
At the centre of the main waterfront promenade in Ao-Nang, you'll see a huge Marlin / Sailfish statue overlooking the sea.
The 5 million baht fishing statue in Ao Nang was unveiled in 2015 and remembers the time when local fishermen caught an insane amount off sailfish off the coast Phi Phi.
A popular meeting point in Ao Nang, the Sailfish is one of the most popular game fishes in Krabi. It is known locally as the 'Queen of the Sea' and is a reminder of how reliant the Ao Nang and Krabi population are on fishing and tourism as a source of income.
---
One thing not to do in Ao Nang Beach – 'No Sunrise, No Sunset'
A few blogs and articles about things to do in Ao Nang Beach mention the 'No Sunrise, No Sunset sculpture, that is close to Krabi Resort and overlooks Nopparat Thara Beach.
As at November 2022, this art installation and striking sculpture no longer really exists, having been vandalised and the main statue figure removed or stolen.
Whilst this spot is still sublime to catch sunsets over Krabi, do not make a special trip for the statue / installation itself as you will be disappointed.
Sim cards and pocket WIFI for your stay in Ao Nang beach
Having data on your phone whilst travelling is almost essential these days – from planning your route around the city, booking a Grab taxi or for staying connected with friends and family back home.
SIM cards are pretty cheap in Thailand with generous data allowances and are available to purchase from airports, malls and 7-Elevens (bring your passport along for identification purposes).
You can also prepay online and collect a SIM from Bangkok or Phuket. Just remember to make sure your phone is not locked to your local network provider before purchasing one.
Alternatively if you do not want to change your SIM card then renting a pocket WIFI device with unlimited high speed internet access might be for you. We've used them multiple times and love that we can both connect our devices to it. Pre-order one online with Klook for collection when you arrive at either Bangkok Suvarnabhumi Airport or Bangkok Don Muang Airport.
Other Ao Nang Krabi posts you might like
Other Thailand posts you might like
Did you enjoy our Things to do in Ao Nang beach Krabi blog post? Let us know in the comments or by sharing it on social media.
You can follow CK Travels on:
Instagram
Facebook
TikTok
YouTube
Pinterest