This post may contain affiliate links to tours and hotels. These help us earn a small commission at no additional charge to you.
Looking for somewhere to base yourself in Bangkok? Then Sukhumvit might be for you, with a wide choice of tourist hotels to suit all budgets, shopping centres galore, excellent night-life and hipster districts.
Sukhumvit is easily one of the best neighbourhoods in Bangkok to stay in (especially for first time travellers to Bangkok), plus there are so many things to do in Sukhumvit.
From the cool coffee shops of Thong Lo to unique rooftop bars and restaurants like Cabbages and Condoms, you won't go hungry in Sukhumvit. Plus with massive shopping malls, excellent transport links and the night delights of Soi Cowboy and Nana, Sukhumvit has a lot going on.
From the gorgeous green spaces of Benjakitti Park to the incredible food at Korea Town, here is our guide to the best things to do in Sukhumvit, Bangkok in Thailand in 2023:
---
You might like – 30+ things to do in Bangkok at night >
---
Recommended Sukhumvit Accommodation and Hotels
Sukhumvit has lots of things to do and is a great place to base yourself whilst in Bangkok.
Given how many Sukhumvit hotels there are, there is accommodation to suit all budgets from 5* stays to affordable apartments. Recommended Sukhumvit accommodation includes:
Maitria Sukhumvit 18
We've stayed at Maitria Sukhumvit 18 several times and recommend it as a good, affordable base to explore Sukhumvit with a quiet roof-top pool and huge bedrooms complete with lounge area. Check rates and availability for Maitria Sukhumvit 18 >
Radisson Suites Bangkok Sukhumvit
One of the newest Sukhumvit hotels, the Radisson Suites Bangkok Sukhumvit has a rooftop pool, free shuttles and a spa. Check rates and availability for Radisson Suites Bangkok Sukhumvit >
Bangkok Marriott Hotel Sukhumvit
A 5* Sukhumvit Hotel with direct access to Thonglor BTS Skytrain Station. Check rates and availability for Bangkok Marriott Hotel Sukhumvit >
Sheraton Grande Sukhumvit
A tropical outdoor rooftop pool with a grand spa await in this 5* hotel just across from Terminal 21. Check rates and availability for Sheraton Grande Sukhumvit >
Other Sukhumvit Bangkok hotels can be found here >
Things to do in Sukhumvit, Bangkok
1. Terminal 21 Asoke Shopping Mall & Food Court
One of the most popular shopping malls in Bangkok and the biggest shopping center in Sukhumvit, Terminal 21 has 10 storeys of retail stores, plus an excellent food-court (so cheap!). It is located right next to BTS Asok station and Sukhumvit MRT station.
Expertly designed with (shopping) bags of choice for fashion or food, coffee or clothing, there are also hundreds of shops to browse plus dozens of restaurants to dine in at Terminal 21 Asok.
Terminal 21 Asok also has one of the biggest and cheapest food courts (Pier 21) in the whole of Bangkok themed like the San Francisco Bay area and docks. There are seven floors of international foods and theming to enjoy too.
There are several Terminal 21 shopping centres in Thailand but this is the original mall and how it got its name; "21" refers to Soi Sukhumvit 21 (Asok Montri Road).
The international themes at Terminal 21 Asok are the Caribbean, London, Rome, Tokyo, Istanbul, Paris, San Francisco and Hollywood.
Check out our guide to the other Terminal 21 (Rama3)- Bangkok's newest mall with crazy, themed toilets >
---
You might like – 20+ best shopping malls in Bangkok >
---
2. Emquartier Shopping Mall
A luxury shopping mall in Sukhumvit with such prestigious shops as Gucci, Chanel and Dior, opulent Emquartier opened in 2015 and is now one of Bangkok's best shopping malls.
It also helps that it is close to the Sukhumvit / Asok areas, so there are lots of bars and restaurants here aimed at tourists, plus it has a direct walkway from Phrom Phong BTS station.
Emquartier is split up into several distinct shopping areas including the Glass Quarter, the Waterfall Quarter, plus the star of the show, the Helix Quarter.
The Helix Quarter at Emquartier for us is one of the most unique shopping experiences in Bangkok, an architecturally awesome helix building and walkway that has dozens of restaurants either side.
You literally walk up a spiral sloped path past all the restaurants, with stunning views and greenery draped from the roof.
The Starbucks here also has an incredible terrace with nice views of the Bangkok City skyline plus nearby Benchasiri Park.
We also like the Quartier Food Hall on the basement level of Emquartier plus the Gourmet Eats Take Home Shop (packed full of delicious dessert and sweet treats).
---
You might like – Bangkok: City Highlights Temple and Market Walking Tour >
---
3. Brewski Bar
A Thai taproom and rooftop bar located on the 30th floor of the Radisson Blu Plaza Bangkok, Brewski Bar is billed as the "…highest duplex rooftop craft beer bar in Bangkok".
We aren't sure what this really means but we do know that this a nice place for sunset brews with views (although the service can be a bit hit and miss).
Brewski Bar usually has around 12 beers on tap, including beers from USA breweries and London craft beer breweries. American style diner food is served like Brewski burgers with fries or chicken wings.
You might like – Bangkok bar crawls on Get Your Guide >
---
4. Cabbages and Condoms Restaurant
Are you 'coming soon' to Sukhumvit? If so, the Cabbages and Condoms restaurant on Sukhumvit 12 is quite like no other dining experience in Thailand; a quirky 'night-time' bite in Bangkok.
Cabbages and Condoms has several restaurants all over Thailand but likely the most famous one is located in Sukhumvit, a short walk from Asok BTS Skytrain Station.
Set in a verdant rainforest setting (yet still in the heart of urban Bangkok), this Sukhumvit condom restaurant is quite the experience – and yes, there are condoms strewn all around (not so many cabbages) with a safe sex gift-shop as well.
The best bit about visiting this restaurant is that profits are reinvested into charitable causes for young or disadvantaged people across Thailand.
Check out our guide to visiting Cabbages and Condoms in Sukhumvit >
---
You might like – Floating Market and Ayutthaya Guided Day Tour >
---
5. Soi Cowboy
Certainly one of the more 'fascinating' places to visit in Bangkok at night, Sukhumvit's Soi Cowboy is a hedonistic hotbed of strip bars, neon lights and all manner of epic entertainment.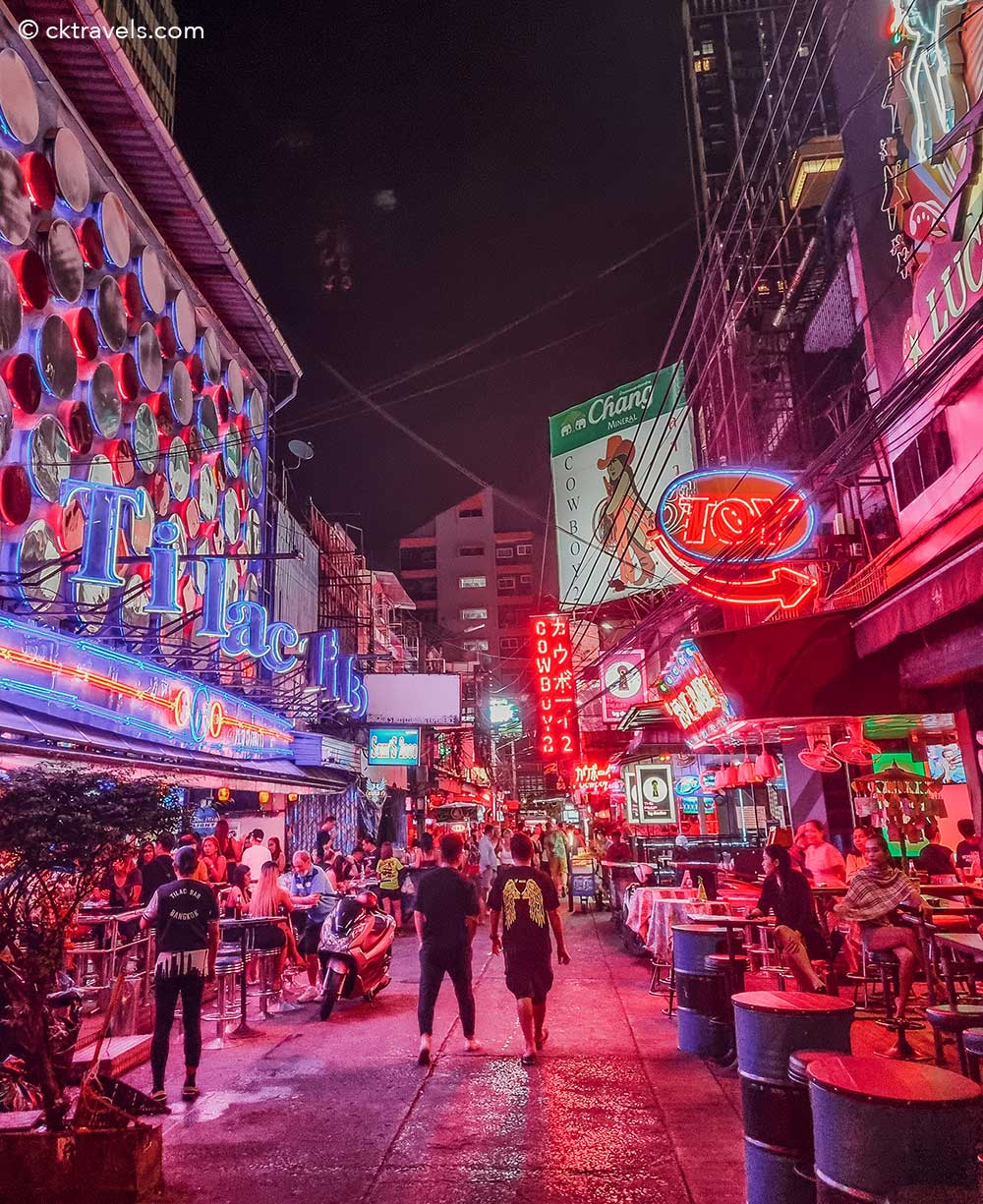 Soi Cowboy at night certainly isn't for everyone, but if you are curious and just want to hang out for happy hour drinks and people watch, this is quite an entertaining / epic night out in Bangkok.
We haven't ever been inside any of the clubs and go go bars at Soi Cowboy, always opting to people watch from the outdoor seating areas; so we can't vouch for exactly what goes on (or indeed doesn't) in those smoky rooms at the back of the bars that everyone talks about.
Check out our dedicated Soi Cowboy guide – it details our experiences and why we continue to visit every time we return to Sukhumvit.
---
You might like – Bangkok Street Eats by Tuk-Tuk Guided Tour >
---
6. Benjakitti Park
Looking for a quiet place to escape the hustle and bustle of Bangkok or a place of solitude in Sukhumvit? Welcome to Benjakitti Park (AKA Benchakitti Park), Bangkok's most beautiful park and free to visit.
Popular with walkers, picnickers and joggers (plus the ideal photo spot), Benjakitti Parks offers stunning views of the city and its forest, from numerous boardwalks, sprawling across a vast and verdant 180 acre site.
Given all the trees, mangroves and water features, it is hard to believe you are still in the heart of one of the largest cities in the world. Whilst New York has Central Park, Bangkok has Benjakitti Park, a wonderful place to visit and explore.
Especially popular at sunset, here is our guide to visiting Benjakitti Park in Bangkok >
---
7. Rooftop Bars in Sukhumvit
Bangkok is blessed with rooftop bars, and Sukhumvit is no different. Rooftop bars in Sukhumvit include:
Octave Rooftop Lounge & Bar
Located across the 45th to 49th floors of the Bangkok Marriott Hotel Sukhumvit, this is one of our favourite rooftop bars in Bangkok, let alone Sukhumvit.
Superb for sunset sessions, the views at Octave Rooftop Lounge & Bar are some of the best and the happy hour cocktails are also much appreciated.
Tichuca
Perhaps the most famous rooftop bar in Sukhumvit, this jungle themed sky bar is very popular on the 'gram, and renowned for its late night DJ sessions and photo fantastic fibre optic trees.
Expect to queue to get into Tichuca rooftop bars at the weekends and peak tourist season.
1826 Mixology and Rooftop Bar
Located atop the Rembrandt Hotel on Sukhumvit 18, the 1826 Mixology and Rooftop Bar is an OK rooftop space but nothing to write home about.
That said, they do a good happy hour and often feature on the Eatigo discount restaurant app, offering 50% off food at certain times of the the day.
Sky on 20
Novotel Bangkok's Rooftop Bar on Sukhumvit 20 is a popular place with nice views of Bangkok and a nice line in cocktails and craft beers.
---
You might like – Bangkok: River Dinner Cruise on the Chao Phraya Princess >
---
8. Mexicano Restaurante Autentico at Rembrandt Hotel
Often recognised as one of the best Mexican restaurants in Bangkok, we'd rate Mexicano Restaurante Autentico as a nice place to try if you want something a little different from traditional Thai food.
Based in the Rembrandt Hotel on Sukhumvit Soi 18, Mexicano Restaurante Autentico is a poolside bar and eatery that does tasty tortillas and tacos – the quality of food is superb and there is often live music.
Every Tuesday night, you can enjoy Taco Tuesday night in Mexicano Restaurante Autentico whereby tacos start from as a little as 69 THB (prices correct as of summer 2023).
Check out Rembrandt Hotel Bangkok room rates >
---
You might like – Best things to do in Ari, Bangkok >
---
9. Breakfast Story
Looking for an American style breakfast in Sukhumvit? Breakfast Story is a chain of cafes in Bangkok that has several Sukhumvit locations offering all day breakfasts and bottomless cups of coffee.
There is something to suit all breakfast appetites and budgets at Breakfast Story Sukhumvit, with everything from healthy choices (like the Nutty Professor Smoothie Bowl) through to 3 egg omelettes and club sandwiches.
We visited the Breakfast Story Asok branch one weekday morning in high season and found it packed out. The food was nice (although not exceptional) with big portions and is a nice antidote to the standard Bangkok hotel buffet breakfast
All branches of Bangkok's Breakfast Story are open from 7am to 11pm.
---
You might like – Bangkok Go City Pass; an honest review >
---
10. Thonglor / Little Japan
Also known as Soi Sukhimvit 55, Thonglor is perhaps one of Bangkok's best known hipster districts (alongside the Ari neighbourhood).
Chock full of cool coffee shops, beautiful boutique bars and small shopping centres, Thonglor is also known as Bangkok's Little Japan, with a bounty of Japanese restaurants and sublime sake bars, plus a branch of Don Don Donki (Japan's Don Quijote stores).
One of the best places to visit in Thonglor is the J Avenue Thonglor mall, with several Japanese restaurant chains like Ippudo, Bonchon, Ootoya and Maisen.
For cool bars and late night entertainment in Thonglor, check out 72 Courtyard that has several pubs and party places including 'Beer Belly', Little Donkey and Evil Man Blues.
Read our guide to the best things to do in Thonglor, Bangkok >
---
You might like – Guide to Chatuchak Weekend Market, Bangkok >
---
11. Hooters Bars Sukhumvit
Hooters is a huge worldwide sports bar and American diner chain with two locations in Sukhumvit – Sukhumvit Soi 15 (located just across from Nana Plaza) and Sukhumvit 4 Alley.
As well as its cheap beer and huge all day menus, Hooters is perhaps best known for its scantily clad waitresses and happy hour specials such as cheap chicken wings.
We've been to Hooters Bar on Sukhumvit Alley 4 several times for their weekday 3pm to 4pm half price food deal and to be fair, the food is really good especially if you like huge portions (the fish tacos and curly spicy fries are superb).
Although far from classy, Hooters in Bangkok is a good place for budget bites and friendly service.
---
You might like – Panpuri Wellness Spa and Onsen Experience in Bangkok >
---
12. The Commons
A cool community hub and creative space chock full of coffee shops, dive bars and restaurants, The Commons in Thong Lor is a hipster hangout popular with locals especially students and the younger crowd.
Split over several levels including an outdoor space complete with cooling jets and bean bags, the Commons also has an indoor air conditioned food court that has international food stalls from Hawaiian poke to mediterranean hummus, Mexican flavours to Nashville hot chicken.
Bar wise, there is the joyful Japanese Highball Bar 1923 plus the Beer Cap, a huge craft beer bar in the basement.
---
You might like – things to do in Silom, Bangkok >
---
13. Science Center for Education (Planetarium Bangkok)
Built in the early 1960's, the Science Center for Education in Sukhumvit is the oldest planetarium in Thailand and was renovated in 2015.
The Science Center for Education has immersive exhibitions on astronomy and science with displays on robotics, aquatic life and natural sciences.
Located close to Ekamai BTS Skytrain station, this is quite a dated activity but may prove fun for kids on a rainy day or to escape the searing heat – admission fees start from 30 THB for adults and 20 THB for children.
---
You might like – Dream World Theme Park Ticket in Bangkok >
---
14. Benjasiri Park / Queen's Park
Whilst VERY small compared to the likes of other Bangkok parks like Benjakitti Park or Lumpini Park, Benjasiri Park is free to visit and offers a nice place to escape the heat under the shade of trees or sit next to the lake.
It is also known as the Queen's Park as it was opened in 1992 to coincide with the 60th anniversary of HM Queen Sirikit.
Located in the shadow of Emporium Mall, Benjasiri is a Sukhumvit park which also has exercise equipment, jogging paths and children's playing equipment – also look out for the snapping turtles in the water.
---
15. Gateway Ekamai Shopping Mall
One of the lesser known Bangkok shopping malls, Gateway Ekamai is a Sukhumvit shopping centre that is easily accessible from the Ekamai BTS station.
It is literally metres away from the BTS station with a covered walkway making this a great all weather shopping centre if it is raining in Sukhumvit.
Whilst not the most aesthetically pleasing Bangkok shopping mall, Gateway Ekamai comprises 8 levels of shopping and entertainment (although during our visit in September 2023, many stores had closed down like Toys R Us).
We liked Gateway Ekamai Shopping Mall not so much for the retail side but more for the vast amount of Japanese restaurants we have visited previously in Japan. Chains like Sukiya, Ringer Hut and Tendon Tenya Tempura are all based in the Urban Market on the ground floor. There is also a branch of Daiso here.
Look out for the cute waving cats (maneki-neko) statue outside the mall. Please note the Gateway Ekamai Bangkok Farmers Market no longer takes place here in Sukhumvit (as of summer 2023).
Like all things Japan? Check out our sister site Plan My Japan >
---
16. Nana Plaza
Bangkok's night-time 'naughty but nice' district, Nana is certainly a lot more eye-opening than nearby Soi Cowboy or Patpong To a first time visitor, nocturnal Nana is certainly a sight to behold and could be construed as a little on the slightly seedy side.
Found in Sukhumvit Soi 4, Nana Plaza is renowned for its go-go bars, dancing girls and an array of eye candy to lure you into various bars.
Located over three floors with a security presence at the main entrance, the ground level of Nana Plaza is the most accessible and 'safest' part (and best bet if you are just looking for a casual drink).
On the upper two levels, the neon lights get a little dimmer and the various rooms and clubs are mainly accessed by dimly lit staircases.
Unlike Patpong in Silom, there is no street-food or good restaurants here; Nana Plaza is purely about go-go bars and good-times. That said, there are several bars on the ground floor where you can easily just grab a drink and watch what goes on.
Nana is certainly one of the most 'interesting' adult things to do in Bangkok at night and a surreal thing to do in Sukhumvit.
---
17. Korea Town (Sukhumvit Plaza)
Although sometimes a little quiet by day, Korea Town in Sukhumvit (near Nana Plaza) is a buzzing hub of Korean restaurants, BBQ joints and authentic street food flavours.
Korea Town is easy to spot – just look for the huge rooftop TV screen at the front of the plaza, blasting out K Pop songs like 'Gangnam Style' by Psy.
Known as Bangkok's Little Seoul, this is the best place in Sukhumvit at night to get your South Korean street food fix.
Love South Korea? Check out all our South Korea guides here >
---
You might like – Guide to Jodd Fairs DanNeramit, Bangkok's newest night market >
---
18. Kamthieng House Museum
Take a step back in time with this traditional Thai Lanna house, one of the more sedate things to do in Sukhumvit, Bangkok.
Managed by the Siam Society and free to visit (although donations are encouraged), Sukhumvit's Kamthieng House Museum displays a traditional Northern Thai wooden style home that was built over 170 years ago and transported piece by piece from its original home in Chiang Mai.
Similar in style to the Jim Thompson House, this sublime setting is only a short walk from Asok station and Terminal 21 and a superb way to escape the hustle and bustle of Sukhumvit.
---
You might like – Kanchanaburi Highlights Day Tour from Bangkok >
---
19. Go the Cinema
SF Cinema is located on the top floor of Terminal 21 Asok (and handily located just across from the Pier 21 Food Court). This Sukhumvvit cinema continues the Terminal 21 mall theming with a huge Academy Award statue plus several film related statues.
SF Cinema at Terminal 21 has eight screens and shows a variety of international and Thai movies – most international movies are subtitled but some English movies are dubbed in Thai so check out the SF Cinema listings before-hand.
Alternatively, another Sukhumvit cinema is located at Emquartier shopping mall by Phrom Phong BTS station. Emquartier has the Quartier Cineart and IMAX on level four.
---
You might like – Pak Khlong Talat Flower Market in Bangkok guide >
---
20. Arab Street / Soi Sukhumvit 3-1
Close to Nana Plaza, another interesting thing to do in Sukhumvit at night is visit Arab Street (or 'Little Arabia Town').
Chock full of Middle Eastern restaurants, tobacco shops and night-life, Arab Street / Little Arabia is also a good place to try hookah shisha (smoking tobacco through a heated water pipe), not to be confused with something of a very similar name operating in Nana Plaza!
---
21. Harborland Gateway Ekamai
On the top floor of Ekamai Gateway mall (next to Ekkamai BTS station), you'll find Harborland which is open daily from 10am to 8pm.
Harborland Gateway Ekamai is a 'wonder sea' / aquatic indoor adventure playground for kids. As well as slides, assault course and ball pits, highlights include 'Aero Strike', a ball shooting game and Valo Jump (a VR game).
Harborland tickets start from 190 Baht ( September 2023) for 2.5 hours for a small toddler.
---
22. Get High in Sukhumvit
Since 2022, it has been legal to smoke grass / MJ in Thailand – that said, please note it is illegal to smoke (and vape) in public places.
As such, many 'dope' cafes are now dotted around Bangkok in areas such as Sukhumvit, Ari, and Silom.
With dope cafes in Sukhumvit with names like Bud 2 Go and Mary Jane, let's just say it is now quite easy to make best buds in Bangkok at night.
---
You might like – Guide to Asiatique, Bangkok's riverside night market >
---
Our final thing to do in Sukhumvit Bangkok
23. 24 hour 'dining' at 7-Eleven stores
7-Eleven in Thailand is a way of life – there is practically a 7-Eleven on every Sukhumvit street corner (with over 13,000 stores opened in Thailand since the late 1980s).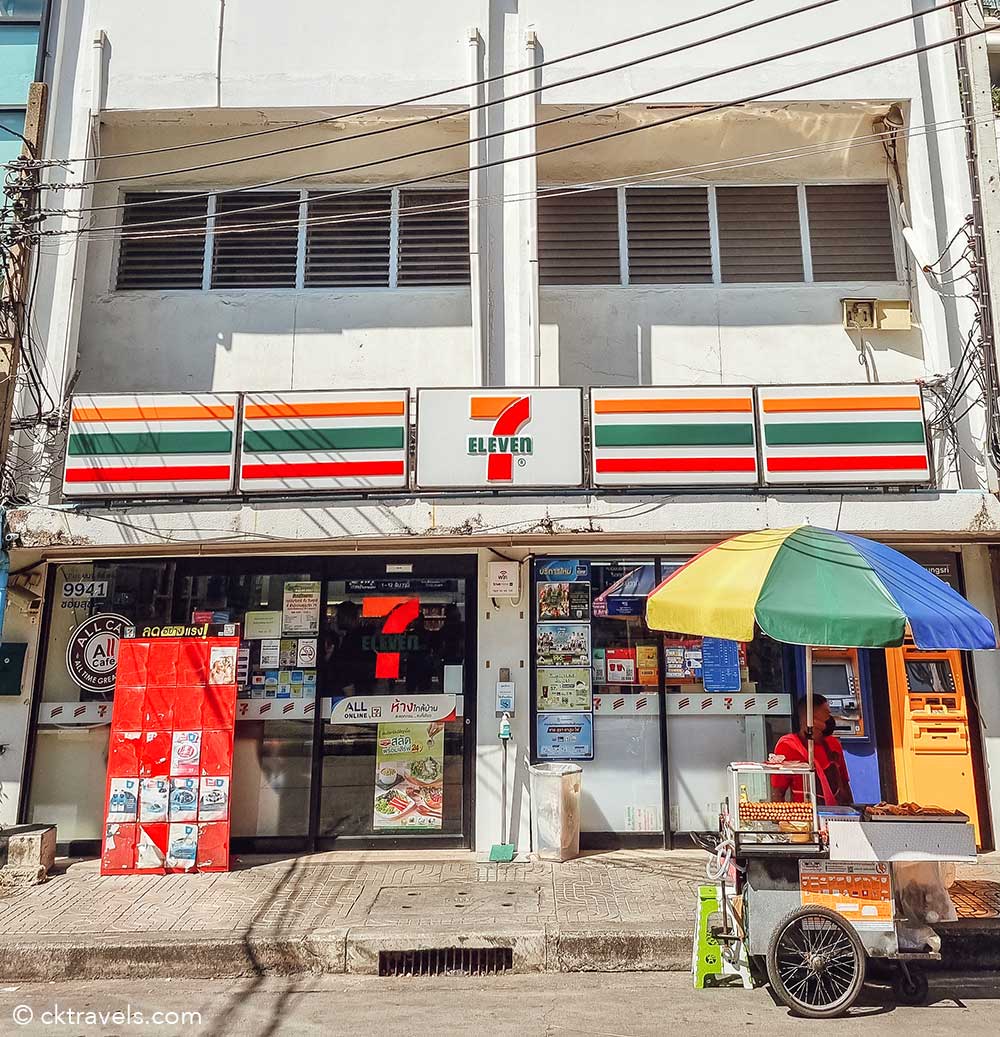 Thailand has the second largest number of 7-Elevens anywhere in the world (after Japan), plus the largest 7-Eleven in the world in Pattaya (themed like a cruise ship!).
Open 24 hours, pretty much every traveller to Thailand has at some stage ducked into a 7-Eleven for a late-night toasted sandwich or an ice-cold Chang beer to cool down with.
You'll find 7-Elevens in Sukhumvit in all the main areas including at Soi Cowboy, below Terminal 21 Asok and around Nana.
From durian to dried squid, tiger balm to tourist SIMs and condoms to collagen drinks, Thailand 7-Eleven has got you covered – read our guide to the the 55+ Things you can buy in Thailand's 7-Eleven stores.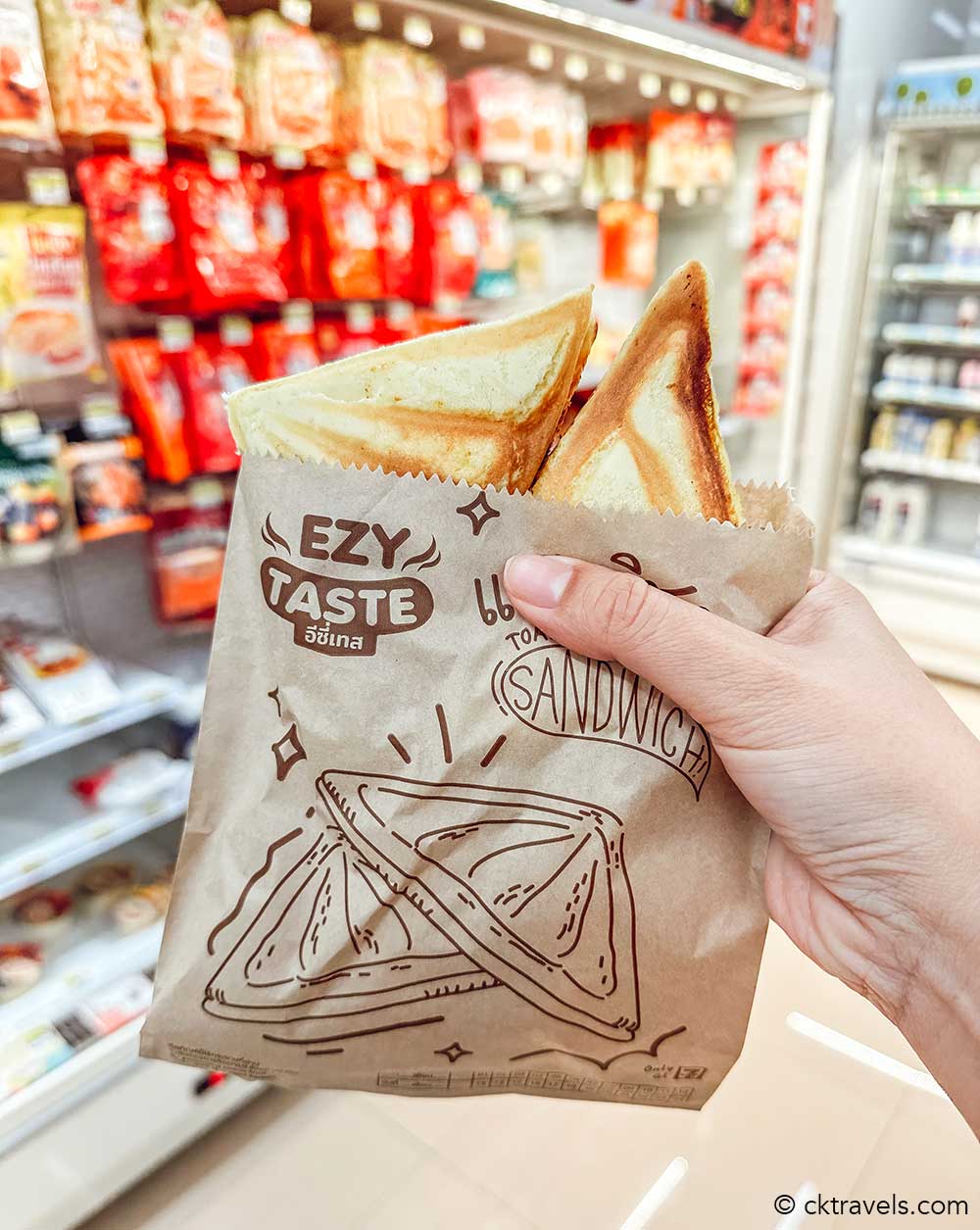 ---
Other Thailand blog posts you might like
---
Did you enjoy our things to do in Sukhumvit, Bangkok blog post? Let us know in the comments or by sharing the blog on social media.
You can follow CK Travels on:
Instagram
Facebook
TikTok
YouTube
Pinterest