This post may contain affiliate links to tours and hotels. These help us earn a small commission at no additional charge to you.
Heading to Krabi in Thailand soon? Lucky you! With sun kissed beaches, sandy shores and incredible sunsets, there is a lot to enjoy and make you happy in Krabi. It is also the gateway to hundreds of Thai islands, all within easy access of the main-land via long-tail boats or private speedboat tours.
Railay Beach is one of the most beautiful beaches in Thailand. Although it is still on the main-land, it is inaccessible by road so it feels like a tropical island paradise hidden away from the rest of the world.
Railay Beach is just a short 15 minute long-tail boat ride from Ao Nang Beach in Krabi – here is our guide to getting a Ao Nang long-tail boat to Railay Beach.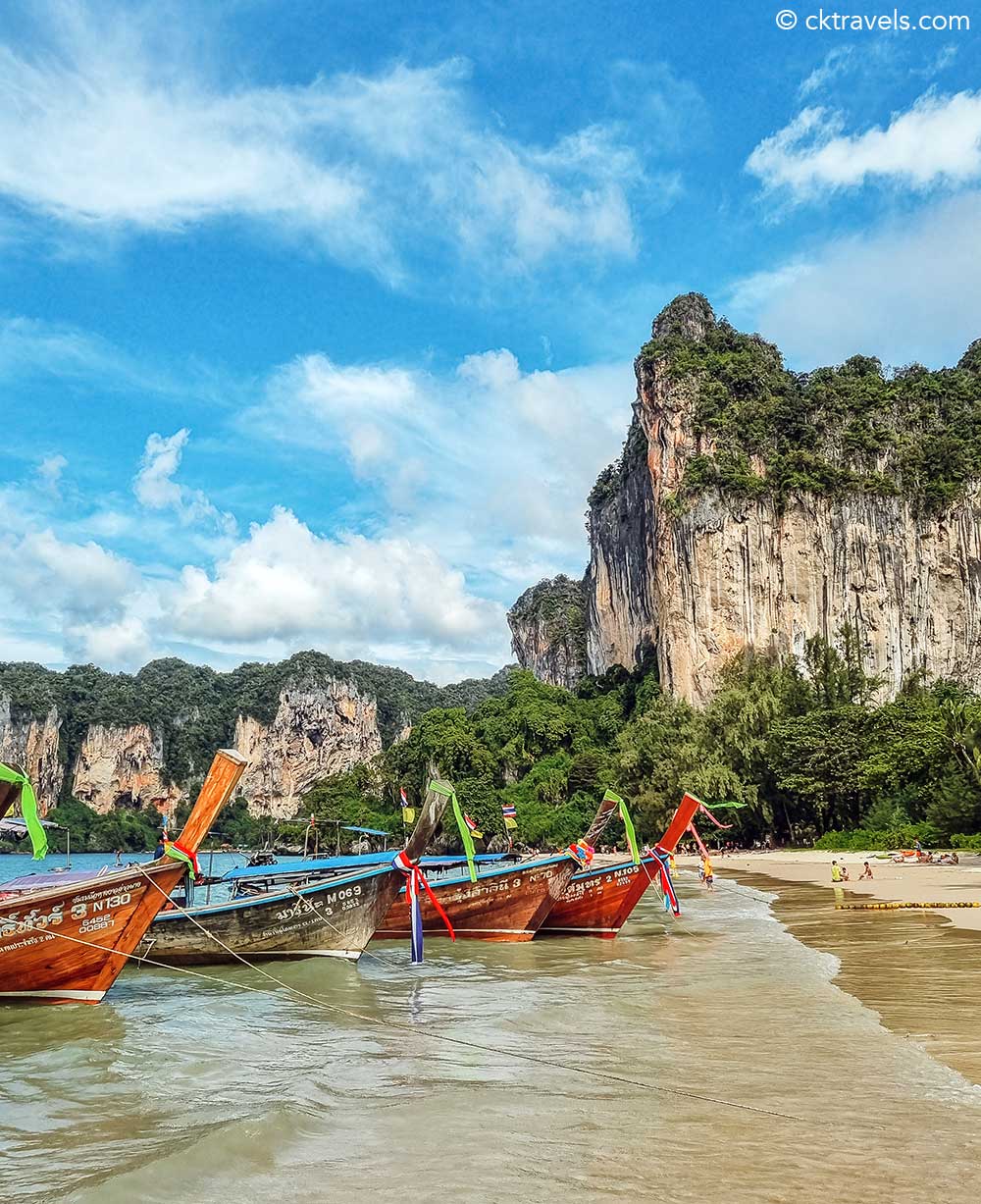 Getting to Ao Nang Beach
Most of the long-tail boats that go to Railay Beach leave from Ao Nang beach in Krabi – there are lots of centrally located hotels in Ao Nang so most will be a short walk to the beach.
If you are staying further afield like in Krabi Town, jump on a bus and alight at bus stop number 4, also known as Monkey bus stop (seriously, take a look at the picture below – it has model monkeys galore!)
There is a monkey bus stop either side of the road so it doesn't matter which way you come from in Krabi to get to Ao Nang – from the bus stop, it is a 20 second walk to the Ao Nang Longtail Boat Service.
Ao Nang Beach Long Tail Boat Service
Once at Ao Nang beach, you need to go to one of the two Ao Nang Beach Tail Boat Service ticket counters. There is a ticket counter and long-tail boats at both ends of the beach operated by the same company (Ao Nang Beach Long Tail Service).
From what we could see, a lot more long-tail boats depart more frequently from the southern end of Ao Nang beach strip (near to Boogie Bar and Burger King).
How much does a long-tail boat cost to Railay Beach from Ao Nang / Krabi?
At the time of writing (November 2022), the standard fare for a long-tail boat from Ao Nang to Railay Beach West is 100 baht per person each way (approx £2.30 / $2.80 USD or €2.60).
Private speed boat charters are also available to Railay Beach from Ao Nang but prices vary depending on the company or private charter.
Getting a long-tail boat to Railay Beach is much cheaper and they depart more frequently. Most long-tail boats usually take up to nine passengers at a time.
How to buy a long tail boat ticket to Railay Beach from Ao Nong
You don't need to book long-tail boats to Railay Beach in advance – long-tail boats depart very regularly from Ao Nang beach but you must buy a ticket before getting on the long tail boat.
To buy a long-tail boat ticket to Railay Beach, just walk up to the Ao Nang Beach Long Tail Boat Service Club counter and pay with cash – 100 Baht per person each way; 200 Baht return per person.
Whilst you can buy one way long-tail boat tickets to Railay Beach, we'd recommend buying a return ticket as this may allow you to jump on a boat back quicker (possibly one that is just leaving) without having to queue up again.
The long-tail boat ticket to Railay Beach is white in colour and the ticket from Railay Beach to Ao Nang beach is blue in colour – once issued by the ticket office, the boat drivers will take your ticket off you before boarding.
---
YOU MIGHT LIKE: things to do at Railay Beach & Phra Nang Cave Beach >
---
What time do the long-tail boats operate between Railay Beach and Ao-Nang beach?
Ao Nang Beach Long Tail Boat services operate from 8am to 6pm daily (seven days a week). If you want to stay longer (and return after 6pm), you need to arrange a private charter and agree a price with the long tail boat driver.
One way fares after 6pm on a private charter start from 150 baht per person one way. Private charter long-tail boats to and from Railay Beach West generally operate from 6pm to midnight.
If you don't want to queue, we'd recommend getting a long-tail boat to Railay Beach before 10am. After 10am, queues are much longer and you may have to wait a little while until the next available long-tail boat.
The long-tail boat will drop you off at Railay Beach West (which is the nicer of the two Railay beaches), it may also do a quick stop at Tonsai beach if anyone on your boat has requested a drop off there.
We arrived at the beach from Ao Nang around 8.30am and pretty much had Railay Beach to ourselves until 10am – after that, a steady stream of long-tail boats arrive all morning at Railay Beach as well as continual tour groups. So arrive early if you can!
---
YOU MIGHT LIKE: best breakfast & brunch restaurants in Ao Nang, Krabi
---
Getting on a long-tail boat at Ao-Nang Beach – tips on how not to get wet
Jumping aboard a long-tail boat is fairly straight forward – obviously, sea conditions can be a lot more choppy on windy days plus the water level when getting on / off a boat is deeper when at high tide (meaning the water will go further up your legs).
We found getting a boat to Railway Beach in the morning was low tide but when we got back to Ao Nang beach in the afternoon, it was high tide meaning the water came up to above our knees when we get off; this also varies depending on time of year / coastal conditions.
If you are getting a long-tail boat, you will have to wade into the ocean a little before getting the steps up onto the boat so wear either flip-flops, sea-shoes or loose trainers that you can easily take off before going in the water.
Also, take protective water-proof cases for your phone / camera – it is unlikely you'll get your bag wet but this in case you drop your bag (and travel insurance is always handy!)
We found the best / safest way to get on a long-tail boat at Ao Nang / Krabi / Railay Beach was to put your bag at the front (stern) of the boat before you got on, so that it stayed dry and ensured you didn't drop your bag if you slip on the boat steps.
Also, wear swimming trunks or very short shorts when using a long-tail boat service as the water will usually come up to at least your knee.
In addition, put any money / wallets and purses from your pockets into your bag (when we got off the long-tail boat a second time, the water came up to the bottom of our pockets).
---
YOU MIGHT LIKE: things to do in Ao Nang Beach, Krabi, Thailand
---
Ao Nang Beach to Railay Beach West long-tail boat journey time
The long-tail boat trip between Railay Beach West and Ao Nang beach usually takes around 15 minutes one way but that also depends on sea conditions, the tide and also your driver (some are a lot more speedy than others!).
Thanks for checking out our blog!
We are currently digital nomading / travelling for the next few months around London and Asia (Thailand, Malaysia and Taiwan). Check out our travel diaries on Instagram @.c.k.travels, Tik Tok @cktravels and on Facebook.
Highly rated accommodation in Railay Beach
If you decide you want to stay in Railay Beach for a few days then there are several hotels and guesthouses located on here from cheap budget huts to luxury 5 star resorts! Here are some highly rated accommodation options:
Budget
Railay Garden View Resort
Rustic hillside wooden bungalow accommodation on the east side of Railay surrounded by nature. Rooms have a private balcony with seating area, fan and en suite bathroom. Hotel facilities include a breakfast-only restaurant. Check out prices and availability for Railay Garden View Resort.
Mid-range
Railay Phutawan Resort
Cute 2 star resort with stunning views of the cliffs and the ocean. Rooms are decorated in rustic wooden Thai style and facilities include an outdoor pool, sun terrace, scenic landscaped gardens and bar/restaurant. Check out prices and availability for Railay Phutawan Resort.
Luxury
Rayavadee
5 star beachfront resort – the most luxurious place to stay on Railay Beach! Surrounded by tropical gardens, each room has its own terrace, whilst some of the more expensive beach hut options include your own private pool. Hotel facilities include a spa, four restaurants and an outdoor beachside pool. Check out prices and availability for Rayavadee.
---
YOU MIGHT LIKE: Pakasai Resort Krabi hotel – An Honest Review
---
Other day trips from Ao Nang Krabi
Ao Nang, Krabi is a great base for many day trips to the surrounding islands. Here are some highly recommended tours you can book online:
From Krabi: Phi Phi Islands Speedboat Day Tour
7 Islands Sunset Tour with BBQ Dinner and Snorkeling
4 Islands Tour by Longtail Boat
Hong Islands Day Trip by Speedboat with Lunch
Other Krabi posts you might like
Other Thailand posts you might like
Did you enjoy our How to get from Ao Nang Beach to Railay Beach blog post? Let us know in the comments or by sharing it on social media.
You can follow CK Travels on: 
Instagram
Facebook
TikTok 
YouTube
Pinterest