This post may contain affiliate links to tours and hotels. These help us earn a small commission at no additional charge to you.
Bangkok bound? Time to discover Ari, Bangkok's hippest neighbourhood, chock full of cool coffee shops, stylish street food courts and village vibes.
From a community space packed full of selfie booths and photo spots to cafes with DJs (and one with skeletons!), there are many things to do in Ari, Bangkok with something to suit all tastes and budgets.
Walking along the leafy streets and exploring the quieter residential areas, Bangkok's Ari district feels a world away from the hustle and bustle of the neighbouring districts – plus you can get everything here from a mocha to a Mercedes Benz.
Easily accessible by public transport (there is a BTS station), here is our 2023 guide to all the things to do in Ari, Bangkok:
---
You might like – Things to do in Sukhumvit, Bangkok >
---
Skip to our Ari Bangkok accommodation guide >
Getting to Ari, Bangkok
Ari is located in north Bangkok and is roughly a 10 to 30-minute drive from the city centre.
It is also located on the Sukhumvit line of the BTS skytrain – alight at Ari station (2 stops away from Chatuchak Weekend Market).
---
Coffee shops and cafes in Ari, Bangkok
1. Nana Coffee Roasters, Ari
Like no other coffee shop we've been to in Bangkok, Nana Coffee Roasters feels a world away from the hustle and bustle of the neighbouring streets.
Located a little way away from the main food and drink areas of Ari, Nana Coffee Roasters has a beautiful, modern indoor dining area plus a tropical garden complete with air coolers.
It reminded us of coffee shops and tea houses we'd been to in Japan and South Korea. Also, when we visited on a weekend afternoon, this cool super cool coffee shop in Ari even had an inhouse DJ; talk about coffee beans and big beats!
There is so much choice of coffee varieties and serving options to choose from. Such is its popularity though, it can be easier to get a coffee here than a parking space as the line of cars went round the block trying to get a coveted parking space
Such is the affluent nature of the neighbourhood, Nana Coffee Roasters is located next to a discreet luxury sports car showroom so if you are feeling flush; you can buy a cabriolet after your cappuccino!
---
You might like – Asiatique Night Market in Bangkok >
---
2. Black Cat Coffee
Bangkok has a plethora of paw-some cat cafes and Ari is no exception – Black Cat Coffee Shop is a small but purr-fectly formed coffee shop on the corner of Soi Ari 1.
Black Cat is home to a couple of cute cats who you can see in the window often dozing in the afternoon sun. Whilst not on the scale of other cat cafes, Black Cat Coffee is a cute and charming addition to the Ari cafe scene.
---
You might like – Houtong Cat Village in Taiwan >
---
3. Grafika Coffee Stand @ Gumps Ari
Located in the eminently Instagrammable Gumps Ari Community space (more on this later), Grafika Coffee Stand not only looks the part but also delivers on the caffeine side.
Pretty as a picture and often with people posing outside the cute kiosk with their coffee cups and floral dresses (and that is just the boys), Grafika Coffee Stand is known for its speciality coffees including a Rusty (which is a coffee and orange juice combo). Iced coffee retails around the 100THB mark depending on your choice of blend.
Address: Grafika Coffee Stand @ GUMP's Ari Community Space, 25/1 Ari 4 Fang Nua Alley, Samsen Nai, Phaya Thai, Bangkok 10400
---
You might like – The Go City Bangkok pass – is it worth it?
---
4. Landhaus
Hidden away in a quiet residential area of Ari, Landhaus is a busy bakery and coffee shop famous for its sweet treats and decadent desserts. As soon as you get close to the entrance, you can smell freshly baked goods wafting from the doorway.
The interiors at Landhaus are very homely, almost as though you are walking into someone's living room with a few invited guests slumped into cosy armchairs enjoying fresh coffee and croissants.
Landhaus has lots of lovely bakery goods to enjoy including cinnamon rolls, cookies, pretzels and pastries.
Address: Landhaus Bakery, 18 Phahon Yothin 5, Samsen Nai, Phaya Thai, Bangkok 10400
---
You might like – things to do in Silom, Bangkok >
---
5. Coffee Number 9
We round out Ari coffee shops with one of the best known, Ari Coffee Number 9, one of the longest standing coffee kiosks in the area which celebrates its 10th anniversary this year (2023).
Located in the Ari Soi One food court, Coffee Number 9 does a roaring trade and had a huge (but fast moving) queue when we visited. So hipster, we genuinely saw a guy grabbing a drink here and then hopping onto a motorised unicycle sipping his drip as he sped off – love it!
Signature drinks at Coffee Number 9 include Sparkling Yuzu coffee (95 THB), Orangano coffee (85 THB), Black Pink coffee (95 THB) and Supreme Matcha (90 THB) – as you'd expect from the names, these are some of the most colourful coffees.
Address: Coffee Number 9, Ari soi 1, Ari, Phaya Thai, Bangkok
---
Try this – enjoy a private tour of Bangkok >
---
6. Gumps Ari Community Space
Opened in 2019, the Gumps Ari is billed as a community space but is more of a super cute shopping mall and food court with a retro feel. Based over two levels, as well as restaurants and cafes, Grumps Ari is packed full of photo opps and selfie spots.
Indeed, based on our initial impressions, most people come to Gump's Ari Community Space to take pictures rather than frequent the businesses (we hope the restaurants are busier in the evenings as they all sound amazing).
As well as the aforementioned Grafika Coffee Stand, there are several bars and restaurants at Gumps Community Space including:
Fats & Angry Diner
The best named restaurant in Bangkok?! Fats & Angry is a 1950's style vintage American diner on the upper floor of Gumps Ari Community Space, popular for burgers, fries and milkshakes. It is also one of the most popular photo spots at Gumps Ari.
Hoola and Ring Ring Cafe
A Hawaiian themed cafe with lots of huge oversized props for pics and sips.
Fuu Souffle Pancake Shop
Looking for the fluffiest pancakes in Ari? Fuu's second Thailand branch (the original is in Chiang Mai) is serving up light and fluffy souffle pancakes with all manner of toppings.
Thongyoy Cafe
Just across the road from Gumps Ari Community Space, Thongyoy Cafe is a flower themed cafe that specialises in Thai sweet treats.
Check out the flower themed entrance at Thongyoy Cafe too. So close to Gumps, you can see why this area is Ari's most popular photo spod and tripod central.
Tsuru Udon
Chain restaurant serving up bowls of fresh homemade Japanese udon noodles.
CK Travels Tip – if you are looking for a free toilet or restroom in Ari, Gumps Ari Community Space is the best place for a toilet stop. Other than toilets in cafes, theren't aren't really any other free restrooms in Ari.
September 2023 update – we revisited Gumps Ari Community Space in summer 2023 and since our previous visit, several of the cafes and shops here are either closed or being renovated – but it is still very much worth a visit.
Address: Gumps Ari Community Space, 25 Ari 4 Fang Nua Alley, Samsen Nai, Phaya Thai, Bangkok 10400
You might also like to read our articles about:
Bangkok
Chiang Mai
Krabi
Chiang Rai
7. Ong Tang Khao Soi
Regular readers of CK Travels (Hello Mum!) will know we are big fans of Khao Soi, Northern Thailand's famous coconut curry noodle dish. So much so that we've compiled a list of all of the best khao soi restaurants Chiang Mai that we've visited.
Here in Bangkok, there are fewer dedicated khao soi restaurants but one of the best khao soi joints is the Michelin Bib Gourmand featured Ong Tang Khao Soi (they have several branches in Bangkok but Ari is reputed to be the best).
For those who haven't tried khao soi before in Bangkok, Khao soi (or khay soy) is a popular Northern Thailand coconut curry noodle dish with its origins in Burma (the Burmese word for noodle is khao swe).
The most common version is usually chicken khao soi, but many khao soi restaurants also serve pork and beef versions (as they do at Ong Tang Khao Soi)
Packed to the rafters when we visited one Saturday lunchtime, we tried the traditional chicken khao soi at One Tang (price 109 THB) plus some chrysanthemum tea with milk and passion fruit soda – all highly recommended.
Other popular dishes at Ong Tang Khao Soi include stir fried khao soi with Northern Thai style sausage and grilled field crab fat cooked with egg yolk and sticky rice.
---
You might like – 30+ things to do in Bangkok at night >
---
8. Ari Selfie Booths
One of the most fun things to do in Ari, Bangkok (and in fact in Seoul, South Korea at night), are visiting Korean selfie booth stores.
There are a few locations dotted around the neighbourhood, especially at Gumps Ari Community Space and at La Villa Market (Flashback Booth, the latter right next to Ari BTS station).
Selfie kiosks are brightly coloured booths where you can pose for a selfie and then add in colourful backgrounds or graphics for a small fee (usually around 100 THB) – kinda like a passport picture kiosk but with the ability to add fun things after before printing!
The best spot for selfie booths and photo kiosks is Holiday Sculpture at Gumps Ari as it has several selfie booths to choose from and is open daily from 11am to 8pm.
---
You might like – Terminal 21 Rama3, Bangkok's newest mail (with themed toilets!) >
---
9. Pearl Building Ari
OK, not so much a thing to do in Ari (unless you are a Starbucks fan), more a thing to see whilst exploring the neighbourhood.
The Pearl Building is a 25 storey building in Ari that is very reminiscent of the Axe Building in London (some would say rip-off but who knows) – this opulent looking building is the first thing you see as you alight at Ari BTS station from central Bangkok.
It looks the part but is mainly home to private businesses – whilst you can marvel the architecture outside, the only part of the building you can access is the lobby and reception area.
That said, there is a popular Starbucks inside on the right of the main entrance if you want to enjoy some airconditioning and escape the searing sun in Ari.
---
You might like – Lumpini Park in Bangkok Guide >
---
Ari Food Courts
As well as cool coffee shops, the food scene in Ari is 'chef's kiss' with several outdoor food courts and street food alleys to enjoy. One of the best things to do in Ari, some of these awesome alfresco food alleys include:
9. Ari Alley at BTS Ari
A new outdoor food court immediately below the BTS station and across the main road from Villa Market, this awesome alfresco alley has around a dozen food kiosks all with small outdoor eating areas (plus parasols if you need to escape the sun).
The food choice at the BTS Ari alley way is immense with cuisine from all over Asia including Taiwan, Japan, Korea and the Philippines.
Stalls here include Cha King bubble tea, Japan 9 and Flash Coffee – we'd also highly recommend the Taiwanese ING Teahouse here for its traditional peanut ice-cream roll with coriander – very refreshing!
---
Try this – The 10 Tastings of Bangkok: Private Street Food Tour >
---
10. FEAST Ratchakru Food court
Bangkok's first 'garden canteen' (no, us neither), Ari's FEAST Ratchakru food court is based over two levels, with around a dozen kitchens and a huge communal eating area in the middle.
Feast upon street food that includes roast pork, rotis, ice-cream rolls and much much more gourmet goodness.
The Feast Ratchakru Ari outdoor garden bar (the 'barden' – nice!) is open from 9am to midnight with live music at the weekends.
Address: FEAST Ratchakru Food court, 105 Phahon Yothin 5, Samsen Nai, Phaya Thai, Bangkok 10400
---
You might like – Things to do in the Talat Noi neighbourhood, Bangkok >
---
11. A One Ari Food Court
One of the smallest food courts and shopping plazas in Ari, A One Ari was generally closed up when we visited one Saturday lunchtime so it may be more for the weekday work crowd.
That said, popular Ari Coffee Shop Coffee Number 9 is based here, famed for its colourful caffeine concoctions. Bubble Waffle Story also serves decadent desserts and n-'ice' treats!
Address: A One Ari food court, Soi Ari 1, Bangkok, Thailand, Bangkok
---
You might like – Chatuchak Weekend Market Guide >
---
12. Snannapo food court / Ari Soi 1
OK, so we aren't sure if the name of this Ari street food court is correct as it isn't labelled on maps but the signs by the gate said 'Snannapo' so we'll go with that.
This is a cute food court and outdoor plaza with several food kiosks like Bun Mee Vietnamese cafe and Qraft cafe – in addition, there are permanent restaurants dotted around the edge like Semolina (a pasta place and wine bar).
Street food stalls in Ari
As if all these street food courts and plazas weren't enough, you'll also find additional street food stalls in Ari along Phahonyothin Soi 7 (the road where Ongtong Khao Soi Ari Branch is located) on selected days plus also along Ari 3 Alley on weekdays.
With pink parasols and all manner of deep fried goodness, this street food spot is popular with local workers, especially for takeaway food.
Note there are about 10 or so street food stalls in this part of Ari so we wouldn't necessarily call it a street food market as such.
---
You might like – Cabbages & Condoms, Bangkok's best themed restaurant >
---
13. Fan Tuan Ari
A personal foodie recommendation but we cannot rave enough about Fan Tuan fusion Taiwanese rice-balls, one of our go to snacks when eating in Taiwan (also known as an Asian burrito).
There are only a handful of branches of this top and tasty Taiwan chain in Bangkok (including one in Silom) but there is a Fan Tuan branch handily located in the Ari street food alley just below Ari BTS station.
There are around 6 different rice ball wrap flavours to choose from, starting at 89 THB for the traditional tan tuan wrap with chicken through to around 119 THB for the spicy braised pork fan tuan. Mongolian beef fan tuan is also recommended.
Served warm, these rice balls are so damn tasty – they also have crispy dough inside giving it a unique texture. Go on, give one a try; you'll become a fan (tuan).
Address: Fan Tuan Ari, ARI BTS Station, Exit 3 1199 Phahonyothin Road, Samsen Nai, Phaya Thai, Bangkok 10400
---
Try this – Bangkok River Dinner Cruise on the Chao Phraya Princess >
---
14. La Villa Ari
La Villa Ari is a Bangkok shopping centre and mini mall that comprises around 20 cafes and restaurants (many of which are Japanese) plus La Villa Market, billed as Thailand's first international supermarket
Although it is your typical mall, La Villa Ari mall benefits from being right next to Ari BTS station plus the exterior is quite nice, with fountains, trees and balconies covered in shrubs and greenery.
It looked a bit like the Ewok village from Star Wars to be honest! La Villa Market is well stocked and has multiple international food aisles (many expats live here) plus the air con is rock solid.
Restaurants and shops at La Villa Ari include Fuji Japanese restaurant, Jones Grocer, Captain Squid, Starbucks Coffee, Greyhound Cafe, Sushi Shiro and Coco ichibana.
Address: La Villa Ari and Villa Market, 356 Phahonyothin Road, Samsen Nai, Phaya Thai, Bangkok 10400
---
Try this – From Bangkok: Ayutthaya Full-Day Trip with Driver >
---
15. Thanee Khao Moo Crispy Pork
We cannot write a things to do in Ari, Bangkok guide without a mention to Thani / Thanee Khao Mudaeng, perhaps one of the most famous and popular crispy pork places in Bangkok.
Famed for its classic crispy pork (moo krob) and stewed pork (moo daeng), Thani Khao Moo feels like stepping back in time and is a world away from all the cool coffee shops Ari now seems to be famous for. It is great to see such a venerable Ari restaurant still going strong, particularly with the work crowd.
Within a couple of minutes walk of the Ari BTS station and close to the iconic Pearl building, most dishes cost less around 70 THB at Thanee Khao Moo – arrive hungry, you won't be disappointed!
Looking for cheap Thailand day-trips, attractions or group/private tours? We recommend visiting Viator, GetYourGuide, and Klook!
16. Rod Ded Beef Noodles
Just a couple of doors down from Thanee Khao Moo Crispy Pork, you'll find another popular Ari restaurant, Rod Ded Beef Noodles (at 1159 Phaholyothin Road).
One of the best beef noodle places in Bangkok, here you can try succulent beef either with a soup or dry plus with add ons like wontons – peak hours are weekday lunch-times so be prepared to queue then.
---
17. Get High in Nimman
Since 2022, it has been legal to smoke grass in Thailand – that said, please note it is illegal to smoke (and vape) in public places.
As such, several 'dope' cafes are now dotted around AriNimman (although there are nowhere near as many in Ari as there are compared to say Sukhumvit or Silom).
One of the best known dope cafes and dispensaries in Ari is the Sky X High Cafe, located in Piyawan Tower just across the road from the BTS station renowned for its edibles. Another popular 'joint' in Ari is the Green Fairy Dispensary – best buds ahoy.
Address:
Sky X High Cafe, Piyawan Tower, ตลาด Aree market Soi Ari 1, Bangkok 10400
Green Fairy Dispensary, 46 6 Ari 4 Fang Nua Alley, Samsen Nai, Phaya Thai, Bangkok 10400
Thanks for checking out our blog!
As of Autumn 2023 we are currently digital nomading / travelling around Asia (Thailand, Malaysia, Singapore and South Korea). Check out our daily travel diaries on Instagram @.c.k.travels >
18. Lawson's 108 @ Ari BTS station
Although pretty much every convenience store in Bangkok is a 7-Eleven Thailand (and you'll find several 7-Elevens in and around Ari), you can also find the Japanese convenience store Lawsons at Ari BTS station.
So if you are craving a Japanese style egg sandwich or just want to eat and go after jumping off the BTS, Lawsons Ari has you covered.
---
Try this – Bangkok Private Muay Thai Martial Arts Lesson & Hotel Pickup >
---
19. Kid Mai Death Awareness Cafe
Part cafe, part chamber of horrors, we can confidently say that the Kid Mai Death Awareness Cafe is one of the more unusual things to do in Ari (if not the whole of Bangkok!). Sip your drink with a skeleton or climb inside a coffin when quaffing your coffee.
Set up to make people consider their own immortality by a Buddhist doctor, the idea is that you'll start to think about your own existence more and ultimately lead a fuller life – deep stuff when you just came in for a cappuccino (maybe hold the cream and sugar).
If coffee isn't your thing, there is also a death themed escape room onsite (no, really!).
So if you want to think about a coronary with your coffee or a post-mortem with your piccolo, then the Kid Mai Death Awareness Cafe is the coffee shop for you.
Kid Mai Death Awareness Cafe 1191 Phahonyothin Road, Samsen Nai, Phaya Thai, Bangkok, 10400
---
Our final thing to do in Ari, Bangkok
20. 24 hour 'dining' at 7-Eleven stores
7-Eleven in Thailand is a way of life – there is practically a 7-Eleven on every Ari street corner (with over 13,000 stores opened in Thailand since the late 1980s).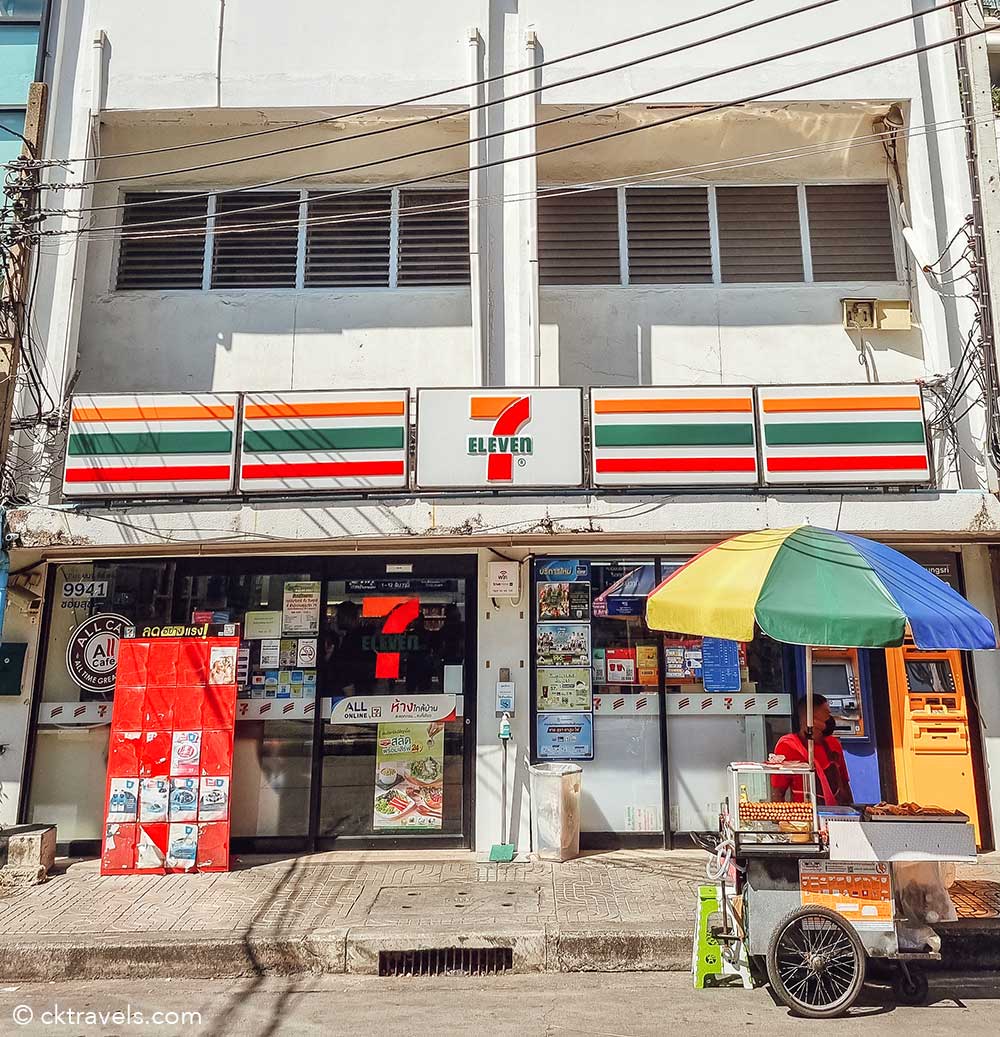 Thailand has the second largest number of 7-Elevens anywhere in the world (after Japan), plus the largest 7-Eleven in the world is in Pattaya (themed like a cruise ship!).
Open 24 hours, pretty much every traveller to Thailand has at some stage ducked into a 7-Eleven for a late-night toasted sandwich or an ice-cold Chang beer to cool down with.
Read our guide to the  55+ Things you can buy in Thailand's 7-Eleven stores >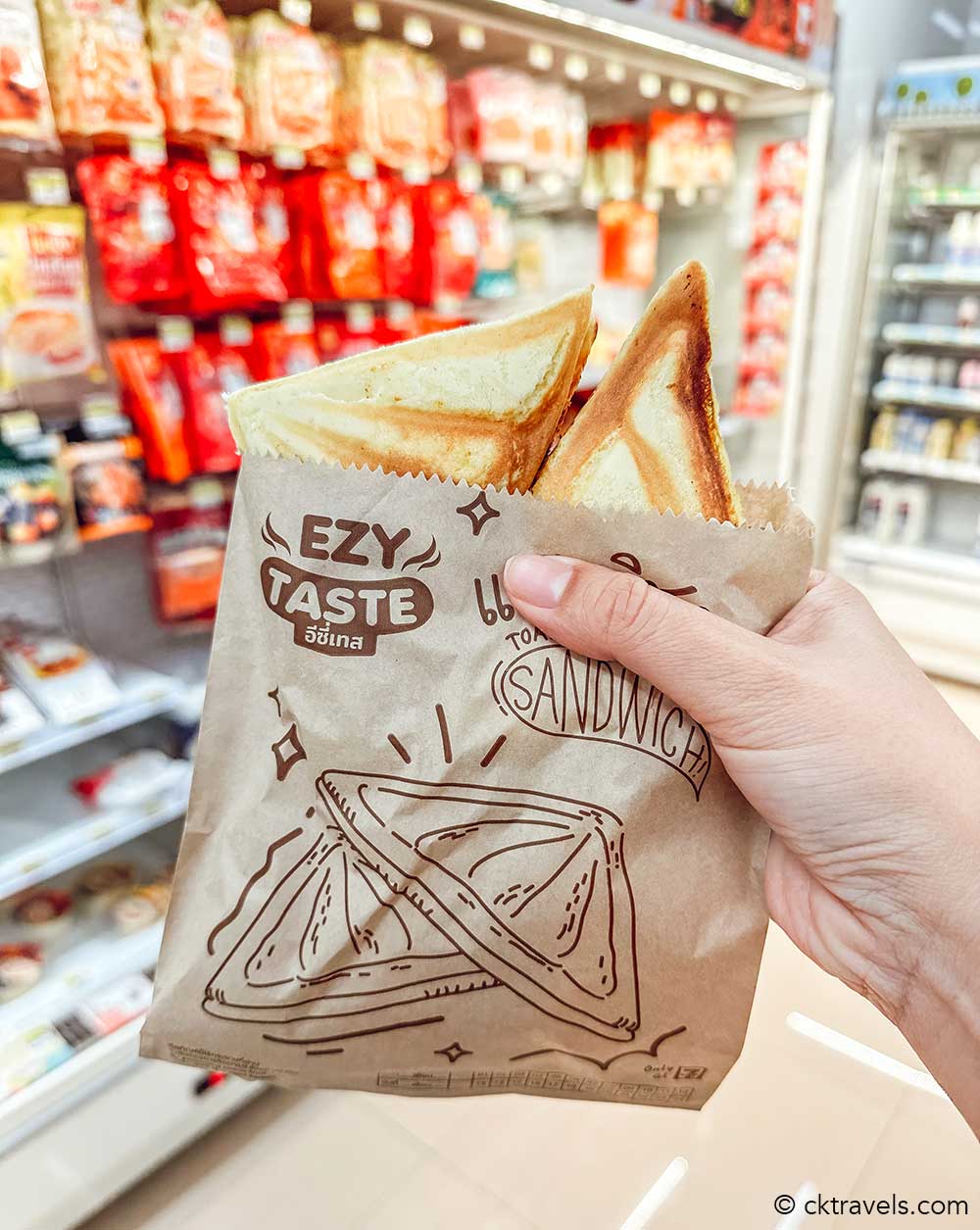 ---
Accommodation in Ari
Hotels and accommodation in Ari include:
Budget
The Yard Bangkok Hostel
Highly rated hostel with both private and dormitory-style rooms, on-site bar and a communal area / garden. Check out prices and availability for The Yard Bangkok Hostel
Mid Range
Craftsman Bangkok
Modern and stylish hotel with outdoor swimming pool, fitness centre and a garden. Check out prices and availability for Craftsman Bangkok
Luxury
The Quarter Ari by UHG
Luxury hotel with panoramic views of Bangkok city. Facilities include a fitness centre, rooftop pool and sky bar. Check out prices and availability for The Quarter Ari by UHG
---

Other Thailand posts you might like
Did you enjoy our things to do in Ari Bangkok guide blog post? Let us know in the comments or by sharing it on social media.
You can follow CK Travels on:
Instagram
Facebook
TikTok
YouTube