This post may contain affiliate links to tours and hotels. These help us earn a small commission at no additional charge to you.
Hammer time! We love our west London pubs and none more so than the bars and pubs in Hammersmith – you really are spoilt for choice in terms of drinking and eating (west is best!).
Hammersmith is particularly blessed because it has a good combination of traditional pubs (for instance, Fullers Brewery is based just down the road in nearby Chiswick) and newer, more crafty bar chains like BrewDog and Belushis.
We lived in Hammersmith and Brook Green for several years so we had a lot of fun putting this together! From historic high street pubs to backstreet boozers and sunset sessions along the River Thames, here is our guide to the best pubs and bars in Hammersmith, west London.
Best pubs and bars in Hammersmith map
Best pubs and bars in Hammersmith
1. The Dove
The Dove in Hammersmith has a lot going for it as is possibly the most famous pub in Hammersmith. Not only does The Dove have an outdoor deck and dining area directly overlooking the Thames, but it oozes history and also lays claim to having the world's smallest bar room (it is located at the front and can fit two or three peeps in at a squeeze).
Run by Fullers and a licensed establishment since the 17th century, Charles II is said to have carried on his illicit encounter with Nell Gwyn here and the poet James Thompson wrote 'Rule Britannia' whilst at The Dove.
Although a wonderful pub, the only downside with the popularity is that it can be quite difficult to get a table in The Dove at busy times, so plan to rock up early or practice your table diving skills in advance.
Address: 19 Upper Mall, London W6 9TA
---
2. Brook Green Hotel
We lived in Brook Green for several years and our local pub was the Brook Green Hotel, surely one of the best looking and most underrated pubs in west London? The bar certainly looks the part, with shiny pumps, polished mirrors and a large spirits and draft selection. The interior has an array of comfy sofas, a set dining area plus a little outdoor snug and beer garden complete with blankets.
The board games are also a nice touch and there are often quizzes and events. Brook Green Hotel is a great place to stay too if you are in the area for a gig at the Hammersmith Eventim Apollo.
Check out the room rates at Brook Green Hotel >
Address: 170 Shepherds Bush Road, London W6 7PB
---
3. The Old Ship Hammersmith
Location, location, location – this is what the Old Ship Hammersmith is all about. Although you are spoilt for choice with riverside pubs in Hammersmith, we think The Old Ship probably has the best deck of all of them with their upstairs terrace boasting unspoilt views of the River Thames (often with yachts and dinghy sailing from the nearby yachting club – class).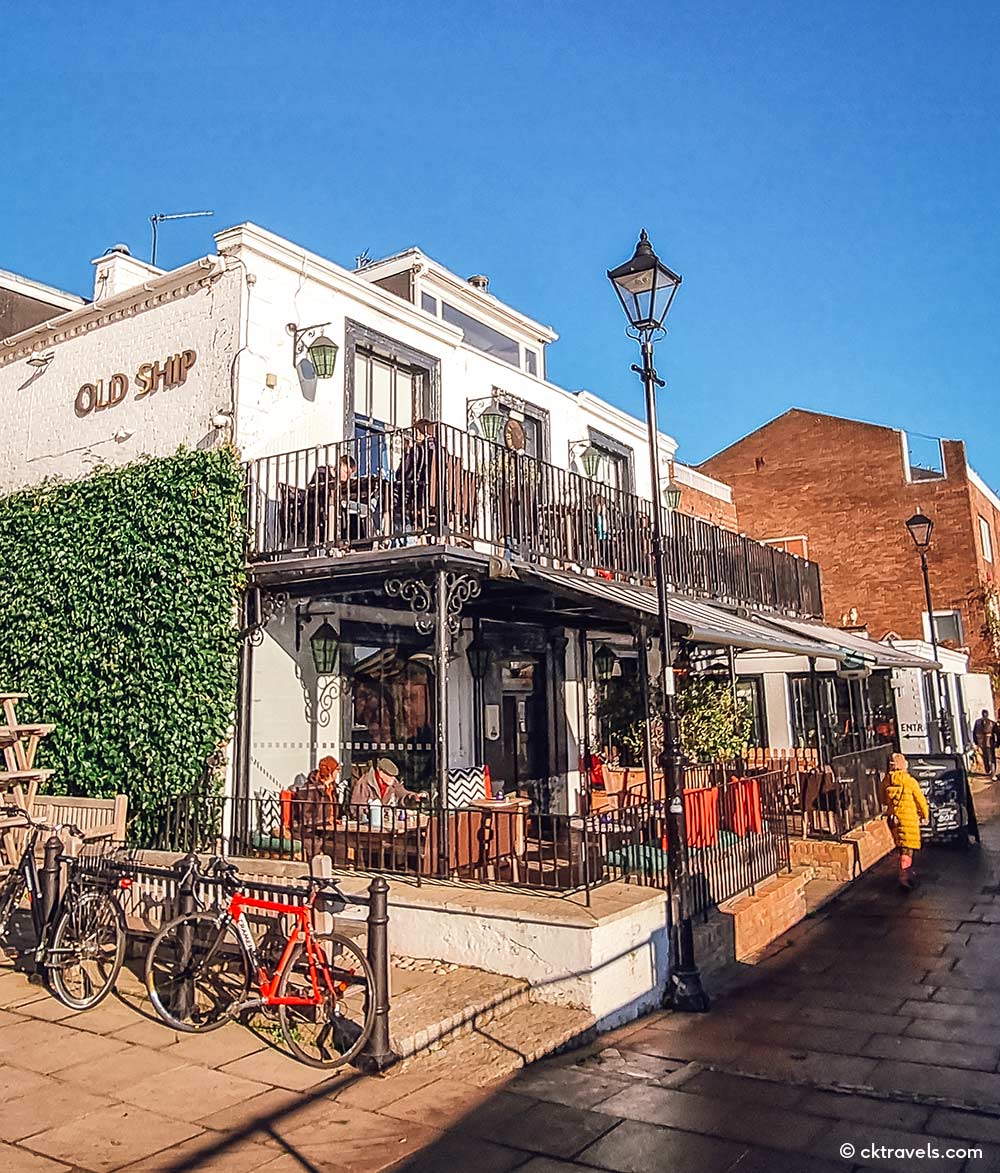 With a huge indoor bar and little side annex for events like the weekly pub quiz, there is also an outdoor beer garden / terrace on the lower deck – seriously have I got 'views' for you.
A Young's pub, the Old Ship Hammersmith is a quintessential old school British pub with an incredible outlook to boot.
Address: 25 Upper Mall, London W6 9TD
---
YOU MIGHT LIKE: The best pubs and bars in Shepherd's Bush >
---
4. The Latymers Pub
We'll say it quietly but we THINK this is the tastiest Thai pub grub anywhere in London (and that includes Churchill Arms in Kensington and the Pack Horse in Chiswick). We've been going to Latymers for over a decade now and even though we've moved out of west London, we still return every time we are back in Hammersmith.
Popular with locals and nearby office workers (Virgin Media head office is right next door), this is a nice pub made all the better by some incredible Thai food which you can eat in the dedicated Thai style dining area outback or in the bar up front.
Address: 157 Hammersmith Road, London W6 8BS
---
YOU MIGHT LIKE: The best pubs in Notting Hill >
---
5. The Swan, Hammersmith Broadway
Technically the closest outdoor pub to both Hammersmith Underground stations, The Swan is one of the most historic and ornate bars in west London.
Built in 1901 as a hotel on a former coaching inn site, the swish interior has high ceilings and intricate partitions. Very handily located for a pint straight after jumping off the tube, The Swan is well run and a Nicholson's pub.
Address: 46 Hammersmith Broadway, London W6 0DZ
---
6. The Blue Boat, Fulham Reach
This new(ish) Thames riverside pub is located in Fulham Reach, a modern residential area in Hammersmith located just down from Riverside Studios, and is a fresh and feel-good Fullers pub with stunning views of the water.
Nautical but nice, there is plenty of relevant theming at the Blue Boat in Hammersmith and has an extensive pub/ grill menu at reasonable prices. The beer garden outside The Blue Boat gets the afternoon sun too – nice!
Address: Distillery Wharf, Parr's Way, London W6 9GD
---
7. The Old City Arms
Look for the bright red pub right next to Hammersmith Bridge! Serving tasty Thai food, the Old City Arms has made the most of the temporary Hammersmith Bridge Closure by opening a little main beer garden smack bang where all the traffic and motorists used to use. Squint hard enough and with the bridge setting, you think you could be somewhere like Paris.
The Old City Arms is also a good place to start a riverside pub crawl combined with the nearby Rutland Arms and The Blue Anchor.
Address: 107 Hammersmith Bridge Road, London W6 9DA
---
YOU MIGHT LIKE: The best pubs and bars in Chiswick >
---
8. The Rutland Arms
Talk about a picture postcard setting. This Timothy Walker Rutland Arms overlooks the River Thames and is one of the best riverside pubs in the whole of London, let alone Hammersmith.
With ample seating outside and a classic British pub grub menu, there is an upstairs dining and pub area, with incredible views of Hammersmith Bridge.
You may recognise The Rutland Arms as an exterior filming location for both Bohemian Rhapsody (the pub towpath where Queen meet their manager) and James Bond No Time to Die.
Address: 15 Lower Mall, London W6 9DJ
---
9. The Blue Anchor
Next door to The Rutland Arms and equally popular with stunning riverside views, The Blue Anchor has been a drinking establishment since the 1720s and hasn't changed all that much over the years.
Quaint and cute inside with an upstairs River Room (great views of the Thames) and downstairs a wood-panelled snug and bar, most people prefer to drink on the wooden benches outside on the towpath. Blue Anchor was also used as a filming location for the Gwyneth Paltrow movie Sliding Doors.
Address: 13 Lower Mall, London W6 9DJ
---
10. Hop Poles
A hoppy hang-out along King Street and Hammersmith Broadway, the Hop Poles is a huge pub with a secret roof terrace (tiny) and huge way windows directly looking out over Lyric Square.
We like the Hop Poles as it is popular with all crowds – the beer range is good, it is easy to get a seat usually as the seating area runs the entire length of the pub all around the bar, and there are some good dining and drink offers meaning it is popular with students too (e.g. pizza and pint for £10 every day).
ADDRESS: 17-19 King Street, London W6 9HR
---
11. The Hammersmith Ram
One of the busiest pubs along King Street, The Hammersmith Ram is a Young's pub just across from the main shopping mall in the area with a beer garden out back plus a small seating area directly out front overlooking the main shopping street.
We've had burgers here before now and the food at the Ram is your standard pub fare – popular for after drink works too.
Address: 81 King Street, London W6 9HW
---
YOU MIGHT LIKE: Top things to do in Chiswick >
---
12. The Salutation Hammersmith
Or as most locals know it, the 'Purple Pub'. Easy to find on King Street due to its bright purple tiles, The Salutation is a little further off the beaten track than most of the King Street pubs, making it less busy and worth seeking out. It also has a huge beer garden which not too many people know about.
Add to the mix it is a Fullers pub meaning the beer and food quality are both spot on. Recently and similarly to nearby Latymers, the kitchen now serves tasty Thai food which to us, is definitely an added bonus.
Address: 154 King Street, London W6 0QU
---
13. The Queen's Head, Brook Green
Another under-the-radar Hammersmith pub from Fullers that mainly only locals go to, the Queen's Head on Brook Green used to be our go to place for Sunday roasts when we lived in Hammersmith.
Always incredibly popular particularly with families, the Queen's Head has a hidden gem of a secret beer garden out back which is divine in summer months – it is hard to believe you are busy west London.
The bar interior itself is nice and the tables by the front of the bar have nice views overlooking Brook Green itself and the nearby tennis courts. Recommended.
Address: 13 Brook Green, London W6 7BL
---
14. Belushi's Hammersmith
Big, bold and brash, Belushi's Hammersmith is part of a chain of bars in London that specialise in backpacker accommodation, cheap drink offers, big screens and live sports – so not a place for a quiet drink.
Belushis has an extensive diner style menu plus jagerbombs and Red Bull vodkas on stand-by. Not for everyone but one of the best pubs for a big (and potentially messy) night out.
Address: 28 Hammersmith Broadway, London W6 7AB
---
15. Duke of Hammersmith / BrewDog pub
The Duke of Hammersmith pub has seen a lot of change over the years, since all the redevelopment work started around here and new student accommodation became the order of the day.
Once the crumbling Laurie Arms, this pub became part of the Draft House chain before being bought by the BrewDog team and renamed the Duke of Hammersmith. A smart looking bar with extensive taps and draft selection, the menu offers burgers, wings and things.
Address: 238 Shepherds Bush Road, London W6 7NL
---
16. The Black Lion
Skittles anyone? The Black Lion is one of the first riverside pubs you'll get to in Hammersmith if you are walking from Chiswick or the nearby Fullers brewery and is famous for its antique skittles alley.
Legend has it that the Black Lion in Hammersmith is haunted (non believers may say the only spirits are vodka and whiskey) and the pub also has a nice beer garden, with views of the River Thames. A cute tea room called The Elder Press cafe has also recently opened next door.
Address: 2 S Black Lion Lane, London W6 9TJ
---
YOU MIGHT LIKE: Things to do in Shepherd's Bush
---
17. The Stonemason's Arms
A back-street Fullers pub along Cambridge Grove that never seems too busy, The Carpenters Arms is a local's Hammersmith hang-out with a sleek champagne interior, and gastropub style menu, plus stonemason's equipment on the wall – very nic(h)e.
A Fullers pub, the Carpenter's Arms also has a small beer terrace out front which catches the afternoon sun.
Address: 54 Cambridge Grove, London W6 0LA
---
18. The Cross Keys
Similarly to The Carpenters Arms, this is another Hammersmith backstreet bar and boozer a little away from the main road run and operated by Fullers Brewery.
With all the key ingredients like board games, a range of beers / ales and a dartboard, one of the best things about the Cross Keys is that it is a neighbourhood bar that also has an incredible floral and hanging basket display in the summer months (not quite the Churchill Arms but getting there!).
Address: 57 Black Lion Lane, London W6 9BG
---
19. The Craft Beer Company, Broadway Shopping Centre
Located within the Broadway Shopping Centre and literally a few indoor steps away from the Hammersmith Underground, this is perfect if you arrive in miserable weather at the tube and don't want to get wet. It is also the closest pub to the Hammersmith Eventim Apollo so can get busy on gig nights.
Note that at the time of writing (January 2022), The Craft Beer Company Hammersmith pub was closed (possibly related to Covid) so we are uncertain as to its future.
Address: 17-18 The Broadway, London W6 9YD
---
YOU MIGHT LIKE: The best brewery taprooms in London >
---
20. The Anglesea Arms
The Anglesea Arms is great gastropub located in a quiet residential street in west London, The Anglesea Arms is a little slice of heaven, with a roaring log fire in the winter and a beer terrace in the summer (very small but incredibly popular).
It is always busy and full of life, and is one of the nicest neighbourhood bars on the Hammersmith / Shepherd's Bush border.
Address: 35 Wingate Road, London W6 0UR
---
YOU MIGHT LIKE: Things to do in Richmond, London >
---
21. The Andover Arms
Based in Hammersmith's Brackenbury Village, we first discovered The Andover Arms years ago when it rated really highly on Tripadvisor for pub food (top 20).
This cute and cosy neighbourhood pub spills out onto the streets in the summer months and The Andover Arms often plays host to music / live jazz evenings, with Fullers amongst the core range on draft.
Address: 57 Aldensley Road, London W6 0DL
---
22. The Thatched House
Established in 1855 and recently starring in the BBC adaptation of Nick Hornby's 'State of the Union' (the whole series with Rosamund Pike and Chris O Dowd was filmed in this pub), The Thatched House is a wonderful west London pub.
We particularly like the sofa area in front of the log fire (fab in winters) and the large dining room with an outdoor terrace. Given The Thatched House also looks out on parallel main roads, it is quite a good place for people-watching too.
Address: 115 Dalling Road, London W6 0ET
---
23. Lyric Theatre bar
A ritzy rooftop bar housed in the Lyric Theatre complex and overlooking Lyric square, this is a popular meet-up in the warmer months both for pre-theatre drinks or as a general meeting place in the centre of Hammersmith.
For us, this is all about the summer cocktails and light bites, with a unique view of King Street and Lyric Square. If you time it right, you can coincide your visit to the Lyric Theatre bar with when the pop-up big screen in Lyric Square is in-situ, so you can watch Wimbledon or the World Cup and all the spectators sat in deckchairs.
Address: Lyric Square, King St, London W6 0QL
---
24 and 25. The Plough and Harrow / The William Morris Wetherspoons – King Street
Not strictly two of the best pubs in Hammersmith, but definitely the cheapest bars in Hammersmith. Pints of ale start from as little as £1; people from overseas may not have heard of the Wetherspoon chain, but it is known as one of the least expensive bar brands in the United Kingdom.
The two Hammersmith Wetherspoons are so-so; The William Morris has a nice beer garden outside overlooking the Lyric Theatre but we generally find the service and food quality better in The Plough and Harrow. This is also a good opportunity to try a traditional English breakfast (a fry-up) or other traditional English dishes.
Plough and Harrow: 120-124 King Street, London W6 0QU
The William Morris: 2-4 King Street, London W6 0QA
---
Did you enjoy our best pubs and bars in Hammersmith blog post? Let us know in the comments or by sharing the blog on social media. Follow us on Instagram and YouTube!
---
Other London posts you might like