This post may contain affiliate links to tours and hotels. These help us earn a small commission at no additional charge to you.
Boasting a bounty of beachside bars, Ao Nang in Krabi is a great place to grab a drink looking towards the ocean, especially at sunset. With dozens of bars and restaurants lining the ocean, you really are spoilt for choice.
We spent several weeks in Ao Nang and most nights, we watched the sunset over the ocean (weather permitting) from one of Ao Nang's beach bars.
Whilst most are located across the road from the beach or a little way away, we tried to visit as many bars in Ao Nang directly on the beach (difficult 'work' we know)!
So from beachside brunches at Reeve Beach Club to sunset beers at Fisherman's Bar, here is our guide to the best beachside bars in Ao Nang, Krabi.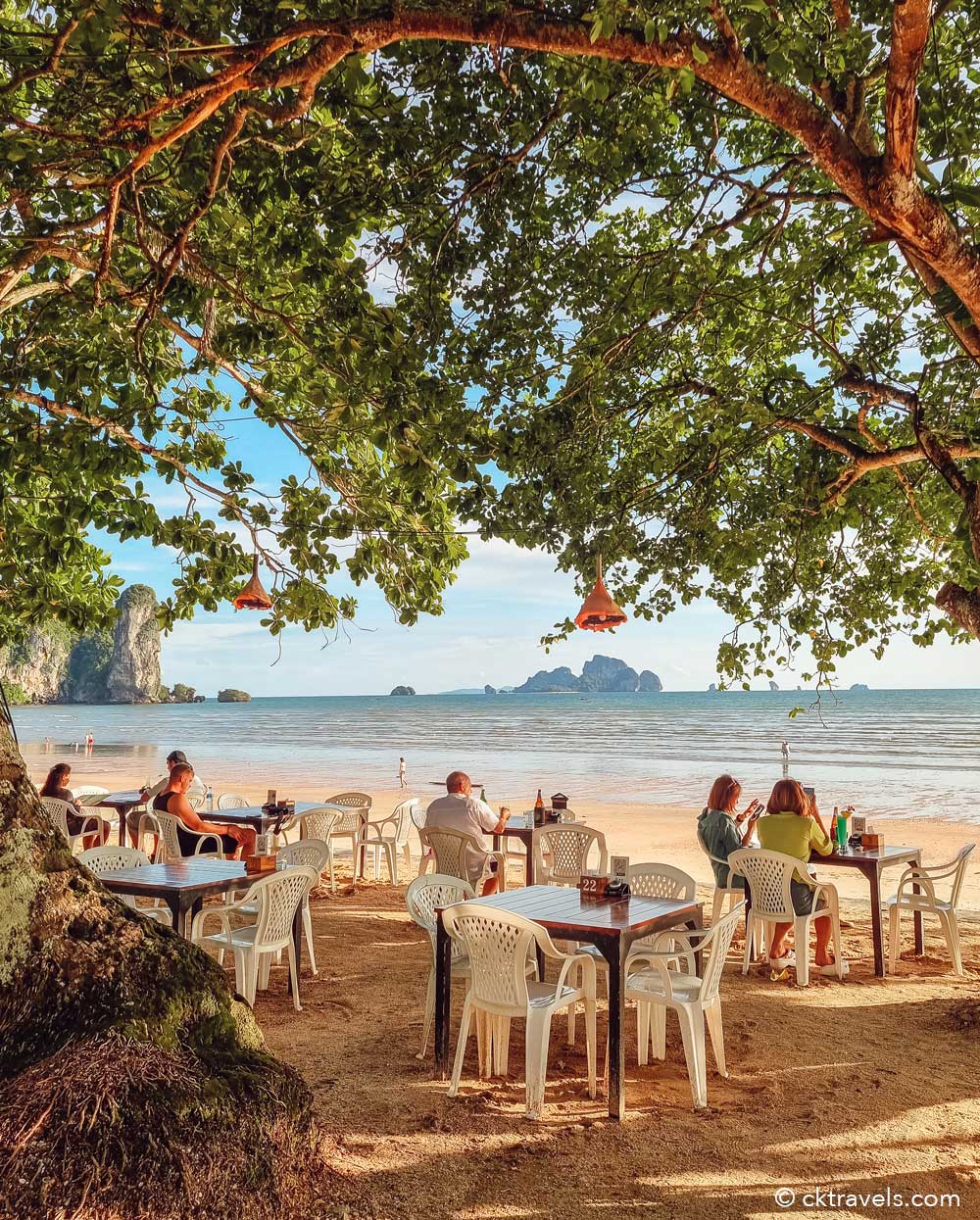 ---
You might like – 20+ best things to in Ao Nang Beach, Krabi >
---
Best Ao Nang beach bars, Krabi
1. Reeve Beach Club, Ao Nang
If you are looking for good food (especially a beachside brunch in Ao Nang) combined with stunning sea views, one of the best beach bars in Ao Nang has to be Reeve Beach Club.
Reeve Beach Club sits directly above the sandy beach with nothing to obscure your view and a series of steps leading down to the beach – it also boasts Krabi sunset vistas and an opulent centrepiece bar; simply stunning.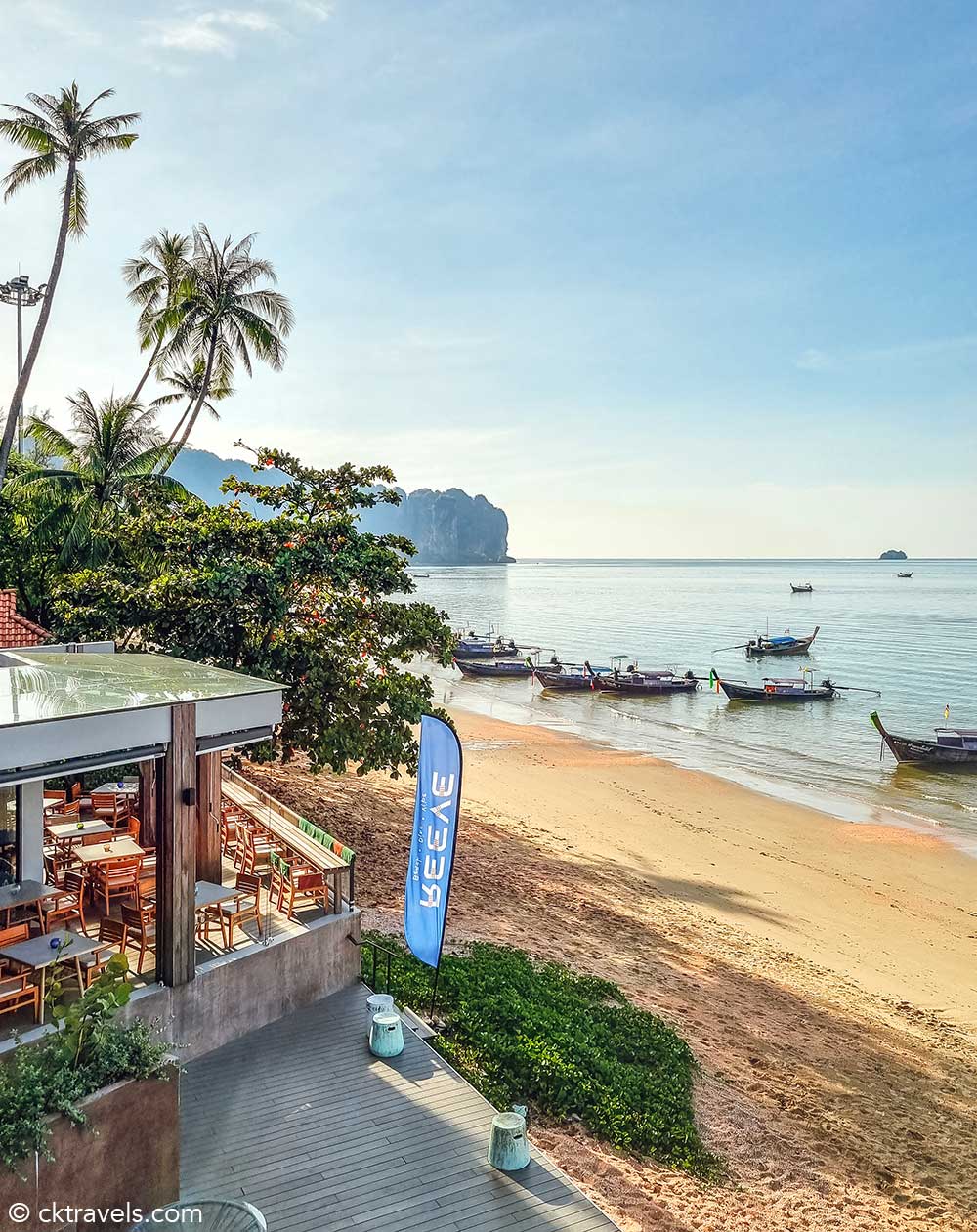 For us, this was actually our preferred morning spot, allowing us to enjoy our breakfast with a sea view. The Reeve Beach Club itself is based over several levels; all with their own decks facing towards the sea. Staff here were very friendly and attentive.
The food at Reeve Beach Club Krabi was really delicious (we only tried the morning brunch menu but they also specialise in seafood given their location). If you do drop by for brunch at The Reeve Beach Club, we'd recommend the French toast with bacon, fried egg and waffle bits.
Reeve Beach Club also has a nightly fire-show performance on Ao Nang Beach at 8pm every evening.
Reeve Beach club is ran by the owners of Panan Krabi Resort – read our honest review of Panan Resort in Ao Nang here >
---
YOU MIGHT LIKE: Ao Nang's best brunch and breakfast spots here >
---
2. The Sand Beach Club at Centara Ao Nang Beach Resort & Spa Krabi
Very much our go to beachside bar at Ao Nang Beach, we liked this hotel beach club as the views were unparalleled (right on the beach with nothing to obscure the view) plus it offered a sunset happy hour which includes cheap beers.
The Centara Ao Nang Beach Resort & Spa Krabi is a nice-looking hotel directly facing the ocean and this bar (The Sand Beach Club) is open to anyone, not just guests of the hotel.
Located next door to the Fisherman Bar (sunset bar crawl ahoy!), The Sand Beach Club has some lush beachside benches and hammocks plus ample seating for the sunset crowds. It also has one of Ao Nang's best beachside happy hours with a large glass of beer available for 99 THB between 5pm and 7pm; so spot on for sunset session.
Service was brisk and this was an ideal place to people-watch and hear the ocean waves (plus the occasional roar of long-tail boats returning to drop off tourists at Ao Nang Beach).
One of the best beachside bars in Ao Nang, we really liked The Sand Beach Club – they often host events or specials.
---
YOU MIGHT LIKE: top things to do in Ao Nang Beach
---
3. The Last Fisherman Bar, Ao Nang Beach
As sunset sessions go, Ao Nang's The Last Fisherman Bar is 'reel'y good – with a prime location on Ao Nang Beach. This is beachside eating and drinking at its best.
The Last Fisherman Bar has a huge outdoor seating area directly overlooking Ao Nang Beach plus a tropical looking bar, complete with bamboo roof making this a good bet for all weathers, especially the inclement rainy season.
Get to The Last Fisherman Bar in Ao Nang early if you want to guarantee a seat, especially at sunset. We stopped by a couple of times for ice-cold Singha beers and the prices were reasonable, especially given the location.
An extensive food menu is also available at The Last Fisherman Bar in Ao Nang but we didn't try it ourselves.
Try to time your visit to The Last Fisherman Bar to coincide with sunset on Ao Nang Beach – the sun sets over the ocean in front of the bar and you have an incredible view, especially as all the long-tail boats return from the nearby islands.
Thanks for checking out our blog!
As of Autumn 2023 we are currently digital nomading / travelling around Asia (Thailand, Malaysia, Singapore and South Korea). Check out our daily travel diaries on Instagram @.c.k.travels >
4. Frog Beach Bar, Nopparat Thara Beach
Located near Nopparat Thara Beach (much quieter and peaceful than the main beach at Ao Nang), the Frog Beach Bar 'leaps' into action every night, setting up a row of chairs and tables along the beachfront, under a huge tree.
The first thing that grabs you about the Frog Beach Bar is not only the location but the chatter and playlist emanating from around the bar.
Unlike some of the other beachside bars in Ao Nang, this is more of an organic / alfresco affair with no indoor bar as such – more of a friendly kiosk bar offering all manner of cold drinks, ideal for beachside beer or sunset sup.
We liked the Frog Beach Bar as it wasn't 'touty' like many of the other bars in Ao Nang Beach (i.e. they didn't try and grab you off the streets or encourage you to look at their menu etc).
Laid back and low-key, the Frog Beach Bar looks directly onto the beach and is the perfect resting stop if you are on your way to Ao Nang Night Market, which is located just five minutes walk along the beach from the bar.
---
YOU MIGHT LIKE: How to get from Krabi (Ao Nang) to Railay Beach by boat
---
5. Luna Beach Bar, Nopparat Thara Beach
Luna Beach Bar is one of the first bars you'll encounter as you arrive at Nopparat Thara Beach (also on the way to Ao Nang's night market if you are staying in the main town).
This area has a glut of beachside bars and restaurants (often with staff trying to beckon you in) but we found Luna Beach Bar quite chilled and they were happy for us to just grab drinks without food and sit in one of the tables that directly overlook the ocean. Again, a perfect spot for sunset drinks in Ao Nang Beach.
It was mainly tourists at Luna Beach Bar and on the night we visited, as the sun set, the heavens also opened (a huge downpour of rain) meaning we were very grateful for their corrugated iron roof which kept us dry. We watched a steady stream of rain water pour off the roof into the ocean (so a good beachside bar for Krabi's rainy season).
Drink prices were good at Luna Beach Bar (we stuck to ice cold bottles of Thai beer but cocktails were available too). Whilst we visited early evening, the bar and seating area was huge meaning it could be a good nightlife spot too.
---
You might like – Our favourite (and the most affordable) hotels in Ao-Nang, Krabi >
---
6. C2 Beach Club Ao Nang
The closest Ao Nang beach bar to the Ao Nang Monkey Trail, the location at the very far end of the beach means it is one of the quieter beach bars – plus you can sometimes see monkeys from the bar; bonus!
From C2 Beach Club, you have unspoilt views of the ocean plus the famous Ao Nang Beach 'rock' Tower – a great spot to unwind after returning from the Monkey Trail and Tonsai Beach in the next cove.
Around C2 Beach Club, there are also massage tables and sunbeds available for hire – given the incredible views, prices are pretty reasonable with Cokes costing 50 THB and whole coconuts 65 THB.
That said, they charge to use the toilet at C2 Beach Club (10THB), even if you are dining or eating there.
---
You might like – Things to do in Pattaya, Thailand >
---
7. Full Moon Beach Bar
At the far northern end of Ao Nang Beach a few sandy steps along from Reeve Beach Club, the Full Moon Beach Bar is Ao Nang's newest beach bar (as of September 2023), having undergone a massive transformation since the last bar here that operated out of this sublime seaside spot.
Full Moon Beach Bar is blessed with an incredible beachside terrace looking out over the ocean, and serves up all day dining from traditional Thai dishes through to western favourites like club sandwiches and chips.
One of the best Ao Nang beach bars for sunset, this is a little quieter than most places on the waterfront as it is kinda tucked away – so a great spot for a date night or a quiet moment.
Full Moon Beach Bar in Ao Nang is bedecked with fairy lights and the whole place has a tiki-vibe; there is even an Insta worthy tree swing directly in front of the bar on the beach (just don't it after too many strong cocktails or Changs.
Note there are a couple of Full Moon Bars in Ao Nang beach – this is one that is directly on the beach facing towards the ocean.
What are the other best beachside bars in Ao Nang? And what are the best beachside bars in Krabi town? Let us know in the comments.
---
Other Thailand posts you might like
Did you enjoy our best beachside bars in Ao Nang, Krabi blog post? Let us know in the comments or by sharing it on social media.
You can follow CK Travels on:
Instagram
Facebook
TikTok
YouTube
Pinterest