This post may contain affiliate links to tours and hotels. These help us earn a small commission at no additional charge to you.
Ao Nang Beach in Krabi is famed for its sandy shores, tree lined beachfront and easy access to sublime southern Thailand islands by longtail boat. With swimming, sunbathing and spas by day and a good evening entertainment scene, the town is a great destination in its own right with the Ao Nang Night Market.
Better yet, Ao Nang Night Markets are one of the best ways to eat and shop cheaply.
There are several markets but the main one is Ao Nang Landmark Night Market.
Here is our guide to visiting the main Ao Nang Night Market plus the other small night markets near Ao Nang Beach:
---
You might like – our favourite and most affordable hotels in Ao Nang, Krabi >
---
Ao Nang Landmark Night Market Introduction
Ao Nang Night Market (AKA Ao Nang Landmark Night Market) is located next to Nopparat Thara Beach and Ao Nang Muay Thai stadium (and not to be confused with the smaller night market nearer to town).
We love Ao Nang Landmark Night Market as there are lots of choice in terms of food stalls (Thai, Malaysian, Indian, Japanese, Western etc) all at generally reasonable prices.
it is definitely one of the best night activities and things to do in Ao Nang.
---
You might like – Top 20+ things to do in Ao Nang Beach, Krabi >
---
Street Food Stalls at Ao Nang Night Market
There are around 30 to 40 street food stalls at (so it is a little smaller than Krabi Town Night Market).
Food stalls are quite varied, with a good range of both local Thai dishes plus international fare like Japanese and Italian food.
The price of food varies but noodles generally cost around 70 to 100 THB and pizzas cost 200 to 220 THB.
Some of the food available includes:
Seafood and shellfish
Sushi and sashimi
Roti pancake
Japanese okonomiyaki
Indian cuisine
Spiral fried potato
Doughnuts
Baked potato
Italian pizza
Korean Fried Chicken
Rolled ice-cream
And many many more food stalls
Based on our previous visits, the queues for food and drink are not too long either.
---
You might like – the best beachside bars in Ao Nang, Krabi >
---
Clothing and Jewellery Stores at Ao Nang Night Market
The clothing and jewellery stalls at Ao Nang Landmark night market are a good mix of artisan crafts and unique gifts along with some of the more standard souvenir stalls (generally much cheaper than the shops in Ao Nang town too).
For instance, you can buy (likely counterfeit) English Premier League football tops for 300 Thai Baht at Ao Nang Market and the Thailand Football Chang Sponsored shirts for 350 THB.
You can buy gifts like big keyrings for 50 THB (or 3 for 120 THB). Other items to purchase include floral dresses, tie dye style shirts and beach hats.
Souvenirs include mini tuk-tuks made out of tin cans and vinyl stickers (like Hello Kitty and Doraemon).
---
You might like – the best brunch spots and breakfasts in Ao Nang, Krabi >
---
Ao Nang Landmark Night Market Bar / Alcohol
There is a large bar at Ao Nang Night Market that sells beers, wine and spirits. All drinks consumed at Ao Nang Night Market must be bought from the bar.
You can either have table service where you order from the servers (usually dressed in Heineken, Chang or Singha branded T-shirts or dresses) or you can go up to the bar and order yourself.
As of September 2023, it costs 70 THB for a small bottle of Chang or 80 THB for a small Singah beer bottle – larger draft beers or even draft beers can be purchased.
Food purchased at the night market can be eaten at the bar tables and in the upper mezzanine seating area and you are requested to clean up your own table after you've finished eating / drinking. Recycling bins for beer bottles are readily available.
---
You might like – Best things to do in Pattaya Beach, Thailand >
---
Live Entertainment
There is live entertainment every night at Ao Nang Night Market; usually a band or solo singer who performs on the main stage in front of the night market, next to the bar.
---
You might like – Best things to do in Railay Beach, Krabi >
---
Ao Nang Night Market Fire Show
Ao Nang Beach is no stranger to fire shows with several 'flaming' good performances to enjoy.
There is a fire performance at sunset on Ao Nang Beach most nights (free – donations appreciated) plus nightly at 8pm in front of Reeve Beach Bar.
Ao Nang Night Market is no exception – there is a fire performance in front of the bar area and music stage most weekends.
The Ao Nang Night Market fire show is free to watch but donations are expected – if you don't want to get too close to the sparks, best not to sit in the front row!
---
You might like – Bangkok at night; best 30+ things to do >
---
Ao Nang Landmark Night Street
Seemingly a relatively new addition to the Ao Nang Landmark Night Market, the 'night street' generally seems to be quite quiet when we visited. There are several bars and nightclubs plus half a dozen dope cafes where you can get high.
The Ao Nang Landmark Market Night Street also had an outdoor climbing wall, but is notable for the fact it has outdoor disco lights throughout the whole street meaning it is quite the nocturnal experience (likely gets busy later at night).
---
You might like – visiting the world's largest 7-Eleven in Pattaya >
---
Get High at Ao Nang Night Market
Since 2022, it has been legal to smoke grass in Thailand (including Krabi) and it is becoming increasingly common to see literal 'grass' huts pop up in Ao Nang; so it is 'high times' in Krabi.
That said, please note it is illegal to smoke (and vape) in public places.
As such, many 'dope' cafes are now dotted around the outskirts of the night market. With dope cafes and kiosks with names like The Weed Land, 'Joint' Venture's Cafe and Dragon Breath, let's just say it is now quite easy to make best buds in Krabi.
As of late 2023, there are now over 100 of these 'green, green grass' shops and huts in Krabi; the weed is growing! We'd estimate there are between 5 to 10 dope cafes and shops around Ao Nang Market Night Street.
---
You might like – Things to do in Sukhumvit, Bangkok >
---
Amusements at Ao Nang Night Market
Towards the rear of Ao Nang Night Market near the clothing stalls, we discovered an amusements / funfair section. Here you can win prizes by bursting balloons with darts or throwing hoops over objects.
All the fun of the fair (although most of these stalls are probably rigged so caveat emptor!)
---
You might like – Guide to the best Chiang Mai night markets >
---
Other Things to do at Ao Nang Night Market
The area around Ao Nang Market isn't just food, drink and clothing stalls – there are many other activities and things to do including:
Muay Thai at Ao Nang Night Market
One of the most common sights (and sounds) whilst staying in Ao Nang beach is the Muay Thai boxing vans driving around the area all day and all night, with their loudspeakers and posters advertising Muay Thai regular bouts at Ao Nang Stadium.
William Muay​thai​ Ao Nang Landmark​ Indoor Stadium is located immediately next to the market. On Muay Thai boxing nights, we've genuinely seen boxers coming into the night market after a bout, nursing their bruises with big blocks of ice!
Muay Thai boxing matches in Ao Nang usually take place every Monday, Wednesday and Friday night.
The stadium (built in 2000) is reputedly the largest Muay Thai arena in southern Thailand, located just behind Ao Nang Night Market.
Muay Thai tickets can be bought from various tour agents all over Ao Nang and some also organise transport to and from the matches (although it might be just cheaper to get a tuk-tuk or grab taxi there).
Book a William Ao Nang Landmark Stadium Muay Thai Admission Ticket >
Nopparat Thara Beach
Much quieter than the more well known Ao Nang beach, Nopparat Thara Beach is directly in front of Ao Nang Landmark Night Market
It is much more peaceful and (probably) the best place to see the glorious nightly Krabi sunsets, with the various islands shimmering in the background and a few longtail boats bobbing up and down.
We often combined heading to Nopparat Thara Beach with the main Ao Nang Night Market, usually enjoying the epic Krabi sunsets at a beachfront Ao Nang bar before getting food at the night market after the sun had gone down.
Frog Bar is a popular Ao Nang beach bar that is close to Ao Nang Beach Market and a nice place for sunset drink.
The other amazing thing to see at Nopparat Thara Beach is the dozens of sand crabs that roll up gazillion tiny balls of sand every day and create cool patterns on the sand.
---
You might like – best Bangkok malls >
---
KFC Ao Nang
If you don't fancy eating food from any of the stalls at the night market, you'll also find a KFC restaurant that is open from 10am to 9pm every day – they also do a food delivery service via the Grab and Food Panda apps.
---
Try this – Krabi: 7 Islands Sunset Tour with BBQ Dinner and Snorkeling >
---
Ao Nang Night Market 7-Eleven
Visiting a Thailand 7-Eleven for a 7-Eleven toasted sandwich is a travel rite of passage – luckily one of the largest 7-Elevens in Krabi recently opened at the night market.
---
You might like – Guide to Thailand's 7-Eleven stores >
---
Bellinee's Bake & Brew at Ao Nang Landmark
Bellinee's is a bakery and coffee shop just next to Ao Nang Landmark that is superb place for sweet treats and decadent desserts.
Thanks for checking out our blog!
We are currently digital nomading / travelling for the next few months around London and Asia (Thailand, Malaysia and Taiwan). Check out our travel diaries on Instagram @.c.k.travels, Tik Tok @cktravels and on Facebook.
Getting a Grab Taxi / Tuk Tuk to Ao Nang Landmark
When staying in Ao Nang, we usually base ourselves on the main Ao Nang Beach strip close to the RCA Entertainment street and larger hotel complexes.
It takes between 30 and 40 minutes to walk from the main strip in Ao Nang to the market – however, it is very easy to take a taxi and the journey is usually less than 5 minutes.
During the rainy season in Ao Nang, we would often get Grab taxis to and from Ao Nang Night Market.
The price for a Grab Taxi to Ao Nang Night Market from Ao Nang Town is usually between 80 to 90 Thai Baht. We never had any problems getting Grab taxis in Ao Nang (but we noticed demand was high during the rainy season so lifts aren't always available).
---
You might like – Krabi 5 Island Sunset Snorkeling Cruise >
---
Accommodation Close to Ao Nang Landmark, Krabi
Ao Nang is quite compact so most hotels are within walking distance of the main market or a short 5 minute taxi ride away.
We've stayed in several different Ao Nang hotels over the years – read our guide to our favourite Ao Nang hotels here with pictures of all the rooms and swimming pools here >
Based on value, cleanliness and location, our favourite Ao Nang Beach hotel is Panan Krabi Resort.
Ao Nang Night Market Opening Hours
The main Ao Nang Landmark Night Market is open 7 days a week from 3:30pm to 12am midnight.
Please note that many food stalls open up a little later at around 5pm and close around 10pm (but not all).
Ao Nang Landmark Night Market Address
Ao Nang Landmark Night Market, Ao Nang, Mueang Krabi District, Krabi 81000
---
You might like – Full-Day Phi Phi Islands Tour with Lunch from Krabi >
---
Other Ao Nang Night Markets
There are several night markets in Ao Nang, the biggest of which is Ao Nang Landmark Night Market (referred to previously) – there is also a smaller market a little closer to town.
Ao Nang Beach Night Market Place
This second night market is much smaller but is fine to grab cheap eats and budget bites (dishes start from around the 80 THB mark).
We found the Ao Nang Beach Night Market Place a little too compact and the food stall owners were a little 'touty'- they are very keen to show you their menus – very similar to the restaurants on the main Ao Nang Beach strip.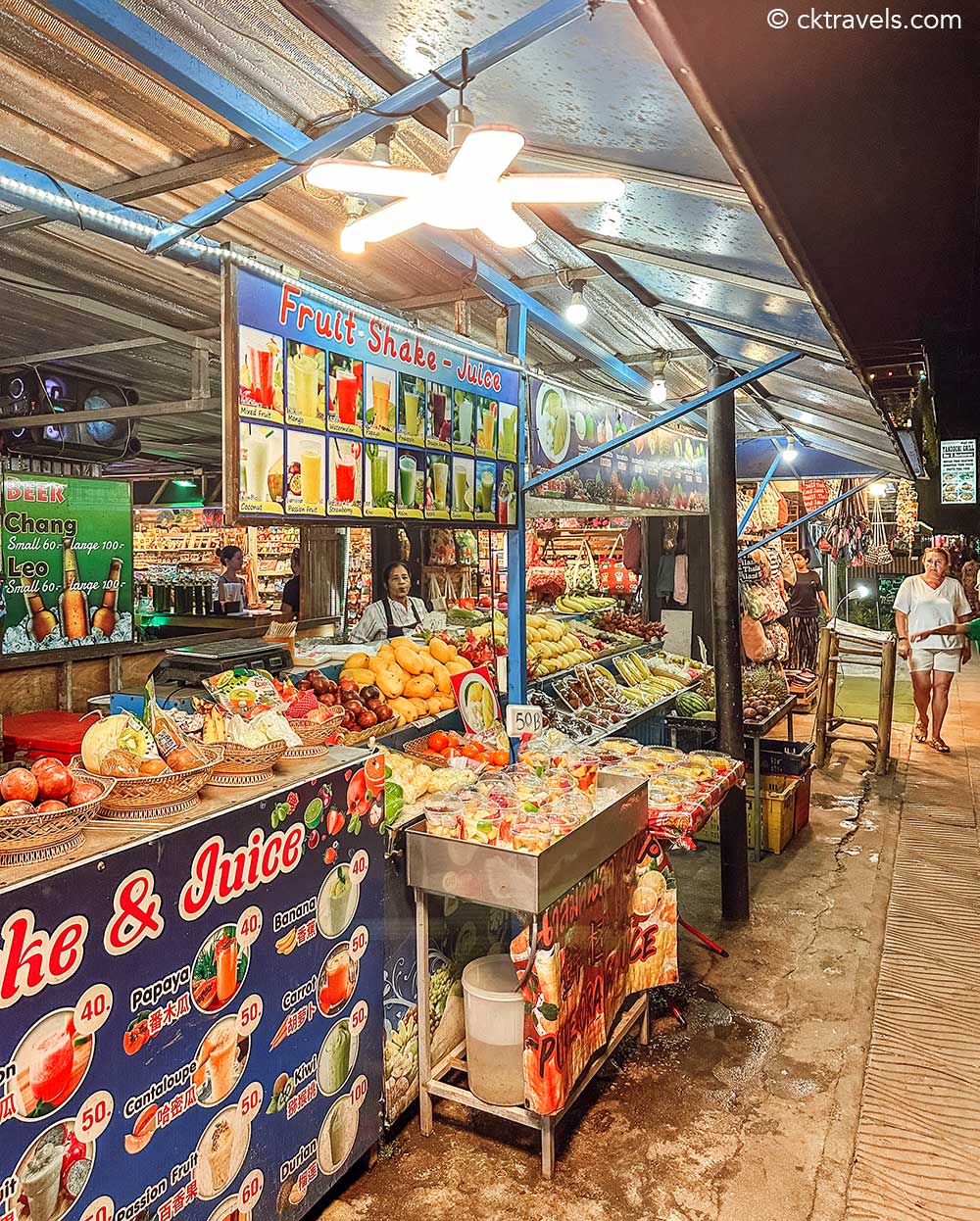 We found that if we looked at any menus, stall holders would generally hone in on you – so feel free to look and also walk away if you aren't sure.
There were some nice souvenir stalls and craft shops, many of which are open in the daytime too. You can find some really nice artwork and paintings here (plus the usual tourist tat like coconut bowls and Chang shirts).
The food stalls at Ao Nang Beach Night Market Place are open from 5pm to 10pm, but many souvenir shops here are open during the day.
RCA Entertainment Street
The 'liveliest' alley in Ao Nang, RCA Entertainment Street is full of neon-lit bars and restaurants, with various happy hours, big screen TVS, pool tables and local ladies beckoning you in.
It also has a small night market courtyard at the front that is home to around half a dozen street food stalls that are open until very late.
A little like Ao Nang's very own version of 'Soi Cowboy' in Bangkok, – but on a MUCH MUCH small scale, this is an OK place for late night street food and cheap drinks.
One of the cheaper Ao Nang night markets to get food, we bought Pad Thai chicken for 80 baht here and a large Chang for 100 baht so it is worth a trip if you are on a budget (although we found Ao Nang Landmark Night Market way better with loads more food choices).
The street food stalls at Ao Nang RCA Entertainment Plaza are open until after midnight; some of the stalls here are also open for breakfast too.
If you want something a little more 'relaxed', check out out guide to the best beach bars in Ao Nang >
Krabi Town Night Market
Our final suggestion is a slight alternative to an Ao Nang Night Market – head to Krabi Town (around a 30 minute drive away) for Krabi night market, the area's largest night market held every Friday, Saturday and Sunday evening.
There are several tour companies that offer round trips to the Krabi night market from Ao Nang, costing around 250 THB for the return trip (pick up in Ao Nang at 6pm, return from Krabi at 9pm).
That said, the Grab Taxi fare one way from Ao Nang to Krabi Town is usually between 250 THB and 300 THB and is quicker (as you don't have to stop at multiple hotels dropping off and picking up people).
Other Krabi posts you might like
Other Thailand posts you might like
Did you enjoy our blog post? Let us know in the comments or by sharing it on social media.
You can follow CK Travels on:
Instagram
Facebook
TikTok
YouTube
Pinterest