This post may contain affiliate links to tours and hotels. These help us earn a small commission at no additional charge to you.
Chiang Mai in northern Thailand is an incredible place to visit, with its historic old town, sacred old temples and vast array of night markets. This was our third visit to this charming city, and on previous stays we had always based ourselves in hotels that were a little away from the old town. This time we were keen to book a hotel that was much more central so we could easily walk to local restaurants and sightseeing spots. Our stay at 99 The Heritage seemed perfect for our needs, a home away from home and a beautiful boutique hotel located in an excellent part of town with so much on it's doorstep.
99 The Heritage Hotel – videos of our recent stays
Upon arrival at 99 the Heritage in Chiang Mai, we instantly felt calm and relaxed – it was like finding a small oasis in a busy urban area. The interior design is exquisite with the whole hotel decorated in a black and white colonial style – it also was very tranquil, keeping the noise of the busy city and nearby roads out.
The reception area was bright and welcoming, and we fell in love with the pretty floor tiles and the huge vases of vibrant yellow flowers. The colourful hanging parasols and the old vintage car in the entrance doorway was also a really nice touch.
Checking in at 99 The Heritage
The welcome from the staff members upon arrival was lovely with complimentary iced rose tea whilst our room was being prepared.
The swimming pool at 99 The Heritage hotel
The swimming pool size was small but cute, and perfect for the amount of guests staying at the hotel. Obtaining a sun lounger never seemed to be a big problem, and it was very peaceful and a great place to relax and chill.
99 The Heritage hotel rooms
The rooms were gorgeous and decorated in the same style as the rest of the hotel, with the vintage telephone on the bedside table being a nice final touch. The room was comfy and came with a flat screen tv, high speed wifi and a minibar, so we were well equipped for a good stay!
---
YOU MIGHT LIKE: Chiang Mai Yee Peng lantern festival & Loy Krathong festival (post covid guide)
---
Complimentary treats
A wonderful bonus when staying at 99 The Heritage are a few complimentary treats, snacks and soft drinks available for the guests in the reception area. After a long day of sightseeing we enjoyed relaxing on their comfy sofas whilst eating some complimentary ice-cream, cold bottled water or hot coffee.
Breakfast at 99 The Heritage hotel
The 99 The Heritage breakfast room is cosy but packed with plenty of wonderful food options. Western style dishes such as bacon and pancakes were available, as well as local dishes such as dim sum and noodles, plus some fresh fruit and cheese platters.
You could choose to eat your breakfast inside the breakfast room or just outside in the pretty courtyard. We found the selection of foods very satisfying and I never left the breakfast room hungry. We'd recommend the French toast and fruit – we loved this so much we had it most mornings.
The local area around 99 The Heritage hotel
The hotel's location in Chiang Mai old city was amazing, and the famous Sunday Walking Street night market was located two minutes away.
Check out our Sunday Walking Street night market blog post guide >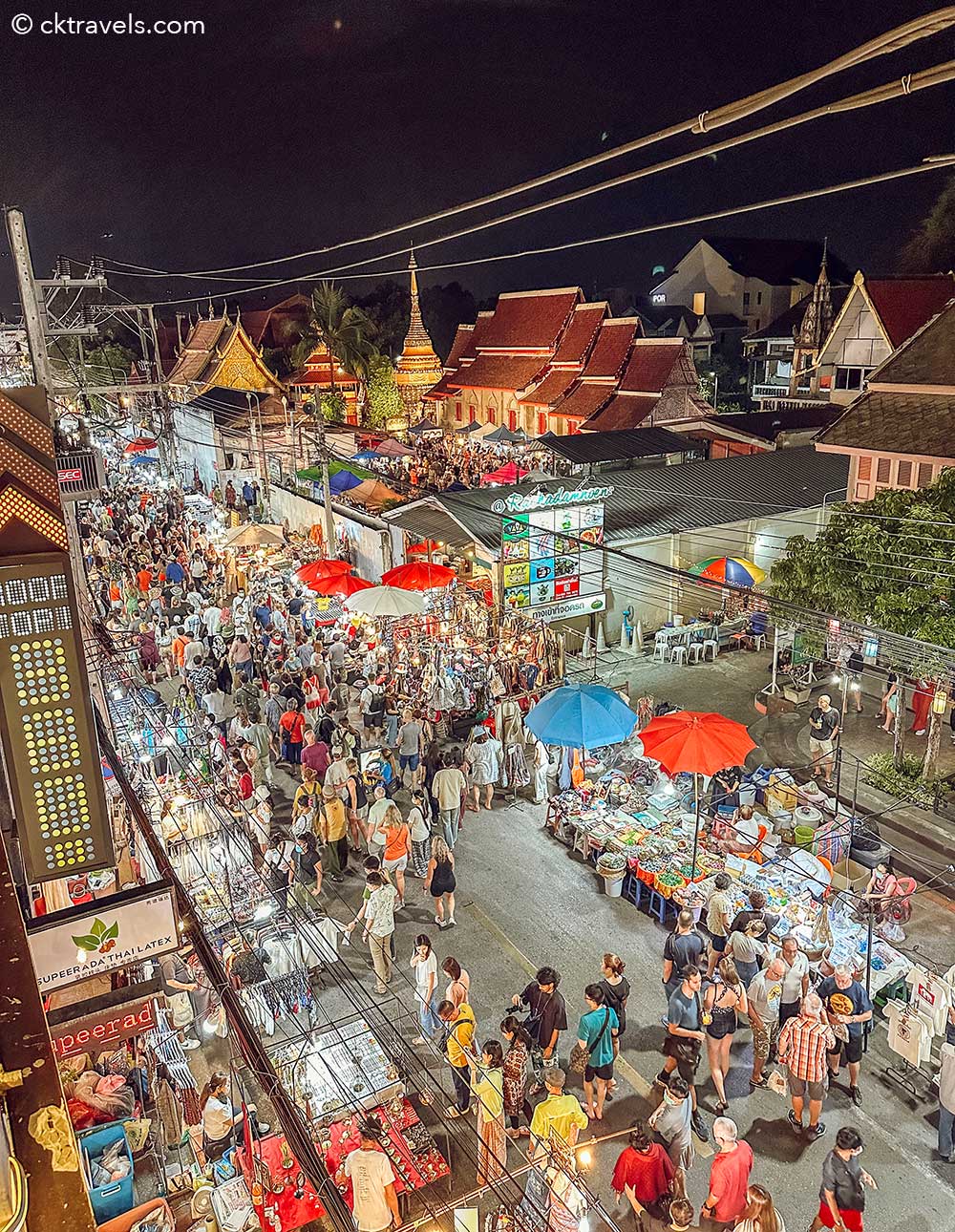 The stunning Wat Phra Singh temple is located across the road and plenty of other Chiang Mai temples and restaurants are within walking distance.
If you wanted to venture further afield, there are many Songtaews (red pick up truck taxis) that drive by that you can flag down for a cheap price. Bicycles are available to use for free from the hotel as well.
---
In summary – we adored our stay at 99 The Heritage. The staff were so friendly and helpful, whilst the hotel itself was just so beautifully decorated. The location made the stay even more perfect and we would definitely return to 99 The Heritage on our next visit to Chiang Mai.
Check out 99 The Heritage's rates and offers on booking.com.
How to get to Chiang Mai
You can reach Chiang Mai from Bangkok by train, plane or bus. Check 12go Asia for public transport options.
By plane: This is the easiest and quickest way to reach Chiang Mai. The city has a small international airport that serves budget airlines such as Air Asia, Thai Smile and Nok Air, with direct routes from Bangkok, Phuket, China, Hong Kong, Seoul and Doha. The flight time from Bangkok is 1 hour 20 minutes and there are regular flights throughout the day – check SkyScanner for the best times and air fares. If you book far enough in advance you can get fares that are just as cheap as taking the train!
By train: The train from Bangkok takes somewhere between 12 and 15 hours and is a good option for travellers who are more environmentally minded, have plenty of time on their hands and are travelling on a budget. We would recommend taking a night train over a daytime one, as the daytime trains only have seating, whilst night trains have air-conditioned sleeper berths (1st class is private, 2nd class is a shared unit).
By bus: Travelling from Bangkok to Chiang Mai by bus is very cheap and takes around 10 hours with both day and overnight options available to book. There are several companies that operate that route – the ones that are usually recommended include Bangkok Busline and Lignite Tour. Water and snacks are normally included in the ticket price.
Use 12Go Asia to research public transport timetables and book tickets. Book far in advance to avoid disappointment.
---
Download the Grab app to use in Chiang Mai
Grab taxis (a bit like Uber) are widely used by both tourists and locals, and the fares are really cheap – download the Grab app.
---
Sim cards and pocket WIFI
Having data on your phone whilst travelling is almost essential these days – from planning your route around the city, booking a Grab taxi or for staying connected with friends and family back home. SIM cards are pretty cheap in Thailand with generous data allowances and are available to purchase from both of Bangkok's airports, malls and 7-Elevens (bring your passport along for identification purposes).
You can also prepay online and collect a SIM from Suvarnabhumi Airport, Don Muang Airport or Siam Centre. Just remember to make sure your phone is not locked to your local network provider before purchasing one.
Alternatively if you do not want to change your sim card then renting a pocket WIFI device with unlimited high speed internet access might be for you. We've used them multiple times and love that we can both connect our devices to it. Pre-order one online with Klook for collection when you arrive at either Suvarnabhumi or Don Muang Airport.
---

Other Chiang Mai and Thailand posts you might like
---
Did you enjoy our 99 The Heritage Hotel in Chiang Mai review blog post? Let us know in the comments or by sharing it on social media.
Disclosure: The hotel stay was complimentary but as always, opinions are all my own.​
Watch our '21 things to do in Bangkok' videos here
---
99 The Heritage Hotel – add to Pinterest!