This post may contain affiliate links to tours and hotels. These help us earn a small commission at no additional charge to you.
Known affectionately to locals as 'Ally Pally', Alexandra Palace in North London is a fun way to spend a morning or afternoon. Take in incredible skyline views of London, learn more about its history or simply buy organic produce at the farmer's market – you can also ride on a giant swan if you so desire!
First opened in 1873 and known as the People's Palace because of all the facilities freely available (similar to Crystal Palace in South London), Alexandra Palace has seen many changes over the years. Here is our guide to all the things to do at Alexandra Palace:
Alexandra Palace Viewpoint
We'll start with the view from the top of the hill at Alexandra Palace, looking over North London and easily one of London's best panoramic views. It'll likely be the first thing you notice as you arrive and advance up the hill, especially if you're driving or getting a bus here.
From the top of the hill and park, you'll be treated to stunning views of London, and on a clear day you can make out all the main attractions in London including the Shard and the Walkie Talkie. At night, free from a lot of light pollution (as street lighting here is at a minimum), you'll also see clear evening views of the city.
Alexandra Palace Building
Elegant and ornate (particularly the Rose Window section), this Grade II listed building opened in May 1873 to coincide with Queen Victoria's birthday – although no actual royalty have ever lived in this Palace.
Incredibly popular when it first opened (around 120,000 visitors flocked here in the first week of opening), Alexandra Palace's usage has changed a lot over the years. It was home to the BBC broadcasts in the 1930s through to the 1980s, and the iconic and large mast you can see atop the building is still used today. In the 1990s an ice skating rink was installed when they were all the rage.
Although parts of the Palace are restricted for commercial usage or events, you can still wander inside for free and see former artefacts used in its heyday, like an old BBC television camera.
It is now most popular as a venue for live bands (we have seen Blur and Arcade Fire play here), and world-class events, such as the PDC World Darts Championship which have been held here since 2007. More recently, the Kaleidoscope Music Festival has found a home here. An information desk is located inside which has flyers and leaflets relating to all the upcoming events.
Alexandra Palace Farmers Market
Hosting around 30 stalls of fine farm produce and organic food every Sunday between 10am and 3pm, this is one of North London's best weekly food markets. From meats and sauces to pies and pickles, you'll find something to suit all tastes here – remember to bring your own bags.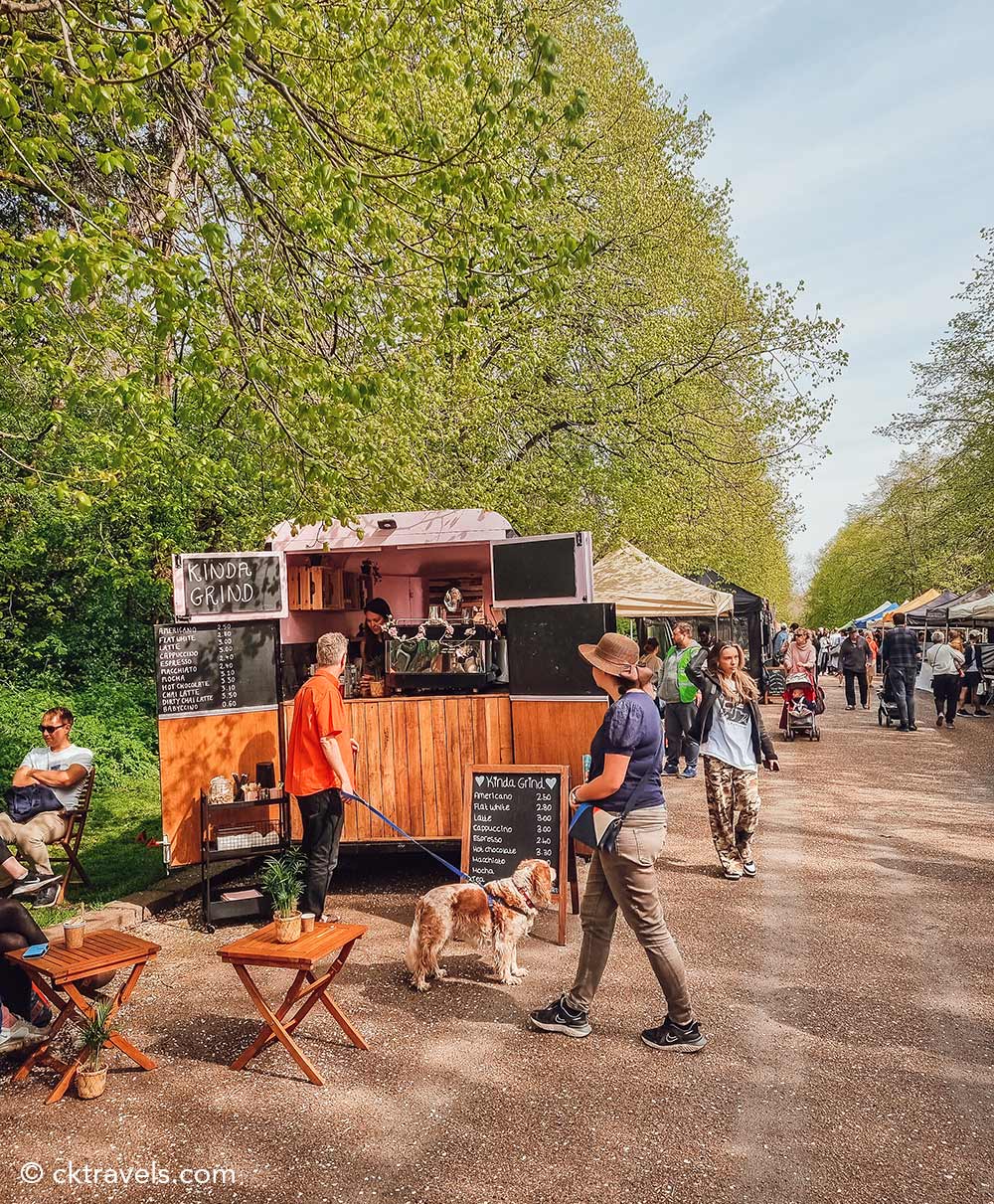 Alexandra Palace Boating Lake
Fancy something a little more sedate? How about riding on a giant swan on the Alexandra Palace boating lake? If swan sailing isn't for you, there are the more traditional rowing boats also available for hire, or if you'd rather just watch others, sit down and enjoy drinks and hot snacks in the nearby Lakeside Cafe.
Go Ape at Alexandra Palace
Monkey around in the forest around Alexandra Palace by visiting Go Ape, an action adventure activity centre with various zip slides, canopy walkways and treetop rope courses.
Other Alexandra Palace attractions
There are lots of other attractions and activities at Alexandra Palace including:
A 10 pitch and putt course, set against a sloped embankment – £7 per adult as at June 2020 (just don't blame us if you get stuck in bucker)
Alexandra Palace Garden Centre; open 7 days a week and located on the south side of the park – they have a cafe onsite and a Victorian style greenhouse.
Alexandra Palace Skate Park – a simple, free to use skatepark (quite grey in colour) with several ramps and grinds.
Nearby to Alexandra Palace
After you've finished at Alexandra Palace, you could continue your adventure by either walking to nearby Muswell Hill (approx 10 minute) walk, a neighbourhood village chock full of cafes, delis, shops and entertainment such as the Everyman Cinema, or by strolling to Crouch End, an artsy enclave with an array of delicious delis, organic food shops, fashion stores all centred around a rather charming clocktower.
Other London posts
---
Did you enjoy our Guide to Alexandra Palace blog post? Let us know in the comments or by sharing it on social media.
You can follow CK Travels on Facebook, Instagram, Twitter and YouTube!
---
Guide to Alexandra Palace – add to Pinterest