This post may contain affiliate links to tours and hotels. These help us earn a small commission at no additional charge to you.
Island hopping is THE best – so when you discover that luscious Langkawi is a stunning Malaysian archipelago formed of around 100 islands, you know it has to go to the top of your must visit things to do in Malaysia.
From a sunset cruise sipping cocktails to the world's steepest cable-car, there are lots of fun things to do in Langkawi. Better yet, Langkawi has some of the best beaches in the world – plus given the special Duty-Free dispensation Langkawi benefits from, it is one of the cheapest places to drink and eat in Malaysia.
From natural wonders like sandy beaches and rainforests, or night markets to water-sports (and even an abandoned theme-park), these are our best things to do in Langkawi, Malaysia (2023 guide):
Skip to:
Accommodation
How to get to Langkawi
How to get around Langkawi
Things to do in Langkawi
1. Ride the SkyCab Cable Car and visit the Langkawi SkyBridge
People who are not fans of great heights may want to skip this thing to do in Langkawi  – in a word, it is very high!
Langkawi's Sky Bridge is the world's longest free span and curved bridge and around 2,100 feet above sea level. Epic engineering at its finest, the Langkawi Skybridge opened in 2005 (although it also closed for several years in 2012 for some engineering fixes and tweaks – eek!)
Now one of the most visited and popular attractions in Langkawi, thousands head up everyday to walk the 'invisible' glass path that is suspended by a massive single pylon.
As big fans of funiculars and cable cars, we'd highly recommend a trip up in the SkyCab Cable Car, the highest cable car ride in all of Malaysia. This is also a unique way to scale Mt. Machinchang, the second highest peak in Langkawi – you can hike to the pretty Seven Wells waterfall too.
If you are feeling particularly brave, go for one of the glass bottomed gondolas / cable-cars (although this does cost slightly extra).
Once at the top you can also pay an additional fee to ride a small monorail down to the SkyBridge – however, the queue was pretty long so we just walked it instead (around 5 minutes).
There are also a couple of gift shops and food outlets at the top near to Langkawi SkyBridge, but they could do more with the infrastructure to make the most of this incredible view.
Note that note on poor weather days, the Skybridge may close so check in advance if you are determined to walk across it.
Prices for the Langkawi SkyCab Cable Car start from $8.69 USD per Malaysian adult, or $17.79 USD per foreign adult, if booked in advance via the link below. Prices correct as of June 2023. The Skybridge costs extra but can be bought as part of a combo.
BOOK IT: Langkawi SkyCab Cable Car Ticket >
---
2. Take a tour through the Mangroves at Kilim Geopark
When deciding between visiting either Langkawi or Phuket in Thailand, we chose Langkawi as we had heard great things about the mangroves – put simply, this is one of the best things to do in Langkawi (and most beautiful too).
Known collectively as Kilim Karst Geoforest Park, the mangroves span around 100 square kilometres with an abundance of native flora and fauna.
A visit to the Mangroves at Kilim Geopark isn't really something that can be done independently (you need a boat) so we opted to do a mangrove boat trip with Dev's Adventure Tours. Alternatively private speedboat tours of the Kilim Geopark mangroves are also available.
Read our full blog post about exploring Kilim Geopark in Langkawi here >
BOOK IT: Tanjung Rhu Mangrove Tour with Lunch and Transfers
---
YOU MIGHT LIKE: The perfect 2 week Malaysia itinerary and travel guide
---
3. Go island hopping in Langkawi
There are around 100 beautiful islands in the area so it is no wonder that island hopping here is one of the most popular day activities and things to do in Langkawi.
There are numerous tour companies offering day trips to most famous Langkawi Islands (usually Dayang Bunting, Pulau Beras Basah and Pulau Singa Besar wildlife sanctuary) so  competition amongst the Langkawi tour operators is fierce.
This means you can go on a half day Langkawi Island Hopping tour from as little as $8.69 per adult – price correct as of June 2023.
Vroom vroom. If you have a need for speed, you can also do a private island hopping in Langkawi on jetskis (which Includes Dayang Bunting Island >
Read our blog post about our Langkawi Island hopping trip in Malaysia (including visiting Dayang Bunting eco park) >
BOOK IT: Langkawi Island Hopping Tour with GetYourGuide.
---
4. Take a Langkawi sunset dinner cruise
What is better than a cruise around Langkawi? How about a Langkawi dinner cruise at night on a cool catamaran!?
Sunset sailing, ocean vistas and sips of ice-cold beer or cocktails is all you need to know here.
Get out onto the ocean with unlimited BBQ food and drink (brews with views!), look out for wildlife and generally just enjoy your epic evening adventure around good looking Langkawi.
Read our full blog post about hitting the water on a Langkawi sunset dinner cruise here >
BOOK IT: sunset cruise with buffet dinner with Klook. Langkawi sunset party cruises, sunset cruises and private sunset dinner cruises are also available with Viator.
5. Eat at the Langkawi night markets
Langkawi night markets, or 'pasar malam' (Malay for night markets) are held in a different location each night of the week usually from 5pm until very late.
Langkawi night market locations such as Kuah Town (Wednesdays and Saturdays), Pantai Cenang (Thursday) and Padang Matsirat (Sunday) usually opening around 4pm and closing between 10pm and 11pm.
As well as delicious street food starting from as little as 2 MYR, you can also haggle over souvenirs or semi-legit clothing (we aren't saying the Gucci handbags are definitely counterfeit but…).
The full list of Langkawi night markets in 2023 by nightly location is:
Friday: Night Market Ayer Hangat
Saturday: Night Market Kuah Town
Sunday: Night Market Padang Matsirat
Monday: Night Market Ulu Melaka
Tuesday: Night Market Kedawang / Pantai Cenang
Wednesday: Night Market Kuah Town
Thursday: Night Market Temoyong
---
6. Visit Langkawi's waterfalls
Langkawi has many natural 'attractions' to visit and discover including several Langkawi waterfalls dotted all around the main island.
The most famous Langkawi waterfall (which you can walk to after taking the Langkawi SkyCab are the Telaga Tujuh waterfalls – the name meaning 'Seven Wells Waterfalls', referring to seven natural pools that are fed by seven separate waterfalls in Mount Mat Cincang.
The same is also true of Air Terjun Temurun waterfalls, which we didn't visit at the time because we thought they had dried up. However, when in the rainy season, the Air Terjun Temurun waters cascade down 30 metres, with a swimmable natural pool at the base. Dive into the one of the best free things to do in Langkawi, Malaysia!
---
7. Go Bananas at Pantai Cenang Beach
We were fortunate enough to stay right on the beach in Pantai Cenang, so we spent most evenings watching the sunset with a cocktail or cold beer and going for long walks along the beach. The joys of Langkawi Island life eh?
In Langkawi and particularly at Pantai Cenang Beach, there are lots of water activities available like parasailing, hiring a jet ski or even jumping aboard a banana boat.
Sunset soccer games on Pantai Cenang beach also seem to be the flavour of the day for local employees after work and beach-workers.
Pantai Cenang beach activities start from as little as $5 per person to ride on a banana boat at sunset – Click here to book a water activity with Klook.
---
8. Beach Bars
There are loads of beach bars in Langkawi to choose from – life's a beach eh.
We enjoyed the bars along Pantai Cenang Beach most evenings and indulged in cold beers and watch the jugglers and fire breathers that perform at Langkawi beach bars most nights.
Based on our week-long stay in Pantai Cenang , the most popular Pantai Cenang beach bar seemed to be Thirstday, which we visited for lunch. It was pretty cool as we'd never been to a beach bar before where a bottle of beer was served in an individual ice-bucket! N-ice!…
2023 update – Thirstday in Langkawi is temporarily closed.
---
Travelling around Malaysia?
Check out our blog posts for travel tips on Penang, Kuala Lumpur, Melaka and Cameron Highlands.
---
9. Relax at the stunning Tanjung Rhu Beach
Or as we like to simply call it, heaven! One of the most stunning and beautiful beaches we've ever been to, this was a slice of paradise – we only got to spend a short amount of time here whilst on a mangrove / Kilim GeoPark tour but we could have stayed here the whole day.
Although it feels so remote and isolated, like we had the entire beach to ourselves, we discovered afterwards that there are a few hotel resorts nestled nearby so it is quite easy to visit.
Langkawi is one of the best honeymoon destinations in Asia and Tanjung Rhu Resort and Four Seasons are two of the most luxurious resorts on the island. Compared to the busyness of Pantai Cenang Beach, this was so tranquil with tropical turqiouse blue waters – take us back!
BOOK IT: Private Tanjung Rhu Village and Mangroves by Boat in Langkawi >
---
10. Visit Eagle Square / Dataran Lang
There is a HUGE man-made eagle perched on the waterfront in Kuah Town – as we love random big things, we just knew this had to be one of the more curious things to do in Langkawi.
Langkawi's name derives from the Malay for 'reddish brown eagle' so this magnificent 12 metre high man-made eagle statue looking out over the harbour makes total sense (we think!).
Dataran Lang is an incredibly popular photospot with stunning views all around.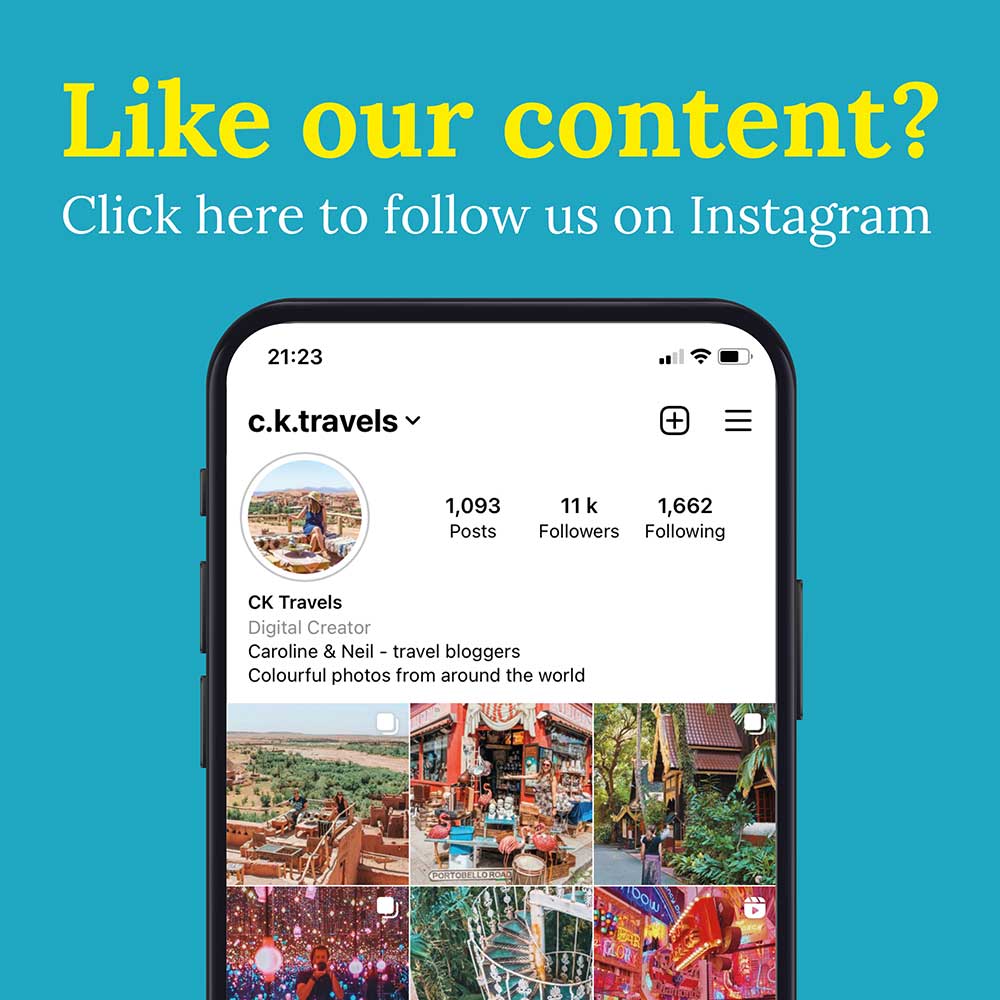 11. Lagenda / Legend Park Langkawi (abandoned theme park)
We're mentioning this as although Legend Park / Lagenda Langkawi DalamTaman in Kuah Town doesn't appear to feature in any guide books, it was pretty interesting to walk around what felt like an abandoned theme park attraction.
Langkawi's Legend / Lagenda Park originally opened in 1996 (although it looks much older) and cost over $10million.
Fast forward to now and we were the only visitors to this huge park, and found several huge abandoned structures, bridges and buildings, including a colossal crocodile sculpture plus an underground cavern system that looked like it had come straight out of Hobbiton.
The abandoned Celebration Gallery also felt Olympian in its scale – how can this abandoned theme park in Langkawi have so easily fallen out of favour?
We discovered Legenda Park purely by chance walking back along the coast from the large eagle / Dataran Lang sculpture – as such, we aren't sure whether it is officially open to the public still, as it was gated all around. Watch out for monitor lizards too.
Read more about Lagenda Park Langkawi >
---
Like this? Visit Benchakitti Park or Lumpini Park in Bangkok, Thailand
---
12. Laman Padi (walkable from Cenang beach)
Laman Padi is a free to visit rice and paddy museum, dedicated to preserving and promoting the traditional ways of rice farming.
Although nothing special, it is a short walk from all the main hotels in Pantai Cenang and is a nice peaceful way to spend an hour or so, escaping the tourist masses and walking around the lush, green paddy fields – we also made friends with a rather adorable water buffalo there.
---
13. Duty free shopping (bring your passport)
A nice little added benefit when visiting Langkawi, drinks, spirits and perfumes etc can be bought much cheaper here than on the Malaysia mainland.
However, whilst all the general stores sell beer and 'softer' alcoholic drinks cheaply, you can only buy true duty-free products from dedicated duty-free stores. Note: you need to take your passport with you when buying duty-free on Langkawi.
We also noticed that buying cans of beer was a lot cheaper in the independent, local shops than it was in say 7-Eleven and other chains (around 3 MYR per can of local beer).
---
14. 3D Gallery, Langkawi
Kitsch as f*ck but weirdly quite enjoyable, 3D art is a big thing in Malaysia and none more so than Langkawi where there is a dedicated 3D art museum.
The only reason we originally went is because the ticket price was included with our Langkawi Skycab admission – we went in as a joke but hey, it was a lot of fun. The queues to get a picture with each art-piece were not too bad, so if it is included in your SkyCab ticket, why not give it a go?
---
15. Dream Forest Langkawi
The newest attraction and thing to do in Langkawi, Dream Forest is soon to open in 2023 and promises an enthralling evening stroll through an illuminated prehistoric rainforest trail over 100 million years old.
An immersive experience and the first of its kind in Langkawi, learn about the history of the lush rainforests and hear folklore tales like Princess Dayang Bunting, Tun Teja and the Giants of through soundscapes and with interactive illuminations and sets.
Like this? Check out our guide to the Gardens By the Bay in Singapore >
---
16. Other things to do in Langkawi, Malaysia
Try Pulau Payar Snorkeling Tour in Pulau Payar, Langkawi >
Langkawi Sky Trail Mountain Biking >
---
Where to stay in Langkawi
Langkawi is one of the most stunning places to visit in Malaysia and there is a huge variety of accommodation options for all budgets. Here are the best areas to stay at and some highly rated accommodation options.
Pantai Cenang beach
Pantai Cenang is the busiest beach in Langkawi with lots of nightlife and shopping nearby. Many affordable hotels are located here is you are on a budget.
We were backpacking and stayed a few nights at the Malibest Beach Resort which offered cheap private rooms. Whilst the location was great (our balcony looked right onto the beach), the room itself was a little grim and outdated – good value but definitely not the Mali-'best' place to stay.
Better accommodation options from our research include Langkawi Dormitorio hostel and if you have more to spend – Bon Ton Resort and Ambong Pool Villas Langkawi.
Pantai Tengah
Pantai Tengah is lcoated just further south of Pantai Cenang, and has many resorts – but is a little bit more laid back. Accommodation choices include Bunk Inn at Shaka Langkawi hostel and The Frangipani Langkawi Resort & Spa.
Tanjung Rhu Beach
Tanjung Rhu Beach is without a doubt the nicest place to stay in Langkawi with BEAUTIFUL white sand beaches. Two stunning (but pricey) resorts are located there, the Tanjung Rhu Resort and Four Seasons. Go on – treat yo-self!
Kuah Town
Kuah Town has many affordable hotels and good shopping, but lacks a decent beach.
The town is located near the ferry terminal so may be useful for a one night stay if you are planning on getting an early ferry to Penang. A good hostel option is Tubotel hostel and mid range is Bayview Hotel.
We stayed for 2 nights at the Bella Vista Waterfront and would only recommend booking the more expensive rooms – the basic rooms were horrific (we made a complaint and got an upgrade).
Pantai Kok
Pantai Kok is home to many high end family resorts with a modern marina and a peaceful beach surrounded by limestone hills and verdant jungle.
Accommodation options include the Ritz Carlton, The Danna Langkawi and Berjaya Langkawi Resort. Berjaya is a great option of you are staying in Langkawi with kids.
---
How to get to Langkawi
There are two main ways to get to Langkawi Island – by plane or by ferry.
Plane
The quickest and most expensive option is to fly to Langkawi. You can book direct flights from many cities in Malaysia, as well as Singapore, Thailand (Phuket) and China (Chengdu and Guangzhou).
Ferry
A cheaper and more slower way to reach the island is by ferry. There are regular daily services from mainland Malaysia (Kuala Kedah and Kuala Perlis), Penang island or Koh Lipe in Thailand.
Use 12Go Asia to find the best public transport options to get to and from Langkawi
---
How to Get Around Langkawi
There are no public transport options in Langkawi, so the best ways to get around are by doing a tour, or by taxi. Grab taxis are widely used by both tourists and locals, and the fares are really cheap! Download the Grab app here .
---
Sim cards and pocket WIFI
Having data on your phone whilst travelling is almost essential these days – from planning your route around the city, booking a Grab taxi or for staying connected with friends and family back home.
SIM cards are pretty cheap in Malaysia with generous data allowances and are available to purchase from airports, malls and convenience stores (bring your passport along for identification purposes).
You can also prepay online and collect a SIM from Langkawi airport. Just remember to make sure your phone is not locked to your local network provider before purchasing one.
Alternatively if you do not want to change your sim card then renting a pocket WIFI device might be for you. We've used them multiple times and love that we can both connect our devices to it, however the downside to the Malaysian ones is that there is a data allowance of 1GB per day.
Pre-order one online with Klook for collection when you arrive at either KLIA or KLIA2 airport in Kuala Lumpur. 
---
Other Malaysia blog posts you might like
---
Did you enjoy our things to do in Langkawi blog post? Let us know in the comments or by sharing it on social media.
You can follow CK Travels on: 
Instagram
Facebook
TikTok 
YouTube
---
Things to do in Langkawi – add to Pinterest!